04-20-2022, 10:16 PM
How to win the Dakar Rally, according to Toyota's Nasser Al-Attiyah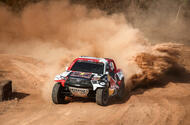 Fresh from winning his fourth Dakar Rally, Al-Attiyah takes us on a very quick tour of his ranch
Last night at dinner, one Nasser Al-Attiyah, the winning driver of this year's Dakar Rally, jokingly said something along the lines of: "If he's speaking French, I know something is really wrong." The he in question is Al-Attiyah's butter-wouldn't-melt co-driver, Mathieu Baumel.
It's Baumel's heavily sculpted race seat that I'm strapped into now, contemplating not only how we're going to get around a hairpin so ridiculously imminent that it makes the fact that Al-Attiyah's right foot remains flat to the floor seem darkly comic, but also at what point Baumel would be deploying his mother tongue. Now? Now!?
In the end, the urge to scream "MERDE!" never boils over into actual speech. For this I will be forever grateful, and soon we're heading in the opposite direction to only moments before, exiting the corner from a dense, rising cloud of red dust.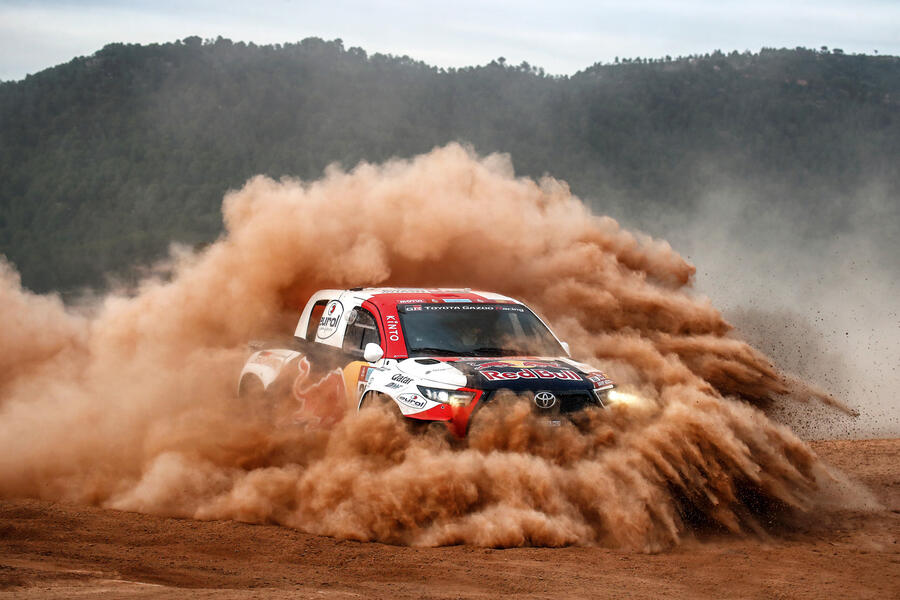 Truly, what an incredible spectacle this must be from the outside. Much like watching a Formula 1 car splice Maggotts and Becketts, seeing wouldn't instantly translate to believing. And all in a two-tonne pick-up truck.
We're at Al-Attiyah's 200-hectare ranch in the Montserrat mountains near Barcelona. The Qatari developed this place during lockdown, and while the main house itself is an imposing period affair, it's the various rally trails that make it a dream-like vision for people like you and me.
We're out here to have a poke around Toyota's GR DKR Hilux T1+, hitch a white-knuckle ride with Al-Attiyah on this home turf and find out what it's like to drive what is, on paper, the most capable rally-raid machine around – something that makes even the Bowler Bulldog look a bit pedestrian, if that isn't blasphemous to say.
That hairpin is the most serious demonstration here of what a T1+ truck can do, with the possible exception of the big jump two corners later. It's a jump that fires this two-tonne 'Hilux' 60ft or so through the air at a distinctly lopsided angle, then asks it to land, set itself and almost immediately negotiate an off-camber, downhill right-hander.
Experiencing it from the switchgear-rich cockpit (or rather flight deck) is something very special indeed, and from lap two onwards, the fact that we're leaping into the dust cloud generated by the last lap's landing adds an additional frisson of excitement that absolutely isn't needed. The smoothness of the landing is also plain unnerving, the damping metered out with impossible delicacy and control under the duress of obscene physics.
Tough as the Hilux that you can buy may be, the T1+ clearly shares almost none of its makeup. The carbonfibre panels that make it resemble Toyota's famous pick-up are the outermost layer of a body that's predominantly carbon-Kevlar and encases a tubular frame, silhouette-race-car-style.
As this is a development car, it's running the 5.0-litre V8 of last season's Dakar Hilux GR, rather than the Toyota Land Cruiser-sourced twin-turbo 3.5-litre V6 of this year's winner, although as we roar past, nobody seems to mind this particular throwback.
Of course, whichever engine the Hilux T1+ has is fitted amidships and low.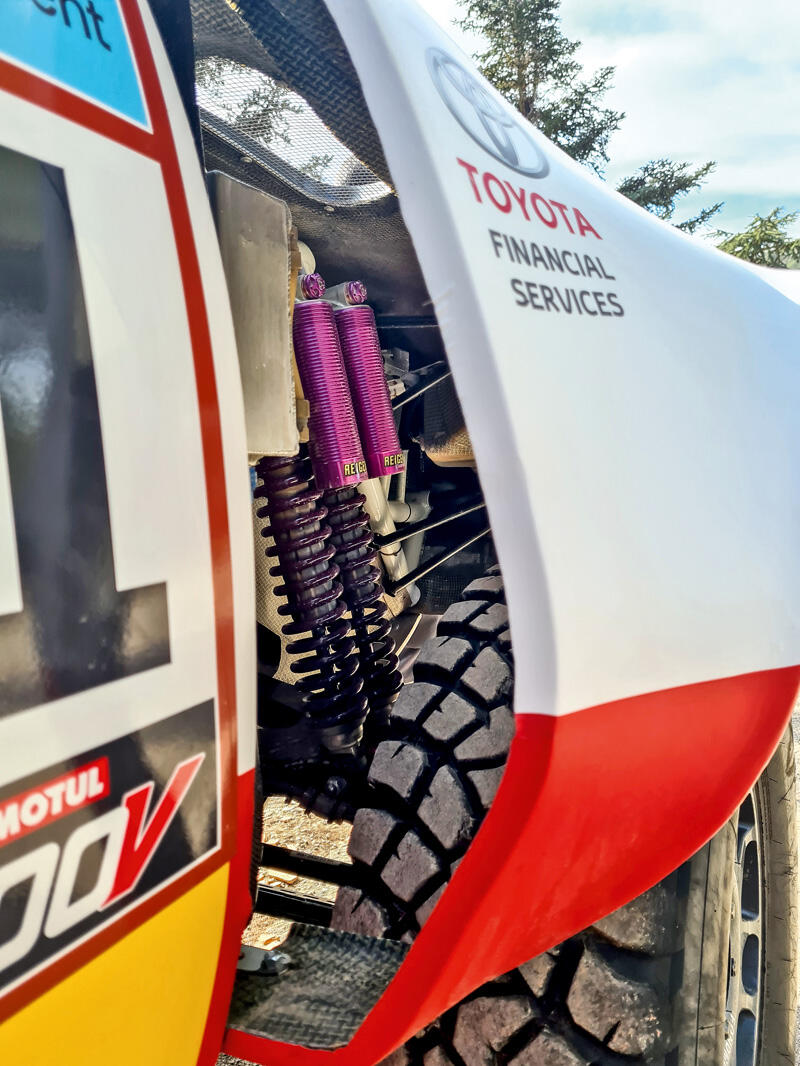 The double-wishbone suspension in this older car is controlled by double dampers, unlike its successor, which has larger single dampers at each corner. Double dampers were deemed too time-consuming during overnight suspension rebuilds in the bivouac, plus the single items are lighter and less prone to overheating.
It's the wheels that mark the biggest change, though. The new-for-2022 T1+ class has increased the maximum permitted diameter from 32 to 37in.
Al-Attiyah doesn't talk much during our drive – the buzz of the engine and the whine of straight-cut cogs in the six-speed sequential gearbox are too loud for that – but later he tells me the upgrade has been transformative. Greater suspension travel has resulted in a more composed, neutral and faster car whose driver is better able to manipulate the handling and attitude through corners. Additionally, less tyre overheating means fewer failures – Toyota's traditional bête noire in the Empty Quarter.
The dunes are like ice driving, according to Al-Attiyah, who recommends plenty of throttle and 'releasing' the car, by which he means not fighting it. Saudi Arabia is also a much more dangerous environment than it seems. Getting it wrong on tall dunes can be like driving off a cliff.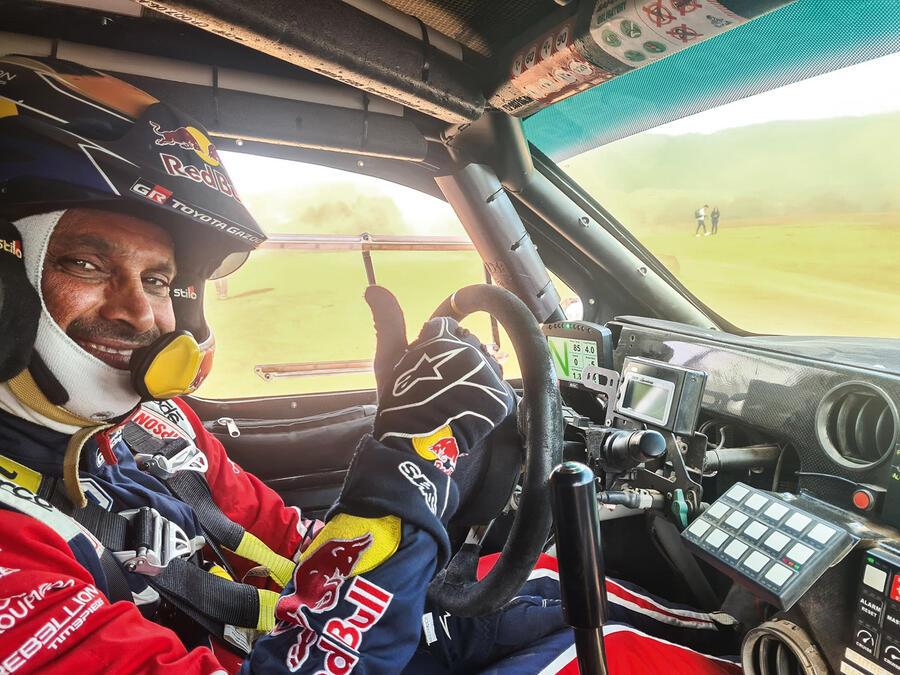 The tyres were also pivotal in Al-Attiyah's absurd display at the hairpin. Braking late and almost immediately tipping the car into a slide allows the taller sidewalls to deform a touch and slather into the knobbly terrain, helping to shed speed. This part of the cornering process – that is, use of the physical brakes and initial rotation of the car – is only fleeting, because once the car has slowed adequately, Al-Attiyah is almost immediately back into the throttle, pre-apex, waiting for the moment when it feels primed to properly rotate. At this point, he might just give the long handbrake lever a staccato tug if he feels the fronts are threatening to wash wide. All things being good, he will then thunder out of the turn with just a hint of oversteer.
All this time, there's a lot going on from inside the cabin, and it must appear like chaos to onlookers, but what's surprising is how economical Al-Attiyah can be with his movements and how controlled the car remains over evil terrain. He talks about "drifting, using every inch of the road" in the same way that you might with any traditional rally-ready hatchback a tonne lighter.
It seems this strident bulldozer of a racing car really handles once you're dialled into its size and mass. If made to guess, I would have said it weighed no more than 1600kg. The sense of flow it achieves in the context of this is remarkable and the speed eye-watering. Exposure to all of this for the first time requires a genuine suspension of belief.
Well, it does for me. Were we anywhere near flat out? Al-Attiyah smiles kindly in the face of such naivety. Maybe six or seven out of 10, he says. "Not pushing, just good rhythm." For a big beast, this Toyota knows how to jive.
Meet the real co-driver
Mathieu Baumel is an interesting man. A triple Dakar Rally winner (to Al-Attiyah's Ari Vatanen-matching four), he likes old French hot hatches and air-cooled Porsche 911s, races at a high level in other series and only got into motorsport when a friend's father gave him an opportunity at club level following an accident that curtailed his skiing career.
He and Al-Attiyah clearly have chemistry. The Frenchman's quiet warmth and meticulous attitude to preparation plays well alongside the Qatari's infectious enthusiasm and evident driving flair.
The dependencies are also different from what you will find in the WRC, where the stages are known to the driver in advance and, according to Baumel, a good result is 80% driver. It's more even on the Dakar. New regulations mean that instead of getting his hands on the next day's road book the prior evening and studying it late into the night (along with the recently outlawed 'map man', who would trace out the entire route), he now receives it digitally just five minutes before the stage begins in the morning. Improvisation is therefore essential to winning stages.
His other task is to monitor the car's vitals. Engine or differential overheating is the nightmare scenario and precipitates Baumel diving into the car's handbook to see what the exact limits are and what precautions must be taken.
This year, one stage ended with the rear differential reading 190deg C. For reference, 90 is typical; the book says to slow down at 120 and then stop at 160. They got the car home, and much of the decision-making in such a scenario falls to the co-driver – who also needs to ensure, for example, that the driver, tired from five hours of cross-country driving, isn't getting lazy with the gearshifts and wrecking the cogs.
https://www.autocar.co.uk/car-news/featu...al-attiyah