03-08-2022, 11:26 AM
How we set seven electric records at Brands Hatch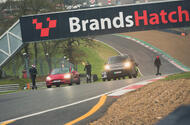 To celebrate the launch of our sister brand Move Electric, we go in search of some EV lap records
I am powering through the first corner at Brands Hatch, the incredibly steep and treacherous offcamber Paddock Hill Bend, clinging onto my machine as it maxes out.
I hit the bottom and start the climb towards the Druids Hairpin. Gravel and kerbs rush past. The incline kicks in and my machine slows from its gravity-assisted maximum. Yes, the 25kph readout on the speedometer becomes 24, 23, 22, 20, 17, 13… and I start to scoot. My leg starts to hurt. The turn is still a very long way away.
The idea was simple. Autocar's publisher has set up a new website called Move Electric to cover (you guessed it) all forms of electric mobility. To celebrate the launch and highlight its broad remit, the team has decamped to Brands for the day to attempt to set seven electric lap records on and in various two- and four-wheel conveyances. Fortunately, no such records already exist.
Even more fortunately, I'm on the Indy Circuit, not the full Grand Prix layout. Although as I cross the line, now thankfully largely under the Perry eHopper P4 scooter's own power, my lap record of 5min 10.03sec (don't forget those three hundredths) seems like quite long enough.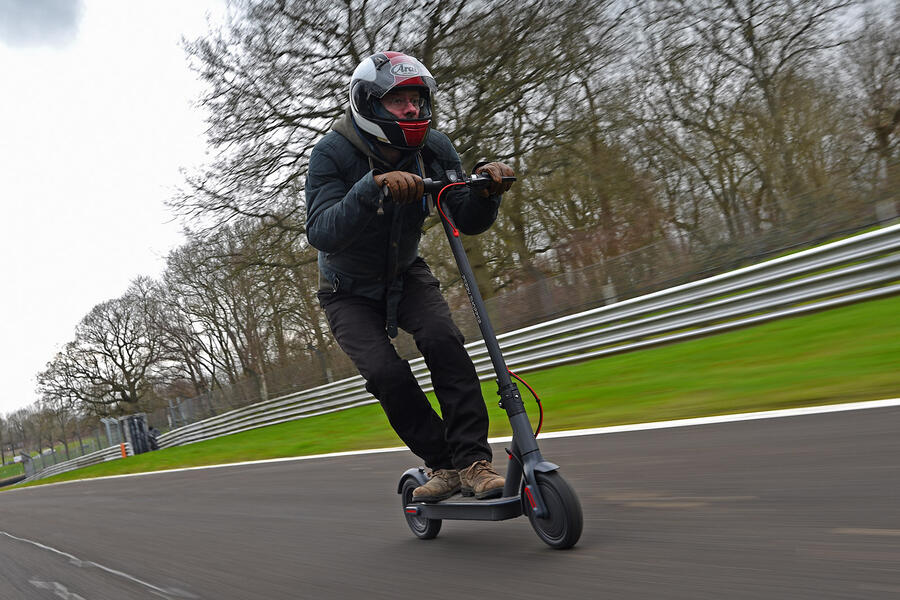 It's the longest time by quite some margin, which goes to show the diversity of our assorted EVs.
In addition to the e-scooter (which, despite its speed, is still illegal on UK public roads), there's a Gocycle G4 electrically assisted bicycle, an Apex Predator electric skateboard that can do the good side of 30mph, a Rolls-Royce Phantom V electromodded by Lunaz and worth £1 million, a Silence S01 Connected moped, a Citroën ë-Dispatch XL van and a Tesla Model 3. You will be unsurprised to learn that the Tesla was the fastest thing out there.
How fast? Put it this way: we got only one shot at this, in a moment snatched during a typical test day for high-octane race cars. We all started at more or less the same moment, giving ourselves a small run up to the start line to make the laps as quick as possible. The Model 3 Rear Wheel Drive (range 267 miles; seats five; legs required to propel it nil) crossed the line in 1min 06.8sec, before I had even reached the first corner, despite its speed limiter being set to 87mph. It averaged 65mph; I averaged 14mph. 
What the Caterham and Ginetta racers eating their lunch made of it, I couldn't quite tell you – because I couldn't hear them through my fullface crash helmet, which ultimately I admit might have been a little over-specified. I was worried about the gravity of Paddock Hill and the instability of its little wheels, okay?
The second-fastest lap was set by the ë-Dispatch, which went round in an entirely admirable 1min 11.48sec, or 61mph. With a range of 211 miles in this specification and a 134bhp motor, it's right in the heart of EV territory for me: delivery vans doing drop-offs by day, returning to base for overnight charging, putting out no tailpipe emissions as they do so.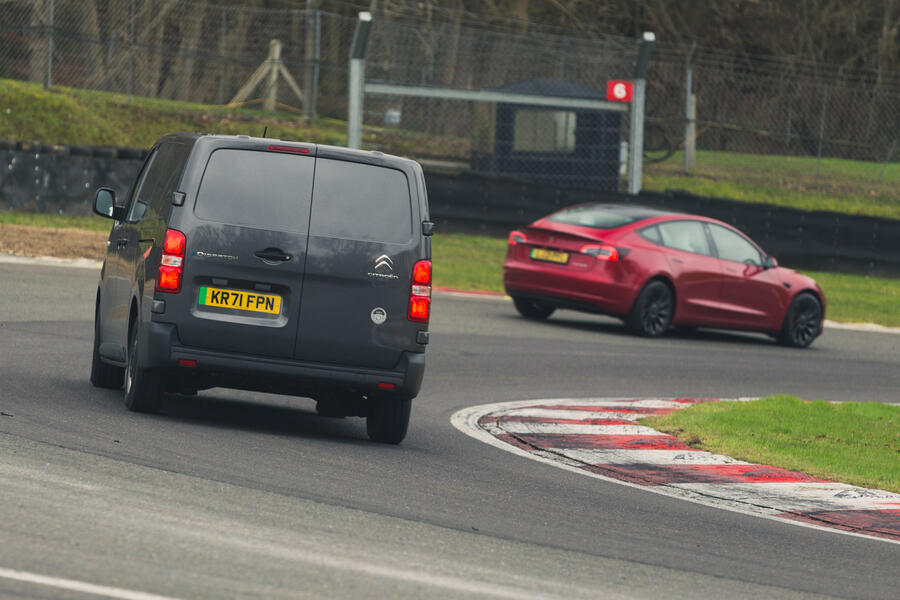 I also have an awful lot of time for the Silence moped, whizzed around in 1min 29.03sec (49mph) by What Car? deputy reviews editor, occasional ride for Autocar videos and quite tasty driver and ride Neil Winn. He was disappointed to start on cold tyres and found that things got squirrelly through Graham Hill Bend, where he ran wide on the exit.
Not many people would make the Silence go much faster, certainly not me, but I have a go up and down a closed stretch of track and am instantly hooked. It costs five grand, which is quite a lot, I will grant you. But it's superb fun, wickedly responsive and will do 60mph. Plus the 7kWh battery slides out and it has a carry handle and wheels, so you can bring it indoors to charge it overnight while nobody nicks the scooter.
I suspect that the Lunaz Rolls-Royce could go faster than its 2min 07.04sec (34mph), but there's only one and it's worth a million quid, so I would have been a bit circumspect, too, if I had been allowed to drive it.
They're weird things, electromods. But while an electric motor in the back of a Porsche 964 or a Ferrari Testarossa does precisely nothing for me, this makes a little more sense. Want to be wafted around town? This will waft like little else. There's a top-notch restoration as part of the conversion, too.
In the end, though, it's not Lunaz's bread and butter. The Silverstone-based company is in the process of expanding into a bigger factory not because it will suddenly be converting a hundred classic luxury Rollers a year but, because now that it has tried and tested its technology and its workmanship on classic cars, it's applying the theory to rejuvenating utility trucks. Driving old public service trucks into cities throws out heaps of particulates; Lunaz can clean them up, keeping vehicles otherwise destined for the scrapyard on the road for years. And it will do big numbers of them. We resisted having one here.
Which brings me to a close pairing: an Apex Predator prototype skateboard (3min 01.35s, 24mph) and a Gocycle G4 electrically assisted bicycle (3min 19.44s, 22mph).
You can't use the Predator skateboard on the road, because the laws are as for the scooter I'm riding, in essence. There have been trials, though, and some versions of this board on big wheels can and do run off road. With two electric motors, one on each wheel, apparently it will even drift a bit. I didn't try that.
You can ride the G4 on the road, because electrically assisted bicycles are road-legal, although there are some laws about them: power is limited and the electrical assistance has to stop at a certain speed, after which going faster is all down to your legs. Still, the G4's engineers and marketers tell us it's rather entertaining to pass puffing cyclists uphill on a whizz of assistance, which I'm prepared to believe.
And then there's me on the 0.47bhp, 15mph, 12.5kg Perry eHopper P4. I joked about the effort, and honestly it would be easier to hang onto one of the Tesla's wing mirrors for a lap, but I do like e-scooters, and I do think that we should try to find a way that we can all get along. In the meantime, I'm off for a sit down.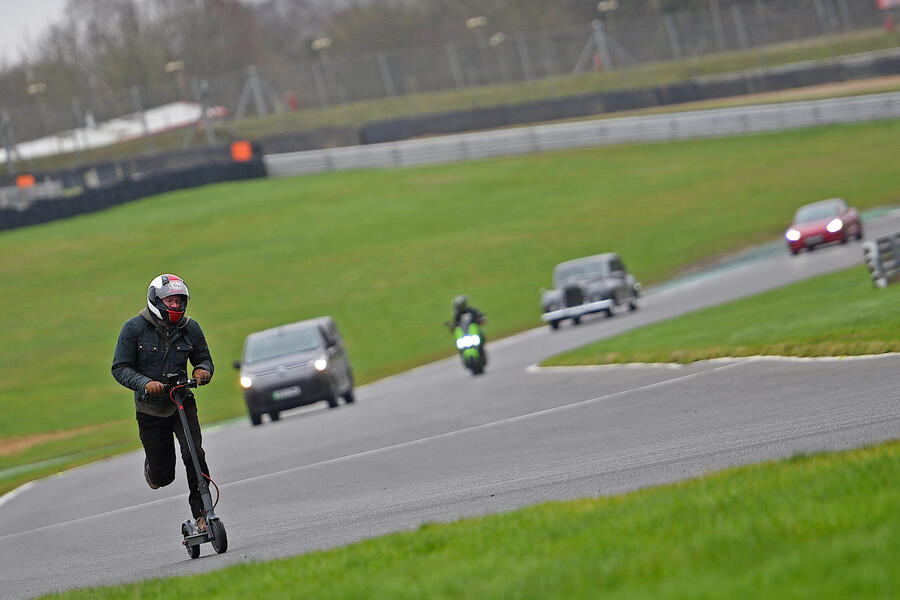 The trouble with EV track days
The problem with using an EV on a race track is the power that it needs. Ariel, which is developing a range-extender supercar, estimates that track driving uses 10-12 times as much fuel as fast road driving.
Low single-figure MPG readouts are common in sports cars on track, draining even a big tank frighteningly quickly. That's no big deal if you can put petrol back in in two minutes, but it is a problem for EVs, even with the fastest rapid-charging rates.
EV track days, then, are rare (the first EV-only track day was last year), and some tracks won't allow EVs to participate on general track days. Few circuits have fast chargers, too. However, Eskate Shop boss Tim Wood, who supplied us the Predator, still reckons he could fill a track day with electric skateboard enthusiasts – which, with the gradients on offer at Brands Hatch, would be a total giggle.
https://www.autocar.co.uk/car-news/new-c...ands-hatch