09-07-2023, 12:23 PM
Hydrogen-powered Toyota Hilux unveiled with 365-mile range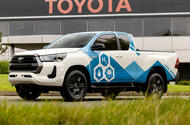 The Hilux FCEV has been in development since early 2022
Government-backed project takes shape to create an alternative zero-emission vehicle for remote UK areas
Toyota has unveiled its hydrogen-powered Hilux pick-up, coming as part of a £70 million government drive to develop alternative zero-emissions vehicles to suit different use cases in isolated parts of the UK.
Unveiled at Toyota's Burnaston plant in Derby, the fuel cell version of the popular pick-up, normally fitted with a 2.4-litre diesel engine, has been in development since early 2022 and has been created using components from Toyota's second-generation fuel cell system.
The same system is used in the latest Toyota Mirai saloon, and enables it to achieve a range, claims Toyota, of more than 365 miles. This means it can be used for commercial operations in remote areas where electric vehicle charging is impractical. 
Its battery is used to store electricity produced by the fuel cell, and is positioned in the rear load deck, to stop it protruding into the cabin.
The project has been led by Toyota Motor Manufacturing UK (TMUK) alongside UK-based technical engineering firms Ricardo, ETL, D2H and Thatcham Research. Toyota's European research and development team has also helped the project to become self-sufficient, said the car maker.
TMUK managing director Richard Kenworthy said: "The project team have accomplished an incredible job in a very short space of time, from creating the prototype build area to completion of the first vehicle. The UK government funding has enabled us not only to develop a new vehicle in record time, but also to upskill our teams to work on hydrogen-related technologies – something we hope to build on in the future.
"This is a great vote of confidence in UK manufacturing and its potential to deliver carbon-free vehicles to meet future targets."
In total, the programme received £11.3 million from the government pot, which will fund the project for three years and support more than 250 jobs across the UK over the next decade. It joins other projects including a farm waste-powered tractor and hydrogen-powered HGV cabs. 
Matt Harrison, Toyota Motor Europe's president and CEO, added: "This funding represents a tremendous opportunity to develop a zero-emission solution in a critical market segment."
The government says the five successful projects are set to support 3300 jobs across the UK, working on new ways to harness renewable fuels, electric motors that are both powerful and highly efficient, and new materials that will reduce the motor industry's carbon footprint.
Business secretary Grant Shapps said: "Our automotive industry is a world leader, creating jobs whether in Essex, Somerset or Glasgow. Seizing the potential from new technologies will be a key part of its future success, while also making our roads cleaner, greener and more affordable."
https://www.autocar.co.uk/car-news/new-c...mile-range