05-12-2022, 03:45 PM
I know you got Soul: how Peter Schreyer made Kia cool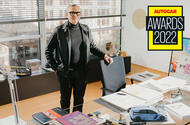 Autocar Awards 2022: Lifetime Achievement Award winner Peter Schreyer's portfolio represents the gold standard of automotive design success
In an admiring and intimate book called Roots and Wings, published last year to honour the work and life of distinguished German designer Peter Schreyer, two succinct sentences in the foreword shine out.
They're written by Euisun Chung, executive chairman of the Hyundai Motor Group, about his "dear colleague and friend" Schreyer, who he had met 15 years earlier.
"Peter showed everything a designer can do in our journey together," writes Chung. "His arrival marked the beginning of the Hyundai Motor Group's change."
Words as generous as these are rare from a car magnate to an employee, but they reveal succinctly why Schreyer is the perfect choice for this year's Autocar Lifetime Achievement Award.
Few people have the determination and ability to change the course of a massive car conglomerate for the better – especially when accepting that the task entails ditching a thriving career at the age of 53 to embrace a completely different corporate culture on another side of the world.
But Schreyer did just this in 2006 when he accepted the position as the chief design officer at Kia and started work on the exciting challenge Chung had laid down the previous year: to change Kia's car line-up from decent but styleless models into modern, attractive, well-designed machines capable of challenging the best in their classes. And taking the brand upmarket.
To say Schreyer has succeeded in his mission is quite an understatement: Kia's global sales rocketed from 1.6 million to three million between 2009 and 2016, and much of that upward thrust was attributed to the rapidly elevated design appeal of Schreyer-era models. Even the designer himself, mild-mannered and modest to a fault, admits that the way customers responded to the new models was amazing.
"Those cars weren't fancy," he says. "They were just good."
Schreyer remembers exactly where he was – in Austria on the road to Switzerland to give a presentation – when his car phone rang and a German-speaking Kia colleague asked, entirely out of the blue, if he fancied 'a conversation'. The subject matter wasn't specific, but it was clear the approach was serious.
At the time, Schreyer was head of the Volkswagen Group's Potsdam studio, from which vantage point he could see all of the group's near- and farterm products. Before that, he had taken charge of a series of big design assignments, the Volkswagen Golf Mk4 and new Volkswagen Beetle, plus the Audi A3, Audi A2 and Audi TT, among them.
It soon emerged that this offer came directly from Chung, Kia's boss at the time, and that he had wanted to talk to only one person. Schreyer had been singled out for his experience and for his quietly decisive way of working.
"From the beginning, I was tempted," he recalls. "I was 53. I could either settle down at VW or do something completely different. I didn't know much about Kia's cars, and being German I was pretty arrogant that we were the people who could do the best ones. But I liked the Kia name – it seemed clean and clear – and I had also recently noticed the first Sorento, which looked pretty good. It made me wonder who was behind it."
After a few meetings in Germany, Schreyer was invited to Korea to meet Chung, and he was subsequently offered the design chief's job. He accepted "quite quickly" and set about building a bond of trust that both men agree has turned into something special in the intervening years. No formal design brief was ever laid down – beyond a clear wish on Chung's part to give Kia design a much higher priority.
"We were making good cars," says Schreyer, "but Kia was a neutral brand. Nothing was actually wrong with what we made, but the cars just weren't outstanding. Chung wanted that turned upside down and for us to put emphasis on design. The question was how we should do it."
Early on, Schreyer came up with a design philosophy he called 'the simplicity of the straight line', which was in effect a determination to stress clarity, simplicity and good proportions in the Kia cars of the future.
Chung approved and signed up to it. He became an important supporter as Schreyer needed to challenge old styles and practices.
A schedule of priorities already existed in the cycle plan: the Kia Soul was almost finished (though arguments persisted for a while over the use of the name) and the K7 saloon was also well along the pipeline. Schreyer's contribution was what he calls "refinement", the kind of finessing he learned with a host of other 'supergroup' Audi and VW designers under the tutelage of hugely influential design chief Hartmut Warkuss.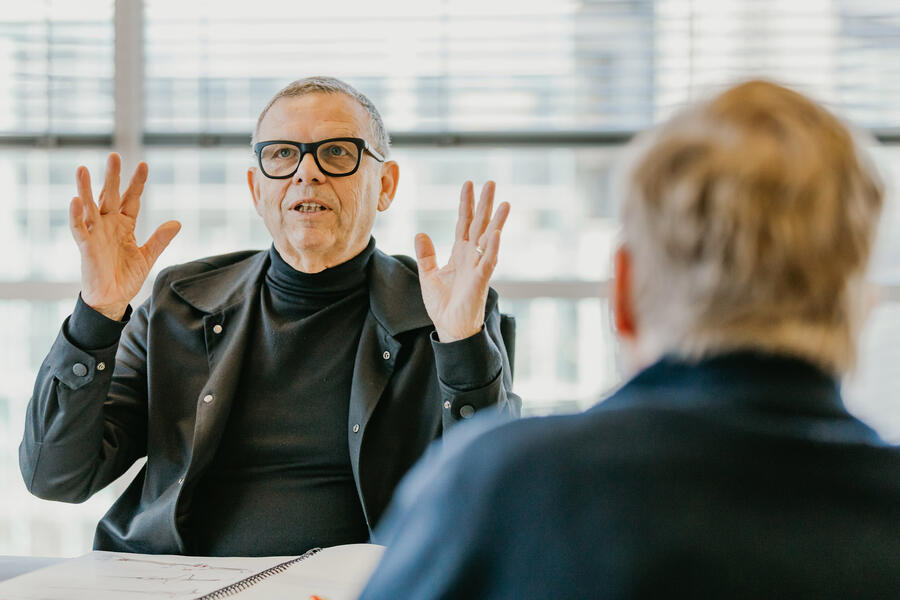 One key early means of challenging the 'neutrality' of the Kia brand was a new, highly recognisable but also highly flexible grille style, soon known as the 'tiger nose', featuring a wide front grille with an indent in the centre, both top and bottom. It appeared first on the Kia Kee Concept at the Frankfurt show in 2007, just one year after Schreyer had taken the new job.
"At the time, nobody knew much about our brand and people really couldn't identify its key elements, even though we'd included some of them on the concept," says Schreyer.
"But with Kee, we managed to establish a frontal element so strong that you wouldn't even need a Kia badge as an identifier. That was an important step."
In fact, the tiger nose has become so successful over the past 16 years, on a wide range of concept models and production cars, that when it seemed to have been deleted from the latest EV6 crossover (only appearing on the nose when the lights are on), some buyers wished it could have been more prominent.
From his earliest Kia days, Schreyer found one question kept arising: how soon would the first of the all-new Kias appear? The Kee concept of 2007 provided part of the answer, but it wasn't until the 2010 arrival of the Optima saloon and the latest Sportage that we knew for sure. Both cars brought important lessons about Kia's future design approach.
Schreyer cites "luck" as one reason for the 2010 Kia Sportage's gamechanging sales success, but he also reveals a transformative strategy behind its design.
"All the rivals in the Sportage's class were good vehicles, bought for practicality," he explains. "But with our neutral brand, if we'd used the usual approach of making the boot space a bit bigger, improving the ingress and egress and making the rear compartment a bit more comfortable, we still wouldn't have won because so much of the competition were big brands.
"So we decided to do things the other way around: to make the car attractive even if there were a few more compromises. Today, if you look at a Sportage, you'll see that the opposition models are all higher, but our car has a positive bow on the beltline and a fairly low greenhouse that makes it coupé-ish and sporty. That worked really well."
Schreyer says there was early opposition to this radical design approach from some echelons of management, but because Chung wanted the car, it was built. After that, the opposition voices grew fainter.
Kia's global sales progress began to shade that of the Hyundai mother brand, although some of the Kia success did bleed off. Even so, the waiting world continued to wonder how Kia and Hyundai models, which frequently shared the same underpinnings, could continue to be kept apart.
When Schreyer was given responsibility for both brands, the problem seemed to compound itself. Typically, he developed a strategy but was very careful to "wear the right hat" when he was working exclusively for one marque or the other. He argued from the beginning that it would have been a mistake to portray the family brands as opposites.
"Some similarity is unavoidable," he says. "It wouldn't be right to give one brand round lights just because the other has square ones. That would have been far too simplistic. I felt it was better to base our designs on well-defined core philosophies."
All of which boils down to the philosophy embodied by a cluster of billiard balls and river stones, which always repose on Peter Schreyer's desktop. The Hyundai and Kia marques have been much criticised in time past for lacking a heritage, a kind of backstory. Schreyer feels much progress has been made in boosting brand value on his watch, but while heritage is in general helpful, there are also ways in which it can hold you back.
"There can be a tendency for people to take particular paths 'because we've always done it that way'," he explains. "At Hyundai and Kia, we still feel we have the full freedom to keep building our own story and our own design language. Mind you, you need a leader like ES Chung to make the best of it…"
These days, Schreyer works in a kind of creative semi-retirement as Hyundai's president of design management. His former position of chief design officer, which he held between 2006 and 2018, is now occupied by Luc Donckerwolke, formerly design chief at Bentley, Lamborghini, Skoda and Audi.
Schreyer remains active on live projects and very definitely still has the ear of Chung, who recently succeeded his father as the Hyundai-Kia group's chairman. Unlike the rest of the multistorey HQ's floors, the Hyundai-Kia Frankfurt design office has an extremely high-quality bamboo floor, chosen by Schreyer 15 years ago when the building was new for its connection with Korean culture.
"It was very expensive," he says with a grin, "but it is also very durable and by now has probably paid for itself several times over…"
Schreyer looks back on his car-creation career with quiet but unashamed pride, although he is careful to credit the efforts of others in the cars attributed to him and his time in charge. He is reticent about naming favourites.
"It's the most difficult question ever," he says. "I'm very proud of the Golf Mk4 and I like the New Beetle. The Sportage and Optima, the first cars completely designed by my Kia team, are pretty good. And I like the Audi A2 a lot – I live in Ingolstadt, which is A2 Central. On my journey from home to the autobahn, I'll usually see five…"
There is one car, however, for which Schreyer has a special, lingering regard, although it was never built. The Kia Pop, a tiny, cheeky electric three-/four-seater for the city, is the one and only car depicted on the cover of Roots and Wings – a tome containing pictures of hundreds of others – and its story is the last to be recounted at length as a kind of crowning glory.
"We were looking for ways to humanise electric cars," he says. "Because the Toyota iQ had just come out, tiny cars were in the news. We wanted to do something electric, because at that time they were all so sober-looking. One of our young designers appeared with a toy he'd made from foam, a kind of threedimensional thumbnail sketch. It perfectly captured the character of the car: it was so different, almost like an animal.
"We proposed the car with a three-person front bench seat and a kind of jump seat across the back, then changed to three seats because putting three people across the front would have had difficult safety concerns if we'd decided to make it. The fact that we didn't is one of my regrets: I still think it could go into production today."
https://www.autocar.co.uk/car-news/autoc...e-kia-cool