01-10-2023, 04:02 PM
Industry digest: Could flexible working end in 2023?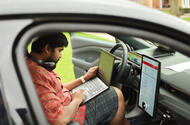 Flexible working has become embedded in post-pandemic working practice
Some of the most influential industrialists – including Elon Musk and James Dyson – have called for a return to offices
Is 2023 the year when flexible working snaps? Judging by the conversations I have been having with business leaders across the automotive industry, the tide of opinion seems to be turning against remote or hybrid working.
Yes, it can work well for some business models – the workforce for car subscription company Pivotal is 100% remote, for example – but more and more retailers and manufacturers seem to be falling out of love with it.
It restricts collaboration and creativity, they say, with employees unable to bounce ideas off each other spontaneously to come up with solutions. It hinders performance management, it slows down decision making, it prevents in-person training and, generally, it makes businesses more inefficient.
The time has come for a rebalancing, they tell me, if not a full return to the 'old normal'.
But there is a problem. Flexible working has become so popular with staff, so embedded in working practices in the post-pandemic world, that putting the genie back in the bottle is fraught with risk.
Apart from inevitably provoking a backlash from existing staff who are enjoying the home-working lifestyle, any business that rejects remote working will have to accept that it is going to be disadvantaged when it comes to competing for new talent. 
As someone who runs an executive search business for the automotive industry, the overwhelming majority of candidates I have interviewed over the past year have an expectation of flexibility in their contract, even for the most senior leadership roles. 
At a time when the automotive industry is experiencing a chronic skills shortage, it is a brave CEO who restricts the available talent pool by insisting on workplace-based working, but some business leaders believe it is a risk worth taking
A couple of months ago, Elon Musk insisted on Twitter staff returning to the office for a minimum of 40 hours per week, while Sir James Dyson has long been a stubborn refusenik when it comes to flexible working.
In a recent article in The Times, Dyson was fiercely critical of government plans to give UK workers the legal right to request flexible working patterns, describing the idea as "staggeringly self-defeating" because it will deter businesses like his own from investing in the UK.
Whether the automotive leaders who tell me privately how much they dislike flexible working will have the resolve to follow Dyson's example and put their thoughts into practice remains to be seen.  
Many businesses seem to be racked with tension, with CEOs struggling to do what is best for their business from a commercial or productivity perspective without disrupting the supply of talent. The question is: how far do they push it?
Lynda Ennis, founder of global automotive and mobility executive search company Ennis & Co
https://www.autocar.co.uk/opinion/busine...g-end-2023