11-05-2022, 05:35 PM
Industry digest: Firms should hire older staff to plug skills gap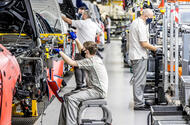 Wider workforce age ranges are becoming the norm
Data suggests many over-65s are looking to return to the workplace in the 'great un-retirement'
As someone who helps automotive businesses recruit their senior leaders, it is a question I often ask myself when briefing them about potential candidates.
In too many organisations across the sector, there seems to be an unspoken rule that senior executives are most productive in their late 30s or early 40s, and that everything is downhill after that.
They don't own up to age bias, of course, though I can think of one multinational company that is quite brazen in asking about a candidate's age before considering their suitability for a role.
Apart from being unethical, this makes absolutely no sense. Not only are businesses missing out on a hugely skilled and experienced talent pool when it comes to people in their 50s and 60s, but they are doing so at a time of acute skill shortages at all levels of seniority in the industry. Finding good candidates and filling vacancies is becoming more and more challenging. 
One of the most cited reasons for the skill shortages in automotive is the 'great resignation' that took place during the Covid-19 pandemic, when hundreds of thousands of people quit their jobs and left the labour market.
But data published recently by the Office for National Statistics suggests many people who took early retirement are now on the look-out for work. In the three months leading up to June 2022, a record 174,000 people aged 65 and over re-entered the workplace. 
The need for extra income to cope with double-digit inflation is obviously a big factor in the 'great un-retirement' but I have spoken to several early retirees recently who say they want to return to work simply because they are bored at home. There are only so many episodes of Bargain Hunt a person can tolerate. 
This offers a golden opportunity for businesses to plug their staffing gaps, as companies across the hardest-hit sectors are already realising. McDonald's, for example, has launched a big recruitment drive to hire more workers over the age of 50.
With the proportion of people in the UK aged between 50 and the state pension age projected to rise to 35% by 2050, the so-called 'silver workforce' must be embraced, not ignored. 
In the automotive sector, that means accepting that more mature workers can make a big contribution to a business and coming up with imaginative ways to attract them through flexible working, pension contributions and health benefits. 
I am a case in point. Business contacts who have only spoken to me on the phone rather than face to face are often shocked when they find out I am 59. The perception is that I am a good deal younger because of my energy levels and work ethic, which speaks volumes for the stereotypical attitudes towards older people.
The truth is that there are thousands of people just like me who have masses of energy, sharp brains, a powerful desire to work hard and tons of industry knowledge and experience. What's not to like?  
Lynda Ennis is a founder of global automotive and mobility executive search company Ennis & Co
https://www.autocar.co.uk/opinion/busine...skills-gap