08-06-2022, 03:37 PM
Industry digest: How to resolve the car industry's skills shortage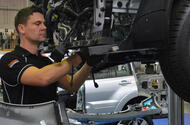 Solutions don't just rely on short-term fixes such as higher wages and better bonuses, according to HR report
In the coming days, my company Ennis & Co will be publishing a research report on the skills gaps being experienced across the automotive and mobility sector and the way the industry is responding based on in-depth interviews with 44 senior business leaders. It doesn't make for pretty reading.
Almost all of those interviewed told us that skills shortages were one of the biggest threats to their bottom line, with many businesses feeling insufficiently resourced to take advantage of technological advances in electrification and digitalisation.
The problem is being experienced right across the sector, from R&D and manufacturing through to distribution, financial services, retail and aftersales. Shortages of digital and data experts are particularly acute as the industry faces competition from other sectors for the same 'hot' skills. Manufacturers are also facing a tough battle to meet their engineering needs, while service and repair technicians are in extremely short supply.
The industry appears to be caught in a perfect storm of technological transformation driving the need for new skills at all levels of seniority, set against a shrinking labour market, post-Brexit restrictions on free movement and fierce competition for sought-after skills from new mobility disruptors and other sectors fishing in the same talent pools.
Nor is the situation going to get any easier. We calculate that the automotive sector will be facing a global shortage of 2.3 million skilled workers by 2025 and 4.3 million by 2030.
So, what's to be done?
Our research report – entitled 'Skills Evolution Roadmap 2025' – highlights some of the strategies businesses leaders are pursuing to address the problem, including expanded apprenticeship programmes and graduate trainee schemes as well as internal upskilling and reskilling programmes. Shorter-term fixes include paying higher wages and bigger bonuses – great news for employees but not exactly a viable, long-term solution for businesses concerned about their cost base.
Interestingly, it is clear that there is an increased focus on brand values and workplace culture, including diversity and inclusion (D&I) initiatives, to attract and retain staff, while remote and hybrid working is now commonplace, opening up opportunities for people with caring responsibilities and enabling businesses to recruit in new geographies.
This is a very positive development, although I believe there is potential to go even further, particularly in the area of more mature employees, who have often been neglected in the D&I debate. Many in this demographic – and I'm talking here about the over-50s and sometimes even people in their late 40s – have the choice whether to work or not. If they can be incentivised to continue working, they bring advantages of experience, maturity and commitment.
More generally, the skills challenge is so serious that it needs to be given the highest strategic priority if businesses are to meet their objectives, which means it should be owned at boardroom level.
The day-to-day challenges of managing people have increased significantly in the post-pandemic world of flexible working, leaving operational HR at full stretch. Deploying strategic HR in the context of acute skills gaps is a significant task that requires involvement and commitment across all functions of the business. That can only be achieved if it is managed at the top table and founded on a realistic vision of what success will look like for the people who will be needed to deliver it.
Lynda Ennis is the founder of global automotive and mobility executive search company Ennis & Co
https://www.autocar.co.uk/opinion/busine...s-shortage