05-06-2023, 02:49 PM
Industry digest: It's never too late to change in automotive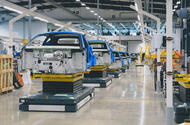 "Skills are transferable, and that talent with the right attitude can achieve almost anything"
The automotive industry thrives on transferable skills and the right attitude, as shown by its high-fliers
It's never too late to change.
Change in business is a given. How we respond to it defines our career pathway and personal fulfilment.
Some of us are happy with the status quo at work and are uncomfortable with change; others are constantly restless and thrive on uncertainty. As our industry evolves from the century-old automotive model into fast-changing mobility provision, there are real opportunities for people with well-established skills to transfer them in new directions.
'I'd like to do something different but are there really opportunities for people in my situation?' This is an almost daily question among colleagues in the industry, from the shop floor to the boardroom, who are facing unexpected and often unwanted changes to their situation through business reorganisation. 
The answer is simple. You can do whatever you want (within reason), but are you prepared to do what's required and take the risks? For many faced with uncertainty and potential insecurity through redundancy, the ideal outcome is a parallel transfer into a new role. For others, the opportunity to do something different is attractive and exciting.
I recently spoke to Robin Brundle, the former racing driver, car retailer and managing director of Lola Cars. He has accumulated a lifetime of skills and is now leading Technology Minerals, creating a circular economy for battery materials, including turning disposable vapes into car batteries. 
Alison Jones, president of the Society of Motor Manufacturers and Traders, trained as an accountant, rose to become managing director at Volkswagen and is now global vice-president at Stellantis, responsible for creating a circular economy within the world's fifth-largest car maker.
Mike Flewitt started on the production line at Ford, became vice-president of manufacturing, then CEO of McLaren Automotive and is now advising Vertical Aerospace, the company that designs and builds zero-emission eVTOLs (electric vertical take-off and landing aircraft).
All three of these people are working in business areas that did not exist, nor could have been imagined, when they were at school but they have risen to the top of their respective organisations.
The message here is that skills are transferable, and that talent with the right attitude can achieve almost anything. 
In our recent report, Skills Evolution Roadmap 2025, we identified that in 2020 there was a global skills shortage in the automotive and mobility sector of 1.1 million people. This is predicted to rise to 2.3 million by 2025, and almost double again to 4.3 million by 2030.
New business models for retail and distribution and new businesses in areas such as electrification and micro-mobility all need experience and skills. 
Whether you are starting out in work, established in your career or at the stage of life when you are considering retirement, there are opportunities to change and develop. It's not easy, and the three people mentioned in this column have all worked exceptionally hard in the most trying circumstances, but they show that you can do anything if you really want to.
As Steve Jobs said: "The people who are crazy enough to think they can change the world are the ones who do."
Lynda Ennis is the founder of global automotive and mobility executive search company Ennis & Co
https://www.autocar.co.uk/opinion/busine...automotive