06-19-2023, 09:40 PM
Inside BYD's plan to conquer the European EV market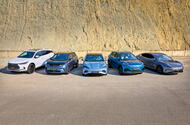 From left to right: BYD's European line-up comprises the Tang, Dolphin, Seal, Atto 3 and Han
Chinese manufacturer aims to double its sales in 2023 using EU entry
Here's a good pub quiz question: who was the world's biggest manufacturer of plug-in cars in 2022? What would you guess? Tesla's the obvious one. Maybe the Volkswagen Group or Stellantis?
Well, you'd be looking at the wrong side of the planet. BYD, or Build Your Dreams, is a Chinese manufacturer based in Shenzhen. It produces batteries, solar panels, forklift trucks, trains, buses, cars and more, and it's recently burst onto the European car market, including the UK. Last year, it made 1.85 million plug-in cars.
BYD is no small deal, then. It was established in 1995 chiefly as a battery producer, while the automotive arm – BYD Auto Co Ltd – arrived in 2003. At the end of 2022, it produced one in every five phone batteries around the globe, was the second-largest producer of high-voltage vehicle batteries, had registered 28,000 patents and employed 600,000 people globally across six continents, 70 countries and 400 cities.
The caveat about that 1.85 million battery car sales figure is that this includes plug-in hybrids. A total of 911,141 BYD sales in 2022 were BEVs, and 946,238 were PHEVs. Tesla still dominates BEV sales, with 1.3 million sold globally last year, but that may change in 2023 despite BYD not being in North America (the second-largest car market after China). Not yet, anyway...
And who provides the batteries for the Tesla Model Y in the American maker's Grünheide factory in Germany? Yup: BYD.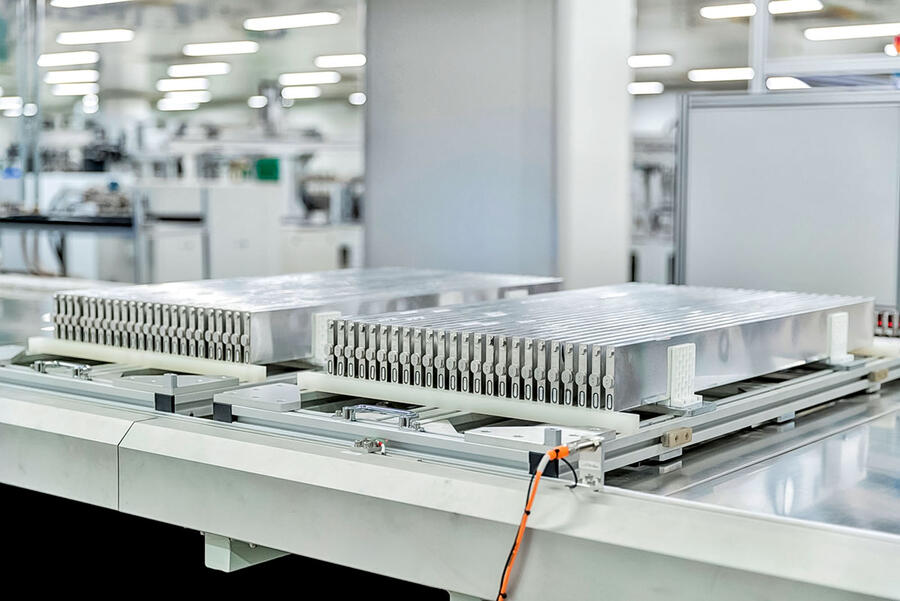 On the subject of parts and battery manufacturing, we have reached the core strength of BYD, which can produce almost every part of its vehicles in-house. Semiconductors, wiring looms, interior furnishings, touchscreens, electric motors, combustion engines, battery packs and almost anything else you can think of: it's all made by BYD in one of its six China-based manufacturing plants, and there's another battery plant on the cards for China, too. On the Atto 3, for instance, only the glass and tyres are produced by third parties.
We know that BYD is big, then. Big in manufacturing, and now bigger than Tesla on a global scale when it comes to passenger cars alone. All of which makes its underlying anonymity even more unsettling to a European market that has grown used to familiar, long-established brands.
So who is BYD? What are the unique selling points of its cars? And how will it fit in with European buying sensibilities?
Well, the company believes that its battery tech is a huge incentive. "BYD's Blade battery has ultra-safe credentials that set it apart from conventional battery technology and, BYD believes, give it a significant USP in the EV sector," says Mike Belinfante, a senior manager at BYD Europe. "It's successfully passed the nail penetration test – one of the most stringent safety tests in the industry – which proves it will never spontaneously ignite. Additionally, BYD's Blade battery is cobalt free, for sustainability, labour and safety reasons."
On top of that, BYD is bringing its cars to market with an extensive roster of equipment that includes standard heat pumps on all of its models, including the Atto 3 crossover, Seal saloon and Dolphin compact hatch, all of which will be on UK roads by the end of 2023.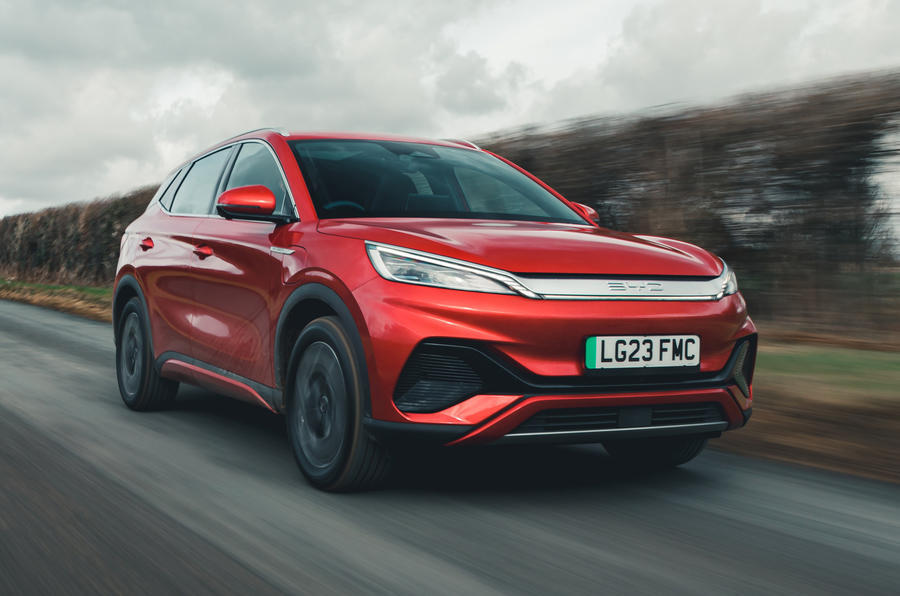 Interestingly, though, BYD hasn't entered Europe by fiercely undercutting key rivals on price. One of the company mantras is to be "attainable but premium" and it's very much targeting Kia and Hyundai as key rivals. BYD has no intention of pitching itself as a value brand, as MG did with evident success in the UK. That may change slightly with the forthcoming Dolphin, which will be a more affordable proposition that is likely to come in at under £25,000 when the smaller battery model arrives – potentially with new sodium ion battery technology that BYD showcased in the Dolphin at the Shanghai motor show. But the core range of models will be pitched at a similar cost and remit to their Korean alternatives.
Notably, BYD also has a habit, like its Korean rivals, of making its cars slightly larger than the key competition. Hence, the Atto 3 is 19cm longer than a Volkswagen ID 3 but a very similar size to the Kia Niro EV. The Seal is 10cm longer than a Tesla Model 3 but almost identical in size to the Hyundai Ioniq 6. The Dolphin is actually more family hatch than supermini, at 4.29m long – 24cm more than the Peugeot e-208 that it's priced against. That's fairly typical of BYD's tendency to straddle two or more conventional classes – something that's easy and affordable for the company to do with its scalable e Platform 3.0.
You will have noticed that BYD hasn't gone for a consistent design language – or even naming strategy – across its European models. The Han (an Audi A7 rival) and the Tang (a Volvo XC90 rival) are both already popular in many European markets and look rather Audi-esque and conventional inside and out –  perhaps no surprise because BYD's design team is led by Wolfgang Egger, previously of previously of Audi and Alfa Romeo. They are both named after Chinese dynasties, and we may see them in the UK in the next year or two if BYD can overcome issues with manufacturing them in right-hand drive.
The Atto 3 is the first BYD model to arrive in the UK and its name denotes 'one quintillionth'. It looks inoffensive and derivative of any number of other similar EVs on the outside yet has a very striking and divisive gym-themed interior that won't suit all Western tastes. The Seal and Dolphin are from the company's Ocean Series, and again take different design routes. The Seal looks like a mini Porsche Taycan, while the Dolphin is sharper and more distinctive than the Atto 3 yet perhaps unflatteringly reminiscent of Daihatsu and other bygone budget brands that didn't survive the European market. Both have perfectly decent interior designs that look and feel similar to most rival cars.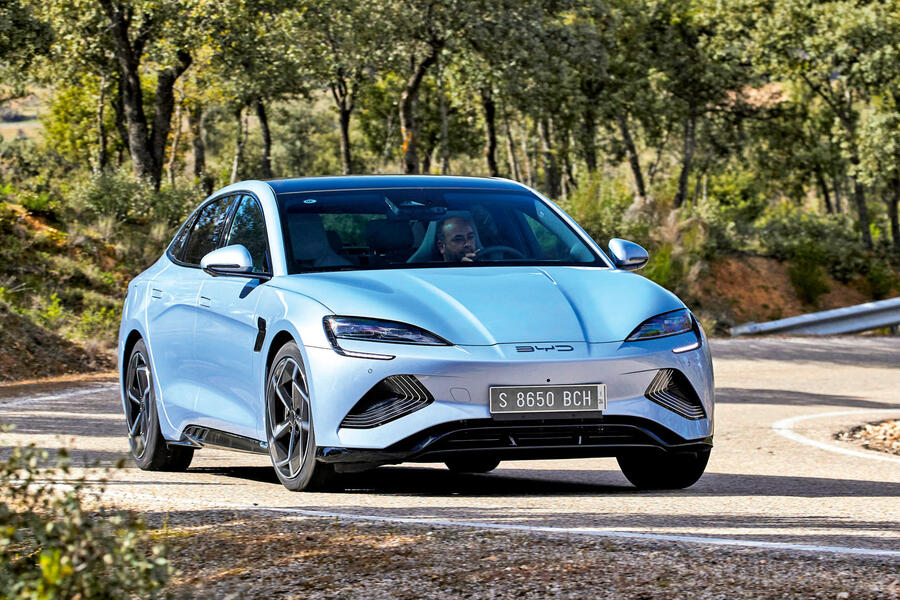 Why the apparently random naming and styling strategy? One senior company source told us that it was because "we want to be fun and full of joy" but it's hard not to believe that economies of scale and simple availability is a huge factor. After all, BYD is rolling out its European offensive at a breathless rate by introducing slightly tweaked Chinese-market cars rather than European-specific models. Although the Chinese car market has very different tastes and trends from Western ones, it would be hugely expensive to redesign each model and, with tastes and trends in Europe also changing rapidly as we adjust to new brands and  new tech in all walks of life, probably unnecessary.
This also explains why some BYD cars hint at a lack of understanding about European tastes at this very early stage. From having 'Build Your Dreams' written across the bootlid to telling people that you drive a Dolphin, there's a degree of awkwardness that some European buyers may struggle with at this point. Never mind the inevitable political murkiness that many consumers feel about sending their money to China.
It's not going to be a walkover for BYD in mainland Europe and the UK, then, but if the Chinese maker has proven anything, it's that it learns quickly and acts even quicker. In addition, some of that awkward anti-Chinese political sentiment may ease as BYD establishes itself and begins to bolster many local economies, not least with manufacturing plants in Europe. Quite how many plants BYD will establish and where is unconfirmed, but the company has been open about its intention to manufacture cars in Europe. One senior source hinted that France could be a distinct possibility "as the French market will be one of the most difficult for us as it is very loyal to its own brands, but it would help if we manufactured there, wouldn't it?".
BYD's brand image and market placement in the UK and mainland Europe is something that only time and familiarity will solidify. What is certain is that we are well past the point of wondering if BYD will become a significant player in Europe's car market. Now, we can only ask: 'When?
What's next for BYD?
BYD is extremely secretive about its future plans, but it's clear that there are really no limits to its ambitions.
Expect the influx of models in Europe, including the UK, to continue, with the Seal and Dolphin confirmed for later this year. There will also be big news at the Munich motor show this summer, and while no specifics are forthcoming, it's possible that the A-segment BYD Seagull could be set for its European debut.
The BYD Han large executive saloon and seven-seat Tang SUV currently can't be produced in right-hand drive, but one source suggested they may make it to the UK in a couple of years, after a facelift. Plug-in hybrids could also join the UK line-up later, but BYD plans to focus on BEV models over here for the initial launch period.
The company has just launched its new Yangwang brand in China, which includes the U8 electric SUV that offers up to 620 miles from a charge and costs £130,000. The U9 electric supercar has also recently been unveiled at Shanghai. It hasn't been decided whether these premium cars will come to Europe but one company source said: "We plan on being in every market sector, so while we can't confirm the timescale, there's no doubt that BYD will have a car in every class within the next few years."
As for North America? "Well, we've only just started to take on Europe but, sure, that will happen," one BYD executive said. "I don't think BYD knows the word 'no'."
https://www.autocar.co.uk/car-news/busin...-ev-market