08-31-2022, 04:12 PM
Inside story: Audi Sport's innovative production processes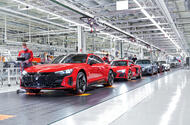 Before the E-tron GT arrived, the line produced around 10 cars a day – it's now closer to 60
We visit Audi Sport's Böllinger Höfe factory to learn how it produces two very different cars on the same line
What do the Audi R8 and Audi E-tron GT have in common? Not much. Different powertrain, different chassis, different bodystyle. Not a single part is shared. And yet there's one major commonality, as you will probably have guessed from the images: they are both built on the same production line at Audi Sport's Böllinger Höfe plant in Neckarsulm, Germany.
It's a feat of manufacturing that's not to be underestimated: it's the only example across the entire Volkswagen Group where two models with no commonalities are built on the same line.
It's an unusual scenario. The R8 is predominantly hand-made and V10-powered, while the E-tron GT is fully electric and reflects a new world of automation and digitalisation. So why produce them together?
Böllinger Höfe was opened in 2014 and became home to the first and then the second-generation R8, and it had always been planned as a flexible small-scale plant, explains production director Wolfgang Schanz: "It was a good chance for us to show the potential, flexible structure of this production site. Because the R8 volume was quite low, we had capacity."
Still, it's some shift: before the E-tron GT came along last year, the site was hand-making 10 R8s a day. The total number of cars is now around 60, when you factor in the E-tron GTs made on the highly automated line.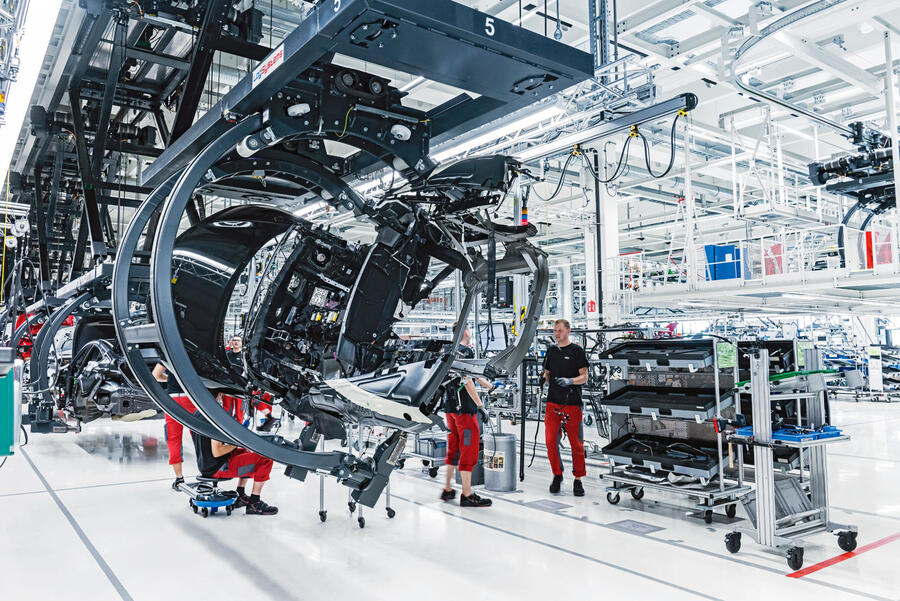 And of course the R8 won't be around forever, so the facility needed to be used for something – and inevitably it would, sooner or later, be electric. No end date for R8 production is yet confirmed, but a run-out R8 GT RWD is expected later this year and all production is likely to end by 2024. An electric R8 successor of sorts is due in its place but not immediately, so having the well-received E-tron GT on the books is a sensible move.
The site's adaptation for the E-tron GT was an efficient one. Firstly, it's the first model in Audi's history that was prepared entirely for production without a physical prototype. Audi developed virtual-reality software based on 360deg scans creating a three-dimensional map of the plant, which then allowed all testing of the E-tron GT's production processes to be virtual.
Aside from a logistics hall, the firm has also managed to keep the same 79-acre footprint at Böllinger Höfe, as there's no space for expansion. "We managed to create it inside the existing plant," says Schanz. "We have a very high area efficiency."
One bit of impressive kit that allows for that is the so-called two-way framer. Rather than have inner and outer panels built on separate lines, as is the conventional way, this large robotic clamping system is able to do both, switching between tools automatically between the two stages.
The body shops of the R8 and E-tron GT are still separate, because this is where the models are most disparate in the production process: the R8 is mostly hand-made, space-frame construction and the E-tron GT is 85% automated build.
There's naturally a touch of PR, too, in making the R8 – and any successor – largely by hand; if you're paying not far off £150,000 for a car, it needs to feel special. "Every visitor who sees how we produce our [R8] bodies is excited. It's a thing of emotion. Our customers appreciate that we do our R8 manually," says Schanz.
But come to the main assembly line and you will see an R8 and an E-tron GT directly after one another. An autonomous guided vehicle (AGV) carries the car in the first section of the line until an overhead monorail takes over. This has the ability to position the R8 and E-tron GT differently for ergonomic advantages, before the car gets placed back on to the AGV for the final stage.
Schanz says the assembly line will always be led by people, however, rather than robots, even once the R8 isn't around: "For assembly, you need craftsmanship if you want to reach quality levels. Our philosophy is everything that our workers can do better, we do by hand."
But how do workers feel about moving from the V10 R8 to an electric car? "We're a very small production site and people are highly motivated for the R8, so I wasn't sure how it would work with the E-tron GT," Schanz says. "It has been a pleasure to see how fast the passion has sprung over."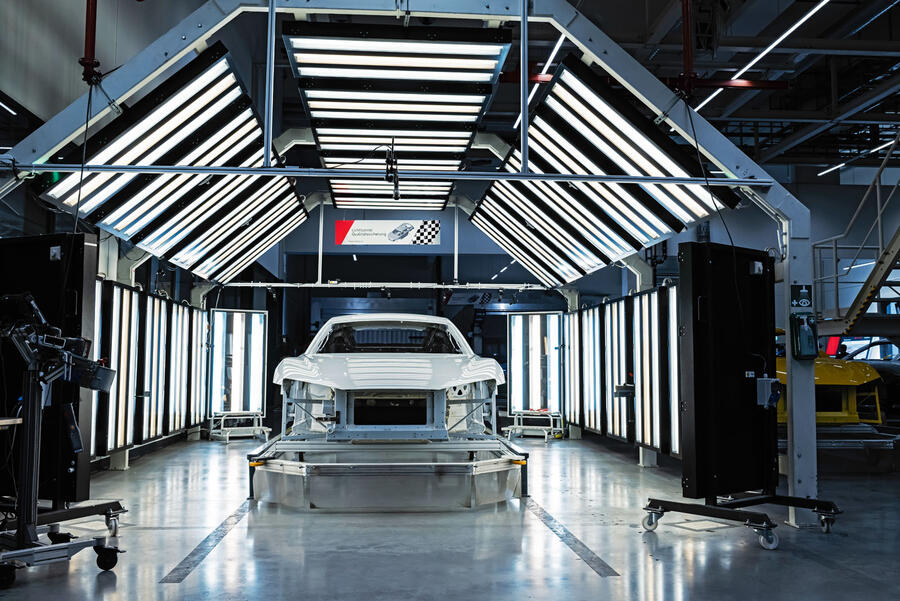 Böllinger Höfe is considered a real-life laboratory for innovative production processes that could be used across Audi plants. One example is in the body shop, where a light tunnel is used to detect discrepancies in surfaces using artificial intelligence. A person takes the car through the tunnel at walking speed, and more than a dozen high-tech cameras film it while a computer analyses the images, using light reflections on the surface to identify even the tiniest imperfections and deviations from the ideal.
"It's a pilot project, but the system is working well," says Schanz. "We're looking at how we could use this for mass production."
So do the E-tron GT and R8 have anything else in common? One thing: they're the two fastest and most powerful series-production Audi models in existence – which just happen to have different powertrains.
As Audi Sport boss Sebastian Grams summarises: "We're really proud of our craftsmanship. The R8, for us, is the sports car. But we're also a real laboratory for digitalisation and smart factories, and the whole company is benefiting from this. "There's love in the making of the R8, and it's absolutely part of what makes the car unique from the rest of our portfolio. If we bring an R8 successor, we will try to continue to do that. But we've also proven that it's possible to generate Audi Sport love in the electric world with the success of the RS E-tron GT, which makes up 60% of the model's sales."
The autonomous vehicles of now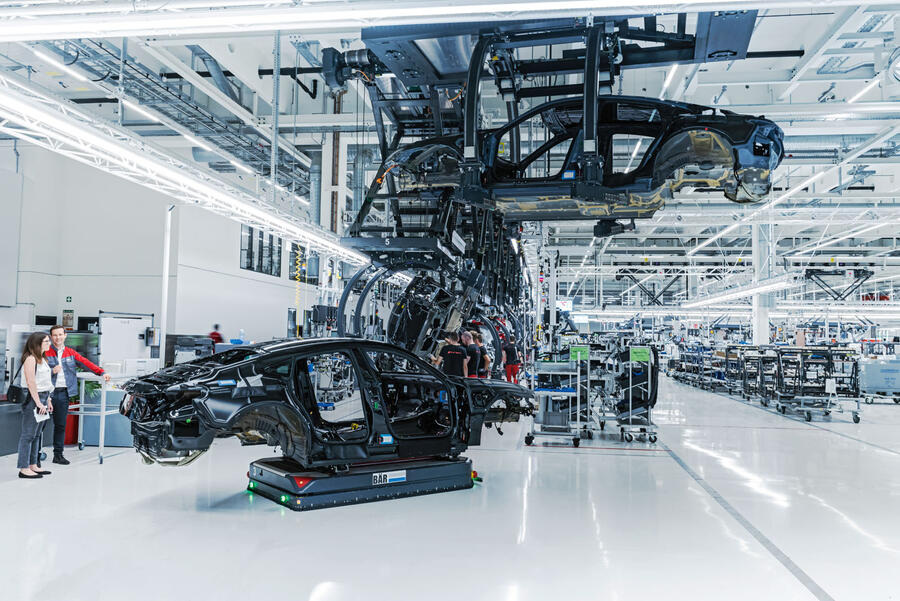 Programmed autonomous guided vehicles know the layout of the facility and carry the cars around at various steps, following no specific floor line. The 23 AGVs take six minutes to charge at a wireless station and last about four hours, but there's never any downtime; they rotate as they go to keep production flowing. Schanz said they weren't very reliable when Audi started using them in 2014 but they now boast 99.5% reliability. 
How workers create solutions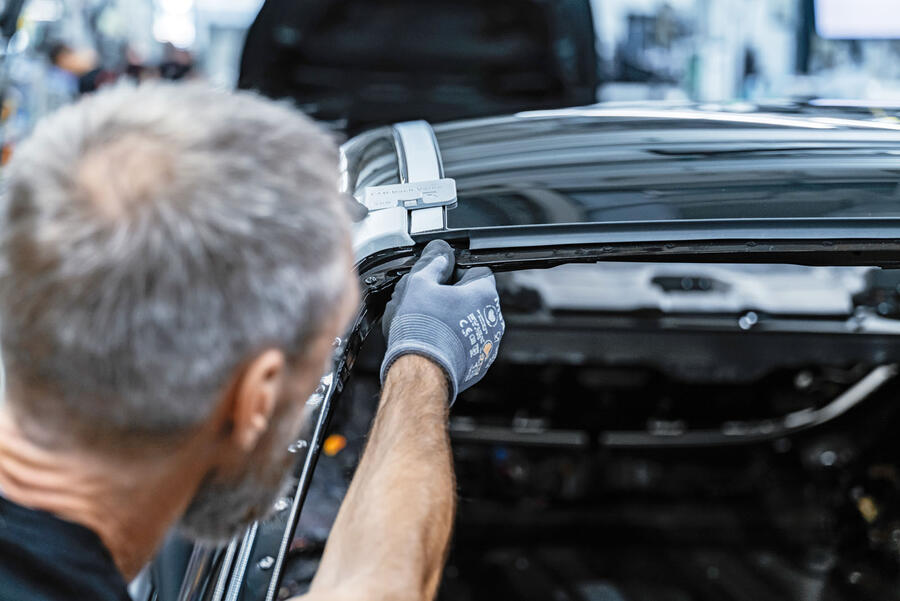 Workers are encouraged to come up with ideas that can be produced by the site's in-house 3D-printers in a matter of days, in order to improve quality or workers' ergonomics. The small grey tool pictured here is used to more thoroughly check that the roof has been placed accurately on the body of a car, and there are many other examples.
https://www.autocar.co.uk/car-news/busin...production