01-27-2023, 05:48 PM
Inside the industry: Cazoo's spectacular stock market drop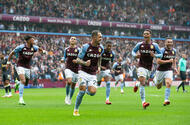 Cazoo is cutting ties with Aston Villa after this season
Retailer launched on the New York Stock Exchange at roughly £7.40 per share, but it's now being delisted
You've probably heard of used car dealer Cazoo, despite it being only five years old. After all, as it built towards its £5 billion stock market flotation in 2021, it was spending close to £100 million a year on marketing.
There were TV and radio adverts, billboards, boldly liveried delivery trucks and sports sponsorship galore, including two Premier League football teams, the English Football League, The Hundred cricket, the Rugby League World Cup, the Derby horse race and the World Snooker Tour.
The automotive establishment initially looked on with a dollop of wonder and a truckload of irritation as Cazoo founder Alex Chesterman, who had previous made fortunes from Love Film (sold for £200m) and Zoopla (floated for nearly £1bn), talked up its online business model. At one point, he described established used car dealers as "flawed on every level".
How they laughed when Cazoo had to buy one of those dealer groups to underpin its sales model shortly after launching.
But some, especially profit-hungry investors sensing opportunity out of the pandemic, chose to buy into the spending and rhetoric. The goal was always a swift flotation, and Cazoo's marketing spree, combined with an aggressive expansion plan, including taking the business beyond the UK and into Europe, aimed to achieve that. And despite posting huge losses each year, it built up significant sales and a reputation for customer service.
So it was, just 18 months ago, that investors put their trust in forward-looking spreadsheets, buying up the promise of better days in shares for around £7.40 each. The premise was that by capturing just 5% of the UK's £100bn used market each year, Cazoo could take advantage of economies of scale to deliver fat profits. Today, a share costs 23p.
Cazoo's stock has fallen so spectacularly that it risks becoming a case study for how not to do it.
Chesterman has pointed to wider economic circumstances, but the fact remains that in the past year, Cazoo has had to shut down its European operations, lay off a chunk of its workforce and end some of its more future-looking investments (such as its car subscription service) while old-school rivals have reported record profits.
On 4 January, the New York Stock Exchange suspended trading in Cazoo's warrants and began proceedings for delisting it. Last week, Chesterman was given a new role, more sites were marked for closure and more job losses mooted.
The bonfire has some way to burn, but sift through the ashes and there's a credible used car company in Cazoo – maybe even one that's now undervalued, as revenues have been exponentially rising and costs rapidly falling in recent months.
But, like it or not, it's just another used car company. It may be on the front foot digitally, but in many other respects it serves mostly as a reminder once again of just how good the very best car dealers already are.
https://www.autocar.co.uk/opinion/busine...arket-drop