03-02-2023, 06:29 AM
Inside the industry: Is Ford's F1 deal worth the investment?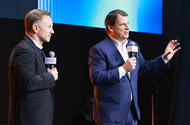 Farley (right) must make the deal with Red Bull F1 work
Ford has signed a deal to co-develop Red Bull's Formula 1 powertrain from 2026 until at least 2030
If the official figures are to be believed, Formula 1 was seen by a cumulative 1,500,000,000 people last year, giving the sport another upward tick on its hockey stick graph of growth in the wake of embracing social media, the popularity of its behind-the-scenes Netflix show and, lest we forget, two half seasons of nail-biting championship battles.
In particular, interest has grown in the US, a country that has long been relatively immune to the sport's charms, and that many thought would give up on it for good after just six cars started and finished the 2005 race at Indianapolis when tyre manufacturer Michelin was forced to withdraw all its runners on safety grounds.
Little wonder that Ford – and especially its motorsport-mad boss Jim Farley – were reeled in by Red Bull, the Blue Oval signing a deal to co-develop the team's hitherto largely in-house powertrain operation from 2026 until at least 2030. It will end a 22- year absence from the sport for Ford, which has won 23 drivers' and constructors' championships to date.
Ford to partner with Red Bull for 2026 F1 entry
Good news all round? In this prolonged honeymoon period you'd expect so, and the early headlines certainly suggested so. But as so often in the high-drama world of sport, and especially in the piranha club of Formula 1, the deal's not without potential pitfalls, with the warning signs potentially already in plain sight. Two, in particular, stand out.
Most glaringly, Red Bull has a pretty terrible record of giving its engine suppliers much credit: its multi-title-winning association with Renault ended in acrimony as a result, and Honda, which admittedly hasn't helped itself with its on-off commitment to the sport, has often been left in the shade.
Farley would do well to ask himself how he came to be standing in front of a car bearing Honda logos when the partnership was announced. Contractually fine it may have been, but somewhere in the chain it lacked respect.
Second, there's been more than an air of winging it on Ford's part so far. Most glaringly, just 11 days after the frenzy of excitement of committing to the sport at a cost that will surely run to hundreds of millions, it announced it was axing a third of its European workforce.
At best it was crass timing, at worst downright insulting, especially from a company that has made much of its social initiatives. Maybe there is no right time to announce job cuts, but the celebrations in New York seemed especially myopic in view of what leaders surely knew was coming. F1 must deliver terrific marketing value if a company in such a deep, difficult transition still sees it as a sound investment, but what was the rush?
Both are a reminder that the pinnacle of motorsport puts competitors under the microscope as much as it shines a spotlight on their brands. We'll find out in three years if Ford can rise to the challenges.
https://www.autocar.co.uk/opinion/busine...investment