11-18-2022, 02:39 PM
Inside the industry: Is the self-driving dream over?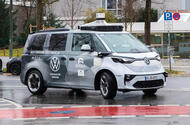 Ford CEO Jim Farley cited autonomous vehicles' short-term unprofitability as a reason behind Argo's closure
The recent closure of Ford- and VW-backed Argo AI shows troubled times ahead for autonomous vehicles
Nobody really knows for sure, but the figure of £87 billion is currently being touted as the amount spent to date in the pursuit of developing fully self-driving cars, the likes of which we have been assured are 'just a few years away' for at least a decade now. And which, beyond a few prototypes, largely remain 'just a few years away'.
In business terms, the investment was justified on the promise of huge returns, with Intel – admittedly set to profit from investment in the sector – once estimating that the self-driving industry would be worth £6 trillion by 2050. Societally, the nirvana was accident-free transport, with the added bonuses of freeing-up huge amounts of time and massively easing congestion by ensuring that vehicles spent more time being used than parked.
Now, for some, investment is being rowed back more quickly than an autonomous car can detect a potential accident, the biggest shock coming when Ford and Volkswagen announced they were winding up their joint venture Argo AI. Both were clear that this is not the end of the self driving dream, but Ford's chief Jim Farley did admit the timelines no longer justified the expense, saying: "We're optimistic about a future, but profitable, fully autonomous vehicles at scale are a long way off, and we won't necessarily have to create that technology ourselves."
In part their move is a reflection of the capital pressures that the mass-market manufacturers are under as they fund the transition to electrification. Ford and Volkswagen certainly aren't alone here; it's notable, for instance, that Renault CEO Luca de Meo has long been open about fully self-driving cars being a moonshot, opting to let Alliance partner Nissan pursue that particular dream.
Clearly, not everyone is bailing; Volvo still sees full self-driving as a realistic proposition, for instance, while it has long been a key component of Tesla and Elon Musk's marketing, even if the so-call Full Self Driving capability of its cars has never lived up to the name, a fact that several national law makers are now zeroing in on. But if either of them can stay the course and deliver, then the trillions could still roll in.
But there is no question that investment is slowing, stymied first by a tragic accident when a self-driving Uber killed a pedestrian in 2018 (the company then sold its self-driving arm to Aurora) and then by the twin mounting realisations that the road to perfecting and legislating for self-driving was going to be longer and harder than anticipated, and that consumer appetite for handing control of their vehicle to a computer was perhaps not a certain as the fervour whipped up by tech-hungry evangelists and investors suggested.
For now, it's hard not to conclude that the prospect of fully self-driving vehicles rolling out at scale is to remain forever 'just a few years away'.
https://www.autocar.co.uk/opinion/busine...dream-over