05-25-2022, 01:32 PM
Jaguar E-Pace 2022 long-term review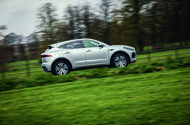 The Jaguar E-Pace sold just over 3600 units last year – around the same number as the Porsche Macan
Updated compact SUV arrives at Autocar Towers with a plug-in hybrid powertrain
Why we're running it: to find out if a new platform and PHEV power has made the Jaguar E-Pace fully fighting fit

Life with a Jaguar E-Pace PHEV: Month 1
Welcoming the E-Pace to the fleet - 4 May 2022
Let's address the elephant in the room: what's happening at Jaguar? Not a lot, it seems. At least on the face of it, although presumably the team at its Coventry headquarters are incredibly busy preparing for its reinvention, which is due in 2025. At that time, it plans to relaunch as an electric-only luxury brand on a par with Aston Martin and Bentley.
That seemingly doesn't leave much room for its existing line-up, then, which is led by the Jaguar F-Pace, Jaguar I-Pace and Jaguar E-Pace, an example of which has just joined our long-term fleet. While it's hard to see how these cars fit into the new line-up, they remain very relevant for the market right now, all SUVs for families, one fully electric and the other two with plug-in hybrid powertrain options.
Of the three, the E-Pace sold the fewest last year, although I would wager that's because Jaguar directed its chip supply to the more expensive, profitable models and/or those (the I-Pace) that would help bring down its average emissions to avoid fines.
The E-Pace sold just over 3600 units last year – around the same number as its Porsche Macan rival but still nowhere close to sales of another foe, the Audi Q3.
This latest E-Pace even went so far as to adopt a new platform when it arrived last year as an update of the car that was launched in 2017.
It's the PTA platform that was used for the Land Rover Discovery Sport and Range Rover Evoque overhauls of the previous year. Jaguar claimed the new underpinnings benefit handling, ride and overall refinement, but most importantly, it accommodates both mild-hybrid and plug-in hybrid powertrains, which were crucial for the E-Pace to live on.
There are now five models available, all of them hybridised other than the entry-level diesel. Most are mild hybrid, but the range-topper (our car) is a plug-in hybrid.
Named the P300e, it mates a 197bhp 1.5-litre three-cylinder petrol engine with a 107bhp electric motor on the rear axle and a 15kWh battery under the boot floor. As the fastest- accelerating E-Pace, it has a 0-62mph time of 6.5sec, yet also gets 141mpg and therefore CO2 emissions of just 44g/km. The electric-only range from a full charge is said to be 39 miles.
R-Dynamic S is the lowest of three trim levels available for the P300e, costing £45,995. But add a quite absurd number of options (see right) and our car costs more than range-topping HSE trim.
Without all those extras, there's still a long list of equipment as standard, the highlights including a 3D surround-view camera, torque vectoring by braking, dynamic stability control and the 11.4in Pivi Pro infotainment system.
The latter is a monumental step change for Jaguar Land Rover, which has often been criticised for trailing its German rivals in terms of infotainment. It has therefore regularly updated its offering in an attempt to catch up. My early impressions of the system, first introduced in the new Land Rover Defender, suggest that it has finally managed to achieve that.
In keeping with the handsome and premium-feeling interior, the infotainment system is sharply designed and to these eyes classier than its German equivalents. Time will tell if that translates to a good daily user experience.
The overall experience so far is similarly positive. This needs to be an excellent car, considering how populated the luxury compact SUV space is now, and from the off it has surpassed expectations.
I've mentioned the interior, which is comfortable and cosseting, but it's also excellent to drive, with satisfying and direct steering that's dynamic yet also easy to get along with, and a compliant if firm ride (due to our car's 20in wheels, which cost an extra £1240).
I already know the E-Pace won't win on the practicality front. Its boot is considerably smaller than the Q3's and the cabin likewise. But it has so far proven a very usable space for people and their many things. The electric-only range is typically 34 miles. It takes just under 90 minutes to charge it from 0-80% on a public 7kW charger but a happy half hour on a 50kW fast charger – if you can find one.
It's making urban life particularly relaxing, but it has the pace and comfort to suit long journeys too.
The next few months will give us the chance to see if the E-Pace continues to impress in varying situations and environments, and whether this plush British-born SUV can match the appeal of its many high-calibre rivals.
Second Opinion
Coming from a Land Rover-owning clan (a Mk1 Discovery Sport with the next great antibiotic discovery being cultured on the back seats), I was staggered to see the improvement of the infotainment in the latest E-Pace. That Pivi Pro system is so much better. It will be interesting to see what progress has been made elsewhere in the coming months.
Piers Ward
#Back">Back to the top
Jaguar E-Pace PHEV specification
Specs: Price New £45,995 Price as tested £51,645 Options Hakuba Silver metallic paint £670, 20in split-spoke satin grey alloys with diamond turned finish £1240, 12–way heated electric driver memory front seats and 40/20/40-split rear with centre armrest £350, Technology Pack £1220, cabin air purification £335, Meridian sound system £600, heated steering wheel £205, privacy glass £370, blindspot assist and rear traffic monitor £360, home charging cable £300 Test Data: Engine 1.5-litre 3-cyl with rear-mounted electric motor Power 304bhp at 5,500rpm Torque 331lb ft at 1,600-4,500rpm Kerb weight 2173kg Top speed 134mph 0-62mph 6.1sec Fuel economy 45.6mpg CO2 197g/km Faults None Expenses None
https://www.autocar.co.uk/car-review/jag...erm-review