08-10-2022, 06:19 AM
Jaguar E-Pace 2022 long-term review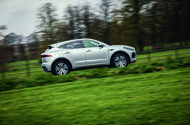 The Jaguar E-Pace sold just over 3600 units last year – around the same number as the Porsche Macan
While our PHEV is in for repair, will its stand-in woo us away to a diesel life instead?
Why we're running it: to find out if a new platform and PHEV power has made the Jaguar E-Pace fully fighting fit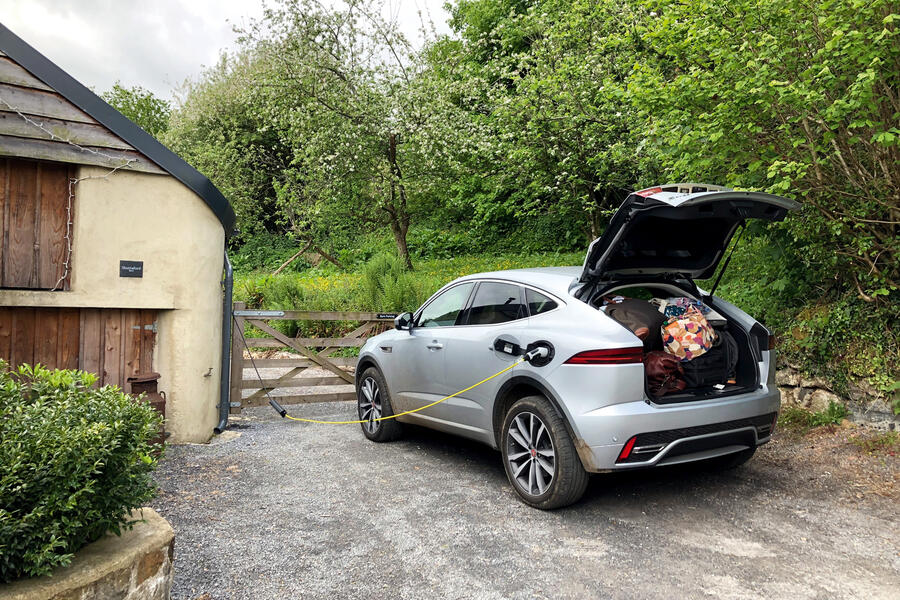 Life with a Jaguar E-Pace PHEV: Month 3
While our PHEV is in for repair, will its stand-in woo us away to a diesel life instead? - 27 July
It's the perennial modern-age question: should I buy an electrified car or stick with what I know?
We've been running the plug-in hybrid E-Pace for a couple of months now, but while it's back at Jaguar with some as yet undiagnosed electrical problems, we've borrowed an E-Pace D200, the mild-hybrid diesel offering in the compact SUV range. In fact, for the moment, it's the only other E-Pace currently available to order alongside the PHEV, because of the semi-conductor shortage.
We're in the D200 R-Dynamic SE, one trim above our R-Dynamic S PHEV, but to compare like for like, in S trim the diesel costs £42,840 and the plug-in hybrid is £48,795 (a sizeable £2800 price rise since our test car's arrival). In personal lease terms, based on a quick look on the web, the diesel is around £610 a month for three years at 12,500 miles a year whereas the PHEV is £670.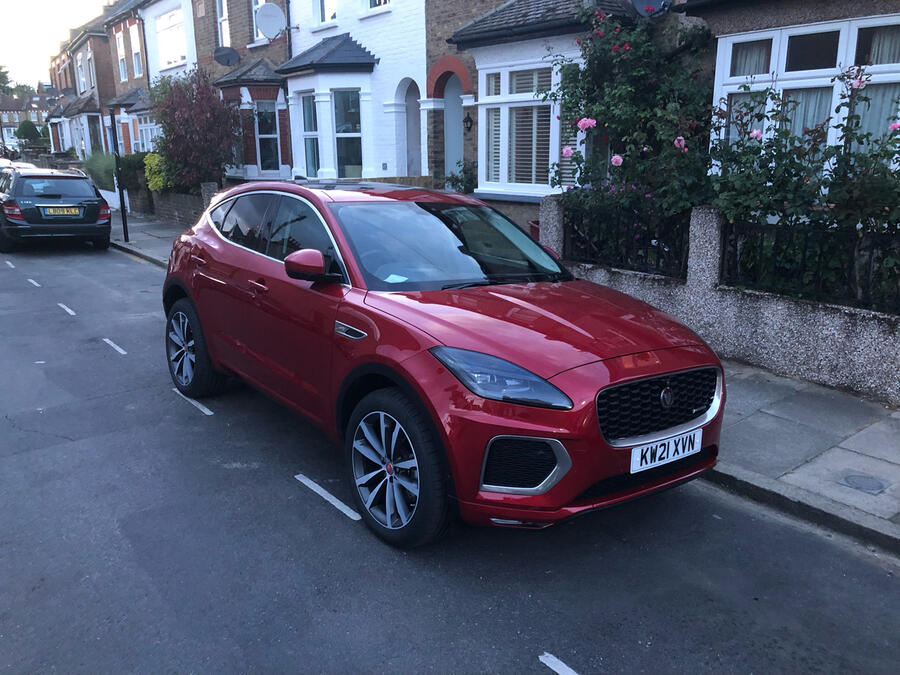 Other figures on paper? The PHEV's claimed CO2 emissions are 44g/km and combined consumption is 141mpg, while the diesel is 173g/km and 43.9mpg. If it's a company car, the difference in benefit-in-kind tax is huge: 8% for the PHEV and 37% for the diesel.
In reality, our time so far with the PHEV means the average fuel economy is pretty much in line with the diesel, at around 41mpg. Admittedly, that's not optimum: I use the full-electric mode sporadically but not as much as I could, so it could be higher but it's hard to imagine it ever being at 141mpg, although that's true of all plug-in hybrid figures.
Visually, there's little difference between the two cars other than the vibrant red of the diesel versus the sedate silver of the PHEV. The wheels of the diesel are slightly less kerbable, there's a more business-friendly black leather interior rather than the slightly more flash cream and burgundy of the PHEV, and there are a few different options, most notably the £990 panoramic sunroof.
Getting into the diesel after time in the PHEV, the most prominent difference is the lack of immediate smooth power facilitated by the electric motor and instant torque of the PHEV. For driving around town, it takes a bit of readjusting to the combustion-engined delivery of power and it feels more jarring.
You notice the gearbox shifting around from its naturally high eco gear selection to a couple of ratios down to give you the torque you want. In the PHEV, it's mostly smooth sailing on EV power alone around town so responses are almost instant. The D200 is naturally noisier, too, although for a diesel, the engine is well insulated and refined.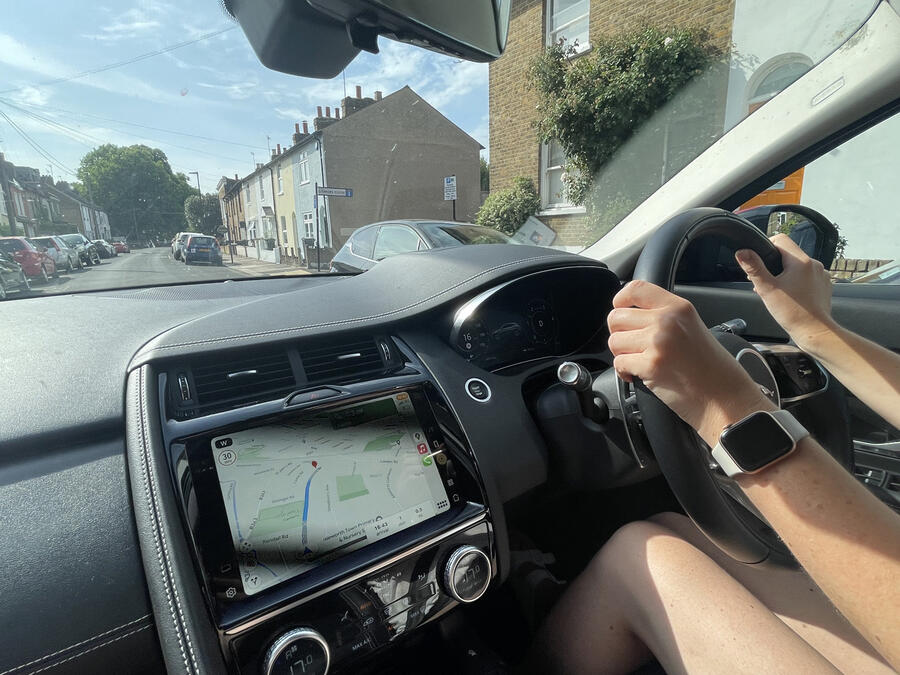 As has always been the case with diesels, it's comforting to see on the dashboard the high number of miles left in the fuel tank and only a dent on the fuel gauge after a decent journey. In terms of mileage per tankful, it has almost double that of the PHEV, at just under 600 miles.
That feeds into diesels as the long-standing powertrain of choice for mile-munching – and this D200 is very much at home on the motorway, although it's happy around town, too.
Acceleration is slower than in the PHEV – 0-62mph takes 8.4sec to the PHEV's swift 6.5sec – but it's still good for getting up to speed. The PHEV's driving dynamics are better – not surprisingly when it's billed as the sporty E-Pace – but the diesel is no damp squib in this arena, either.
So which would I go for? For my lifestyle, living in town but adding plenty of long-distance miles at the weekends, the PHEV feels the more natural fit. The P300 is a refined, comfortable, enjoyable car – all words that could also describe the diesel, but with diesel prices constantly on the up and high taxation, the PHEV feels like a more sensible long-term solution.
Love it 
Diesel's longer legs
D200's diesel tank means fewer stops.
Loathe it 
Diesel's get up and go 
Moving off in the D200 isn't as smoothly satisfying as in the PHEV.
Mileage: 9035
#Back">Back to the top
Parking sensors have a mind of their own - 20 July
I always caveat these moans by saying I fully support anything that makes a car safer, but the E-Pace's oversensitive sensors are driving me crazy. I can be just sitting in traffic – not parking or reversing – and the sensors start going mad. It's unnecessarily alarming, and it's particularly annoying when it wakes my napping toddler. 
Mileage: 8999
A high-tech indicator adds a premium feel - 6 July
I wrote in a recent Subscriber Extra email about the luxury feel of the Jaguar E-Pace's indicators, explaining there's a lightness to the touch and sound that make them feel premium. Now I've discovered something even cleverer: they're silent when audio is coming through a phone connected to the car. The most obvious example is when I'm on a call. A lovely touch. 
Mileage: 8703
Life with a Jaguar E-Pace PHEV: Month 2
Hauling an SUV around town is easier with a second set of eyes - 29 June
When the Mk2 Range Rover Evoque arrived in 2019, it introduced a bit of kit so nifty that we gave it that year's innovation gong at our annual awards ceremony. Both elements of it – ClearSight Ground View and ClearSight rear-view mirror – are now available across much of the Jaguar Land Rover stable.
Indeed, they are fitted to our Jaguar E-Pace as part of the Technology Pack (£1220), which also brings wireless phone charging, a head-up display and an interactive driver's display.
ClearSight Ground View is the realisation of the transparent bonnet idea first seen on the Land Rover Discovery Vision concept in 2014, while ClearSight rear-view mirror uses a camera to show what's behind you, rather than a mere reflection. 
What seems so smart about the technology is how it suits the two core audiences that JLR is playing to (the outdoorsy rural community and the SUV-driving urbanites), because this tech was primarily created for easier off-roading but is equally useful in town centres and tight parking spaces.
Like the majority of E-Pace owners, it's fair to say, I am doing a lot more driving around town than green-laning, but the theory stands: I'm using both ClearSight features plenty and finding them useful.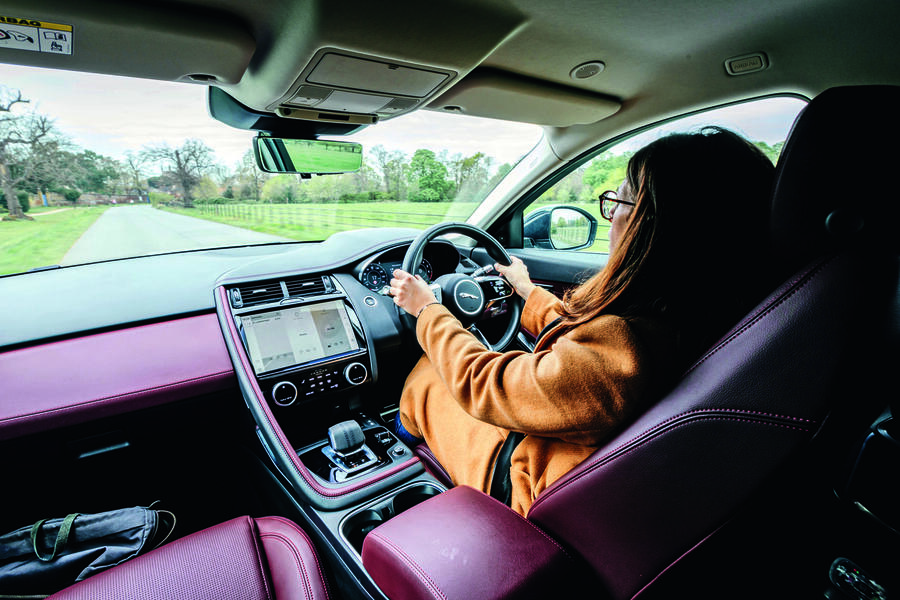 The Ground View 'transparent' car when parking is particularly helpful for lazy me when I'm parking at the end of a parking bay and wanting to know that I'm right on the edge of the white line marking it out so that I don't waste any space for others.
Plus, it helps to make sure that I'm parked suitably close to the kerb, which is harder than you would think in the E-Pace, because it has a bulbous body that, even when moving the side mirrors down to see the kerb (an everyday occurrence when you don't have a driveway), makes it hard to see quite how close the wheels are (or aren't) to where they should be. 
The ClearSight rear-view function is turned on/off simply by flicking a toggle underneath the mirror. It takes some getting used to, because when you look at it, your point of focus is different. 
Rather than looking at cars moving live, you need to adjust to watching a camera that serves the same purpose.
It's great when the car is full to the brim and you would therefore struggle to see out of the back, but one obvious flaw I didn't realise until recently is that it means I can't see my child in the back.
Even so, both systems serve a convenient, useful purpose. No, they're not must-haves, but they do make everyday motoring easier.
Love it
Fancy lenses
Anything that helps parking in London is a bonus in my book.
Loathe it 
Vision gone funny
The digital rear-view mirror is a bit disorienting to begin with. 
Mileage: 8101
#Back">Back to the top
Volume knob is a welcome retention - 15 June
Find joy in the small things, they say. I'm doing that with the volume knob in the E-Pace, found handily on the driver's side of the centre console. I know that most cars have volume controls on the steering wheel now, but I would much rather a knob in an easily reachable position over a wheel-mounted control or an out-of-reach icon on a touchscreen.
Mileage: 7502
#Back">Back to the top
E-Pace is excellent for long drives but load space is lacking - 8 June
A long-awaited holiday to Devon recently provided me with an ideal chance to test all of our Jaguar E-Pace's capabilities, from motorway muncher to rural daily driver.
First came the challenge of packing everything for the week, as this SUV's packaging is one of its weaker points, with a boot smaller than the BMW X1 and Volvo XC40.
Our friends at What Car? measured its size like this: it will take six carry-on suitcases below the parcel shelf, compared with eight in the XC40 and nine in the X1.
On the plus side, the boot is a useful square shape with a wde recess and no lip to make loading and unloading awkward. Plus, I know that it can take golf clubs, because I saw a live attempt to load a set by my dad when contemplating his next car.
I decided it would be better to pack a few smaller bags rather than medium suitcases to make the best of the room and took out the parcel shelf for more freedom. With a mixture of boot space and one side of the rear passenger space, everything went in comfortably and I could still see out the back.
On the road, we cruised out of London in EV mode, fully charged to 34 miles (official WLTP electric range is 39 miles), before going into hybrid for the long M3 stretch and then the endless A303 westward.
The knees of my 6ft 2in partner weren't touching the glovebox with a child seat behind, but they weren't far off.
On arrival at a barn in deepest Devon, I was pleased to see a three-pin plug on the drive – not as good as a dedicated EV charger but still capable of doing the job. That was lucky, really, because I had a quick look at charging points in that part of the world on Zap-Map and there were only three: two at people's homes and one public charger.
Our barn was on a tiny winding lane, where I prayed that nothing was coming the other way. The E-Pace felt a little out of place (this is workhorse country, where I saw more Subarus and Ford Rangers than premium brands), but nonetheless it suited the lifestyle well. It's compact enough for passes on tight roads and has four-wheel drive, which you would most definitely need in the colder months.
Once at our destination, I didn't venture too far, so I could survive almost entirely in EV mode throughout the week, using petrol only for the drives there and back.
The infotainment system worked brilliantly and we were comfy for the whole four-hour trip, feeling cosseted in a good way and never fidgety.
Objectively, then, the E-Pace was a brilliant car for the holiday, making life easy at every turn. My only reservation would be if a family of four required it for a long drive. I'm certain it's doable, but I would have to significantly sharpen my packing skills to achieve it.

Life with a Jaguar E-Pace PHEV: Month 1
Welcoming the E-Pace to the fleet - 4 May 2022
Let's address the elephant in the room: what's happening at Jaguar? Not a lot, it seems. At least on the face of it, although presumably the team at its Coventry headquarters are incredibly busy preparing for its reinvention, which is due in 2025. At that time, it plans to relaunch as an electric-only luxury brand on a par with Aston Martin and Bentley.
That seemingly doesn't leave much room for its existing line-up, then, which is led by the Jaguar F-Pace, Jaguar I-Pace and Jaguar E-Pace, an example of which has just joined our long-term fleet. While it's hard to see how these cars fit into the new line-up, they remain very relevant for the market right now, all SUVs for families, one fully electric and the other two with plug-in hybrid powertrain options.
Of the three, the E-Pace sold the fewest last year, although I would wager that's because Jaguar directed its chip supply to the more expensive, profitable models and/or those (the I-Pace) that would help bring down its average emissions to avoid fines.
The E-Pace sold just over 3600 units last year – around the same number as its Porsche Macan rival but still nowhere close to sales of another foe, the Audi Q3.
This latest E-Pace even went so far as to adopt a new platform when it arrived last year as an update of the car that was launched in 2017.
It's the PTA platform that was used for the Land Rover Discovery Sport and Range Rover Evoque overhauls of the previous year. Jaguar claimed the new underpinnings benefit handling, ride and overall refinement, but most importantly, it accommodates both mild-hybrid and plug-in hybrid powertrains, which were crucial for the E-Pace to live on.
There are now five models available, all of them hybridised other than the entry-level diesel. Most are mild hybrid, but the range-topper (our car) is a plug-in hybrid.
Named the P300e, it mates a 197bhp 1.5-litre three-cylinder petrol engine with a 107bhp electric motor on the rear axle and a 15kWh battery under the boot floor. As the fastest- accelerating E-Pace, it has a 0-62mph time of 6.5sec, yet also gets 141mpg and therefore CO2 emissions of just 44g/km. The electric-only range from a full charge is said to be 39 miles.
R-Dynamic S is the lowest of three trim levels available for the P300e, costing £45,995. But add a quite absurd number of options (see right) and our car costs more than range-topping HSE trim.
Without all those extras, there's still a long list of equipment as standard, the highlights including a 3D surround-view camera, torque vectoring by braking, dynamic stability control and the 11.4in Pivi Pro infotainment system.
The latter is a monumental step change for Jaguar Land Rover, which has often been criticised for trailing its German rivals in terms of infotainment. It has therefore regularly updated its offering in an attempt to catch up. My early impressions of the system, first introduced in the new Land Rover Defender, suggest that it has finally managed to achieve that.
In keeping with the handsome and premium-feeling interior, the infotainment system is sharply designed and to these eyes classier than its German equivalents. Time will tell if that translates to a good daily user experience.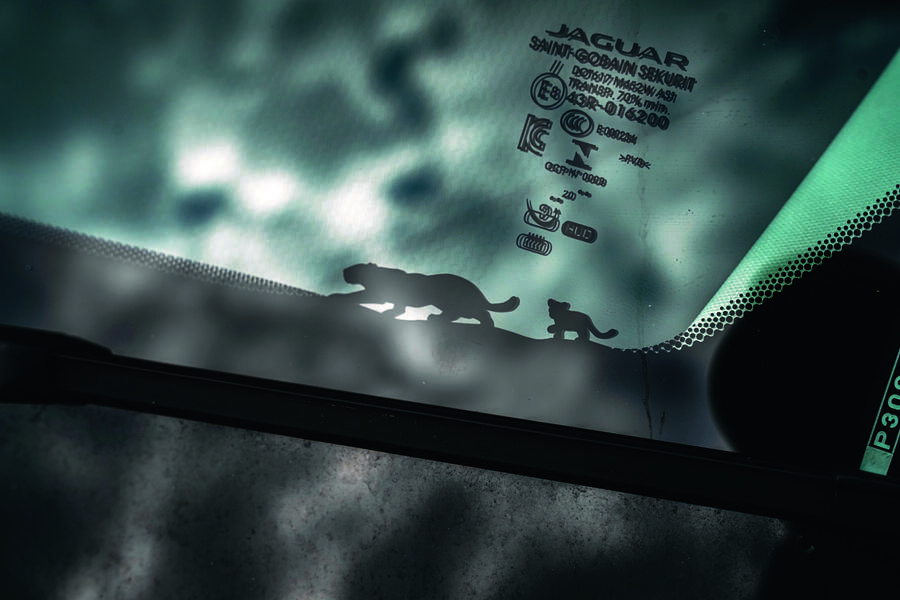 The overall experience so far is similarly positive. This needs to be an excellent car, considering how populated the luxury compact SUV space is now, and from the off it has surpassed expectations.
I've mentioned the interior, which is comfortable and cosseting, but it's also excellent to drive, with satisfying and direct steering that's dynamic yet also easy to get along with, and a compliant if firm ride (due to our car's 20in wheels, which cost an extra £1240).
I already know the E-Pace won't win on the practicality front. Its boot is considerably smaller than the Q3's and the cabin likewise. But it has so far proven a very usable space for people and their many things. The electric-only range is typically 34 miles. It takes just under 90 minutes to charge it from 0-80% on a public 7kW charger but a happy half hour on a 50kW fast charger – if you can find one.
It's making urban life particularly relaxing, but it has the pace and comfort to suit long journeys too.
The next few months will give us the chance to see if the E-Pace continues to impress in varying situations and environments, and whether this plush British-born SUV can match the appeal of its many high-calibre rivals.
Second Opinion
Coming from a Land Rover-owning clan (a Mk1 Discovery Sport with the next great antibiotic discovery being cultured on the back seats), I was staggered to see the improvement of the infotainment in the latest E-Pace. That Pivi Pro system is so much better. It will be interesting to see what progress has been made elsewhere in the coming months.
Piers Ward
#Back">Back to the top
Jaguar E-Pace PHEV specification
Specs: Price New £45,995 Price as tested £51,645 Options Hakuba Silver metallic paint £670, 20in split-spoke satin grey alloys with diamond turned finish £1240, 12–way heated electric driver memory front seats and 40/20/40-split rear with centre armrest £350, Technology Pack £1220, cabin air purification £335, Meridian sound system £600, heated steering wheel £205, privacy glass £370, blindspot assist and rear traffic monitor £360, home charging cable £300 Test Data: Engine 1.5-litre 3-cyl with rear-mounted electric motor Power 304bhp at 5,500rpm Torque 331lb ft at 1,600-4,500rpm Kerb weight 2173kg Top speed 134mph 0-62mph 6.1sec Fuel economy 45.6mpg CO2 197g/km Faults None Expenses None
https://www.autocar.co.uk/car-review/jag...erm-review