04-10-2022, 08:07 PM
Jeep reveals new Wrangler Magneto 2.0 at Moab Easter Safari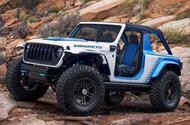 Magneto 2.0 is the 616bhp second edition of a BEV Jeep Wrangler concept revealed last year
An uprated version of the all-electric Jeep Wrangler Magneto has been revealed as one of a series of concept vehicles that will take part in the US firm's annual Moab Easter Jeep Safari event.
The Magneto 2.0 is the second edition of the battery-electric Wrangler concept revealed last year and has been given a boost in performance as well as a series of mechanical upgrades.
The concept is powered by four lithium ion batteries with a combined capacity of 70kWh and power has increased substantially over the first Magneto. 
Whereas the old model had 281bhp and 273lb ft, the Magneto 2.0 produces a substantial 616bhp and 850lb ft for a claimed 0-62mph time of 2.0sec. Its muscular reserves are produced by a single custom-built axial flux electric motor.
Like the first Magneto, it retains a six-speed manual transmission and a clutch for "ultimate control over the propulsion system". Despite this, it still features regenerative braking and a "true one-pedal driving experience".
The model's wheelbase has also been lengthend by 305mm to add room for powertrain components, while ride height has been bolstered by 76mm. To improve off-road performance, the Magneto is equipped with 40in off-road tyres mounted on 20in wheels.
Styling revisions for the new concept are mild but include bespoke, lightweight bumpers and carbonfibre wheel arches, the designs of which, Jeep says, improve the vehicle's approach and departure angles.
The model sports a 'Surf Blue' exterior paint scheme as well as a carbonfibre B-pillar, a custom fabric roof and a carbonfibre bonnet that features a blue-tinted transparent window. 
The Magneto is based on a standard Wrangler with electrical components retro-fitted, rather than a ground-up creation. Despite the successful implementation of the powertrain, Jeep said it is unlikely to offer a retro-fitting service for customers any time soon. 
Mark Allen, Jeep design boss, said: "We were measuring the appeal of electricity with the enthusiast crowd out there. We thought it [the Magneto] would be amusing and interesting last year, but the response to it was nearly overwhelming for us. We're quite encouraged with that, especially as we point towards the future with electricity."
The firm has not revealed range figures, although 70kWh should allow for around 220 miles on a single charge. 
Allen said: "The goal is not about range, but the torque characteristics of battery-electric off road. We're counting on, as the future comes, that batteries will get smaller, lighter and cheaper with a lot more range. I was just impatient and wanted to experience it as soon as we could.
"I was shocked at the acceptance last year because I always view these people [Jeep enthusiasts] as a bit traditional in their thoughts, but they're very progressive in wanting the benefits of electric off road, primarily, torque characteristics, the quietness of these vehicles."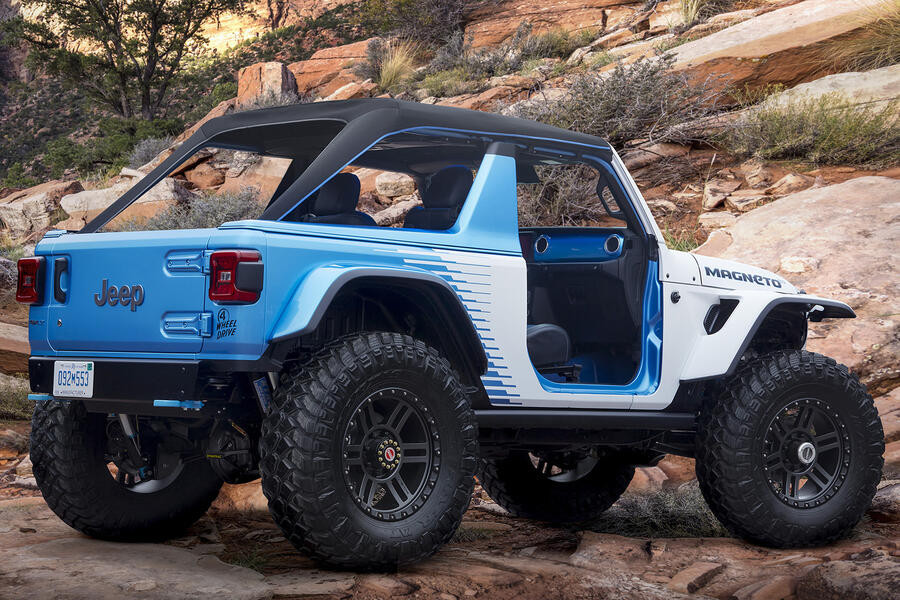 Jeep recently announced that its first production EV will arrive in the first half of 2023 but insisted that technology seen on the Magneto is unlikely to make production – and that includes the manual gearbox. 
"The manual gearbox was an easy way to keep everything, like the suspension, low-range transfer case and primarily the axles," Allen said. 
He added: "Will it [the manual gearbox] be in production? I don't think so. I don't see that happening. There may be somebody who does it, but it might not be us." 
https://www.autocar.co.uk/car-news/new-c...ter-safari