03-17-2023, 11:53 PM
Kia EV9 is seven-seat electric SUV with 337-mile range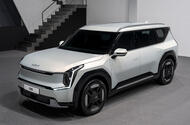 Kia hopes the EV9 will help reshape the image of its brand
Optional swivelling seats for Kia's largest and most advanced electric car yet
The new Kia EV9 is the second of the firm's fast-expanding family of bespoke electric cars, combining compelling performance specs with upmarket design and equipment to enter into direct competition with new SUVs from the likes of BMW and Mercedes-Benz.
Arriving to join the segment-bending Kia EV6 crossover in dealerships from last 2023, the EV9 heralds the beginning of a bold new design era for Kia as it progresses with its ambitious 'Plan S' strategy to launch another 13 bespoke EVs by 2027.
Its role is especially important in this regard, according to Kia's chief brand officer Artur Martens, who said the EV9 "will help us keep reshaping the image consumers have of our brand" - an initiative supported by wide-reaching dealer reform measures and expansion into new segments.
The three-row EV will be the most expensive Kia model yet, as well as one of its largest - being roughly the same size as the US-market Telluride SUV. Full pricing details will come closer to a launch in the third quarter of 2023, but a top-end list price in the mid-£80,000s is feasible, while entry-level variants will likely be priced closer to the £60,000 mark.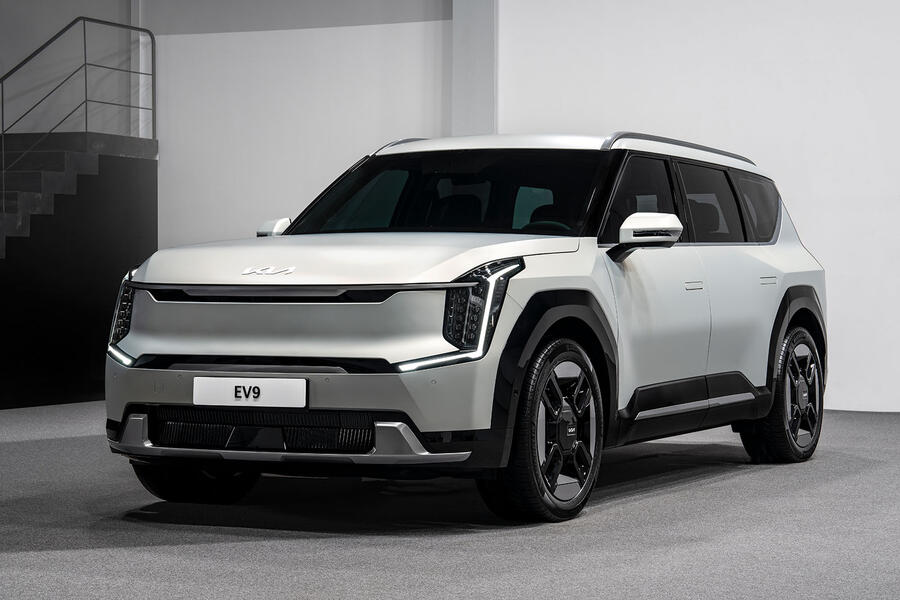 Though the car has been fully revealed inside and out, Kia remains tight-lipped on performance and technical specifics, though given its targeted maximum range of 337 miles – and the fact that it has around 200mm more space between the wheels than the EV6 – it is expected that maximum battery capacity will be in the region of 100kWh from launch.
Because the EV9 shares its 800V-equipped E-GMP platform with the EV6 and its Hyundai Ioniq 5 sibling car, it will be capable of rapid-charging at 350kW to give 100km (62 miles) of range in just six minutes, and will come as standard with vehicle-to-load reverse-charging functionality.
Like its platform mate, the EV9 will be available from launch with the choice of rear- and four-wheel drive powertrain options across a simple selection of trim levels - expected to be capped out from launch by a twin-motor GT-Line S variant with a projected 0-60mph time of 5.0sec. A full-fat EV9 GT will follow close behind to rival the BMW iX M60 and Mercedes-AMG EQS SUV, potentially boosting power beyond the hottest EV6's 577bhp.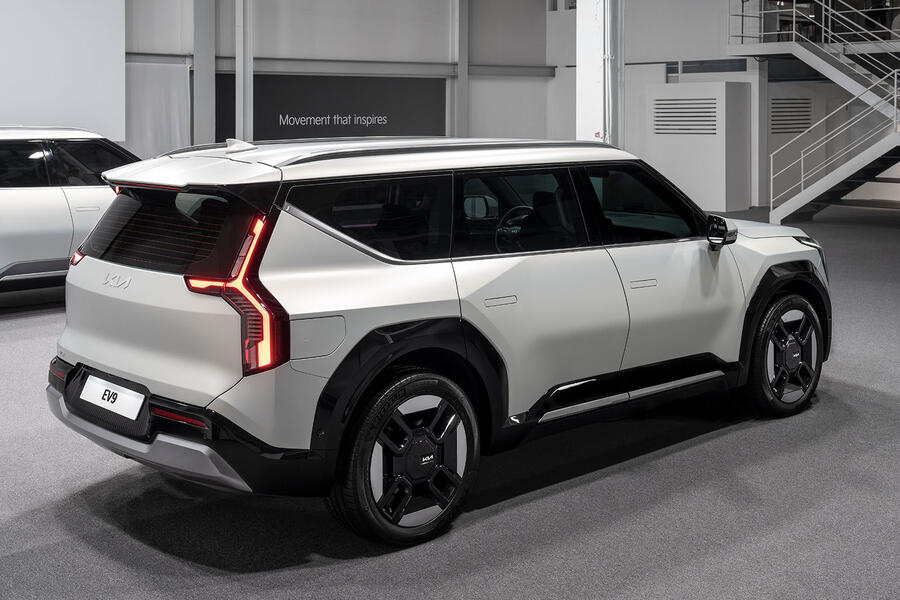 It is the first all-new Kia designed entirely under the stewardship of ex-BMW stylist Karim Habib, who explained that all future models will be obviously linked visually, without the brand pursuing a 'Russian doll' approach to its line-up.
With regard to its silhouette and definitive design cues, the production-spec EV9 remains heavily faithful to the radical concept Kia showed at Los Angeles in 2021, but rides noticeably closer to the ground – courtesy of a much thicker battery pack and 21in wheels in place of the concept's 23s – and has softened out some of the show car's sharpest edges. Kia calls its design approach for this new EV family 'opposites united' and says the EV9 embodies it with a "unique blend of sleek, sculptural design with confident and assertive geometry".
But ultimately, the EV9 is much more recognisably a dedicated SUV than the rakish, low-slung EV6. "This is an SUV and we wanted that typology to be very clear," explained Habib, pointing to its chunky black body cladding (available in gloss or matte) and clearly defined, two-box silhouette, while highlighting some of the more non-conventional cues that nod to the EV9's electric underpinnings.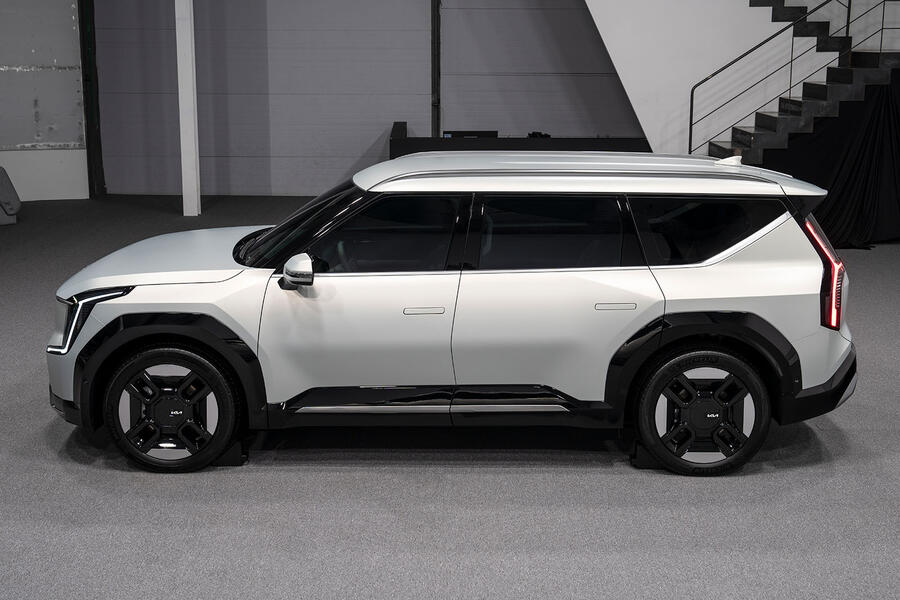 "It's very upright, and it very much has what we think is an authentic SUV typology, he said, and when asked by Autocar why the designers hadn't been tempted to pursue a more unconventional silhouette, he added: "There's something really nice about these sort of authentic, honest, boxy SUVs. When you look at a Land Rover Defender today – old or new – you know that there's still something really quite cool about that." 
He also suggested that he'd been inspired by the fact that traditional rugged 4x4s simply used bent, rather than stamped, body panels, which influenced the EV9's minimalist and straight-edged details.
Some of the car's defining cues that will go on to influence future models include the distinctive trapezoidal creases on its rear quarters, its visibly stretched greenhouse (possible due to the lack of an engine), kinked rear window line, selection of striking new wheel designs and – most obviously – its 'star map' LED light signatures at the front and rear.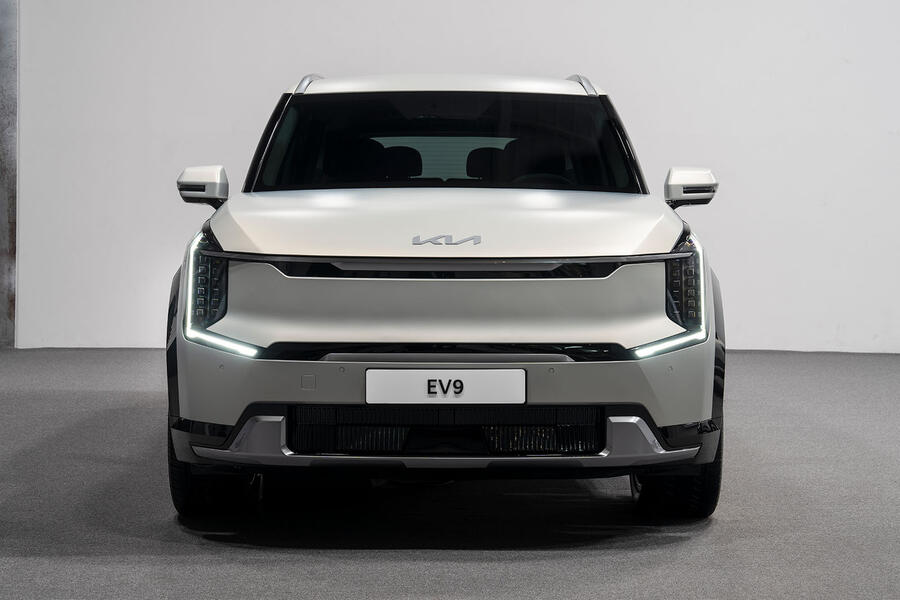 The latest version of Kia's tiger face 'grille' also makes its debut here, though without any need for engine cooling, it now takes the form of an expansive smooth panel which can be decorated with customisable LED light patterns shining through from behind - as was the case with the concept.
The headlights and brakelights play an important design role, too, being oriented vertically and mounted right on the corners of the body to make the EV9 appear as wide as possible.
Habib gave some hints as to how Kia will look to imbue future mass-market models with similarly distinct characters while retaining popular appeal: "We want to be risk takers, and this is mainly the challenge that we have, obviously, designing things that have to sell millions of millions of units.
"We want our products to feel, even for us within the process, to feel initially a little bit unknown, a little bit uncomfortable. And as we get through it, we believe that we feel more and more comfortable, and more and more enriched or inspired by those products, and we want that journey to be what our customers feel as well."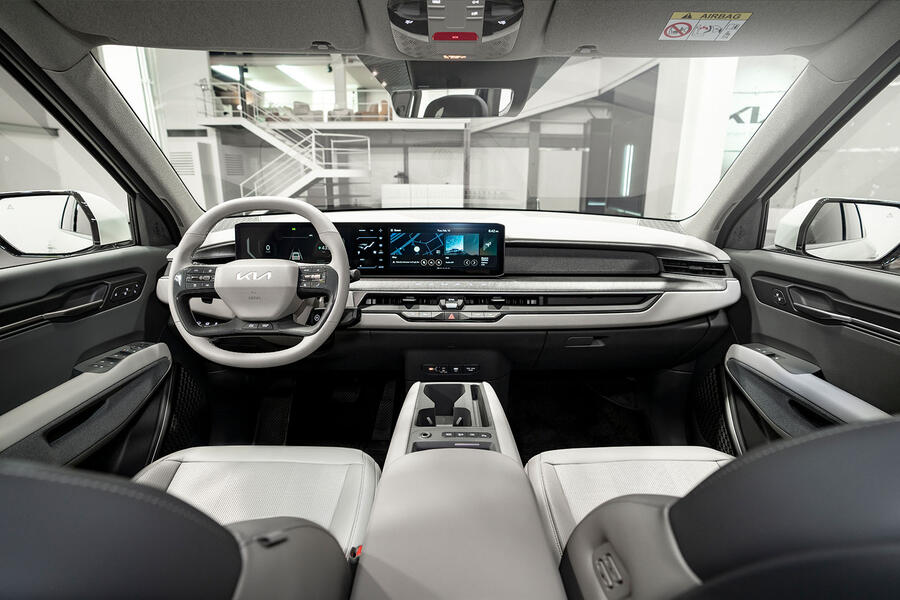 But Kia is just as keen to highlight the EV9's pioneering interior, which breaks new ground for the marque by introducing a wealth of top-rung tech, an array of sustainable upmarket materials and unique packaging solutions in recognition of the fact that the car is becoming "more than just a vehicle to move people from A to B", according to Kia.
The new-look dashboard is topped an expansive digital panel housing a trio of screens for use by the driver and passenger (complete with the most comprehensive array of connectivity-enabled functions yet) - and flanked by a pair of digital rear-view mirror displays which will be optionally available in the UK. 
Interior design boss Jochen Paesen said that although Kia does not "want the screens and the digital content to dominate, it's an integral part of what our cars have today, especially with over-the-air updates, especially with features-on-demand. This will grow and the amount of possibilities will grow. But we feel that needs to be balanced, the screen should not take over. The screen should not suddenly become the main part of the vehicle."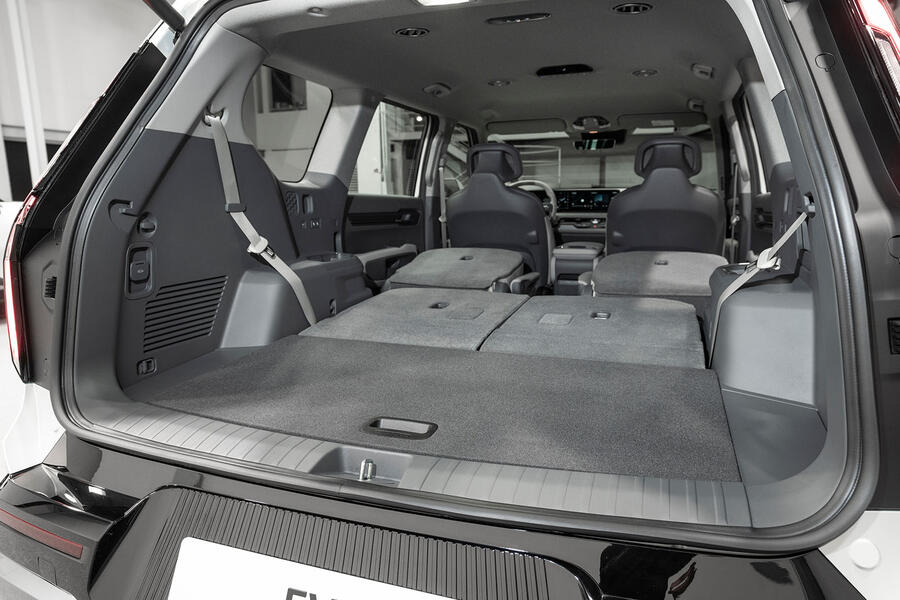 Meanwhile, the flat floor of an EV enables not just more space at a top level, but also new approaches to packaging and enhanced modularity. The EV9's swivelling middle row (only available on six-seat cars) allows the four rear passengers to face eachother on the move - a unique feature in this segment, and one that lends the EV9 heightened appeal outside the traditional family car market.
Bolstering its executive credentials are tray tables on the backs of the front seats, a digital climate control panel for the rear passengers and a dedicated 'Automode' which enables the highest level of assisted driving available on any Kia so far.
Details on what will follow the EV9 remain under wraps, but of the 13 bespoke Kia EVs arriving in the next three years, eight will come to the UK - and are expected to broadly serve as electric alternatives or successors to the combustion models Kia currently sells. 
https://www.autocar.co.uk/car-news/new-c...mile-range