06-14-2023, 02:19 PM
Kia Niro EV 2023 long-term test
Our new rangy crossover seems the default electric family car choice. Why is that?
Why we're running it:  To see if the new electric Niro is the Volkswagen Golf of the EV world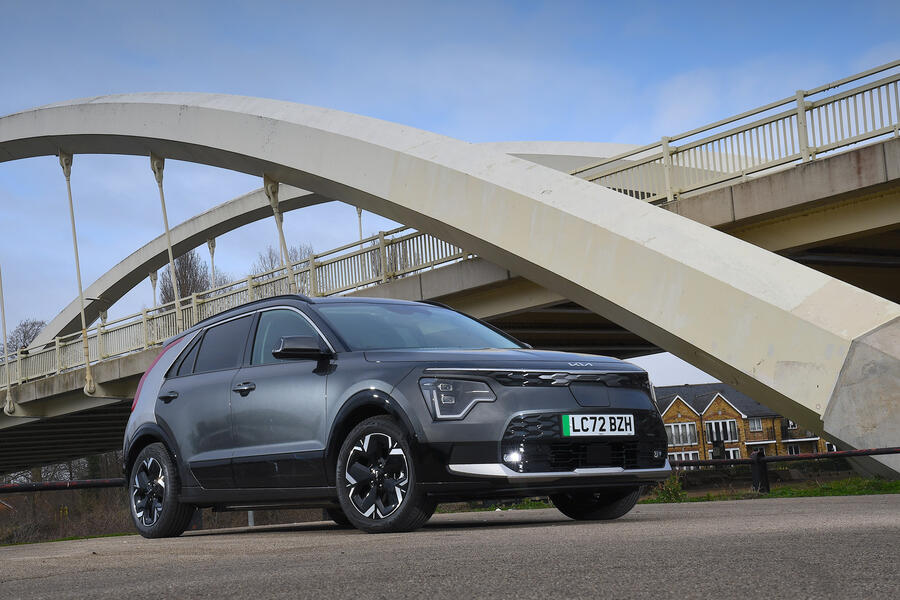 Life with a Kia Niro EV: Month 1
Welcoming the Niro to the fleet - 7 June 2023
When the Kia Niro was named as one of the seven cars shortlisted for the 2023 Car of the Year award late last year, the nice man from Kia asked me if I would like to speak to UK boss Paul Philpott about the model and its success.
In coming up with some topics for that discussion, a thought struck me, and it has stuck with me ever since: the Niro EV is like the Volkswagen Golf of the electric car world.
The Golf has long been the de-facto choice in the 'old world' for those who just want a family car to quietly but brilliantly do it all, with no fanfare. Don't know what car to buy? Get a Golf. It strikes me that among EVs of this size, the Niro does the exact same job. Don't know what electric car to buy? Get a Niro.
The Niro EV is already unusual in the electric car world for being a second-generation model, and the refinement rather than reinvention shows that Kia was already onto a good thing before the switchover last year.
So much so, in fact, that the drivetrain is identical. There's the same 201bhp, 291lb ft front-mounted permanent magnet synchronous motor that draws power from a 64.8kWh (usable capacity) lithium ion battery. Even the top speed (104mph) and 0-62mph time (7.8sec) remain the same.
All those figures are still competitive in the market, but the retained maximum charging rate of 72kW now looks a bit pedestrian compared with some EVs'.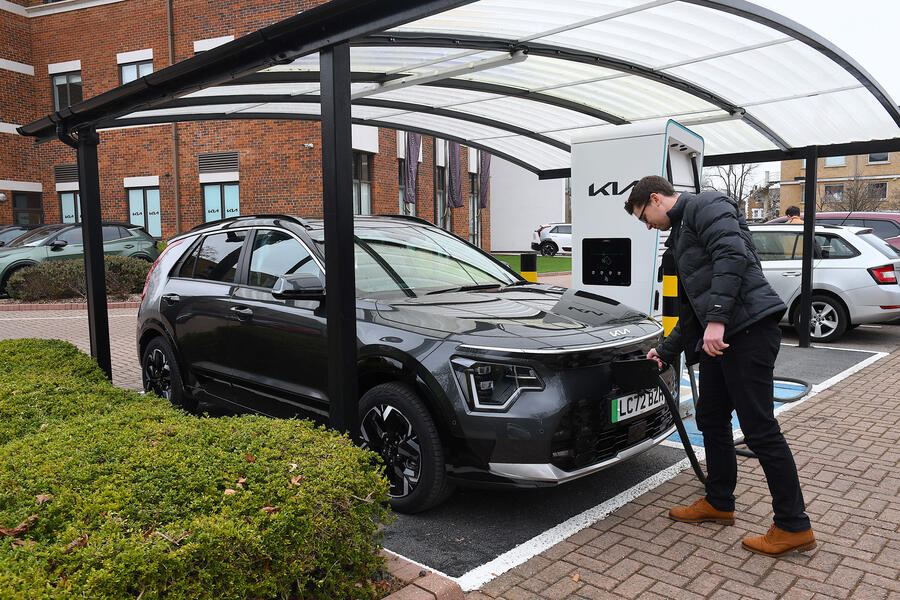 The early indicated range that I'm getting is just shy of 240 miles, which is down from the 250-plus that I remember seeing from the old e-Niro and shy again of the official 285-mile range. Still, it's early days, and with warmer weather I expect this to rise.
The Niro is, of course, not just an electric car but a hybrid and a plug-in hybrid, too. They all look the same: beyond a small badge on the bootlid, the only real way to tell the EV apart from its stablemates at a quick glance is through the flash of green on the numberplate. The HEV and PHEV even use the same 1.6-litre engine, the latter also drawing electricity from a 11.1kWh battery.
I will make sure to get close to the EV's range-mates for comparison during this test, because Kia tells of genuine cross-shopping between the models and customers choosing differently to what they had expected after sampling them and speaking to dealers. It's a clever strategy that allows buyers to compare apples with apples.
Kia is able to secure buyers who might intend to buy an EV yet when push comes to shove decide otherwise and end up with one of the Niro's other powertrain options, "particularly those without off-street parking, for whom home charging is more challenging, perhaps their driving needs are such that they need some greater flexibility, or they don't yet have the confidence of charging infrastructure", as Philpott told me.
"The options of HEV and PHEV are there," he continued. "I think people are comparing them, and by giving people the choice it forces them to ask themselves questions. What do I want for the next three years of car ownership? Am I ready to go fully EV? Perhaps [I will instead go] PHEV, [because] it gives me an option."
Whatever version they go for, there are the same 2, 3 and 4 trim levels to choose from. Our car is a 4, and beyond colour (including a contrasting tone for the C-pillars) the only other choice is whether to have a £900 heat pump. Our car doesn't, but it's something I would add based on past experiences.
That aside, our car is fully loaded and wants for little. Highlights include the leather-effect 'vegan' upholstery (made using Tencel fabric from eucalyptus trees), although I can't work out if it really elevates the car while remaining durable or feels like a more upmarket version of a wipe-clean vinyl tablecloth from a child's party. For now, I'm leaning towards the former.
The running-in period for our Niro has already been quite extensive, the recent flurry of comings and goings on the Autocar fleet holding back its debut in these pages. Yet this has simply allowed the new-car glow to last longer, as it has slipped seamlessly into everyday life.
Its dimensions make it feel nicely compact on our roads (having a narrower car after squeezing through gaps for 10,000 miles in a BMW iX has been particularly welcome), and its real-world drivability and pace are excellent.
The e-Niro, like its Hyundai Kona Electric sister, had a propensity to feel like it was going to escort you into a ditch, due to the violent amount of torque going through the low-rolling-resistance tyres; this new car feels more restrained and manageable without feeling slow. While the hardware is the same, the tuning has been improved.
It's spacious inside, too. A boon is being able to get a set of golf clubs in the boot widthways, such is the space and span of the opening.
Easy to drive, a good size, spacious, no fanfare, good equipment levels… Sounds like what we would have said about the Golf a few years ago.
Second Opinion
Forget the EV revolution: the Niro EV is a brilliant advert for evolution. Take a car that was a huge hit, carefully address its relatively minor flaws and produce an absolute mainstream smash. Yup, another reason to compare it to the Golf.
James Attwood
#Back">Back to the top
Kia Niro EV 4 specification
Specs: Price New £42,295 Price as tested £43,040 Options Interstellar Grey with Grey pillar £745
Test Data: Engine front-mounted permanent magnet synchronous motor Power 201bhp Torque 291lb ft Kerb weight 1739kg Top speed 104mph 0-62mph 7.8sec Economy 3.9mpkW CO2 0g/km Faults None Expenses None
#Back">Back to the top
https://www.autocar.co.uk/car-review/kia...-term-test