10-25-2023, 05:48 AM
Kia Niro EV 2023 long-term test
Our new rangy crossover seems the default electric family car choice. Why is that?
Why we're running it:  To see if the new electric Niro is the Volkswagen Golf of the EV world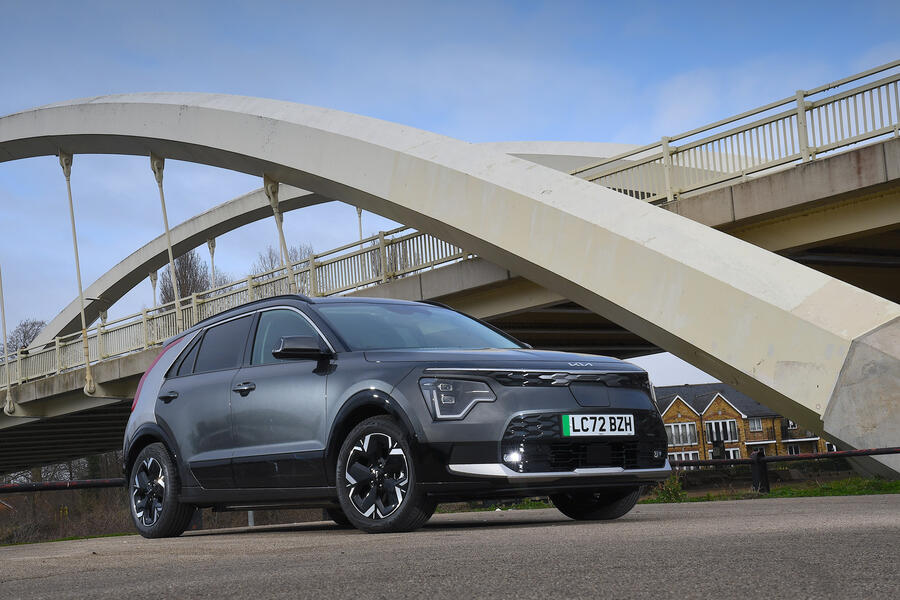 Life with a Kia Niro EV: Month 5
The champagne or cava of EVs? We pop to France to find out - 11 October
The Kia Niro is not only available as an electric car but also a hybrid and a plug-in hybrid. The EV is the least popular of the trio in sales terms, which shows where the market is for such cars today (static, as EVs race ahead). Yet between the hybrid and the EV, the remaining sales are split pretty evenly, the latter just shading it.
I like the strategy of offering multiple powertrains in the same model. Not everyone is ready to go electric, and this gives consumers the chance to pick the car they like first, rather than the powertrain, and work backwards from there. And with clued-up sales staff, it can help educate drivers on which powertrain might be right for them.
In 10,000 miles in the Niro EV, I have yet to encounter a journey that it couldn't undertake, and as I am fortunate enough to be able to charge at home, it has proved right for me in terms of running costs. Yet I was intrigued to try a Niro Hybrid to see what the alternative was should my 'buying' decision have gone the other way.
So a nice green Niro Hybrid arrived for a week, and I had plenty of miles planned for it. I was prepared to use this page to list all the differences, but it turns out there really isn't anything beyond the powertrain. They look the same inside and out and largely ride and handle the same.
The extra weight of the EV doesn't do much of note to the dynamic character of the Niro and the extra poke from the electric drivetrain not only compensates for it anyway but makes the EV the brisker car in the first place.
Still, the petrol-electric system in the Niro Hybrid is one of the better ones around. It doesn't whine and groan too much under heavy loads and for the most part is quiet and efficient.
It pushes nearly 60mpg even on motorway drives and you do feel like you're creeping around on electricity for large parts of urban journeys, thanks to the 1.32kWh battery allowing limited EV running. Meanwhile, the 42-litre petrol tank means a range in excess of 500 miles is possible.
I like the Niro a lot as a car,for being compact yet spacious and its easygoing road manners with still a hint of driver involvement. That this is true of both the hybrid and electric versions only increases its appeal, especially as they share such a generous equipment list. If anyone still hasn't caught up with what Kia can offer with mainstream cars in mainstream segments nowadays, the Niro is perhaps the best example yet.
Alas, the Niro EV's time with us is almost up. It has just got back from another trip to the continent, into the Champagne region of France (its natural habitat, of course), where it made for quiet, comfortable and efficient transport for two people, our luggage for the week and some duty free bottles on the way back that definitely weren't champagne. Charging options were plentiful over the 700 miles or so that we covered in the week and entirely unremarkable and stress-free.
Only the charging speed of the Niro EV, which maxes at just 80kW, made a few stops longer than they needed to be, but access to chargers was as easy as it had ever been, thanks to the RFID card that comes with a Kia Charge app account.
Access to this is available for a £1.99 one-off fee, and it means no more inputting credit card details on spurious apps at random chargers. You get billed on a monthly basis and the electrons for this trip came to a few pence under £100, which felt like good value. 
Love it
Kia charge app
Getting an RFID card has made charging so much more convenient, allowing access to more units and a quicker start to charging. 
Loathe it
Charging speed (still)
It continues to hamper longer journeys. The 80kW maximum speed is rarely hit, with around 30-50kW far more common. 
Mileage: 9999
#Back">Back to the top
Life with a Kia Niro EV: Month 4
The Niro is a strong performer in the summer - 27 September
The warm weather efficiency of the Niro EV has been fantastic. On my 30-mile commute, a good 80% of it is at motorway speeds but still I can return 3.5mpkWh. On a more urban journey, that can creep as high as 5mpkWh. As time goes on, I'm looking less at the range and more at the efficiency of EVs. Longer term, better efficiency can mean smaller batteries and lighter cars again
Mileage: 9200
#Back">Back to the top
It wasn't the most fun electric car in our big test, but in some ways it was the best - 13 September
if the eight cars we had at our disposal on the North York Moors for our recent circa-£40k electric cars' showdown (30 August), it was the Niro EV that provided the comfiest refuge from the relentless drizzle and wind.
An uninspiring interior colour scheme and a function-over-form cockpit design mean it doesn't offer the welcoming ambience of, say, the Honda E, with its homely wood trim and friendly virtual koi carp. But when four tired testers needed to send some emails and scribble some notes, or photographers were after a temporary storage room for their tons of kit, it was match point to the Korean crossover.
It doesn't make a bad studio, either, as it turns out. I piled in with colleagues Matt Saunders, Matt Prior and Steve Cropley for an hour to record an episode of the Autocar Electric podcast (available wherever you get your favourite pods) and not once did anybody take an elbow to the eye, knock the microphones off the armrests or complain about an incursion on their private space.
As well as being the biggest of the six EVs on test, the Niro was also the smoothest-riding, which made it the ideal back-up camera car. With the rear seats folded down and the parcel shelf removed, there was a veritable ballroom's worth of space for our lucky (but curiously ungrateful) photographer to contort himself into for a few hours of low-speed tracking shots.
Ultimately, though, there can be no greater testament to the Niro's versatility than the simple fact that, as the eight of us parted ways and began the long descent back down south, there wasn't a single person who wouldn't have jumped at the chance to take this long-legged, no-nonsense option.
What a shame, then, that I simply had "no choice" but to claim it for myself, because its custodian needed it back urgently.
I hope nobody noticed that I hung onto it for another week.
Love it
Easy ride 
Long live thick sidewalls. You can feel the extra cushioning on rough roads and there's less chance of kerbing the chunky alloys. 
Lane assist
Unpredictable and unnecessary. I can manage checking my mirrors and slowly moving over to the left or right, thank you. 
Mileage: 8220
#Back">Back to the top
Life with a Kia Niro EV: Month 3
30-degree heat? The Kia has a solution... - 23 August
Kias typically come very well-equipped. 'Options' are pre-loaded based on the trim level, which keeps things simple, because all you have to do is choose a colour. It also means you end up with functions you might otherwise not have chosen but are delighted to have, such as the ventilated seats on my Niro 4. They're a boon on a hot day and give you a baby-Bentley experience
Mileage: 6999
#Back">Back to the top
An easy switch to stop annoying features - 9 August
There is a lane-keeping assist system and a lane-keeping warning noise in the Niro. A press of a button on the steering wheel deactivates the latter but a firm hold for a few seconds turns off both at once, as I only recently discovered. They default to on again with a new journey but it's easier than hunting through the screen menus as I'd been doing.
Mileage: 6455
v
Life with a Kia Niro EV: Month 2
A long search in the Goodwood car park brings an idea for a new feature... - 26 July
Fifteen minutes into the search of the Goodwood car park for the Niro EV, my patience was wearing thin. I'd taken a screen grab on my phone on Google Maps of the location, but that lacked precision, as did the tracking function in the Kia Connect app. If you could sound the horn via the app, that would have spared my blushes. A useful feature waiting to happen.
Mileage: 6320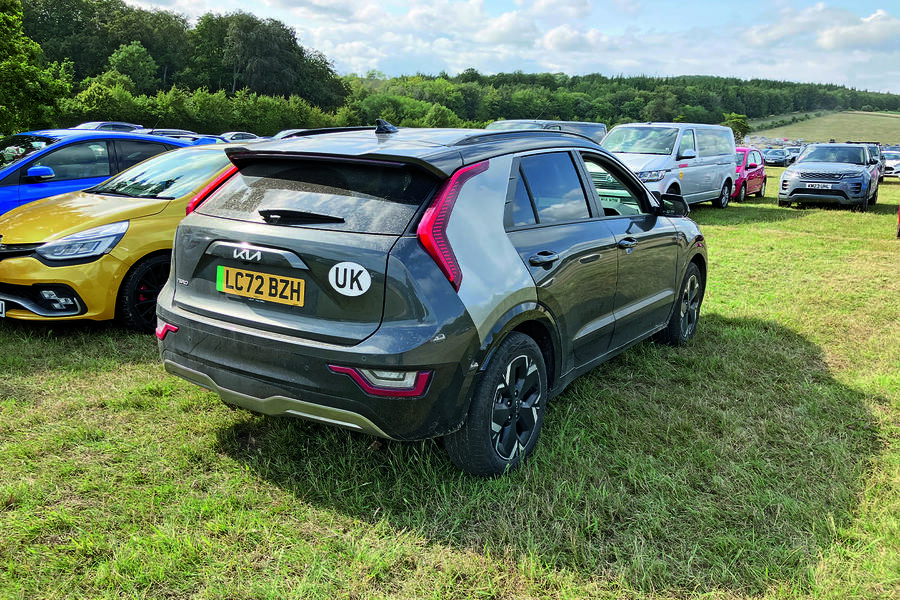 #Back">Back to the top
We've found another reason to regard it as the Volkswagen Golf of the new guard - 19 July
One of the best things about working for Autocar is getting to read all the magazine stories several days early as we proofread the pages. While reading our road test of the new Kia Soul EV (5 July), I raised an eyebrow and then a smile as our testers recalled the surprising level of dynamism that car had, something it shared with the closely related Niro EV.
I must admit, the reference to the Niro EV's level of dynamism caught me out a bit and through doing so many urban commuting miles mixed with lengthy motorway schleps, I hadn't gone in search of this driving pleasure. So after reading about the Soul EV, I took the long way home that evening to go searching for the same.
The old Niro EV had a tendency for its driving experience to be dominated by the amount of torque going through the front wheels, typically overwhelming them, and the novelty of such torque steer in a mini family hatchback soon wore off. But the new car is much more mature and well-rounded, which is where that Volkswagen Golf comparison comes in again.
The Niro EV doesn't look like the kind of car to have much handling flair, but it's there. It can corner surprisingly hard: you can really turn it in, find plenty of grip and get feedback through the steering wheel. That this all happens in near silence makes it a bit disconcerting. You wouldn't call it fun in the more traditional sense, but the Niro EV does its best to involve you in proceedings.
As for its ride, it's on the firm side without becoming uncomfortable, although the softer body control can cause plenty of head toss. I find around town the rear suspension can be quite crashy over speed bumps in particular, the rear of the car behaving quite differently from the front. It can be a bit wince-inducing. It doesn't ride as well as it handles, yet even with a few foibles, you can't say it rides badly.
I'm enjoying the performance too, the sub-7.0sec 0-60mph time and its compact footprint making it feel nippy – not a word we use as much these days given the size and heft of so many cars.
I think I'll be taking the long way home more often.
Like it
One pedal driving
I can't recall the last time I moved my right foot to the left when driving the Niro, because the regen is so well-judged.
Loathe it 
Charging speed
It adds an extra 5-10 minutes to a 'fast charge' motorway stop over rivals. Charging speed will be a key battleground.
Mileage: 5891
#Back">Back to the top
Key fob problems? Grab that OTA update... - 12 July
Key fob unlocks car, car turns on, I try to select gear – and nothing but a message saying 'key fob not detected' on the dashboard. I do the classic turn it all off and on again and it's fine, until the issue repeats itself a few weeks later. Kia says it's a known early issue that can be fixed with a software update, which mine now has been and is working fine.
Mileage: 5333
#Back">Back to the top
Life with a Kia Niro EV: Month 1
Here's the latest EV to undertake our new 'Bruges Benchmark' charging test - 28 June
You must like it there," say friends, as I tell them about yet another trip I'm making to Bruges. Three times in 11 months is a lot, on reflection, without having any ties there.
One was as a base for a broader holiday, the second only an evening in the depths of January to break up a journey and the third an impromptu one-night break to use up a fast-expiring Channel Tunnel voucher. I've not got shares or anything, honest.
Each of these trips has been done by an electric car. My Kia Niro EV has now followed in the tyre tracks of an Audi Q4 E-tron and a BMW iX. Each has all been rather straightforward, in truth – the return distance just over 400 miles and an overnight charge always available in Belgium. Neither range nor charging anxiety has been experienced to date, and taking an EV on such trips now feels like second nature, with less planning required each time.
However, if the Kia had been the first car I had done the journey in, I would have been a bit more apprehensive, because it has the shortest range and smallest battery size (65kWh) of the trio.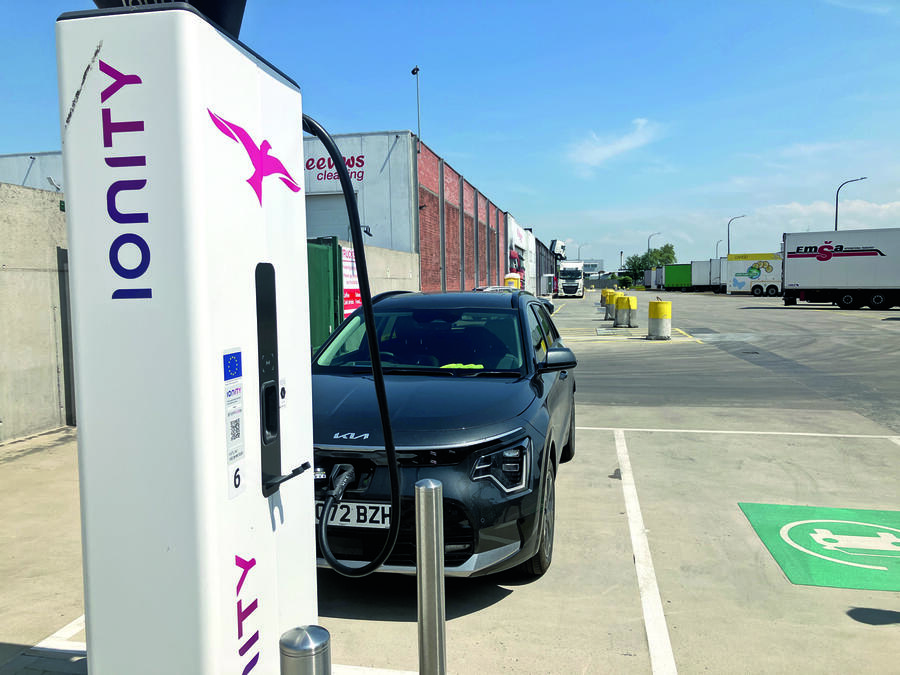 Both the iX (105kWh battery) and the Q4 (77kWh) could get there without charging, but I've been getting around 220 miles off a full charge in the Niro so far at mixed speeds, meaning a charge en route was required given the more battery-draining motorway speeds I would be doing for the most part.
I'm no Formula 1 race strategist, but a three-stop strategy seemed the way to go for the 400 miles: a splash and dash at each side of the tunnel to get the extra 15-20% of range in the battery and then a full charge overnight in Belgium, having set off with 100% in the first place.
The trusty free rapid charger at the Folkestone tunnel terminal has been pulled up, however, pending the installation of a proper bank of chargers, demand for which is patently there.
Still, in the bays next door, the Tesla Superchargers are open to non-Tesla EVs now, and I got a quick 13kWh for £7.15 (that's 55p per kWh) in the time that it took me to grab a coffee, which would be enough to see me to Bruges.
The next charge would require more of a decision: the obvious thing to do would be to charge in Bruges while the car was parked up for 24 hours. However, since June last year, the roadside chargers in the city have doubled in price to 79c per kWh and the parking itself was €16 for every four hours on top between 9am and 8pm. So I would be looking at close to €50 just for parking.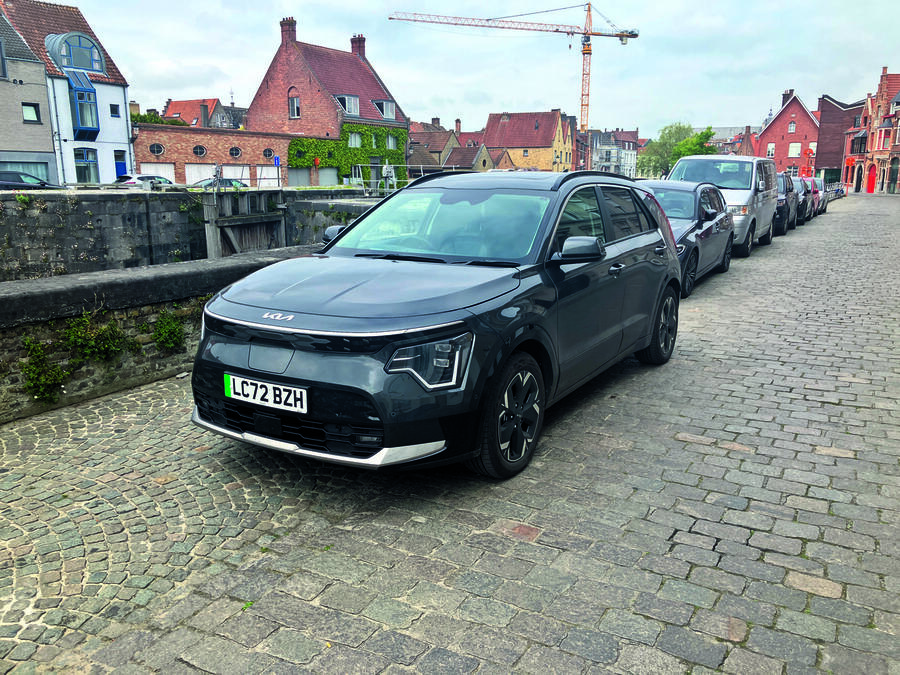 A better plan was to park in a cheaper multi-storey for the same cost for 24 hours and arrive with more charge to build a decent buffer for the way home.
I got that charge from an Ionity bank of chargers at a truck stop just over the Franco-Belgian border, where in 32 minutes (enough time to enjoy a meal to remember from the shop), I got slightly over 26kWh for just under £18.
Coming home, the Niro took on a further 21kWh for €11.34 (that's 54c per kWh) from another open Tesla charger on the Calais side of the tunnel while I was waiting for the train, and I got back still with 15% of displayed range.
It was all rather straightforward. Although while I was pleasantly surprised by the costs of rapid charging having come down in the past few months, I was a bit miffed that the seemingly most obvious and easiest time to charge the car – overnight – would have been the most expensive, by some margin, and from the slowest charger.
Car makers are making EVs that are ever more capable of taking ever bigger journeys in their stride, yet the curveballs the infrastructure throws at you along the way continue to perplex.
Like it
Efficient use
The Niro refused to drop much below a 3mpkWh average even at motorway speeds. My old BMW iX would cruise at about 1.8mpkWh.
Loathe it
Beeps and bongs
The Niro has beeped at me for some unknown reason in countless scenarios on countless occasions.
Mileage: 4855
#Back">Back to the top
Life with the Niro is easy - 14 June 2023
I've put a huge chunk of miles on the Niro already. It's an easy car to get along with. Efficiency is impressive, at around four miles per kWh. That's giving a trusty range of just below 250 miles. I haven't found myself getting impatient with the 77kW public charging speed yet, although an imminent road trip to Belgium will be a good test for that.
Mileage: 4233
#Back">Back to the top
Welcoming the Niro to the fleet - 7 June 2023
When the Kia Niro was named as one of the seven cars shortlisted for the 2023 Car of the Year award late last year, the nice man from Kia asked me if I would like to speak to UK boss Paul Philpott about the model and its success.
In coming up with some topics for that discussion, a thought struck me, and it has stuck with me ever since: the Niro EV is like the Volkswagen Golf of the electric car world.
The Golf has long been the de-facto choice in the 'old world' for those who just want a family car to quietly but brilliantly do it all, with no fanfare. Don't know what car to buy? Get a Golf. It strikes me that among EVs of this size, the Niro does the exact same job. Don't know what electric car to buy? Get a Niro.
The Niro EV is already unusual in the electric car world for being a second-generation model, and the refinement rather than reinvention shows that Kia was already onto a good thing before the switchover last year.
So much so, in fact, that the drivetrain is identical. There's the same 201bhp, 291lb ft front-mounted permanent magnet synchronous motor that draws power from a 64.8kWh (usable capacity) lithium ion battery. Even the top speed (104mph) and 0-62mph time (7.8sec) remain the same.
All those figures are still competitive in the market, but the retained maximum charging rate of 72kW now looks a bit pedestrian compared with some EVs'.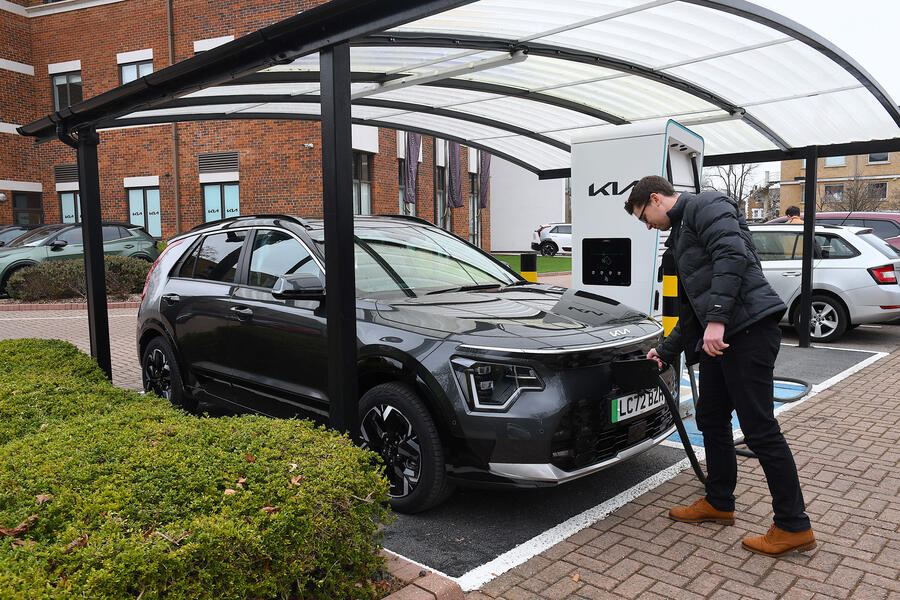 The early indicated range that I'm getting is just shy of 240 miles, which is down from the 250-plus that I remember seeing from the old e-Niro and shy again of the official 285-mile range. Still, it's early days, and with warmer weather I expect this to rise.
The Niro is, of course, not just an electric car but a hybrid and a plug-in hybrid, too. They all look the same: beyond a small badge on the bootlid, the only real way to tell the EV apart from its stablemates at a quick glance is through the flash of green on the numberplate. The HEV and PHEV even use the same 1.6-litre engine, the latter also drawing electricity from a 11.1kWh battery.
I will make sure to get close to the EV's range-mates for comparison during this test, because Kia tells of genuine cross-shopping between the models and customers choosing differently to what they had expected after sampling them and speaking to dealers. It's a clever strategy that allows buyers to compare apples with apples.
Kia is able to secure buyers who might intend to buy an EV yet when push comes to shove decide otherwise and end up with one of the Niro's other powertrain options, "particularly those without off-street parking, for whom home charging is more challenging, perhaps their driving needs are such that they need some greater flexibility, or they don't yet have the confidence of charging infrastructure", as Philpott told me.
"The options of HEV and PHEV are there," he continued. "I think people are comparing them, and by giving people the choice it forces them to ask themselves questions. What do I want for the next three years of car ownership? Am I ready to go fully EV? Perhaps [I will instead go] PHEV, [because] it gives me an option."
Whatever version they go for, there are the same 2, 3 and 4 trim levels to choose from. Our car is a 4, and beyond colour (including a contrasting tone for the C-pillars) the only other choice is whether to have a £900 heat pump. Our car doesn't, but it's something I would add based on past experiences.
That aside, our car is fully loaded and wants for little. Highlights include the leather-effect 'vegan' upholstery (made using Tencel fabric from eucalyptus trees), although I can't work out if it really elevates the car while remaining durable or feels like a more upmarket version of a wipe-clean vinyl tablecloth from a child's party. For now, I'm leaning towards the former.
The running-in period for our Niro has already been quite extensive, the recent flurry of comings and goings on the Autocar fleet holding back its debut in these pages. Yet this has simply allowed the new-car glow to last longer, as it has slipped seamlessly into everyday life.
Its dimensions make it feel nicely compact on our roads (having a narrower car after squeezing through gaps for 10,000 miles in a BMW iX has been particularly welcome), and its real-world drivability and pace are excellent.
The e-Niro, like its Hyundai Kona Electric sister, had a propensity to feel like it was going to escort you into a ditch, due to the violent amount of torque going through the low-rolling-resistance tyres; this new car feels more restrained and manageable without feeling slow. While the hardware is the same, the tuning has been improved.
It's spacious inside, too. A boon is being able to get a set of golf clubs in the boot widthways, such is the space and span of the opening.
Easy to drive, a good size, spacious, no fanfare, good equipment levels… Sounds like what we would have said about the Golf a few years ago.
Second Opinion
Forget the EV revolution: the Niro EV is a brilliant advert for evolution. Take a car that was a huge hit, carefully address its relatively minor flaws and produce an absolute mainstream smash. Yup, another reason to compare it to the Golf.
James Attwood
#Back">Back to the top
Kia Niro EV 4 specification
Specs: Price New £42,295 Price as tested £43,040 Options Interstellar Grey with Grey pillar £745
Test Data: Engine front-mounted permanent magnet synchronous motor Power 201bhp Torque 291lb ft Kerb weight 1739kg Top speed 104mph 0-62mph 7.8sec Economy 3.9mpkW CO2 0g/km Faults None Expenses None
#Back">Back to the top
https://www.autocar.co.uk/car-review/kia...-term-test