11-10-2021, 03:32 AM
Kia Sorento plug-in hybrid 2021 long-term review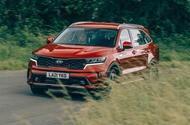 Our newly arrived plug-in hybrid SUV is big, but is it also clever? Let's find out
Why we're running it: To see if a plug-in hybrid family SUV can justify its eco credentials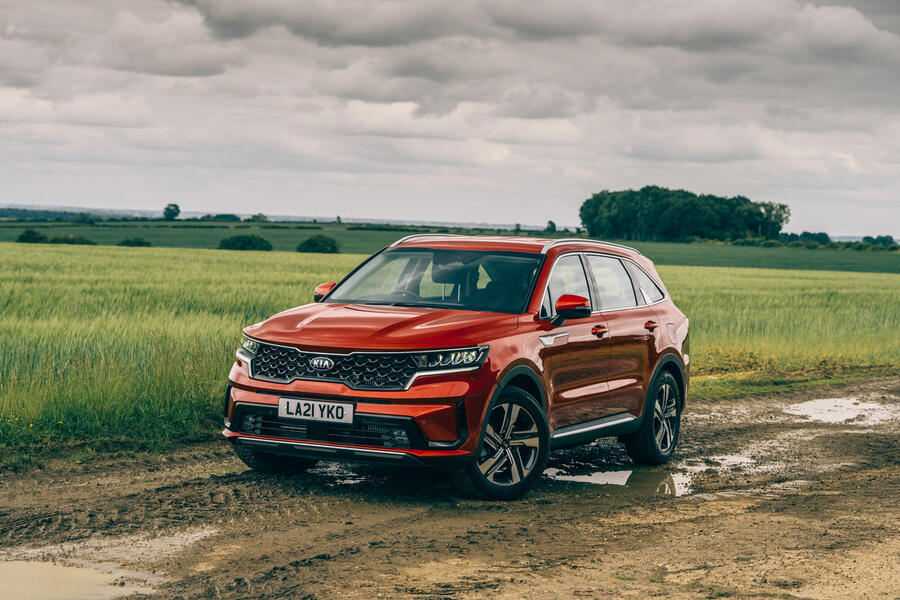 A trip to Suffolk gives our family-size SUV a chance to stretch its legs - 18 August 2021
I'm as guilty as anyone of bemoaning an SUV when it suits, but there's no denying they're handy to have in a tight spot – and no spot comes tighter than a family holiday.
Our kids are now at the age where a buggy is no longer required, but the Kia's boot was still packed full to capacity, with a PhD in origami required to fold all the luggage into the 604-litre space. We've hardly used the rearmost seats but that was no bad thing for this trip, because folded flat they do free up a decent space.
Off we toddled to Suffolk, where it soon became obvious that the Sorento's infotainment has a crucial flaw: if you don't have a phone signal, you don't have sat-nav. Large parts of Suffolk have been left behind in the sprint for 5G data provision, and without it the car is mapless.
You can download offline maps on Google Maps, but it's not a perfect science and besides, we were dashing out of the house we'd rented so didn't have time to sort it properly. It's very much a first-world problem, and there's a part of me that thinks 'just buy a map, Piers', but in an age when you're used to just jumping in and going, it's a flaw in the Kia. More so in a car that costs over £45,000.
But it was otherwise a decent companion for the staycation – even Henrying all the sand out at the end of the holiday was a quick task thanks to all the simple seat mechanisms. The kids loved the fact that they got their own individual cupholder, and crucially these are in the rear doors so one sibling can't reach the others'. It's difficult to express how much that matters: one less reason for children to argue with each other is something I'd sacrifice a lottery win for.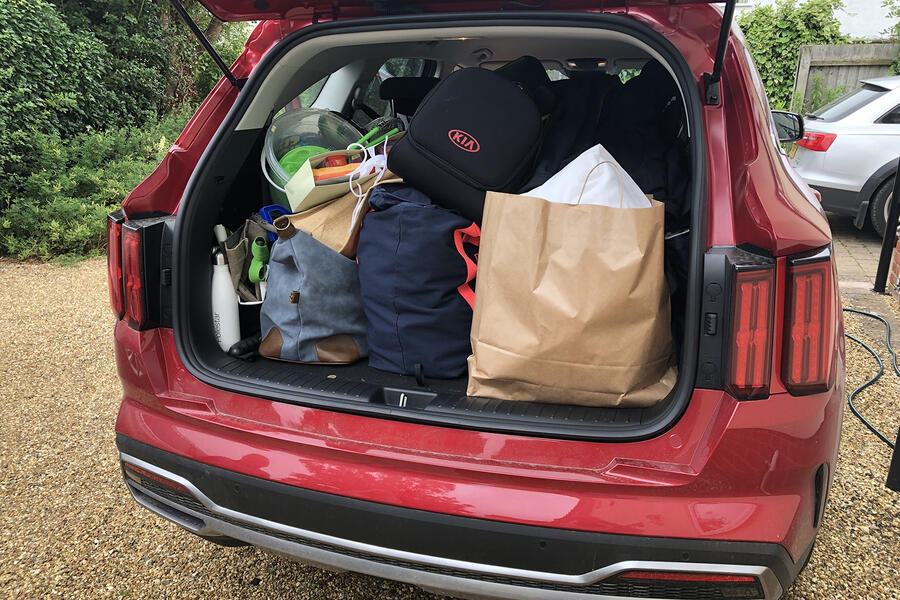 We had access to a three-pin plug for the first few days, so local trips were done 99% on electric running. Our electricity costs are now running at a smidge over £30, which is impressively cheap going when you think the car has done nearly 1500 miles with us. The petrol engine got more use in the second part of our trip, when we couldn't plug in, but even allowing for that, we're still averaging nearly 55mpg. From a 2.0-tonne SUV, that's not bad going.
Obviously, it all depends on the sort of trips you're doing. School run and not much else? You'll easily see over 100mpg. Longer trips where the battery is exhausted? Closer to the mid-30s. But the number of journeys we are managing to do on electricity alone just goes to show that a 35-mile range is well judged.
Love it:
Charging home A three-pin domestic plug can fully recharge the PHEV's drive battery in only six hours.
Loathe it:
Chuntering petrol The contrast between electric and internal combustion is marked.
Mileage: 1953
#Back">Back to the top
So many beeps - 11 August 2021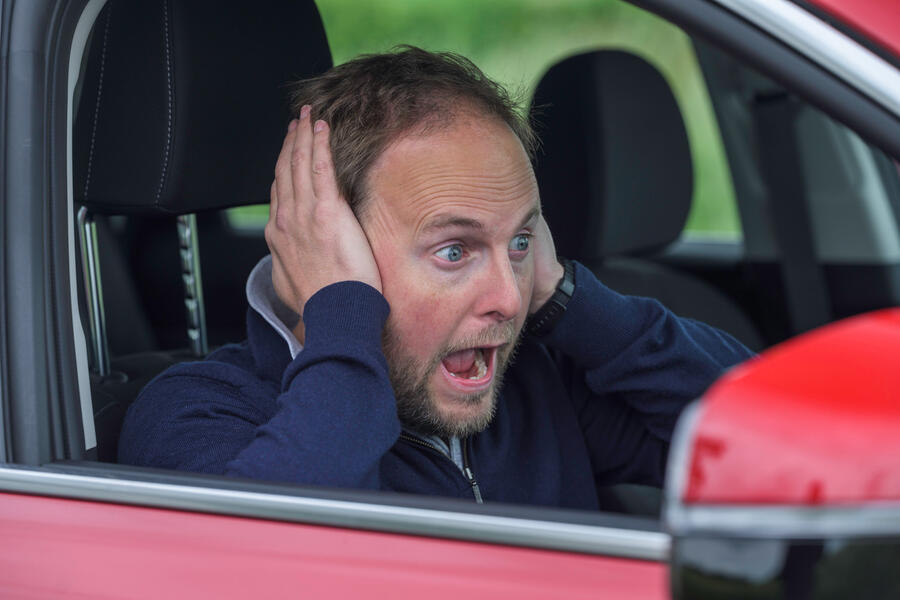 For all its family-friendly capability, the Kia Sorento emits the most annoying sounds. Here's what happens before you travel even five yards: a tune as you turn the car on, a bong to let you know the car is ready to go, another ping to alert you if you try to drive off with the auto handbrake still engaged and not yet a seatbelt clipped in. Deafening.
Mileage: 1803
#Back">Back to the top
Life with a Sorento PHEV: Month 1
A first proper drive - 28 July 2021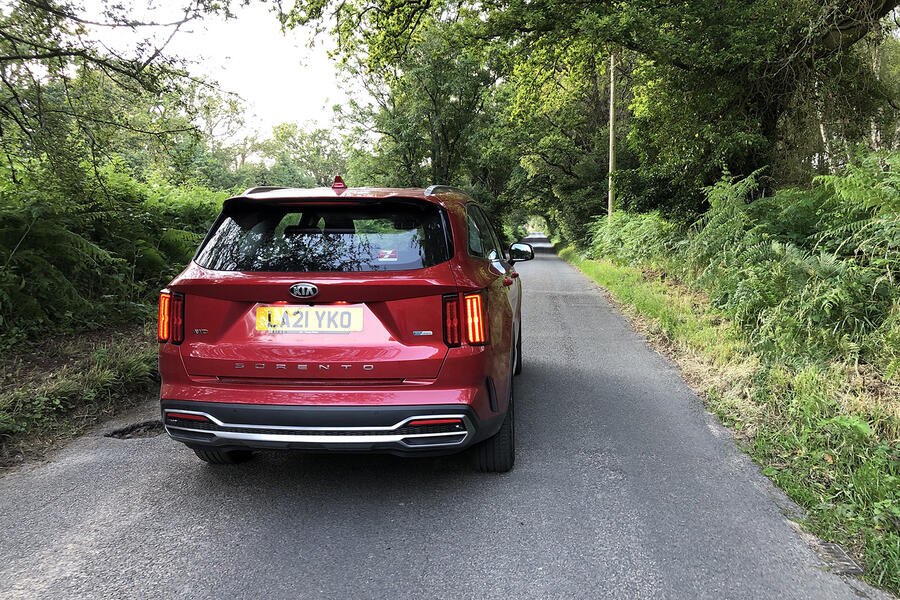 At last, a welcome chance to go to a live motorsport event. In this case, it was the Goodwood Festival of Speed, and the Sorento and I found an entirely new route home courtesy of Waze and Apple CarPlay. Narrow in places, it made me realise the Kia is a big old lump of metal in this generation. But a tree-lined route was a great way to unwind after a frantic day rushing around FoS.
Mileage: 1489
#Back">Back to the top
Welcoming the plug-in Sorento to the fleet - 21 July 2021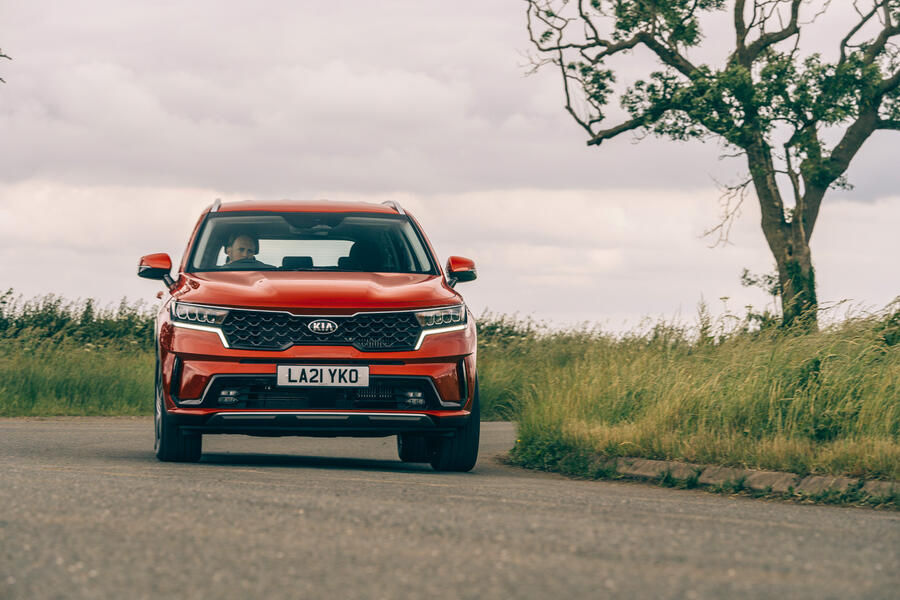 The five-year-old's voice coming from the rearmost seats in the Kia Sorento was seriously excited, as if he had just found Captain Hook's treasure buried back there: "Daddy, you won't believe it. I'm so shocked. I just can't believe it. I HAVE BUTTONS!"
So there you have it, folks: the key to making any car appeal to a small child is to give them buttons to fiddle with. Here endeth the lesson.
And that really does sum up our new Sorento: family-focused down to a T, with the sort of careful interior planning that makes car journeys easier. It's with us for the next few months in plug-in hybrid flavour, with a 1.6-litre four-cylinder petrol engine mated to a 90bhp electric motor. Total torque is 258lb ft, with 0-62mph taking 8.4sec. A middling figure, it's fair to say, but thanks to that torque and the in-fill from the electric motor, the Sorento has the sort of mid-range punch that makes joining a motorway easy.
This car doesn't need to do more. Its 13.8kWh battery gives it a 35-mile electric-only range from a full charge and, unlike with some PHEVs, so far we've not been too far off that. On a long motorway run recently, taken at a healthy pace, the Sorento managed 25 miles before switching to petrol. And that was with the air conditioning running and the radio on. Mooching around on back roads and on the school run, it quite happily covers most of our family miles on just battery power.
We have access to only a standard household plug at the moment, but the longest duration we've seen on a single charge so far is six hours. In other words, the sort of timescale that means an overnight juice-up will easily get the battery fully replenished. In fact, during all the recent working from home, it also means that, after the morning drop-off, the car is full by the time of the afternoon school run. None of this is dance-a-jig exciting, but in terms of meeting its brief, the Sorento is so far up to the task.
We've had it three weeks and our tactic has been to charge when we can. Short local hops have made that easy. As such, we've not used much petrol in more than 500 miles – just 34.02 litres – and so far it has cost £17 in electricity. I would call that a decent return, but the proof will come later this week, as I have some longer journeys to do. It will be interesting to see what sort of economy those yield. After all, this is a two-tonne SUV. Lugging around a 140kg battery is going to have an impact.
Our Sorento is in the base 2 trim, starting at a punchy £45,245. In typical Kia fashion, there aren't many optional extras, other than accessories: just the premium paint, at £600. I'm glad it came with that, because there's only one standard colour and it's called Essence Brown. No matter how on-trend mud-coloured cars get, a dark-brown SUV is going to invite a snigger.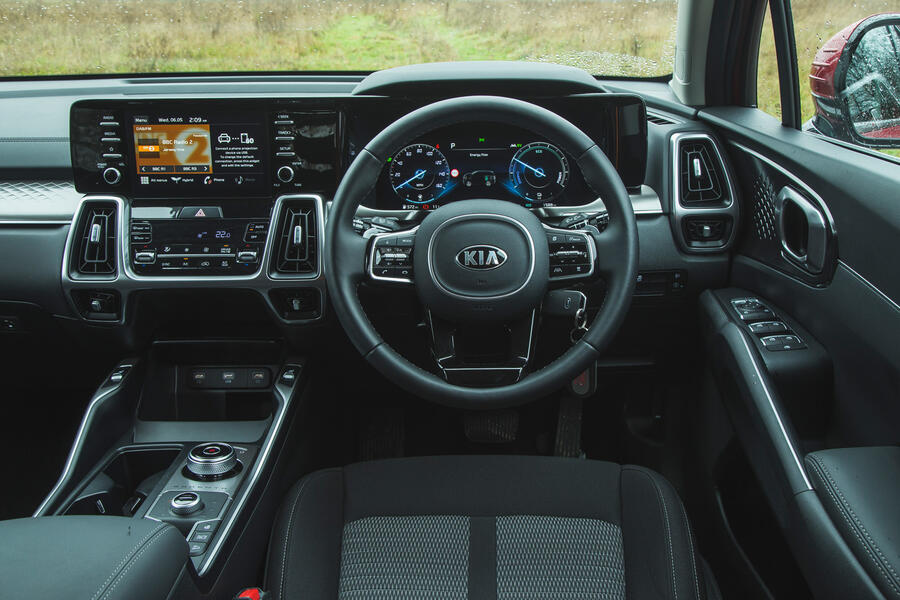 Mind you, despite the dearth of optional extras, it still comes with plenty of kit. Highlights include the third row air-con that got my son so excited, enough USB charging ports to keep an army of screen-obsessed teens happy (three in the front; three in the middle, including two nifty ones in the sides of the front seats; and two more for the rearmost seats), Android Auto and Apple CarPlay, a heated steering wheel, an 8.0in touchscreen and Bluetooth.
You can see where this is heading. Out-and-out technological frills may be lacking, but in terms of doing what it can to make a careworn parent's life easier, the Sorento does what's needed.
There isn't any satnav, but with a phone connected, you can have all the maps that you will need. These are relatively intuitive to control from the touchscreen, but with nowhere to rest your hand, it's more often than not a stab-and-miss affair trying to hit the correct icon. To be fair, the climate buttons are all physical switches, but it's at times like this that I do miss my old BMW 4 Series' brilliant iDrive system.
Seven seats are standard (impressive, given that a lot of PHEVs can't make the packaging work for the full gamut of chairs), and they all fold flat easily. Family-friendly rule number one ticked.
In fact, family rule numbers two, three and four are ticked as well: so far, the Sorento is proving easy to live with, and with the sort of storage and practical touches that don't get journalists excited but do actually make a difference when you just need a car to function and make life simple.
Does this mean it will be the sort of car that creates memories? I'm not sure yet. In an age of ever more competent cars, this is where I think brands will need to excel to stand out. I'll let you know if the Kia manages it – if I can ever persuade my son to stop fiddling with those buttons.
Second Opinion
Having spotted no fewer than five delivery-fresh Sorentos on a recent walk around my local area, I'm clearly not the only person who thinks that Kia's design department has been doing some fantastic work of late. For a seven-seat SUV, it really is quite the looker. It will be interesting to see if Piers thinks it backs up the premium styling with a driving experience to match.
Tom Morgan
#Back">Back to the top
Kia Sorento 1.6 T-GDi PHEV AWD 2 specification
Specs: Price New £45,245 Price as tested £45,845 Options Premium paint £600
Test Data: Engine 4 cyls, 1598cc, turbocharged, petrol, plus electric motor Power 261bhp at 5500rpm (combined) Electric power 90bhp Battery 13.8kWh Electric range 35 miles Top speed 119mph 0-62mph 8.4sec Fuel economy 176.6mpg CO2 38g/km Faults None Expenses None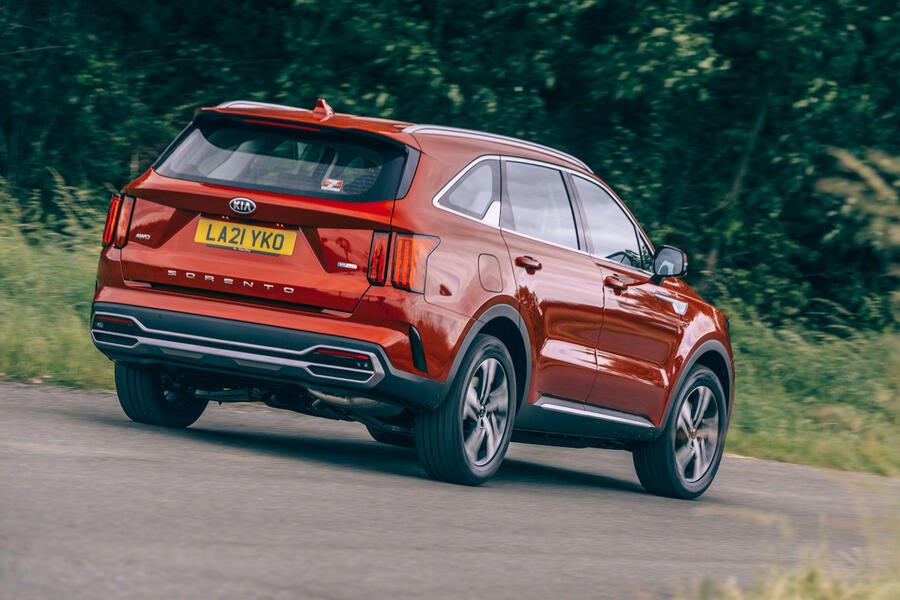 #Back">Back to the top
https://www.autocar.co.uk/car-review/kia...erm-review