03-05-2023, 08:07 AM
Kia Sportage 2022 long-term test
Was this family-focused hybrid SUV able to take some of the stress out of being a busy journalist with a young child?
Why we're running it: To see if the Kia Sportage still holds its own in the throng of sensible crossovers

Life with a Kia Sportage: Month 3
Was this family-focused hybrid SUV able to take some of the stress out of being a busy journalist with a young child? - 1 March 2023
Hardly an encounter during which I said I was driving a Kia Sportage ever went by without the response: "Oh, they're meant to be good, aren't they?" or "Oh, we're looking at one of those."
Such is the power of Kia these days: its overall sales rose 10% last year and it now accounts for a not inconsiderable 6% of the market. The Sportage could be called its mainstream flagship. No car is more relevant than a decent family-sized SUV these days, right? 
The Sportage isn't an exciting car, but that's not its modus operandi. Where it excels is in its practical everyday abilities, proving time and time again how easy it is to take on a local shop run or to munch miles on longer trips while full to the brim with passengers and their luggage.
It's an irrelevant comparison, I know, but I was lucky enough to have some time in a Bentley Flying Spur S Hybrid recently, and while it's every bit as brilliant as our 4.5- star road test suggests, sometimes (perhaps foolishly) I found myself opting for the Sportage. It was just easier to do the farm shop run or parallel park on the road. But yes, of course I would still love to have a Flying Spur S Hybrid…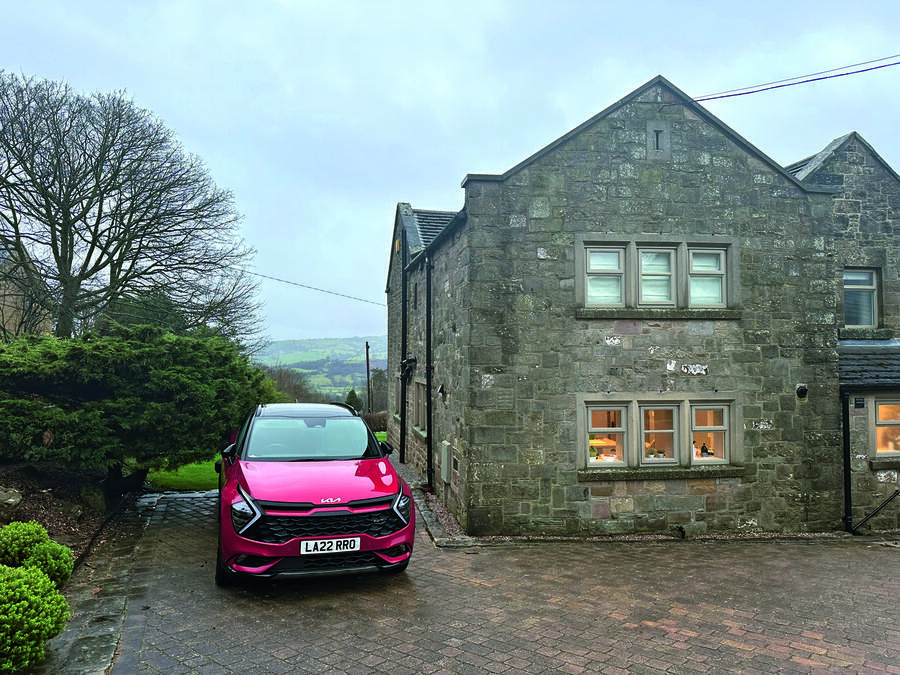 Anyway, back to the real world. Day to day, the Sportage was a very liveable space. That stemmed from the basics (such as deep storage in the centre console, in which I could chuck my keys or store my phone without repercussions) to the tech, most notably the blindspot monitor, which I've written about before. I'm one of many who is receptive to improved safety systems but very aware of their flaws. In this case, I found its usefulness and help with blindspots far outweighed its faults (namely being blurry and slightly distracting in bad weather).
It never seems like any car is big enough when there's a toddler in the mix, but the Sportage's cabin space held up well. I always managed to fit everything in with a bit of room to spare for longer holidays, and while I've not had a car recently in which the front passenger had ample room, due to the bulky child car seat behind it (except the Bentley, of course), the Sportage did okay in that regard. It wasn't uncomfortable for the front passenger, even if you did wish they had a couple more inches.
The seats were comfortable too. I noticed the lumbar support and good visibility on longer drives, and whenever I had adult passengers in the front or rear, I heard coos of "this is nice, isn't it?" and general praise for the interior's quality.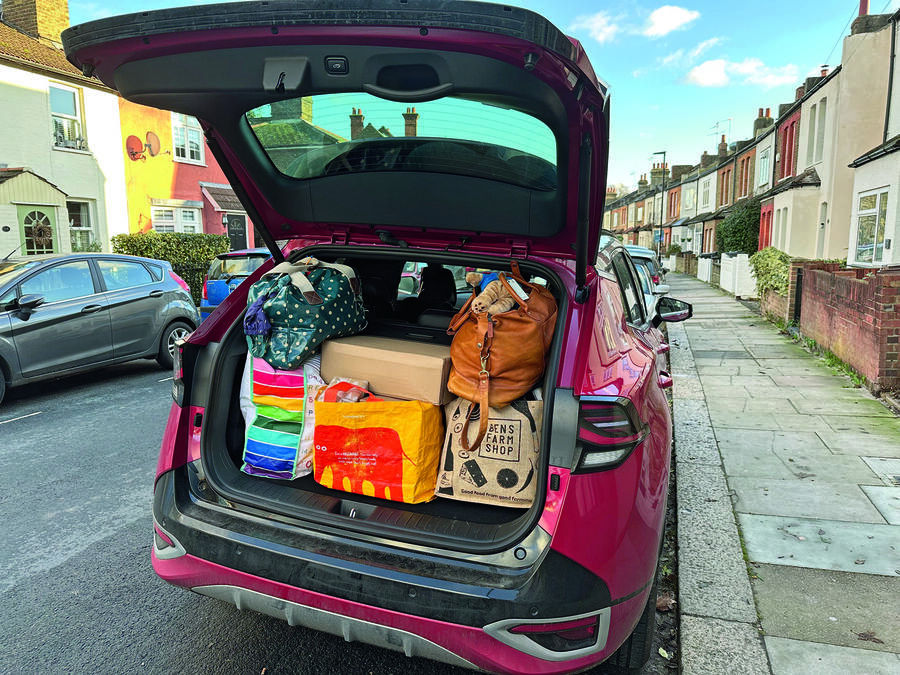 My car was a top-of-the-range GT-Line S, so it had a lot of equipment: a panoramic sunroof, a 360deg camera, a heated steering wheel, a powered tailgate, USB ports in the rear, wireless phone charging and a Harman Kardon stereo, for starters, all of which served me very well.
However, if I had forgone four-wheel drive (which seems superfluous for a large majority of Sportage buyers) and chosen GT-Line trim instead, it would have cost a considerably cheaper £34,670. I would have lost that blindspot monitor, the smart tailgate and a few other bits, but I would still have enjoyed heated front seats, a 12.3in infotainment display, 18in alloys and adaptive cruise control.
The hybrid powertrain always fulfilled my requirements with respectable performance and being pleasingly refined on everyday runs. It was a set-up that fitted into daily life easily and relatively efficiently, playing perfectly to anyone in the market for a Sportage.
On my longer drives to the Peak District, Northumberland and more, it was an able companion at higher speeds, too, accelerating comfortably onto motorways (and noticeably quicker than its Toyota C-HR rival).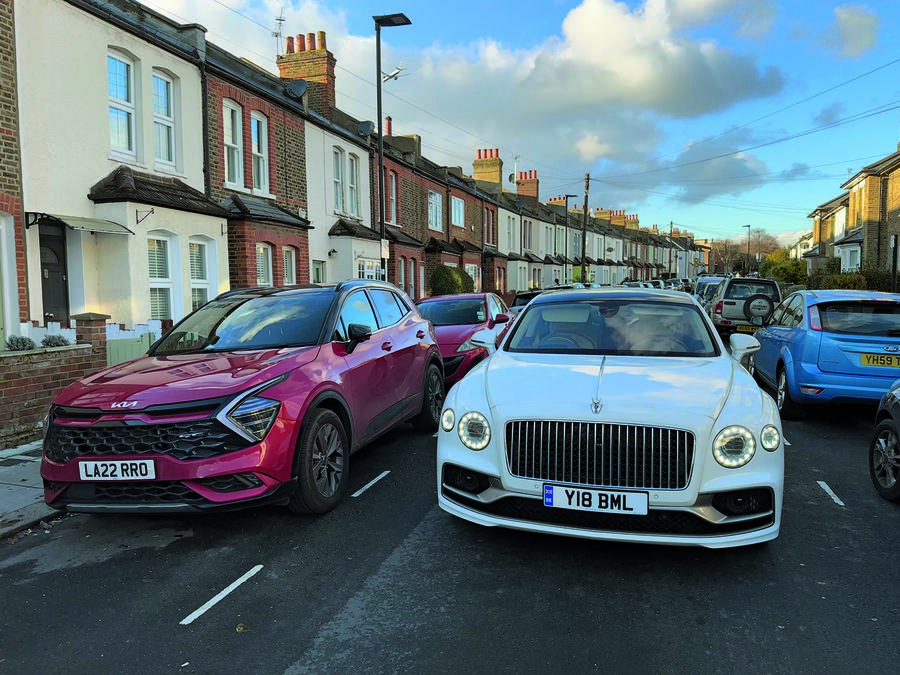 The only time when the engine sounded and felt gruff was when it was working with my foot down above 4500rpm, but I grew accustomed to that soon enough.
It might not surprise you to learn that this Kia wasn't keen-handling, but it still had sharper turn-in than many mid-size SUVs, and the few times I was on quiet roads with decent corners to test it, the Sportage allowed itself little body roll.
Around town, where I spent most of my time in the Sportage, the ride was compliant. Where it lacked was on poorly surfaced open roads, on which it tended to lose composure.
The Sportage doesn't excel on the road, then, but it's certainly more than good enough to be a serious contender for families, especially once its overall package of comfort, practicality and reliability has been factored in. I thoroughly enjoyed it.
Second Opinion
It's good to see there's a consistency across Kia's products. I ran a Sorento plug-in hybrid before trying Rachel's Sportage, and in both cars it was technology that helped rather than hindered that impressed me, such as the blindspot monitor or the shortcut buttons on the steering wheel. No wonder Kia's sales are where they are these days
Piers Ward
#Back">Back to the top
Love it:
Blind spot monitor A blindspot video feed appearing within the digital dash is a useful addition in making our roads safer
Centre console Sometimes the simple things are most pleasing. This is deep, spacious and easy to use
Overall appeal The charm of a car like the Sportage comes from how easy it is to live with
Loathe it:
Isofix mountings For a family car, the amount of effort involved in attaching a child seat was staggering
No wireless CarPlay Okay, it wasn't a hardship to leave a wire in the car to connect my iPhone, but wireless is better
Final mileage: 4235
#Back">Back to the top
Life with a Kia Sportage: Month 2
Two bits of tech are making life easier but courage and trust will enable a third - 18 January 
I might not be all-new technology, having already made outings on the Kia Sorento and EV6, but the blindspot view monitor, which appears on the instrument panel in our Sportage, is a major talking point with any passengers I have. "Oo, what's that? Fancy!"
In essence, it supplements the existing, old-school door mirrors by using cameras to display a real-time rear-side image of the car when the driver indicates to cover off the blindspot.
I found the images disconcerting at first but quickly came around to them. This is a great example of tech that is genuinely useful. I've been driving long enough that I'm not quite willing to give up my now innate tendency to check a blindspot by turning my head, but this is an excellent addition to my process that makes me feel safer.
If there is something in my blind spot, the car beeps loudly. That's fine, but it isn't intelligent enough to know when I'm speeding up to get over to an exit junction, for example, and therefore can't judge that the vehicle will be out of my blindspot before I am in that lane.
The only time I've found it a distraction is during torrential rain. It's a scenario that requires heightened concentration to start with, and when you have a screen with a moving image on the instrument panel that provides no aid whatsoever, it's disconcerting.
Another piece of tech that has grabbed my attention is an air filter inside the car. These have become more and more common, but as I drove into the Hatfield tunnel, a message appeared at the top of the infotainment screen: 'Blocking outside air for comfort.'
It's a very simple message yet it instantly made me feel better. It's an excellent psychological play: here's my car looking after me when fumes are at their worst.
The Sportage also has Remote Smart Parking Assist, which means it can navigate in and out of tight parking spaces remotely. I remember when this feature first launched in cars years ago and it was a great novelty. Yet, purely on anecdotal evidence, it doesn't seem to be used very much. It's a system that would suit my London life, yet I just don't quite trust it. Nothing to do with Kia – simply a fear of losing control and the worst happening. But that said, it's only right I test it. Watch this space…
Love it 
Another pair of eyes
Blindspot monitor makes you feel safer
Loathe it 
Rain check 
... unless the weather is blooming awful...
Mileage: 2987
#Back">Back to the top
Simple storage space scores extra points - 11 January 
The deep storage in the Sportage's centre console serves to remind me how worthwhile some features of more traditional interior car design are. It includes neat cupholders that pop out at the touch of a button to wrap around drinks but mean the space is useful for other things when a beverage isn't in play. A simple, effective storage space. 
Mileage: 2445
#Back">Back to the top
Long drive up to Blyton Park and back reveals more about hybrid SUV's character - 4 January
When I arrived at Blyton Park (near Scunthorpe) early on a Wednesday morning in the pouring rain, with my hands numb from the cold, having stopped to take some of the very average pictures you see on this page, I was wondering whether it was worth the hassle. But as the day brightened and the north proved it could be sunny (in November no less), things started to look up as I learned some skills on the track.
I did ponder taking the Sportage on the circuit – had a Sportage ever been taken on a circuit except to be tested in development? – but instead drove a far more suitable car, the brilliant Mazda MX-5. I sat alongside driving coach Mark Hales (formerly a motoring journalist), who taught me plenty about racing lines and the rest, even if I was repeatedly overtaken by Mini racers and, most notable of all, a Revolution race car.
I've always loved the MX-5, and nothing changes there, but nonetheless, after a tiring day on track, I was happy to get back into my trusty Sportage, and that was after a four-hour drive up from our Twickenham office the day before.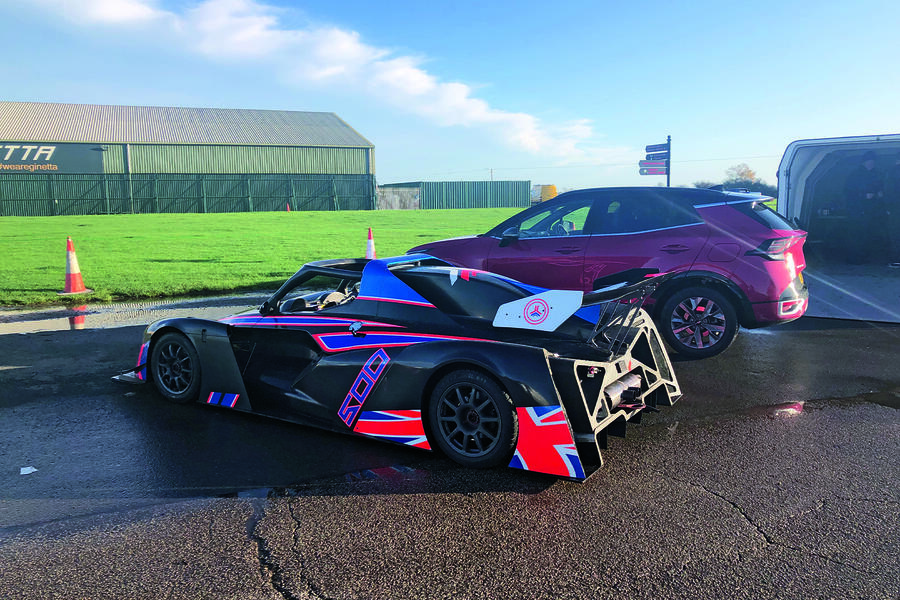 There's little in common between the MX-5 and Sportage, other than that each car serves its respective purpose very well. I would rather drive the MX-5 on track or on a Sunday morning in the country, while I would rather drive the Sportage on a motorway journey and for everyday practical use.
Kia's brand cachet is significantly better than it once was (I would happily own one), but alongside the racers and accompanying parties, the Sportage didn't feel peak cool. Racers aside, the car park was made up of an interesting selection of vehicles: a Range Rover Sport SVR (with personalised plates…), a Volkswagen Scirocco and, best of all, a BMW 3 Series Touring.
All in all, I spent the better part of eight hours driving the Sportage over a 24-hour period, largely on motorways but also on plenty of unknown A- and B-roads as I delved deeper into rural Lincolnshire.
The Sportage proved an excellent companion throughout. The first stint was the classic M25 and M1 route north, and as I cruised at around 70mph, I observed that the car was regularly veering into EV mode – perhaps something the average person wouldn't expect of a hybrid on the motorway.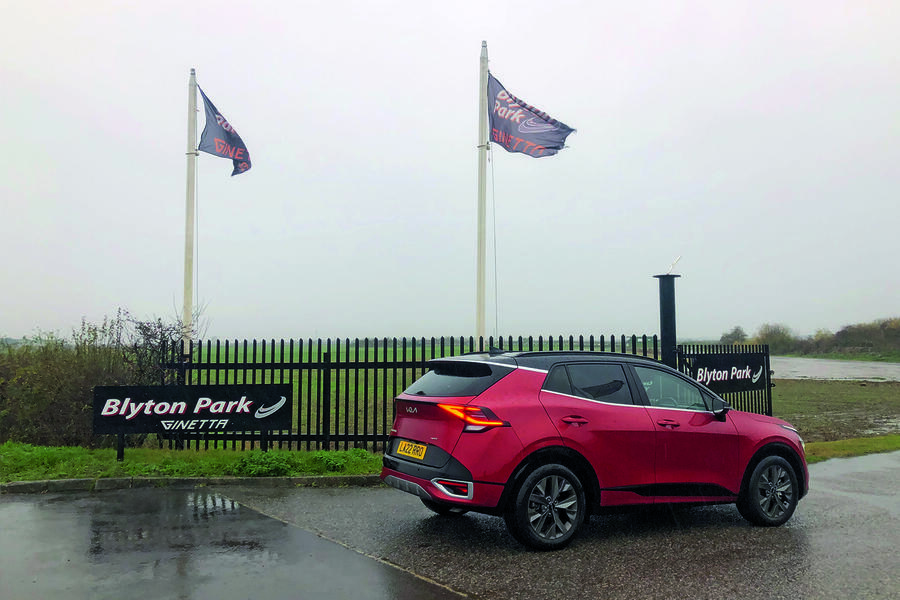 Still, it didn't bump up the average fuel economy a dramatic amount after the 450-mile round trip, consumption rising from around 39mpg to 44mpg.
Getting up to higher speeds regularly, as was necessary on this trip, does make you notice the mild gruffness caused by some disconnect between the gears and the engine, but it's far from vexatious.
I've mentioned my struggles with switching between Apple CarPlay and the radio before, although it's important to say that this is an issue on many unaffiliated vehicles. In this case, sometimes the radio stays on when I plug in my phone to use Apple CarPlay (for Google Maps); but when it doesn't, I need to go back to the Apple CarPlay home screen, press on the Kia symbol, scroll across to the next screen to find the radio icon and press said icon, at which point the radio starts playing again, and then I have to press the home logo, the Apple CarPlay logo and the Google Maps logo to get back to where I started…
To do all that is a bit of a reach for my arms, which doesn't feel particularly safe when I'm on the move. Stating the obvious, the more you drive, the more you experience this stuff, so I had to do this a handful of times on my return trip to Scunthorpe.
Nonetheless, my lasting impressions from the mammoth journey are positive. I would happily do it all again in a Sportage.
Love it 
The Sportage is a truly comfortable steer over hundreds of miles.
Distraction danger 
I have to reach to control anything on the touchscreen.
Mileage: 2301
#Back">Back to the top
Life with a Kia Sportage: Month 1
Is our big hybrid suitable in town? And is it better than a VW? - 23 November 2023
A quick local drive in my mum's Volkswagen T-Roc recently made me appreciate the Kia Sportage more than ever. 
They're not direct rivals of course, but the T-Roc's hard suspension (it's an R-Line) over the many speed bumps of my local road meant I was glad to get back into the more wafty Sportage, made even more pleasant by the calming, quiet, electric-only mode of this hybrid model. The system is so smooth that sometimes you have to look down at the instrument cluster to see when the engine has kicked in. 
What struck me most about the little experience was this: despite Kia's exponential rise and impressive model range, I think many people would still be surprised to hear me say that I'd rather be in a Kia than a VW (albeit not the strongest one in the line-up). But in terms of drive, in terms of styling, technology and comfort, the Kia is leagues ahead. 
Generally, I've been bedding in with the Sportage, doing mostly local journies but also a decent whack of motorway trips. It's impressive and comfy and being surrounded by the gentle glow of ambient lighting, a large panoramic sunroof and high-definition screens is an experience that you'd expect from some of the premium brands, which can only be a good thing. 
It's incredibly quiet and for my urban journies, the hybrid system seems to suit the car very well. For most of my runabouts, I can't do much above 20mph, so its often in electric mode, which these days is my preference for town driving.
There's little of note - in the good sense - at higher speeds. The only time any gruffness is noticeable is on the way up to those speeds when you can hear the CVT not quite pairing as it should with the engine. It could be smoother, but it's not offensive, especially not in the general context of CVTs. 
The infotainment system works very well - although, perhaps spoiled a bit by my previous car, a Jaguar E-Pace, I find it a bit frustrating that my iPhone needs a wire for Apple CarPlay. I'm also struggling to find a way to easily change radio stations when CarPlay is connected, but I will persevere and let you know if I find a more intuitive solution. 
But those are really my only grumbles. So far, the Sportage is proving every bit as worthy as its sales figures suggest. 
Love it 
Inside that counts
Cabin is impressively upmarket, its features are mostly easy to use and there's lots of space
Loathe it 
Why can't I easily find how to change radio stations when using Apple CarPlay? 
Mileage: 1803
#Back">Back to the top
Fitting a child seat has its difficulties - 16 November
I regard the Sportage as perhaps the ultimate car for a young family. This is why I'm mystified by how hard it is to attach a car seat to the Isofix. I'm loath to admit I'm now a person who cares about this stuff, but we all want an easy life, right? The metal fittings are not separately placed like in many cars, instead hidden between the seats. It's a struggle getting a car seat in. 
Mileage: 1254
#Back">Back to the top
Welcoming the Sportage to the fleet - 9 November 2022
Admit it: 10 years ago, you would never have considered a Kia. Yet here we are. Kia was the biggest-selling car brand in the UK in January for the first time ever, and its sales are up 12% for the year to date in a market that's down 8%.
In recent years, its EV range – the likes of the Kia Niro EV and Kia EV6 – have done wonders in propelling it to new heights, but the third-generation Sportage, a predecessor to this long-termer, was really the model that set the firm up for today's phenomenal success.
Launched in 2010, that car was worlds away from the one before. It was an SUV ready for the onslaught of SUVs, when few were. It was attractive and good value and had family appeal. Such was its success that it remains Kia's best-seller.
Now in its fifth generation, it's not quite the good value it once was (what is?), starting at £27,750, but it still undercuts rivals (Honda CR-V, Mazda CX-5 and Hyundai Tucson for starters). Our new long-termer is quite a lot more expensive than that, at £41,800, being an all-wheel-drive hybrid in top-trim GT-Line S. We were expecting a plug-in hybrid, but they became unavailable – presumably, through the same supply and demand issues that most of the industry has – so neither we nor a buyer can currently have one.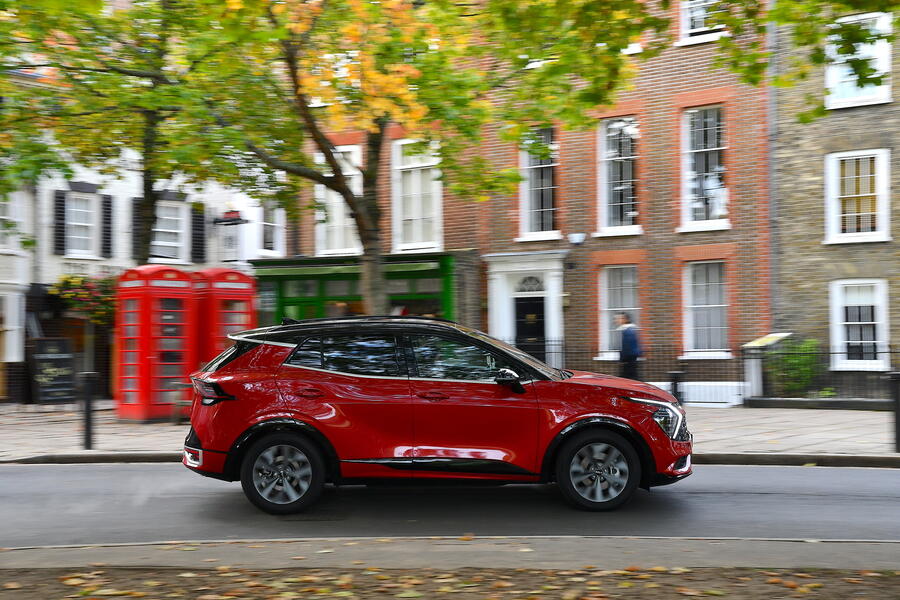 At time of writing, there wasn't even a price listed for it on Kia's website. So ours, a 1.6-litre turbo petrol with an electric motor and a 1.49kWh battery, producing a combined 226bhp, is the most expensive model currently available.
The rest of the range is populated by 1.6-litre petrol and 1.6-litre diesel 48V mild hybrids in a choice of five trims. The Sportage has long been well pitched as a middle-of-the-range, practical, comfortable family car with every bit of kit you would need to be included. Our GT-Line S trim has no extra options. More on that later.
Stepping into it for the first time, it strikes me how premium the Sportage feels – and how far it has come in this regard. Okay, it's not quite German premium levels of perceived quality but it also feels very far from a value proposition, let's say. The curved 12.3in touchscreen neatly integrated into the dashboard looks slicker than the most recent of Volkswagen's offerings.
There's plenty more miles ahead to assess it fully, but my experience to date is that the hybrid system is very quiet and smooth so the change between petrol and electric power is almost imperceptible. You can just about hear the engine but you can't feel it. It's also very close to hitting its 44.1mpg WLTP figure (remember, not the best in the first place because it's all-wheel drive) but I've been doing largely town driving in electric mode, so with some more out-of-town miles, we'll see how it balances out.
It's impressively comfortable too, in its seats and the storage space for things (cups, phones, keys) around them. There's no scrambling around to find your personal belongings and there's also plenty of room in the back and boot. Indeed, there's greater leg room, headroom and boot space than in the previous model.
Let's get to that specification, something Kia has always hung at least some of its appeal on. Highlights include a panoramic sunroof, 360deg camera/monitor, heated steering wheel, power tailgate (my recent Jag E-Pace didn't have one of those...), rear USB charging ports, wireless charging and Harman Kardon hi-fi.
There's the usual plethora of safety equipment, including multi-collision brake, lane keeping assist and hill start assist, but the most immediately noticeable is what's called Blind Spot Monitor View. Essentially, alongside traditional wing mirrors, it has cameras whose view appears on your instrument panel when you indicate left or right, acting as a digital blindspot viewer.
So far, the Sportage is everything I'd hoped it would be. An enjoyable, effortless daily driver, which is equally comfortable for short and long journeys, with all the mod cons you would want, plus it accommodates plenty of detritus. It seems to me not a car to be excited by, but one I would happily have on my driveway nonetheless. Let's see if the gentle affection for it lasts. 
Second Opinion
I put plenty of miles on a Sportage in August. What stood out – in an entirely complimentary way – was just how unremarkable it was, such was its ease of use, comfort and dependability. Exciting it was not, but its strengths aren't the qualities you should take for granted
Mark Tisshaw
#Back">Back to the top
Kia Sportage HEV GT-Line S AWD specification
Specs: Price New £41,800 Price as tested £41,800 Options None
Test Data: Engine 1.6-litre petrol hybrid with an electric motor and 1.49kWh battery Power 226bhp Torque 258lb ft at 1500 - 2000rpm Kerb weight 1,715kg Top speed 120mph 0-62mph 8.0sec Fuel economy 44.1mpg CO2 146g/km Faults None Expenses None
#Back">Back to the top
 Blyton 
https://www.autocar.co.uk/car-review/kia...-term-test