01-21-2023, 05:16 AM
Kia to avoid 'dangerous' price cuts to protect residual values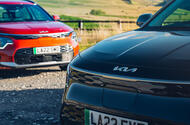 Wait time for popular Kia Niro EV currently stands at eight months
Kia UK boss Paul Philpott says Korean brand won't look to match Tesla's £8000 discount strategy
Kia won't rush to match Tesla's heavy discounting of up to £8000, with UK president and CEO Paul Philpott warning that such a "blunt" action could have "dangerous" implications for residual values in the longer term.
Tesla revealed a raft of reductions on list prices last week, citing reduced supplier costs as the reason it was possible. However, pundits have noted that the firm made more cars in the last quarter than it delivered, suggesting it has stock to sell.
The largest price reduction was applied to the Tesla Model Y Performance, which now costs £59,990, £8000 less than previously. The largest discount applied to the Tesla Model 3 was £6500 for the Long Range model.
However, Philpott, who has an eight-month waiting list for the Kia Niro EV and 12-month waiting list for the Kia EV6, cautioned: "It's a pretty dangerous strategy to reduce prices, and we have a lot of other tools at our disposal that we would employ before we did that.
"Most new cars are bought on a PCP or lease, and there are two key components that set what you pay: the upfront price and the residual value. If your residual values are on the slide - as Tesla's have been - and you then cut your pricing between £5000 [and] £8000, then it's likely to have an impact. The market will decide, but that's what we would expect.
"So the risk is that you reduce your price but undermine your residual values, and therefore there's no saving for lease customers. Furthermore, your current lease customers, who likely thought they had some equity built into their terms, may yet come to the end of a lease and find that reduced residuals have undermined that. It will be interesting to see how the fleet buyers respond to it, as I think it presents a complicated situation.
"And then you have to contend with the uproar of the people who bought at the higher price before you made the reduction, which in Tesla's case is almost 16,000 in the UK.
"Residual values are why we have worked really hard at establishing strong used-car propositions. We spend an awful of time trying to keep them strong, because it feeds the whole system.
"We will watch what happens in the market, but there are actions we would take before we looked to reduce prices, from controlling supply, offering finance support or looking at tactical offerings, all of which would be designed to protect existing owners."
Kia enjoyed a record-breaking year in the UK last year, topping 100,000 registrations for the first time. Later this year it will add the seven-seat Kia EV9 to its electric line-up, a rival for the Tesla Model X.
https://www.autocar.co.uk/car-news/new-c...ual-values