04-11-2023, 03:48 AM
Kia to build small electric cars in Europe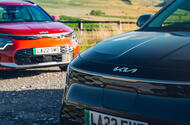 Kia said it hoped EVs would account for 55% of all cars sold by 2030
Korean firm will launch 15 EVs by 2027, with factory in Slovakia due for a potential upgrade to build EVs
Kia will begin building small electric cars in Europe as it commits to launching 15 new EVs by 2027.
Announced during its annual Investor Day, the Korean firm vowed to begin producing future EVs within its core markets (Europe, China, the US and India), moving them away from sole production in Gyeonggi, South Korea.
This could result in the firm's long-standing plant in Slovakia – which produces 350,000 cars yearly – being heavily upgraded to facilitate EV production. However, details are still scarce, so a new dedicated factory could also be on the cards.
Currently, the Slovakian plant produces the Kia Ceed, Kia Proceed, Kia Xceed and Kia Sportage, with Kia's electric line-up – Kia EV6, Kia Soul EV and Kia Niro EV – built in its home country. In the short term, these builds will be supported by a new factory in Gwangmyeong.
"In Europe, Kia plans to locally produce small and mid-sized EVs, as they're the key drivers of sales in the region," the company said, while showcasing its updated Plan S, which now includes an additional EV over the 14 that it originally planned to be introduced by 2027.
Two of those have already arrived (the EV6 and Niro EV), and they will soon be joined by the EV9 flagship SUV and EV5 crossover, the former due in dealerships by the end of the year. 
Kia president Ho-Sung Song said: "In 2021, Kia went through a full-scale transformation of its corporate name, logo, product and design, as well as corporate strategy. As a result, our brand value has improved significantly."
Speaking at the event today, the firm said it hoped EVs would account for 55% of all cars sold by 2030 - a 7.5% increase from the previous target announced at its 2022 Investor Day.
Growing in its EV line-up will help achieve this, as it also announced an annual global sales target of 2,380,000 EVs by 2030 – up 7.5% on the previous target of 2,080,000.
The use of new technologies will also help strengthen sales, Kia said. These include allowing customers to upgrade and customise their car's software via the over-the-air updates in models released from 2025.
Autonomous driving is another to arrive in the short term, starting with the EV9, which will offer level-three capability, removing the requirement for human control of the steering wheel. However, local laws will govern which countries will allow its use. The UK, for example, currently doesn't.
Kia has also begun a new Purpose-Built Vehicle (electric machines designed for commercial use) business, which will eventually become a key organisation under the firm's umbrella. Production is planned to start in 2025.
The medium-size, as-yet-unnamed PBV will sit on a "skateboard-type" platform. It's a structure upon which various bodies can be placed, adjusting it for individual use cases. A robotaxi is also set to be unveiled.
https://www.autocar.co.uk/car-news/new-c...ars-europe