08-22-2021, 05:23 AM
Lada Niva: the 1970s Russian icon still going strong in 2021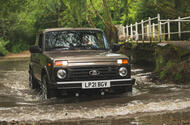 After almost 50 years of the toughest work, the Lada Niva finally has its retirement planned. We pay tribute
This isn't a review, which is handy, because it means I can get one slightly awkward truth out of the way straight off the bat: the Lada Niva is not – objectively and with full view of today's automotive market – an easy car to recommend to anyone.
That might not surprise you, given it has been on sale mostly unaltered since 1977 and its positioning as a no-frills workhorse means it has never, nor will ever be, the recipient of the efficiency-enhancing and refinement-boosting upgrades that we've long taken for granted on new cars across the board. It trades instead mostly (and to great effect) on its affordability, durability and unstoppability.
But time marches on, and now, almost half a century since the final Niva prototype was deemed ready for production, a date has been set for the end of production. Which is why we find ourselves here, penning the latest in a series of heartfelt automotive eulogies, instalments in which most recently bade farewell to such segment-shakers as the BMW i8, McLaren 570S and Toyota GT86. That's odd company for this no-nonsense, agricultural 4x4 (which, let's remember, hasn't been sold officially in the UK since 1996) to keep. But in terms of its potential endurance in collective memory, the Niva arguably stands head and shoulders above those more covetable contemporaries.
For starters, there's the age thing. When the Niva was first shown to the Western public at the 1978 Paris motor show, Milton Keynes was only around a decade old, Abba were battling the cast of Grease for the top spot in the pop music charts and its country of origin would still be the Soviet Union for another 13 years. Not that modernity is or has ever been of much relevance to the Niva's target market. It's a purely functional off-roader with minimal concessions to such trivialities as driver pleasure, fuel economy or straight-line pace.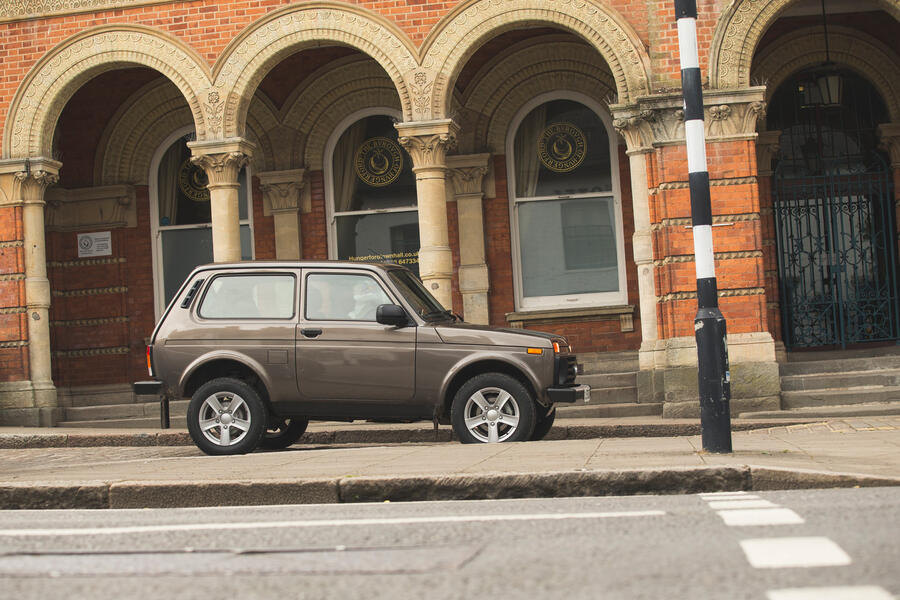 The Niva, then, was designed to be as comfortable churning through the frosty mud of a Siberian wheat field as it would be scaling a rocky outcrop on the edge of a Brazilian plain. So you will be unsurprised, again, to hear that its rugged charm doesn't stand up to extended use on urban arteries, motorways or high streets.
Once upon a time, the same criticism could have been levelled at the Land Rover Defender, the Jeep Wrangler and even the Mercedes-Benz G-Wagen, but those models have evolved into road-friendly (and, for the most part, premium-oriented) city slickers, whose stunning off-road ability comes a distant third to kerb appeal and model cachet on the list of reasons for their enduring appeal.
Not so the Niva, which has soldiered on with utility at the top of its to-do list for more than four decades, which is a big factor in why it remains so cheap. So even though you can bag a shiny new 21-plate example, courtesy of long-time Lada importer Mark Key in east London, don't expect it to offer a driving experience comparable with its closest western rivals.
The lack of a stereo unit in our test car is the biggest giveaway as to its workaday ethos. Well, that and the hilariously visible coil springs at each end, disconcertingly thin body panels, featureless dashboard and chunky diff-lock and transfer-box shifters on the centre console. It's a bit of a palette-cleanser in today's touchscreen-saturated and semiconductor-dependent new car market, and one that's not without a whiff of retro chic about it.
There are quirks and complaints to deal with, of course, not least that the gearstick is almost unreachable in first and third gears, despite the driver being positioned exactly where the designers intended, and the indicator and high-beam stalks feel attached to the steering column only in spirit. You can only laugh at the separate ignition and door-lock keys, held together by a stylish translucent white ziptie, and the tangible drop in engine power that comes with the activation of the air conditioning.
In sensible driving situations and over short distances, though, it's not half as arduous and exhausting to pilot as you might expect. There's power steering, electric windows, air conditioning and even self-cancelling indicators (how very bourgeois), so once you've got over the ever-disorienting sensation of shifting with your right hand and the ever so slightly off-centre pedals, it's a perfectly adequate runaround. Just get used to smiling and waving. A lot.
If you've ever driven an instantly recognisable classic like the Volkswagen Beetle, a once-commonplace relic such as the Morris Marina or even something as hilariously misplaced as the Hummer H2 on British public roads, you will appreciate just how much joy such cars bring to other road users and passers-by. Park, say, an FSO Polonez behind a Lamborghini Aventador in Knightsbridge and see which one attracts the most attention. It's the same with the Niva: for every grimace-inducing thump from the suspension, steering column creak or graunchy gearshift, you're rewarded for your sacrifices with a van full of beaming builders, a thumbs-up from a jealous tree surgeon or a nostalgic gaze from a one-time Lada owner.
Rarity will do that to a car, of course, but when that exclusivity is paired with almost unparalleled accessibility, it's a recipe for a real people-pleaser. And boy is the Niva accessible. Key's imported examples are priced from £12,495 before taxes, which makes the Russian off-roader about as expensive as a base-spec Citroën C3, if you're in the mood for a tenuous comparison. A more obvious alternative is the Duster 4x4 from fellow Renault Group brand Dacia, but even that wants £19,245, while a Suzuki Jimny – with just two seats – costs more than £20,000 after tax.
In the interests of full disclosure, the Terra Brown-painted Luxe model you're looking at here costs £17,795 (by virtue of its far jazzier alloy wheels, electric windows and aircon), which is about what you will pay for a 2007 Land Rover Defender 90 in two-seat commercial form.
The Niva could show its closest-priced rivals a clean pair of mudflaps on the rough stuff, too, with the not insignificant benefit that you won't be so worried about dings and scrapes. Hell, a battered old 4x4 looks 10 times more purposeful and well used than a pampered example, so get it mucky.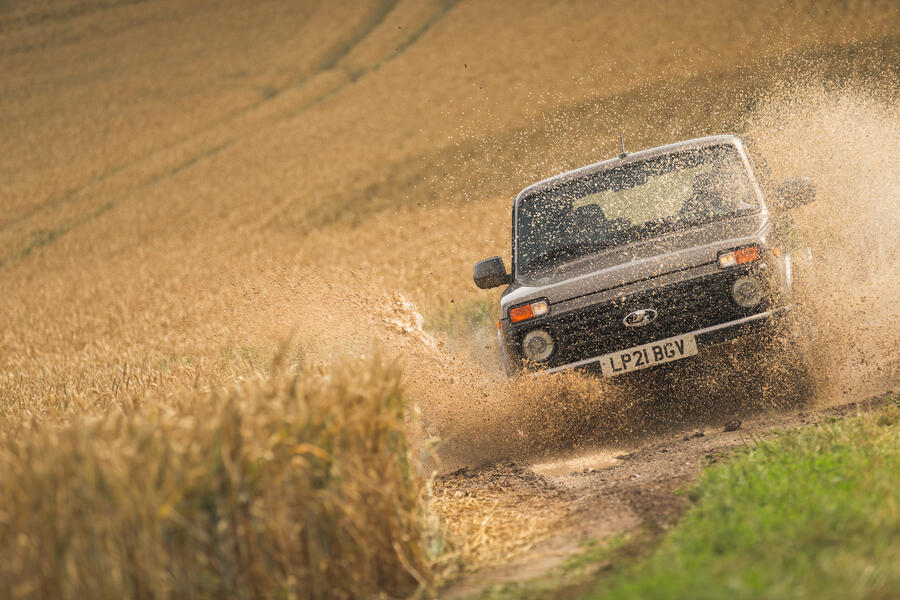 It will reward you for it; impressive axle articulation, yards of ground clearance and a low kerb weight mean it scampers across rutted fields like a hyperactive collie, can ford a decent-sized river and doesn't get bogged down in the gloopier sections. Such competence on the route less travelled goes some way to making up for its, shall we say, uncompromising approach to daily driving.
Not that you would be completely restricted to byways and back roads, of course. Key's website proudly proclaims that the Niva's fearsome naturally aspirated 1.7-litre four-cylinder petrol engine, pumping out 82bhp and 95lb ft, is compliant with London's ULEZ regulations; and even in spite of the car's complete dismissal of the principles of aerodynamics, we managed more than 30mpg on the motorway.
It's almost redundant to weigh up the economic implications of Lada ownership, really. If you want a Niva, you will buy a Niva. For much the same reasons as you would buy any car with your heart rather than your head: it's almost peerless, it's utterly riddled with charm and, with allowances for the inconsistencies across the spread of its abilities, it's fantastic at doing what it was designed to do.
And while its days are numbered, it won't officially bow out until the end of 2023, so there's plenty of time to get your order in before the new Niva arrives with new Renault-derived underpinnings, potentially a hybrid powertrain option and – heaven forfend – slightly curved edges.
READ MORE
Lada Niva off-roader to gain first full redesign since 1976
https://www.autocar.co.uk/car-news/featu...trong-2021