03-26-2023, 06:13 PM
Lamborghini LB744: 1000bhp PHEV offers 13 driving modes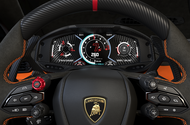 The supercar, codenamed LB744, will offer 13 different driving modes, from full-ICE to electric-only
New supercar mates a lighter V12 engine with a trio of electric motors to become most powerful Lambo yet
Lamborghini's first plug-in hybrid supercar, which will replace the Lamborghini Aventador, will arrive with a new V12 engine supplemented by three electric motors, producing a combined 1000bhp.
Set to be powered by a new V12 engine supplemented by three electric motors, the LB744 will produce a combined 1000bhp, making it the most potent Lambo in the firm's history. 
It ushers in a new electrification era for the Italian marque, while also allowing its signature V12 engine to "live on", rather than being killed off by increasingly strict emissions regulations.
The LB744 will also debut a brand-new 'monofuselage' chassis concept, which the firm says will represent "a significant" step forward for the model's driving dynamics and torsional stiffness. 
The supercar, codenamed LB744, will be the first to feature a front end constructed entirely of carbon fibre, with energy absorption levels double that of the Aventador. 
The Italian car maker says the monofuselage is 10% lighter than the chassis that underpinned the Aventador, weighing 20% less at the front alone. Torsional stiffness has also been uprated by 25%.  
Its rear chassis consists of high-strength aluminium with hollow rear domes, which Lamborghini says reduces weight further, cutting the number of welding lines and bolstering rigidity. 
The new 'forged composites' chassis technology represents Lamborghini's renewed approach to carbonfibre engineering. The firm adds that it will increase manufacturing sustainability, reducing energy consumption and reducing the volume of waste materials. 
LB744: a new level of driving experience. And emotions.13 driving modes, electric torque vectoring and LDVI 2.0 innovative predictive system our new Super Sport Car is ideal to take a unique driving experience.#Lamborghini #DrivingHumansBeyond

— Lamborghini (@Lamborghini) March 21, 2023
<script async="" src="https://platform.twitter.com/widgets.js" charset="utf-8"></script>
But its the new, lighter 6.5-litre V12 that is key to the PHEV's performance, said Lamborghini, which has also paid significant attention to the way it sounds. It weighs 218kg, 17kg less than the Aventador's V12, while still producing 813bhp at 9250rpm and 535lb ft at 6750rpm. 
This allows the three 18.5kg motors – two driving the front axle, and one gearbox-mounted driving the rear – to be fitted with minimal impact of weight (a total figure has yet to be given) and therefore performance. The unit also emits 30% less CO2 emissions than the Aventador Ultimae's 769bhp powerplant.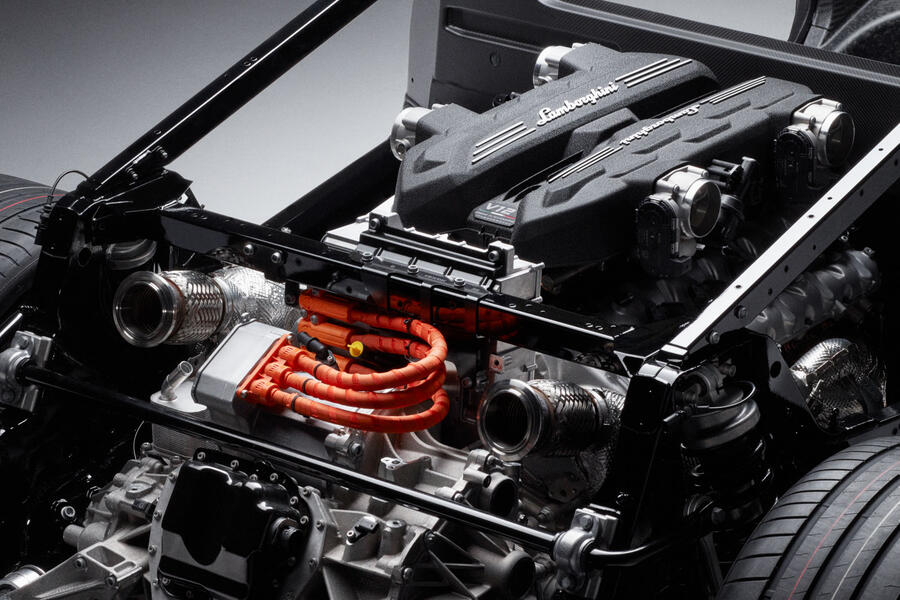 Those motors also boost low-end torque, with 258lb ft immediately available. Although acceleration figures have yet to be confirmed, this will give the LB744 blistering off-line speed, probably with numbers close to the special-edition Lamborghini Veneno, which can hit 60mph from rest in just 2.9sec.
Electric power is drawn from a 3.8kWh lithium ion battery, mounted within the transmission tunnel to keep the car's centre of gravity as low as possible. It can be charged either through an external 7kW current, which takes 30 minutes, or by a combination of regenerative braking and the petrol engine, which Lamborghini claims takes as little as six minutes.
This set-up allows the LB744 a 44:56 weight distrubtion, making the car "extremely agile" on both roads and circuit, the firm claims.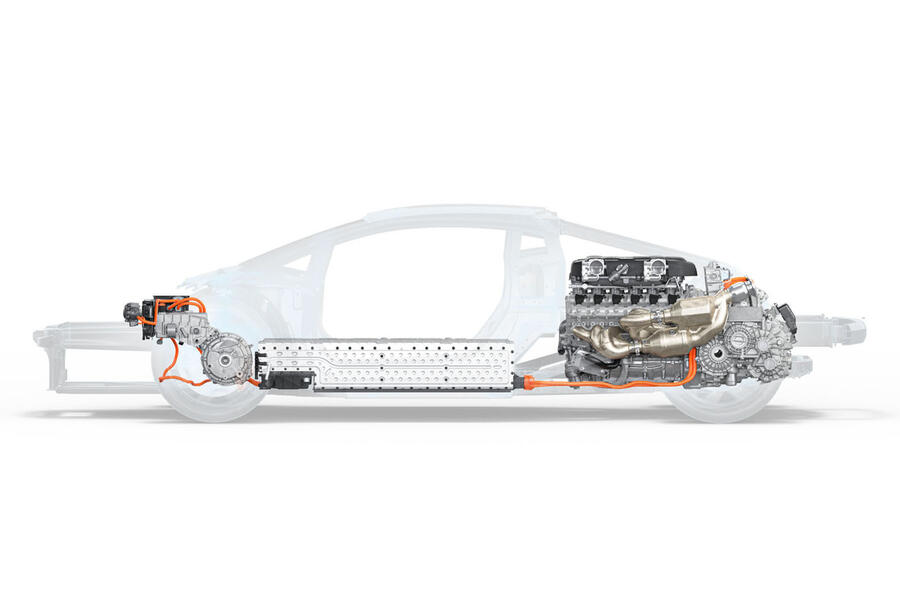 The LB744 even has the ability to run solely on electric power, with the option of using either just the front wheels or all four. However, given the battery's small size, EV range isn't expected to be more than five miles. 
With the addition of the battery, the super-hybrid offers 13 different drive modes, from full-ICE driving, to hybrid support, pure-electric, recharge mode, and, of course, track-specific set-ups.
As this battery takes up the room normally used by the gearbox, a new smaller one was developed. The LB744's compact eight-speed dual-clutch automatic transmission – which measures just 56cm long and 75cm wide and weighs 193kg – is positioned behind the V12, also aiding weight distribution.
The LB744 will be only Lamborghini's second road-going car to be fitted with a transversely mounted gearbox, after the iconic Miura of 1966.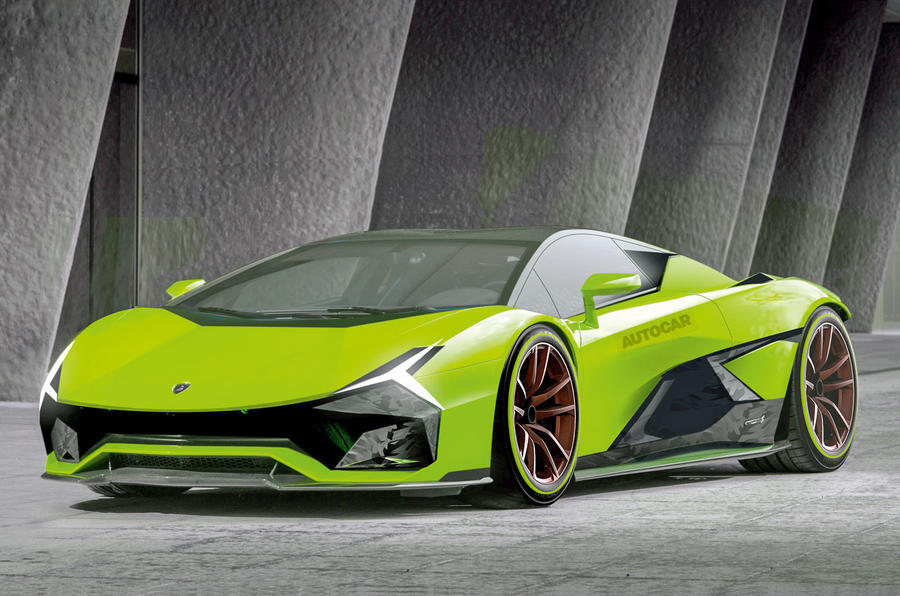 It uses a different set-up to the limited-run Lamborghini Sián FKP 37 and Lamborghini Countach LPI 800-4 hyper-hybrids, which had a supercapacitor in a mild-hybrid system, boosting power without the ability to run on electricity alone, bar in reverse gear – a trait the LB744 adopts.
More details will be released on the Aventador's replacement in the coming weeks, but it will be "completely new from the ground up", chief technical officer Rouven Mohr previously told Autocar.
Confirming this will also be the case for the upcoming follow-up to the Huracán, he said: "There's no carry-over from any car. From the model point of view, all relevant modules, meaning engine, gearbox, drivetrain or whatever, everything is new." 
Mohr added: "You can be sure the car will not be a disappointment regarding the emotions. We will fulfil the regulations, but we will [also] improve the emotions. I can guarantee that."
https://www.autocar.co.uk/car-news/new-c...ving-modes