05-30-2022, 08:51 AM
Land Rover Freelander vs Discovery Sport: 25 years of baby Landie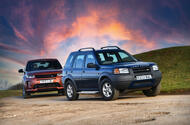 It's 25 years since the Freelander arrived, setting up Land Rover for a more prosperous future. We consider its legacy
Anniversaries are all well and good.
In the car world, they give us the chance to look back, see how far a certain product has evolved from launch and then be reminded about the relative lack of safety/ performance/efficiency versus its modern equivalent. We then swiftly move on, safe in the knowledge that cars today are – objectively, at least – just plain better. But sometimes, reviewing a car's birth does so much more than give us a convenient yardstick by which to measure its successors' progress.
When the Land Rover Freelander was launched 25 years ago, it played a pivotal role in the company's future. It tapped into a market sector that was set for supersonic growth (and one that still holds sway today) and upturned people's perception of the nearly 50-year-old brand name that appeared on its clamshell bonnet. Technologically, commercially and strategically, the Freelander made a permanent footprint on Land Rover, the effects of which can still be felt in 2022.
That's why we're gathered today at Gaydon (albeit outside the British Motor Museum, rather than next door at Jaguar Land Rover's base) to sample the original Freelander's legacy. Okay, you could say that the Land Rover Discovery Sport, as it sits next to its Freelander forebears, is an imposter, but to all intents and purposes, it's Freelander 3 by another name. That's because JLR is now keen to group its products as either Defender, Discovery or Range Rover. Just as it did in the late 1980s, in fact – although back then, each model line represented essentially one vehicle, not an entire range.
Dick Elsy, who led the original Freelander programme, explains why an all-new model was so important: "It became more obvious that there was a blank space in the Land Rover product plan about three years ahead. So we set ourselves the rather ambitious target of plugging it with the definitive leisure four-wheel-drive vehicle."
While the Range Rover already represented Land Rover's foothold in the then burgeoning luxury 4WD market, it was clear that a more affordable product could resonate in the mainstream while retaining the perceived Land Rover cachet.
British Aerospace, which then owned Land Rover, gave its support to the project, and an early working prototype was developed incorporating some important technological firsts: a monocoque shell in place of a traditional ladder-frame chassis, a switch to all-independent suspension from live with BMW driving a better design and superior levels of fit, finish and refinement."
When the Freelander was finally presented in September 1997, none of its components were shared with any previous Land Rover models. Designed by a team led by Gerry McGovern, the Freelander immediately took aim at the Toyota RAV4 and Honda CR-V market while trading heavily on its Land Rover roots. Compact yet space-efficient (it was almost as roomy as the original Range Rover) and with an airy, modern and practical cabin, it ticked all the right lifestyle boxes without compromising its 4WD capability.
There were two bodystyles at launch, based on the same unit-construction platform with its long-travel coil-spring/MacPherson-strut suspension all round. The entry-level model had two doors plus a tailgate, with the choice of either a Softback rear (essentially a canvas tilt) or a Hardback estate car-like fitting, both of which ran behind the sloping B-pillars. The five-door Station Wagon completed the range. With the two engine choices (a 118bhp 1.8-litre Rover K-series petrol and a 96bhp 2.0-litre direct-injection diesel), it provided a total of 12 derivatives.
I've driven many miles in both Freelander 1 and Freelander 2 models, but it's easily seven years since I sat in an original car. This one is a bit special, since it was the 43rd pre-production car built and the very vehicle that we subjected to Autocar's first Freelander road test in November 1997. Ron Brown, an ex-Land Rover man, has owned the car since 2016, and other than the slightly oversized 16in 235/70 mud and snow tyres, it remains gratifyingly standard.
Alongside the Discovery Sport, everything about this Freelander feels dinky by comparison. But its Tonka Toy chunkiness, inside and out, endears you to it immediately. You sit in a very car-like driving position, looking forward over a low scuttle and low dashboard, on top of which is perched a funky-looking instrument pod.
Visibility is great, and as we take to the gnarled country roads west of Gaydon, and even with little more than 100bhp, the petrol four-pot feels peppy and willing enough to haul the Freelander's 1401kg mass along at a fair lick.
Sure, there's slightly more body roll than you would expect in a modern car and the gearshift is on the rubbery side of pleasant, but for a 25-year-old, this Freelander holds its own in the cut and thrust of today's roads.
Interestingly, the Freelander 1, Freelander 2 and Discovery Sport were each developed under different parent companies: BMW, Ford and Tata. But despite the inevitable difference in approaches (as well as a marked leap in build quality from 1 to 2) there's commonality between the three, right down to their stepped roofs and clamshell bonnets.
In fact, today's Discovery Sport is slightly lower than the Freelander, and while it's a good deal wider, its length has grown only 215mm. So it's still car-like in many ways, retaining that original guiding principle.
What has changed out of all recognition, though, is the powertrain. While diesel power dominated Freelander 2 sales in the UK and Europe, we have come full circle today, with petrols once again making up half of the Discovery Sport's engine range. Of course, this being 2022, the current car is a plug-in hybrid, which in P300e specification means a combined 305bhp – almost three times that of the Freelander 1 – and the commensurate leap in performance that you would expect (top speed 130mph and 0-60mph in 6.2sec versus 108mph and 10.5sec). But its remit in the range as a practical, sensibly sized, semi-luxury 4WD car with proper off-road ability is still fulfilled.
While the entry cost to ownership has more than doubled over the years, the current Discovery Sport (save for the odd Range Rover Evoque variant) is as cheap a new Land Rover as you can buy. And back in 1997, that £15,000-£20,000 package grew annual sales by an unprecedented 40%, typically adding 60,000 to Land Rover's then global volume of 130,000.
However, as Elsy concludes: "It wasn't just about the product. The Freelander changed the business. It was the way in which the younger team managing its development collectively made a commitment to use it as a vehicle for change across the company."
It started life as an Austin Maestro van
Dick Elsy was originally tasked with investigating a more car-like successor to the Defender, under the project name Challenger, but this was ditched in favour of a completely new, lightweight and more lifestyle vehicle.
An early working prototype was then built, loosely based on a Honda Shuttle. This helped Elsy and his team bring senior management on board.
But it wasn't until 1994, after BMW took on full budgetary responsibility for what was now called the CB40, that development intensified rapidly.
While powertrains were plucked from Rover Group cars, the 4WD system was all-new and, for the first time, lacked a high/low range selector.
Dubbed the Mad Max series, 22 prototypes clothed in Austin Maestro van bodies were built in 1995 and 1996 to prove the transmission's durability. They also put paid to any resistance from company old-stagers about a perceived lack of off-road ability.
Elsy says: "I remember Roger Crathorne [Land Rover's off-road guru] driving a Maestro prototype at Eastnor and saying: 'Bloody hell, that works really well.'"
The key to the ability was a clever adaptation of existing ABS, which became Hill Descent Control for production. The Electronic Traction Control applied a braking force to any wheel losing traction and fed torque to the other side. Along with a torque transfer system working side to side and front to rear, it let the Freelander lead its rivals off road.
"And the high jinks we were getting up to at Eastnor proved its capability way beyond what a typical customer would put it through," says Elsy.
How it won over the critics
Former Rover Group PR chief Denis Chick recalls the unique approach he took to introducing media to the Freelander in July 1997.
He says: "It occurred to me when I was interviewing engineers about their part in the car's development how much passion there was for the project and how young the team was. So before the press actually drove the car, we invited them to Gaydon to meet these engineers.
"It was done in a speed-dating format, where each function brought components and presentations to tell the development story in three dimensions.
"Then, two months later, we held a larger global media drive event at the Las Dunas Hotel near Marbella in Spain. We were out there for five weeks, and each group drove their Freelanders straight out of the hotel and onto a beach, and then onto a dry riverbed, giving them the chance to use the car's Hill Descent Control and new four-wheel drive system.
Roger Crathorne designed the off-road course, which was cleverly created to appear far trickier than it really was. The journos also got to drive around 130 miles on lovely Spanish roads."
And the reception to the car? "Excellent."
What we said then
Autocar first road and group tested the Freelander in November 1997, concluding: "In many regards, the Freelander now leads the way among SUVs. But what truly distinguishes the Freelander is its exterior and its unmatched feeling of solid quality. It looks like a class act. And from the moment you climb aboard, it feels like a class act. There's only one logical conclusion to be drawn from that." Three pages later, it had taken the scalps of both the Honda CR-V and Toyota RAV4.
Simon Hucknall
https://www.autocar.co.uk/car-news/featu...aby-landie