10-21-2023, 06:59 PM
Lexus RZ 2023 long-term test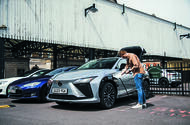 Upmarket electric family SUV arrives with plenty to prove, especially to its keeper
Why we're running it:  To see if Lexus's famed attention to detail makes up for the modest range
Life with a Lexus RZ: Month 4
The Lexus looks right at home on a golf course - 4 October
A Lexus and a golf course car park go together like bread and butter. It's a staple. So it's good to see the RZ is still the perfect links companion. Bags fit easily in the 1.85m-wide-SUV's 580-litre boot without the rear seats needing to be dropped. Three bags and a chunky trolley is our current record.
Mileage: 4774
Life with a Lexus RZ: Month 3
You could pack your house into the RZ - but Rimell made do with a tent - 16 September
Off to a festival for the weekend? The RZ has you covered. Its 522 litres of boot space coped with four lots of tents, bags, food and extras, all without needing to drop the rear seats. Best of all, the range indicator stayed very consistent, which was great for keeping anxiety at bay. 
Mileage: 3316
#Back">Back to the top
Life with a Lexus RZ: Month 2
The RZ boasts a lounge-like interior - 30 August
Waiting around on a photoshoot can be a bit of a pain – unless the Lexus RZ is close by. With my laptop out, the EV's rear cabin recently became my office for the day. The slightly reclined seats were brilliantly comfy, but it was the three-pin plug socket that was the real star. This really is a vehicle I would like to experience as a passenger
Mileage: 3043
#Back">Back to the top
EVs are impractical for most flat dwellers, so we tried a novel solution - 16 August
Sorry to sound like a stuck record, but this Lexus RZ continues to grow on me. As I sorted last week, it's turning out to be an all-round great car – although I should expect nothing less for £74,000.
However (and I will harp on about this), the range is a disappointment – about 220 miles is pretty much as good as it gets at the moment, and that's in good temperature conditions and with all the niceties turned off.
One of the biggest issues with such a paltry range is needing to charge the car nightly, because it's a 130-mile round trip from my place to Autocar headquarters. Now, if you're someone who can afford a car of this ilk, you will most likely have a driveway and a convenient charger right outside your house.
Living in a second-floor flat in a city centre, I have neither. That's not Lexus's fault, of course, but the question of how I charge still needs answering. A lengthy three-pin-plug cable out my window and into the shared car park was an idea, but health and safety concerns promptly precluded that.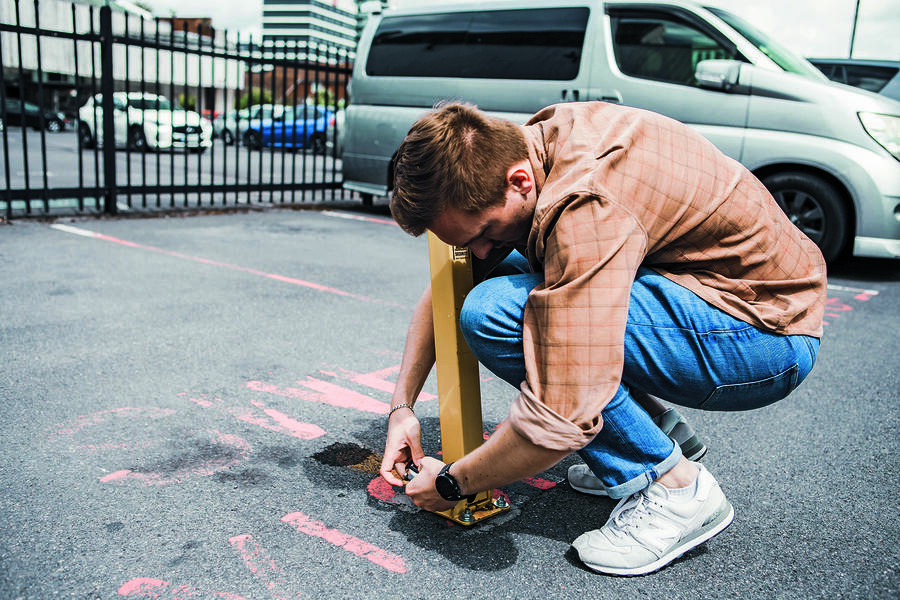 Instead, I have become a regular visitor to the local public charger. It bills me at 44p per kWh, which isn't terrible, but it's a 10-minute walk away. As long-term solutions go, this really doesn't scream convenience, and I bet similar circumstances have put off many a prospective EV owner.
However, potentially a better solution is on the horizon. Go Zero Charge (GZC) has come up with the idea of communal, bookable chargers for people living in flats. And the first site to try it just happens to be in my home city of Southampton. So I took the RZ down to South Western House to see what was what.
Before arriving, I was given a code that, when entered into GZC's smartphone app (yes, another one, but hopefully I won't need any more now), unlocked three chargers outside the complex. Having booked a time frame, I was given an estimated total price, based on the rate of 34p per kWh that had been set by the site's operator.
Next came the best bit. Once I had made the booking, the app sent me a code to unlock a bollard that was blocking the space, so I knew it would be unoccupied when I got there. And if someone overstays their pre-booked time slot? That will be a pound a minute, please.
"It just seemed sensible to us," said GZC boss David Wells. "If you know you can charge, then there's no anxiety. It's peace of mind."
Having these chargers at an apartment complex – one of the first in the country to have them – is a big deal. "This makes it easier for people thinking of switching to EVs to do so," continued Wells. "If you know there's a charger available for you at home, that's a game-changer."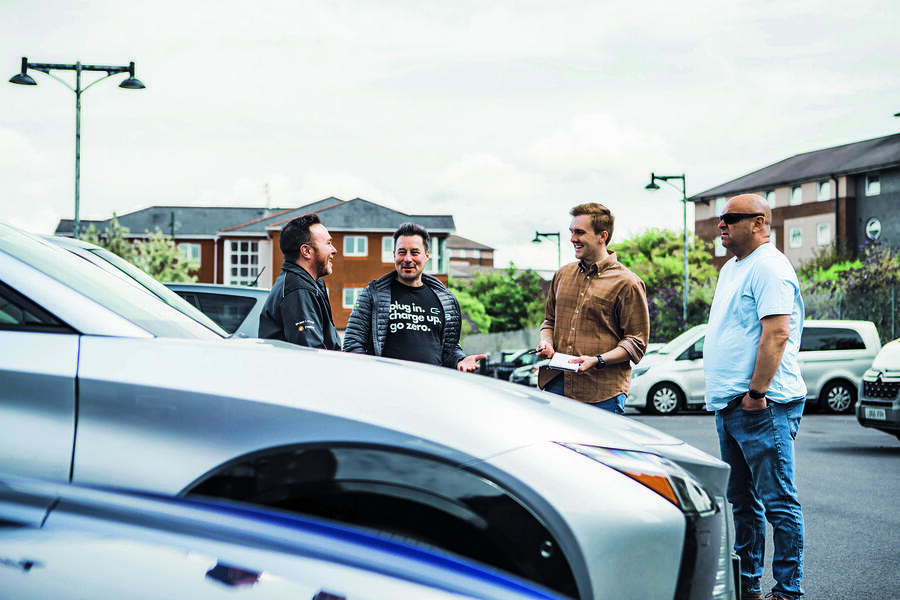 This was a sentiment shared by South Western House's property manager, Dave Harris. "For us, this is a stepping stone," he said. "Now we just need to convey this to people and get the message out."
It really is a big talking point, and if this can be replicated across the UK (Wells wants to add 5000 chargers over the next five years), the door to full electrification will be opened for a heck of a lot more drivers – making that much-talked-about 2030 date for the ban on combustion-engined car sales seem a little less optimistic.
Another area of focus is reliability. GZC is trying to give charging operators a better reputation – damaged over the years by perennially broken and occupied chargers – by using what it calls a heartbeat monitor on its devices. This sends a signal back to the control centre every minute.
"If they're not being used because they're not working, we make no money," pointed out Wells, as GZC operates unusually by taking a cut of charging costs rather than billing for installation.
It's all good news, then, and this set-up is something that the RZ and I would love to have at our place on the other side of town.
Love it 
Spa on wheels
The more I return from other cars to the RZ, the more its ride staggers me. For something that weighs two tonnes, it really glides.
Loathe it 
What do you want?!
I've discovered a new beep: it sounds when I lock the car (only sometimes), but I have no idea why. Investigation to follow. 
#Back">Back to the top
Our new EV looks fantastic, feels luxurious and is exceptionally relaxing (mostly) - 9 August
Just over 1500 miles in and I'm beginning to form a bit of a bond with our Lexus RZ. This is a good car. It's plush, it drives well, it's very comfortable and it's well-equipped.
The many journeys that we have already shared have all been a breeze. It really is a car made for relaxed travelling, and I've started to pick up on the many things that Lexus has done to make that so.
This includes the quietest windscreen washer motor you've ever heard (honestly, it's creepily muted) and windows that drop without a hint of noise. They really are luxury levels of detail, even beyond what you would expect from a £74k car – something I didn't think I'd say.
Its deep seats add another level of plushness that I've not experienced in something costing less than £100k. The £135k Range Rover P440e Autobiography, another on our long-term fleet, comes to mind. These seats also have internal fans to keep your back sweat-free – a pleasant addition on a summer's day.
Speaking of the Range Rover, the RZ's 14in infotainment touchscreen also wouldn't look out of place in a car of that quality, although it's not as slick as the best of them. It's not bad by any means, just not as user-friendly as it could be. I find myself always switching to Android Auto now, especially for navigation.
What is great, though, is how the RZ is to drive, which again adds to its 'get you there relaxed' mantra. It rides quietly and in supple fashion and has a pleasing heft to its steering that speaks of plenty of dynamic fine-tuning, which Lexus is known for.
In tight spaces, such as car parks, it behaves like a much smaller car, having a fantastic turning circle, thanks to its four-wheel steering.
For those looking at this car now, from late 2024 the RZ will also be available with Lexus's steer-by-wire system, One Motion Grip, complete with a yoke in place of a steering wheel. No, this isn't a gimmick: as we said in our first review of the RZ, it's actually quite good and very precise, so much so that you can complete a full lock in just 150deg.
Anyway, back to our car, and with all good things, there are, however, some drawbacks. As I mentioned in my first report, the overly sensitive active safety systems are a bit of an annoyance.
I get why they're there, but instead of being a kind hand on the shoulder to give you a nudge that you're, for example, getting just a little too close to that central line (easily done in a car that's nearly two metres wide), it's more like a driving instructor shouting at you for your ineptness. It feels like something out of the school of Sir Alex Ferguson. I'm much more Mikel Arteta. 
Some good news to report. I wrote in my initial report about the SUV's real-world range of around 180 miles and how, for a £74,000 car, this was awful. Update: I've been using the Fan Off range-extending mode, which has boosted it to 220 miles – and it hasn't been as unpleasant as I had expected. Big bonus.
I suppose some thanks for this should go to the temperate British summer weather, but mostly it's due to those aforementioned fan-fitted seats, which don't amount to a mega range killer, according to the car's miles-left indicator.
And I've found some other great little additions that also don't count as range-zappers – many that I will be testing once the mercury moves a bit further south. One is for all those people who get cold knees when they're driving. Not me, but apparently there are enough of them for Lexus to add an under-wheel knee warmer.
Yes, really. I never thought I'd look forward to the colder months, but that's what the RZ is doing to me. It really is a car that I'm enjoying living with, and I'm excited to see how it surprises me next.
Love it
Centre of attention
I've had more compliments (and looks) than I expected. My dad called it "the best-looking car I've seen for a long time". I'd agree.
Loathe it
Being overbearing
The safety systems feel like something there to control you rather than help. I bicker more with the RZ than my fiancée. 
Mileage: 2433
#Back">Back to the top
Life with a Lexus RZ: Month 1
Welcoming the Lexus RZ to the fleet - 26 July 2023
Spending £70,000-plus on a car is quite a privilege at the best of times, but throw in the current cost of living crisis and impending recession and it becomes an even more extravagant proposition.
So, with opinions like that, seeing the keys to such a vehicle land on my desk at Autocar Towers was a bit of a surprise – but maybe that was the point. The very plush Lexus RZ will be in my keep for the next few months, possibly in the hope that I'll become an advocate for high-end cruising, or at least understand its place.
What's more, the brand's new flagship is an EV, and Lexus's first bespoke one at that (after the also-a-hybrid UX) – albeit a reskinned Toyota bZ4X. Sorry, being cynical.
But it's hard not to be in the world of lavish EVs. Just look at the spec sheets that accompany some cheaper models such as the Skoda Enyaq iV, which in £45,000, bigger-battery form delivers more than 300 miles of real-world range.
It makes you wonder why Lexus (and Toyota) didn't want to offer more than the RX's on-paper range of 251 miles (we'll come to that later) and whether a car like this, at this price point has a place in the world – especially when battery technology has yet to catch up with combustion power in terms of how far it can take you between stops.
Anyway, we're going to start with a clean slate.
First, let's have a look at what we have here: a 309bhp, four-wheel-drive, two-tonne family SUV that has been created to offer "confidence, control and comfort", according to Lexus.
Although this is my first report, I'm already more than 700 miles into our relationship, which has included airport trips and motorway runs. B-road blasts have figured too, and they've been surprisingly quite fun in this EV, despite its weight.
I'm happy to report Lexus has hit the mark: this is a comfy car. And plush – especially in the Takumi trim of our model. As a result, every journey has been one of comfort – from being lightly manoeuvred into my driving position at the press of the start button to the in-seat fans keeping me sweat-free on scorching days.
This is a key point for a car at this price point: it needs to be as nice as, if not nicer than, your lounge. Odd analogy, but you get my point. The infotainment, with its large, 14.0in screen, has a raft of features that we will dive into later.
I've sat in the back of it and it's very pleasant. Those seats recline, which makes it one of the most comfortable rear benches I've sat on, although passengers have reported feeling the bumps, something I've not noticed in the front.
The faux suede (an environmental decision) across every seat and touchpoint adds to the plushness. Then there's the opaque glass sunroof that, as if by magic (it's actually science), switches to clear at the touch of a button. The interior is just such a good place to be.
The RZ also drives well for a 4.8m-long family SUV, and with the Takumi trim adding performance dampers front and rear (which means no towing can be done), it handles well too. The four-wheel steering also means our car can manoeuvre slickly in town.
Good news, then? Well, ish: there are some caveats. The beeping is one. The RZ has a host of safety features, from speed limit monitoring and lane assist to driver concentration technology.
They're all good things, but they're just very sensitive (the driver monitoring system hates sunglasses), and when alerting – which it does with loud beeps and bongs – it is quite aggressive.
You can, as with most safety systems, turn these off but it must be done for each journey. This seems a world away from the if-not-safer Volvo XC40 Recharge, my previous long-term test car, which doesn't feel the need to constantly bong at you as part of its uncompromising quest to keep you driving legally and safely.
Which brings me on to the range. The RZ has a claimed a top end of 271 miles, but as ours is fitted with 20in alloys, this immediately drops to 251 miles.
Yet this is the dreaded 'fan off' range, so the reality is even lower. How low? After our first few weeks with the RZ, even in stints of especially conservative driving (the app has been scoring my driving at 84 out of 100 for efficiency), I've achieved no more than 180 miles from the fully charged 71.4kWh battery.
That's 180 miles for a car that costs £74,000. Not great, but it's a good benchmark to attempt improvements during our tenure.
This is going to be an interesting test, then. We have here a car that Lexus has entrusted as its new flagship, so is it up for the task? Let's see what it's made of.
Second Opinion
The RZ is a beautifully finished, smooth-riding car, so I imagine it will be a very pleasant companion for the next few months if Will can find a way to tame the overzealous safety systems. I'm also curious to see if the RZ's range prediction in winter will be more accurate than the Toyota bZ4X's.
Illya Verpraet 
#Back">Back to the top
Lexus RZ 450e Takumi specification
Specs: Price New £74,000 Price as tested £74,000 Options None
Test Data: Engine xxx Power 309bhp Torque 321lb ft Kerb weight 2055kg Top speed 99mph 0-62mph 5.6sec Range 252 miles (WLTP) Economy 3.4mpkW CO2 0g/km Faults None Expenses None
#Back">Back to the top
https://www.autocar.co.uk/car-review/lex...-term-test