05-04-2022, 04:10 PM
Light work: The Coventry designers reimagining Lotus
Turning Lotus into a premium EV brand is "a hell of a responsibility". We hear how it's being done
For most of its life, Lotus Design consisted of an unfeasibly small group of highly talented individuals tucked away in tiny premises adjacent to Hethel, the Lotus headquarters that company founder Colin Chapman opened in 1966 on a wartime airfield south of Norwich.
Their traditional task was to produce simple, light and track-focused sports cars that followed the hallowed 74-year Chapman tradition, imaginatively using proprietary parts because they were good, cheap and plentiful. Lotus has always had a 'beat the system' culture. Why use two parts when one can do two jobs? Why build your own engines when existing units work fine at a fraction of the cost?
Lotus cars have been cheap, too, if you judge their capability against that of big-company rivals. Most were so good that a loyal body of buyers (never enough) was prepared to overlook traditional brand shortcomings in areas like access, cabin design, control layout and day-to-day practicality. They enjoyed the driving and felt good about supporting a deserving cause.
In a corporate sense, the Lotus story has been a long succession of under-resourced group managing directors (of very mixed tenure and ability) battling to satisfy uncertain owners and a motley band of dealers who believed they were making their own sacrifices to keep Lotus on the rails. Sometimes the most urgent struggle was to pay the workforce at the end of the week.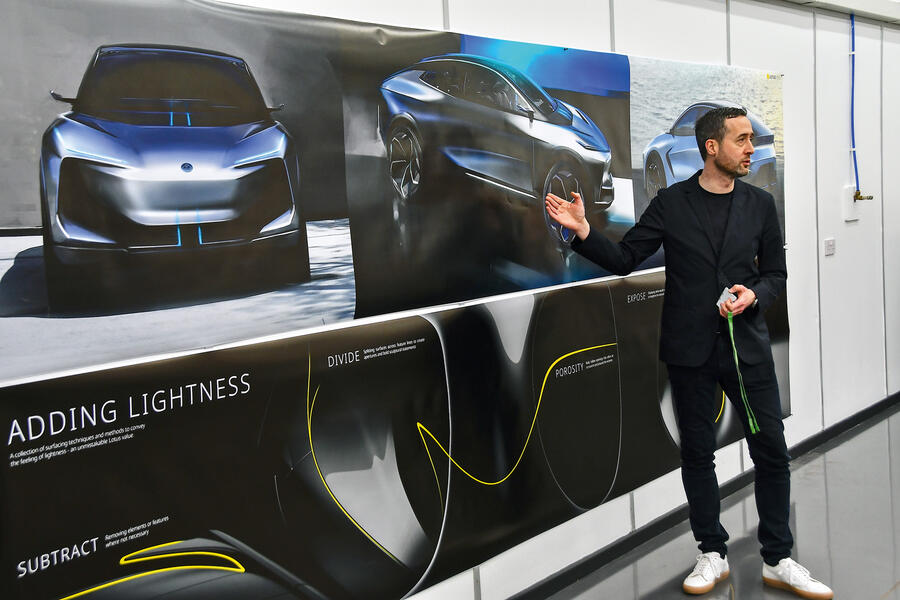 That all changed six years ago when Chinese company Geely came into the ownership picture. Its management of the car makers that it had already acquired, principally Volvo, made it rapidly apparent that of all the global giants Lotus could have joined, this was the best. High targets would be set, but the management would be unobtrusive. And for the first time in nearly 70 years, adequate investment would be available.
Geely has already rebuilt Hethel and revolutionised the sports car manufacturing process, spending £100 million on a plant that won't only build the just-launched Lotus Emira – in unprecedented numbers as great as 9600 per year on two shifts – but also its electric replacement, currently called the Type 135, arriving in 2026.
Less obvious but arguably even more significant is the fact that for the past three and a half years, Geely has had a design facility on the northern outskirts of Coventry working on the much bigger-scale, China-based Lotus Technology business. This is an enterprise that will eventually fill a 150,000-cars-per-year factory in Wuhan with three Lotus-badged EVs that aren't sports cars but (the company insists) will nevertheless uphold Chapman principles so long as you're prepared to interpret them liberally.
The first of them is the Eletre, the Lamborghini Urus-rivalling SUV revealed in March, to be followed on a one-a-year basis by a saloon in the Porsche Taycan mould (the Type 133) and a smaller SUV (the Type 134).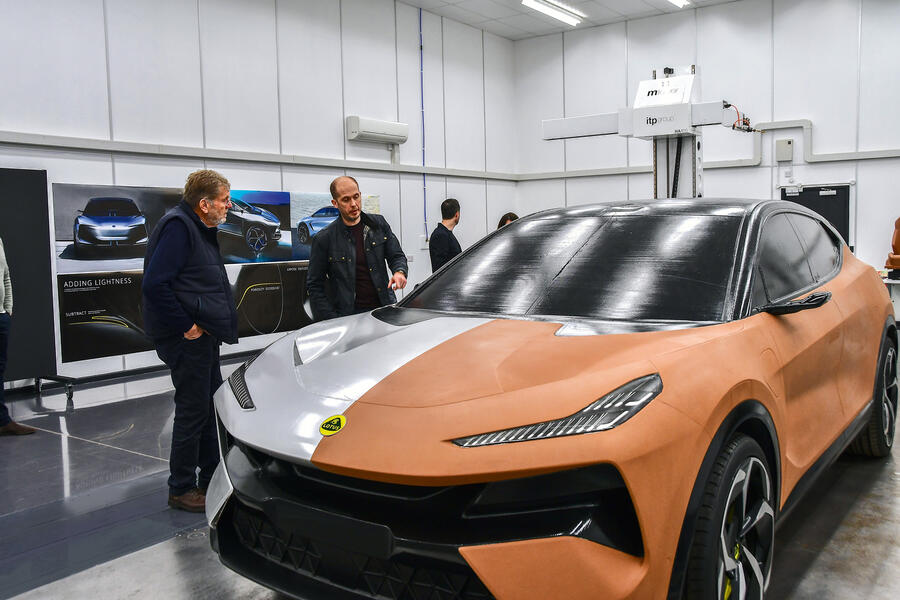 Geely never actually disguised its intentions at Coventry but did keep it below the radar by labelling it Geely Design for a while (it's now called the Lotus Technology Creative Centre). What's more, its location at the back of an unprepossessing industrial site part-occupied by Envisage, a busy but secretive prototype-building business, certainly wasn't chosen for prominence.
Inside, the impressions you form on arrival could hardly be more different. This is now the workplace of 120 people (about 100 of them designers, engineers and modellers), working across four well-equipped studios. In the past three and a half years, elaborate real-time electronic links have been built between this place and similarly equipped hubs in China (where the EVs' highly flexible aluminium architecture is being created), Germany and Sweden, where Geely's long-time design leader and ambassador, Peter Horbury, who now specialises in Lotus's affairs, is based.
Leading the Coventry project is managing director and head of studio Ben Payne, a Royal College of Art-trained designer who worked at General Motors, Bugatti and Aston Martin before joining Geely for the foundation of the business he now leads. A straight talker, he ends a quick run-through of his career with the comment that the Lotus stuff he's been doing "is better than all that".
His operations director, effectively his partner in running this place, is Nick McKinley, a similarly experienced designer who has had a varied career across IT (Nokia), automotive (McLaren) and consultancy companies. The Coventry challenge, the pair explain, is quite different from anything they've encountered before.
"We've had to take a very severe technical focus on stuff like connectivity and HMI [human-machine interface] design, because a car like the Lotus Eletre will be expected to meet the highest standards, and Lotus certainly hasn't been strong in that area," says Payne. "We've had to learn really quickly, having moved into a new studio to work on all-new products with a new kind of powertrain to be made in a new factory."
One big task, Payne and McKinley admit, has been interpreting the Lotus ethos and applying it to a car as far from Lotus traditions as the Eletre. This enterprise, they insist, is as serious about preserving Chapman's philosophy as ever; about recreating what they call "the emotional pull" of previous models. This entails meeting the competing expectations of very different customers, says Payne.
"It's vital for the success of the brand that we're as good at [meeting] the expectations of a 22-year-old Chinese millionaire as of a person who has owned 10 Lotus products before this. It's a hell of a responsibility."
After this mission-defining chat, my colleague Rachel Burgess and I set off on a tour of the Coventry site, walking down windowless corridors with heavy, unlabelled doors leading off them into one of the four design studios where the current prize exhibit, a fully representative and extremely imposing model of the Eletre, sits waiting on a plinth.
I've been told to expect a Lamborghini Urus-size SUV, but I'm still surprised by the sheer scale of the sleek, cab-forward creation with its deliberately created mid-engined proportions. Perhaps I'm too much influenced by my own ownership of Lotus sports cars in the past. It's a stretch, I have to admit, between this and the original Elite, although Payne and McKinley insist that you can read across from one to the other. Don't look for echoes of past Lotus proportions, they advise, but look for clues to Chapman's philosophy.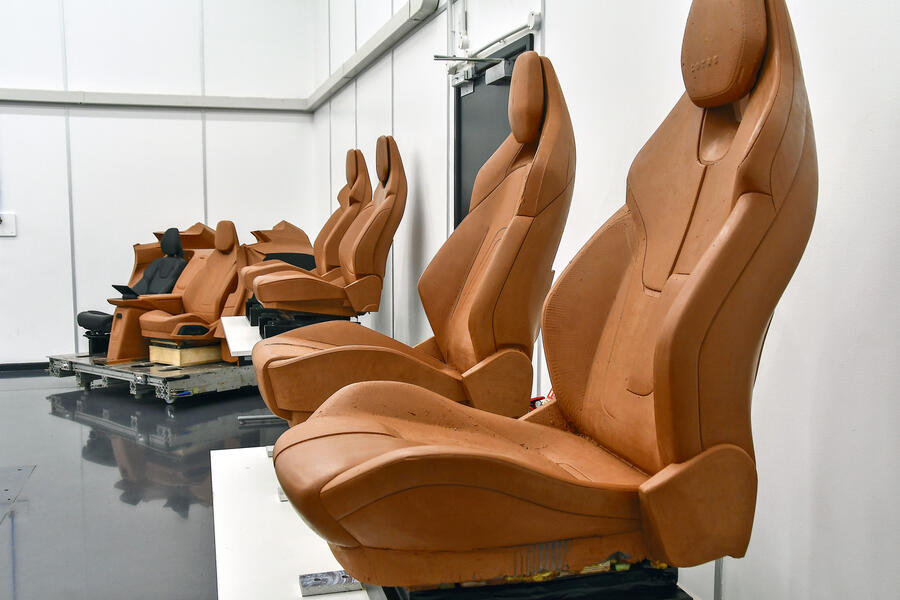 The principle of 'porosity' is part of this: the Eletre is configured so that air is directed through the body as well as around it: here to cut drag and boost stability at speed, there to cool vital components. The principle also brings a lighter look to a very big car, in line with Lotus principles. Neither Payne nor McKinley has any responsibility for this car's dynamics, but they've tried to convey via design that it will be very special.
We discuss the aluminium platform, the basis of all three forthcoming Wuhan EVs. The first application will be the Eletre, says Payne, and at present there are no other group customers, which has allowed the designers more freedom with their cab-forward proportions and hard points than usual.
"We're being encouraged to sell it to clients outside the group in future," he says. "We should have more news on that next year." Our tour of the bunker-like facility proceeds. We see prototype bucks whose job is to investigate door shuts, door space and cabin architecture or embody the car's 'control' dimensions to a fraction of a millimetre.
Upstairs, we meet a whole new staff of designers who aren't just designing trim combinations but minutely researching future trim materials and new ways of producing cabin furniture, too. It's daunting, even by proxy, seeing how much diverse effort goes into creating a new premium SUV.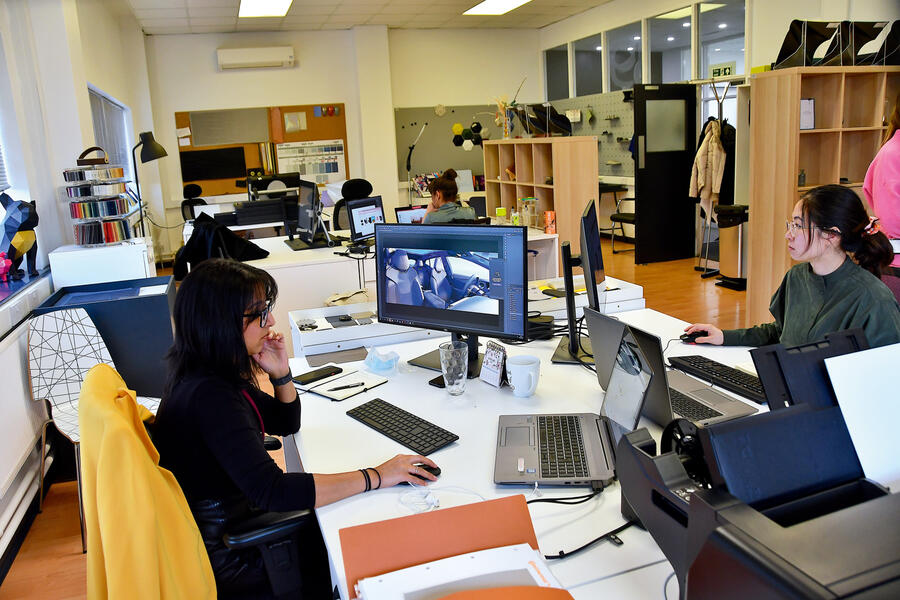 The main design phases are finished, but there's still more to do, of course. There's always more to do. But primary design effort now centres on cars beyond the Eletre. Production isn't due for another year, but for the 120-strong LTCC team, the major design tasks are past.
"It's a done deal," says Payne succinctly. "We've finished. Now we face the bit that really matters: the customer's verdict.
Q&A: Peter Hornby, Senior Vice President/Executive Advisor, Lotus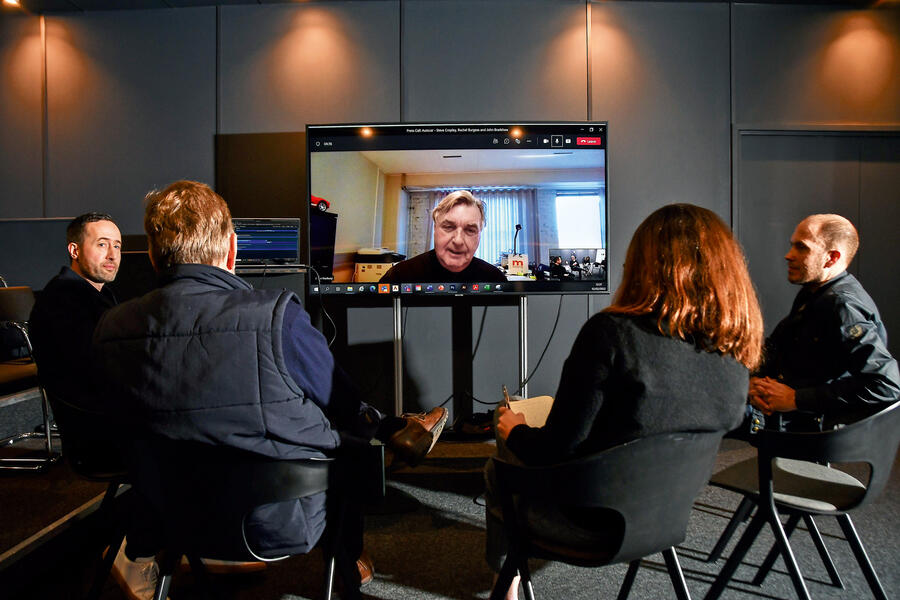 Why is the Eletre so big? Surely a smaller SUV would evoke the Lotus spirit better?
"This car has a vitally important job to do in China, where size really matters. Technology is important, too, as it is in other global markets, and we decided we could do a better job of showing the high standard we've reached with that in a big car. By the way, big SUVs are still doing very well on global markets."
Who do you see as your competitors?
"We're looking at very high-end competition: models from Lamborghini, Aston Martin and Ferrari when they come. For now, we're ahead of the game. We've worked hard to give the Eletre a mid-engined character, a kind of hypercar look, which is pretty good in a car that starts at less than £100,000. Our car is a unique proposition, and it will be for a while."
You've worked in China for 10 years now. How do you contrast the needs of buyers in different markets?
"The profile of owners is enormously different. In China, owners can be 25 and younger. In the US, they're 35 and upwards – sometimes a long way upwards. As you can imagine, that means their need for tradition is very different."
Can you build Lotus brand loyalty in China?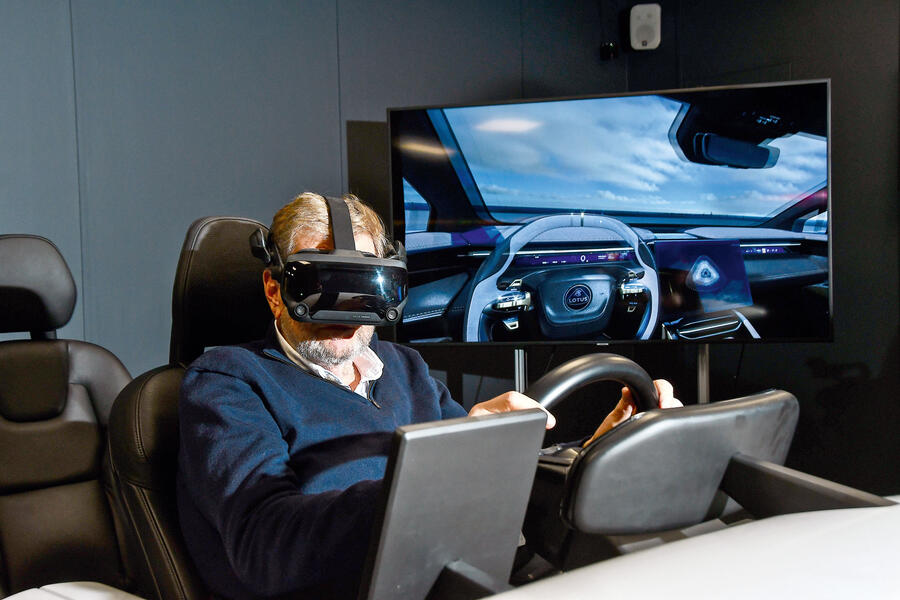 "It's a challenge. Brand loyalty is much stronger in Europe than China. The Chinese like change; they're attracted by the latest thing. We did research for Volvo not long ago and discovered that for many XC90 owners, their previous transport was a bicycle, and some of these people have a private jet in their future. We must do things that are new and different."
How hard have you tried to make the Eletre look like a typical Lotus?
"Well, it's a very different kind of car, as anyone can see, so you can't force things. But we've incorporated certain features that Lotus lovers will find familiar. The front and rear haunches over the wheels are part of the Lotus DNA, and the position of the front wheels relative to the screen is quite similar to Emira."
How much input did Geely founder and chairman Li Shufu have in the creation of the latest cars?
"Chairman Li tends to have a strong view of projects that he states once, and then we take it forward. We don't need to keep checking things with him. He visited the Coventry studio early on for a full UK review and he has since seen the prototype. His comments are always interesting, but they tend to be more poetic than specific. He sets the vision and we get on with it."
https://www.autocar.co.uk/car-news/featu...ning-lotus