08-09-2023, 07:40 AM
London ULEZ scrappage scheme extended to all residents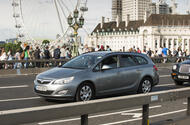 Up to 400,000 older cars are expected to fall foul of newly expanded ULEZ
London's mayor has widened eligibility for the scrappage scheme after ULEZ expansion was blamed for Labour losing Uxbridge by-election
The mayor of London has expanded a scheme offering grants of up to £2000 towards the cost of replacing a car that doesn't comply with the new Ultra Low Emission Zone (ULEZ) regulations to all residents of the Greater London area.
The scheme to help cover the cost of replacing a non-ULEZ-compliant vehicle had previously only been available to Londoners receiving certain benefits, but Sadiq Khan has pledged another £50 million to widen its eligibility. Small businesses will be able to receive £7000 to scrap a non-eligible van (with a limit of three vans per company), with the grant for minibuses rising from £7000 to £9000. The £5000 grant for replacing Wheelchair Accessible Vehicles has been doubled to £10,000.
There is extra funding available for retrofitting vehicles to meet the ULEZ regulations, or for replacing vans and minibuses with electric vehicles.
In a statement, Khan said that "cleaning up our toxic air can't wait", adding: "As we strive to build a greener and healthier London for everyone, I'm determined that no Londoner and no London business is left behind. Our expanded scrappage support will help many more Londoners."
Meanwhile, Merton Council in London will introduce its own £1 million scheme for the poorest residents and certified carers in the borough, offering an additional £1000. In a statement, the council said: "The council is clear that this support should be provided by the government in Westminster – as they have done elsewhere – but they have so far refused."
ULEZ to go ahead after court ruling
The extra funding comes after considerable controversy over the expansion of ULEZ following the recent Uxbridge by-election and a recent court case.
A judge ruled that Khan's plan to expand London's ULEZ can go ahead on 29 August. That will expand the scheme to all of Greater London, with the M25 orbital road subsequently forming the rough boundary. 
A daily £12.50 non-compliance fee will be imposed on drivers of petrol cars that don't meet at least Euro 4 emissions standards and diesel cars that don't meet Euro 6 standards.
The plan has been met with widespread condemnation, on the basis that paying the surcharge or buying a compliant car will have a dramatic economic impact on affected drivers, at a time when the cost of living is nearing an all-time high.
Five Conservative-led London councils raised the plans in the High Court, arguing Khan "lacks the powers" to introduce such a measure, and that the scrappage scheme designed to alleviate the impact of the scheme is ineffective. They lost their appeal, and the scheme will go ahead.
Khan hailed the "landmark decision" as "good news, as it means we can proceed with cleaning up the air in outer London". 
He pledged to do "everything possible to address any concerns Londoners may have", and added: "Nine out of 10 cars seen driving in outer London on an average day are already compliant so won't pay a penny."
The original scrappage scheme was criticised for offering compensation to only a small proportion of affected drivers in London, with the £2000 standard allowance "unlikely to be enough to enable the purchase of a car which meets the current criteria to avoid the ULEZ charge", according to Cap HPI's Dylan Setterfield.
ULEZ map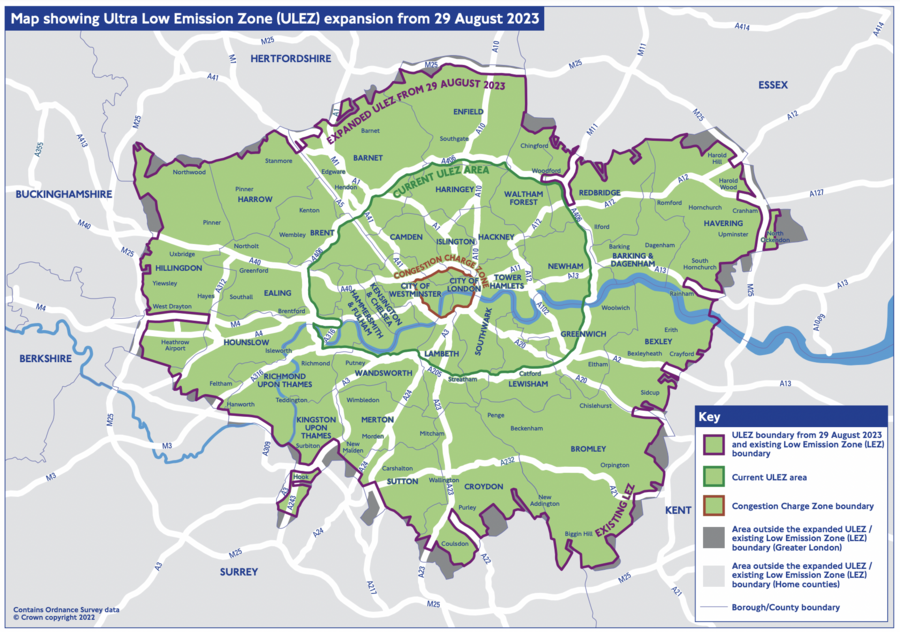 The ULEZ plan came under fresh fire recently for its perceived role in Labour's loss of the Uxbridge by-election last month, most vocally by the party's leader, Sir Keir Starmer, who said there is "something very wrong" when a Labour policy – in this case the ULEZ expansion – featured on "each and every Tory leaflet". 
The by-election was won by Conservative candidate Steve Tuckwell, a vocal opponent of the ULEZ, which will encompass the west London borough after its expansion.
Starmer said: "I don't think there is any doubt that ULEZ was the reason that we lost the election in Uxbridge."
He later said: "We've all got to reflect on that, including the mayor." 
Addressing Starmer's criticism of the policy, Khan defended it as "the right one", and sources close to the mayor have told the BBC that he has no plans to push back its expansion.
However, Khan is now said to be "listening" to the scheme's most vocal detractors. 
In a statement supplied to Autocar, a spokesperson for the mayor's office said: "The mayor has been clear that while the decision to expand ULEZ was an incredibly difficult one, he could not stand by and do nothing while around 4000 Londoners die prematurely each year due to air pollution, children are growing up with stunted lungs and thousands of people in our city are developing life-changing illnesses, such as cancer, lung disease, dementia and asthma.
"Nine out of 10 cars seen driving in outer London are compliant and won't need to pay a penny. For anyone who is affected, help is available, including thousands of pounds for people on low incomes, charities, small businesses, disabled Londoners and anyone in receipt of child benefit.
"Sadiq is committed to the expansion but is always listening and is happy to look at any new ideas for ways to mitigate the impact of expanding the ULEZ on Londoners while still tackling air quality and the climate crisis. He has listened to Londoners throughout this process and continues to do so – and he has already made a number of changes to expand the scrappage eligibility scheme."
Starmer said: "When it comes to green commitments, it's not a question of whether they should be done – of course it needs to be done - it's how they're done. So there's a discussion to be had about that." 
And his deputy, Angela Rayner, said the Uxbridge loss was testament to the fact that "when you don't listen to voters, you don't win elections".
She acknowledged the need to improve air quality in cities but said affected drivers must get "proper compensation and support". 
Uncertainty over the viability of the ULEZ expansion comes as the Conservative government casts doubt on its own plans to ban the sale of new combustion-engined cars from 2030.
Prime minister Rishi Sunak said that any measures made in pursuit of reducing carbon emissions must be "proportionate and pragmatic" and must not "unfairly impact the public". 
He hasn't officially confirmed that the proposed 2030 deadline is up for debate, but former business secretary Jacob Rees-Mogg suggested scrapping the ban could be "electorally successful".
ULEZ scrappage scheme: what you need to know
Motoring organisations and used car experts criticised the scope and value of the mayor of London's vehicle scrappage scheme, intended to compensate drivers and residents in the forthcoming ULEZ who will be forced to change their vehicles to avoid paying an emissions charge. 
To avoid attracting the expanded zone's daily emissions charge of £12.50, petrol cars must meet at least the Euro 4 emissions standard, which became mandatory in 2005, and diesel cars at least the Euro 6 standard, which became mandatory in 2015.
Under the new scrappage scheme, up to £10,000 per claimant is available, although the standard allowance is £2000.
To qualify, residents must be scrapping a car that doesn't meet the new emissions limits. 
The mayor's office said the ULEZ expansion will help clear the capital's roads of 200,000 high-polluting vehicles. However, the AA disputes its figures, claiming its research shows that up to 400,000 cars will be affected.
Ultra Low Emission Zone: Can I drive my car in the London ULEZ?
Luke Bosdet, an AA spokesman, said: "This is a much higher figure, and we're concerned that by only providing relief for people on benefits, the scrappage allowance excludes those on low incomes juggling multiple jobs, as well as those in the care sector who need their cars to visit patients."
The RAC questioned the timing of the ULEZ extension. Nicholas Lyes, head of roads policy, said: "We're concerned that expansion is taking place when drivers are already struggling with high fuel costs. We urge the mayor to look at expanding the scrappage scheme to benefit more households. Alternatively, residents should be granted a sunset period until August 2024 to give them more time to upgrade."
Vehicle valuation experts questioned the value of the £2000 scrappage allowance.
Dylan Setterfield, head of forecast strategy and operations at Cap HPI, said: "The £2000 available to some Londoners via the scheme is unlikely to be enough to enable the purchase of a car which meets the current criteria to avoid the ULEZ charge."
His comments were echoed by Darren Rodwell, leader of Labour-controlled Barking and Dagenham council, who said the £110m scrappage wouldn't provide enough compensation for people forced to change their cars. 
However, drivers and residents in the affected zone may draw comfort from the fact that many older, non-compliant cars have, according to Cap HPI, recently risen in value by around 3%, compared with three-year-old vehicles, values for which have remained flat. Theoretically at least, this should help ease the cost to change from a non-compliant car to a Euro 4 petrol or Euro 6 diesel.
One person hoping to take advantage of the uplift was Ali, from Streatham. His advertisement for his Audi A3 2.0 TDI Sportback, which was registered in 2013 and has done 43,000 miles, read: "Reluctant sale due to ULEZ."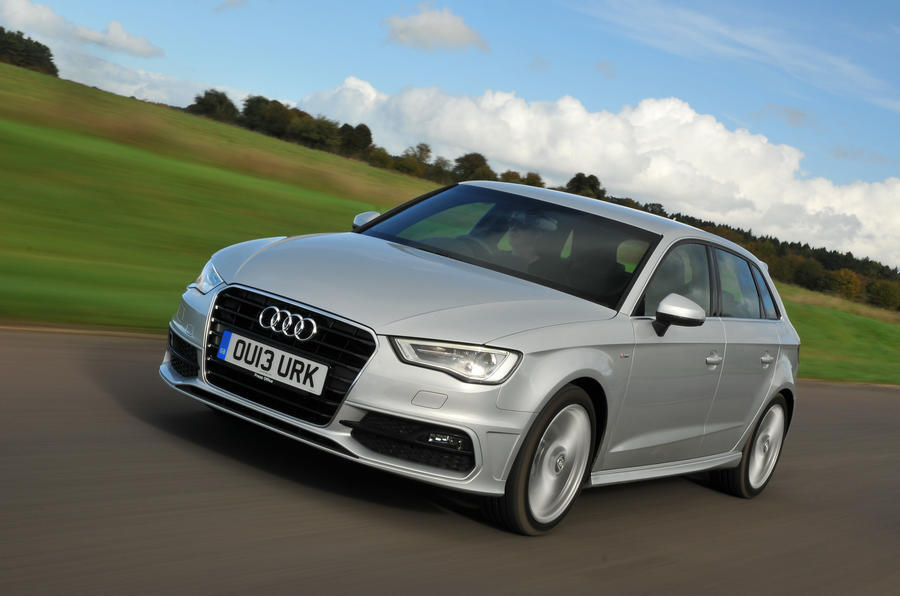 "I live just within the extension, and a friend said I should get rid of my car while it's still worth a reasonable amount," he told Autocar. "I'll be sorry to see it go, but I have no choice."
He was advertising his Audi for £8140, a price in line with private sales values recommended by online valuation services.
It had been predicted that the values and prices of non-compliant cars would be adversely affected by the new zone, but Setterfield believes this to be unlikely, at least while car numbers are low and demand is buoyant.
"These days, vehicles are transported all over the country by auctions and retail cars are all advertised online, meaning the geographical location is much less relevant," he said. "We haven't noticed any localised ULEZ effect yet, but that's not to say it might not happen at some stage."
Amid growing concerns about the value of the scrappage fund, the rising cost of living and the reduced availability of public transport in outer London, more than half of the councils affected by the expansion (including Labour-controlled ones) are urging Khan to rethink his plans.
Some have explored legal action to block the extension, while others have refused to sign the Section 8 agreement that allows Transport for London (TfL) to install the roadside cameras necessary to detect cars.
However, on that point, TfL's 'reserve powers' permit it to install two-thirds of the scheme's 2750 cameras without requiring council permission.
Khan said that opposition to the extension is a "political strategy" by Conservative-controlled councils "in the pocket of vested interests" and the decision to proceed is necessary to reduce the capital's high levels of pollution.
As part of that objective, TfL has budgeted to receive £200m in revenue from the scheme in its first 12 months, to be reinvested in public transport.
John Evans
https://www.autocar.co.uk/car-news/consu...-residents