11-09-2022, 09:57 AM
London extends e-scooter trials into 2024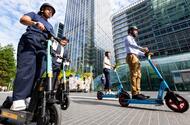 Transport for London will launch a new tender process for companies to run the machines in the nation's capital
London's rental electric scooter trials until at least the end of May 2024 – but Transport for London will launch a new tender process for companies to run the machines.
Rental e-scooters trials began in the nation's capital in June 2021, as part of wider government-backed trial schemes to help evaluate potential regulations to legalise the machines. Three firms – Dott, Lime and Tier – currently have tenders to run e-scooters in the nation's capital.
The latest e-mobility news in your inbox: get our FREE newsletter
The London e-scooter trials are the largest in the UK, with ten boroughs participating. In total there are 4425 e-scooters available to hire in London with more than 500 designated locations – and two million journeys have been made to date. 
The trials in England had been due to end in November this year, but the government has allowed councils to extend them until at least May 31 2024. Several councils have already extended their schemes until that date, and London is the latest to follow suit.
While most other regions have extended their agreements with the operator already running in their region, Transport for London (TfL) and London Councils say they will run "a competitive procurement process" for operators to run "the next phase" of the trial – meaning Dott, Lime and Tier could face opposition from rival firms such as Superpedestrian, Voi and others.
Are e-scooters legal in the UK? Move Electric's definitive guide
The contracts with the three existing firms will be temporarily extended until September 2023 for while the bidding process is conducted. Notably, TfL says that the contracts it will offer could run beyond My 31 2024, subject to planned new legislation that fully legalises e-scooter usage in the UK passing.
TfL added that operators "will be chosen on their ability to meet strict safety requirements and high operating standards". It said there will be "enhanced" safety standards based on learning from trials in the UK and elsewhere so far, feedback from customers and other stakeholders, and improvements in technology.
London's transport body has hinted that could include newer e-scooters, including machines that make warning sounds to alter pedestrians to their presence – technology being worked on by the three London rental operators.
In addition, TfL says that vehicles used in the trial will have to "exceed" the current Department for Transport (DfT) regulations, which will make them "considerably" more robust than the most common private e-scooters. At present, it remains illegal to use a privately owned e-scooter on public roads in the UK.
Operators will also continue to be required to provide data to TfL and participating boroughs to understand the impact of e-scooters on London's transport goals – including its target to eliminate deaths and serious injuries from its road.
Will Norman, London's walking and cycling commissioner, said: ""The e-scooter trial has proven to be popular, with more than two million trips already taken, and this next phase of the trial will build upon this, replicating the high safety requirements and high operating standards, and continuing to learn through testing newer technology to ensure that these vehicles work for everybody.
"With the right regulations that prioritise safety, rental e-scooters can help ensure a green, sustainable future for London".
READ MORE
Subscribe to the Move Electric newsletter
e-CARS
Chinese car brand Nio to expand into UK by end of 2023
Driving a Citroën Ami around London: five things we learned 
New Polestar 3: 380kW performance EV aims to 'redefine' the electric SUV
e-BIKES
Seven essential accessories to improve your e-bike life
The Lake District village that's pioneering community e-bike schemes
e-MOTORBIKES
Honda to launch more than 10 electric motorbikes by 2030
New Zero DSR/X launched as electric adventure motorbike
Stilride: the brand reinventing electric motorbike production
e-SCOOTERS
8Tev B12 Roam e-scooter review
Pure Electric launches two new machines that 'reinvent' the e-scooter
Rise in e-scooter accidents prompts call for 'urgent' government action
e-WORLD
Artemis electric ferry revealed for Bangor to Belfast service
New Mobilize Solo Concept is a safety-conscious e-scooter rival
Volta Zero: the electric truck tearing up the rule book for the electric age
https://www.autocar.co.uk/car-news/move-...rials-2024