04-21-2023, 06:15 PM
Lotus unveils 500kW electric car charger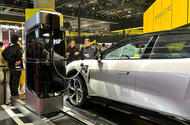 The 500kW charger connects to the car via a robotic arm
Robotic arm automatically connects to the car and uncorks Eletre SUV's full recharging potential
Lotus has unveiled an electric car charger that it claims supports charging at rates of up to 500kW.
The station has been displayed on the Shanghai motor show floor connecting to a Lotus Eletre electric SUV using a robotic arm, which emerges from an exterior cover and automatically locates the car's connector.
Lotus is yet to confirm whether its new, as-yet-unnamed charger will be offered to operators across the UK. It will initially be rolled out as part of a fleet of 50 across China, open to all cars.
The most powerful charger currently available on the UK's roads is the ABB Terra 360, which puts out up to 360kW, used at Gridserve's forecourt in Braintree, Essex.
The deployment of Lotus's charger is expected to coincide with the arrival of a series of fast-charging Chinese EVs over the next two years. 
Shock @lotuscars unveiling! But it's not a car - it's a robotic charging device which can top up any electric car at up to 500kW... pic.twitter.com/V82qgmG7MJ

— Autocar (@autocar) April 18, 2023
<script async="" src="https://platform.twitter.com/widgets.js" charset="utf-8"></script>
For example, the Eletre supports a 420kW charging rate – faster than the 270kW claimed for the upcoming Porsche Macan EV and the 350kW supported by cars on Hyundai-Kia's GMP platform, such as the Kia EV6.
Chinese-market examples of the Xpeng G9 push that rate further, supporting 480kW charging. However, European examples will be limited to 300kW.
Nio yesterday set its first 500kW chargers live across 12 cities in China, including Shanghai.
https://www.autocar.co.uk/car-news/new-c...ar-charger