06-11-2022, 06:55 AM
MG Cyberster: electric successor to TF convertible leaked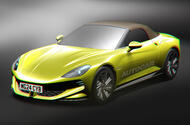 Our render is based on the leaked patent images of the new Cyberster
Affordable roadster's design has been outed in new patent filings, hinting at an imminent unveiling
The Cyberster roadster will arrive before 2024 as an affordable halo car for MG, and its final design has been outed in a series of patent filings from parent company SAIC Motor. 
The two-seat electric sports car was previewed as an outlandish concept in 2021, which company bosses said was given the green light for production after receiving more than 5000 expressions of interest from potential buyers. 
These latest images show just how far the design has come since that concept and indicate that the Cyberster – which will essentially serve as an electric rival to the likes of the Mazda MX-5 – is nearly ready for an official unveiling. 
While the production car's silhouette bears a visual relation to that earlier concept, it's all change elsewhere, with a total redesign bringing the car into line with MG's production models and rendering it compliant with global homologation rules. It sits higher than before, for example, the wheels are smaller and wrapped in chunkier tyres, the headlights are now uncovered and the gaping front grille panel has been swapped for what looks to be a subtler, decorative item, perhaps housing an array of sensors.
The cab-backwards profile remains, albeit in a less exaggerated form, and the Cyberster has lost its Union Jack-inspired rear lights to make way for a striking angular light bar and arrow-shaped brake light clusters.
It still looks to be a two-seater, however, and has donned some sort of folding rood for production, rather than sticking with the concept's open-cockpit arrangement, but the prominent streamliners running from the headrests to the trailing edge of the boot lid are gone.
Despite the car appearing more or less undisguised in these renderings, still little is known about its powertrain, pricing or performance potential.
The concept was said to be based on a bespoke EV architecture, offering a range of 497 miles and a 0-62mph time of less than 3.0sec, and as a spearhead for MG's new youth-focused Cyber brand, the convertible is expected to be priced affordably - potentially even competing with today's entry-level combustion-powered sports cars.
Talking about adding the Cyberster to the MG line-up, the firm's UK commercial director Guy Pigounakis recently told Autocar: "The problem with sports cars is that everybody loves them but not many people buy them." He added, however, that MG's global volume means it can "afford to invest in sports cars and take a longer-term view on when there will be a return on investment", adding that having a sports car "will bring us massive PR and marketing benefits".
The Cyberster will build on the Chinese brand's recent phenomenal success in the UK: sales grew 66% last year, from 18,415 in 2020 to 30,600.
The MG 4 hatchback, however, will arrive first, before the end of this year. The value-driven rival to the Volkswagen ID 3 is expected to become MG's biggest seller beside – or even surpassing – the MG ZS small SUV.
Pigounakis said of the MG 4: "The car stays true to our values of getting more from an MG. It represents cutting-edge technology, it needs to be exciting and it needs to represent fantastic value for money. That doesn't mean cheap."
He added, in reference to the ZS EV's 250-mile range, that the MG 4 will "be even more competitive on a pound per mile of range basis than today" but said pricing for the family hatchback has yet to be decided.
The third new MG to arrive by 2024 hasn't yet been confirmed, but it is likely to be a third SUV, given the continuing consumer demand for high-riding vehicles.
https://www.autocar.co.uk/car-news/new-c...ble-leaked