05-19-2023, 01:15 PM
Maserati Grecale GT 2023 UK first drive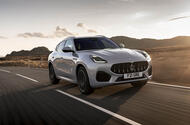 Entry-level version of Maserati's new Porsche Macan-rivalling SUV has a mild-hybrid four-cylinder engine
The latest mid-size luxury SUV on the block opens for business with this mild-hybrid derivative, the Maserati Grecale GT.
The Stellantis group's one true luxury marque is bidding to tempt customers away from the Porsche Macan, Range Rover Velar and Mercedes-Benz GLC with this car, which we've reviewed already abroad in range-topping Grecale Trofeo form and in the UK in mid-range Grecale Modena guise. This is our first taste of the entry-level version.
There are currently only two engines available in the Grecale: the 521bhp 3.0-litre twin-turbocharged petrol V6 of the range-topping Trofeo version (which sounds like the sort of engine you might expect to find in a Maserati) and an electrically assisted, turbocharged four-cylinder petrol. 
The latter is tuned to produce a little more peak power in the mid-range Modena version than it does here but makes the same 332lb ft of torque either way – which quite possibly doesn't sound like the sort of engine you would expect to find in Maserati. It displaces only two litres of cubic capacity and produces only 296bhp, even with the help of 48V mild-hybrid electrification.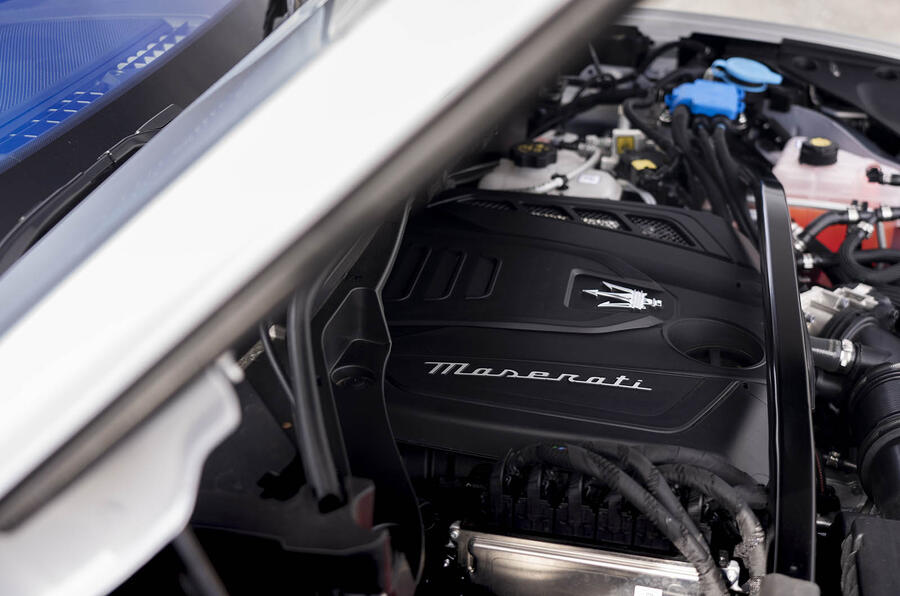 But it's not an entirely uninteresting engine technically. Ostensibly Stellantis's Global Medium T4 engine that powers various Alfa Romeos and Jeeps, Maserati has fitted it with an electric supercharger in addition to its normal exhaust-gas turbo, in order that it has better low-end response. At the same time, the regular turbo can boost harder at revs without compromising lower-end response, facilitating the higher peak power outputs than it might make in other applications. 
There's a belt-driven starter-generator and a bigger battery too, of course, and the potential for boosted economy that it brings. But Maserati is very clear that its approach with this engine was all about deploying 48V mild-hybrid technology for performance and drivability gains first and efficiency gains second.
Elsewhere around the car, there are other technical differences between the GT and the Modena. Both cars get an electronically controlled four-wheel drive system, but the GT's rear differential is a conventional one to the Modena's standard limited-slip diff. The GT also misses out on the widened rear axle track of the Modena and its adaptively damped steel-coil sports suspension (adaptively damped, height-adjustable air suspension, called Skyhook, is optional on both the GT and Modena).
So the GT really is as ordinary as the Grecale gets. It's to Maserati's credit that it doesn't feel that way on the inside, however.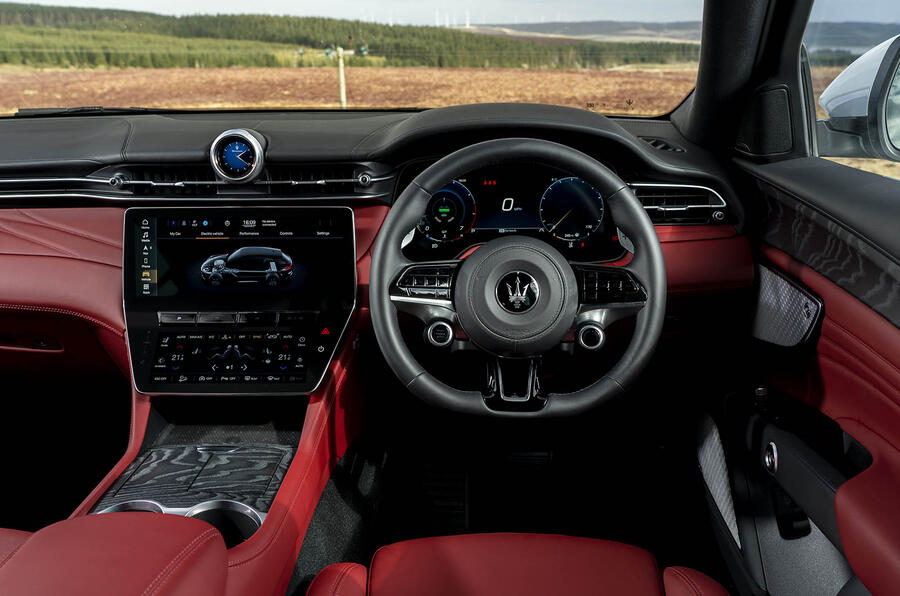 This car shares both its Giorgio platform and its Cassino production line with the Alfa Romeo Stelvio. There's certainly the sense of a shared interior architecture apparent within the Grecale, in as much as the layout of instruments and controls, the dimensions of the steering wheel and the location and feel of the secondary controls are all quite familiar. But space is in fairly generous supply here, in rows one and two and in the boot, and the material richness and plush feel are both impressive.
The Grecale's leathers and dashboard veneers are appealingly lavish and its ambience quite sumptuous and stylish, even in entry-level form. Some might sum it up as a kind of Stelvio Grand Luxe if they wanted to acknowledge the debt owed to a certain other Italian car maker, but that would undersell how genuinely luxurious the Grecale is.
One thing that it certainly isn't, when out on the road, is particularly efficient. Stroke it along gently, avoiding the sportier driving modes, and you might coax the economy indicator as far north as 32mpg. In more spirited driving, 26mpg is typical. That's a pretty meagre return for any modern car with 'hybrid' in its model description, but then this is a two-tonne luxury SUV that will do 60mph from rest in less than 6.0sec - and to Maserati owners who expect to pay plenty at the pump, 30mpg on a better day might well be acceptable.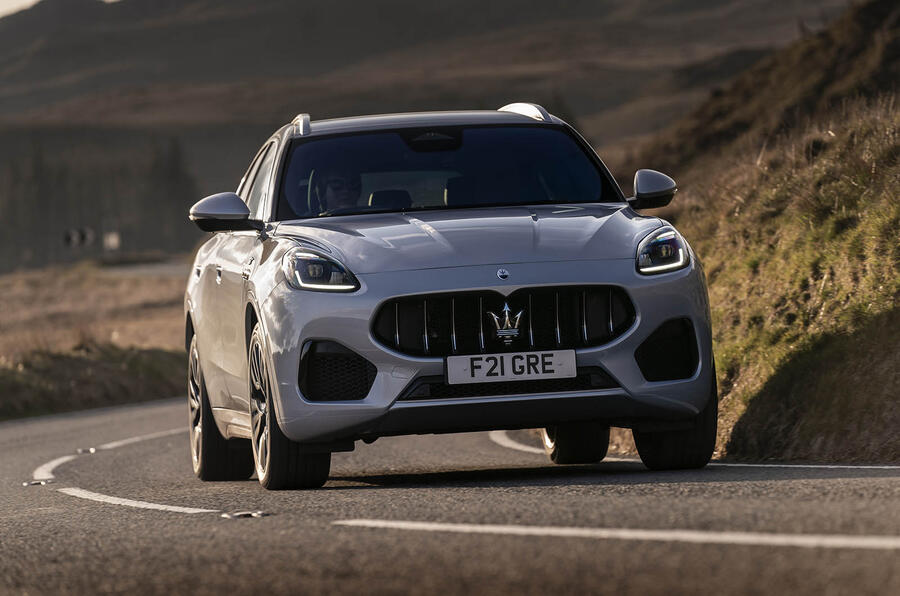 The GT clearly doesn't need the optional air suspension, nor even adaptive damping, to feel quite limber and spry in its ride and handling. We tested it on optional 20in wheels, but otherwise a standard rolling chassis specification. It had an isolated and quite sophisticated ride, with a convincing underlying plushness about it, although it shunned overt softness in its body control. It instead maintained a sense of taut control at most speeds, only becoming a little bouncy and underdamped at higher speeds, when bigger bumps presented. The adaptively damped steel-coil suspension might well mitigate that ultimate sense of rebounding excitability, but I would be careful to do so in tandem with moderately sized wheels, in order to maintain that fairly plush secondary ride.
The handling is well-balanced and neat for a car of this size and weight - just as you would expect of a car on Alfa's expensive platform. Although the steering is big on assistance and a muted in feel, especially around centre, it commands a crisp and linear turn-in from the chassis, which resists roll well and has a good appetite for corners. 
So there's certainly some handling dynamism to be enjoyed here, if less appetite for outright speed. Although Maserati has clearly done what it can with this engine, it's just an engine, when all is said and done: responsive enough, with decent drivability and refinement and respectable outright performance but little charm or sporting appeal. It doesn't have the vocal presence or drama you might expect of a Maserati, although it does a passable job if you don't expect fireworks. And plenty ought to be happy to go without those in a lower-end derivative of a luxury SUV that serves other priorities - and many of them quite well. 
If you want speed and excitement, look elsewhere - and, counting the forthcoming electric Grecale Folgore as well as the other Grecale versions, there will be plenty of places to look. But if you just want something plush, luxurious and a bit different, this introductory model certainly has its lures.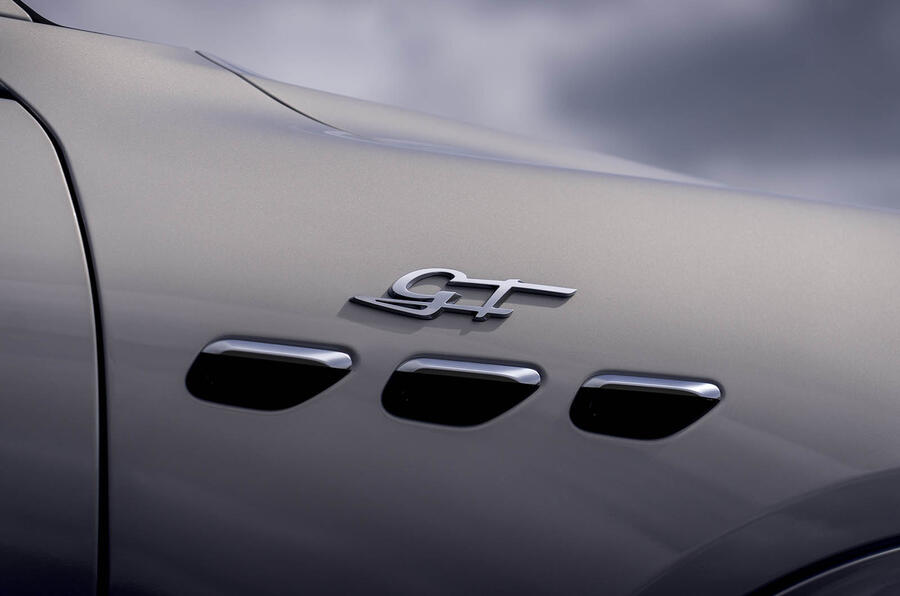 https://www.autocar.co.uk/car-review/mas...irst-drive