05-18-2023, 08:56 AM
Maserati MC20 Cielo 2023 UK first drive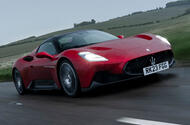 Builds on the coupe's predilection for touring comfort and lightness of touch – and enriches the experience well
The Maserati MC20 supercar lends itself to top-down, al fresco motoring - which it's now tackling in the form of this, the Maserati MC20 Cielo - really rather well.
So it should, when you think about it. It has the carbon chassis tub to deliver the necessary body rigidity without any punitive body-strengthening measures. It has that unusually laid-back, easy-striding dynamic character, too, with which to moderate the appetite for speed that you might normally associate with a mid-engined supercar, and instead to encourage you just to enjoy the ride a little more (and also perhaps a little more often).
And finally, it has that catwalk model styling. This really is a car made to be admired, compared with some rivals, which are either that bit more savage on the senses or otherwise just slightly more anonymous and derivative. You really do feel the need to apologise for not being better-looking and better-dressed yourself when parking an MC20 Cielo and getting out - which, conveniently, is a position familiar enough to be recognised very quickly by a motoring journalist.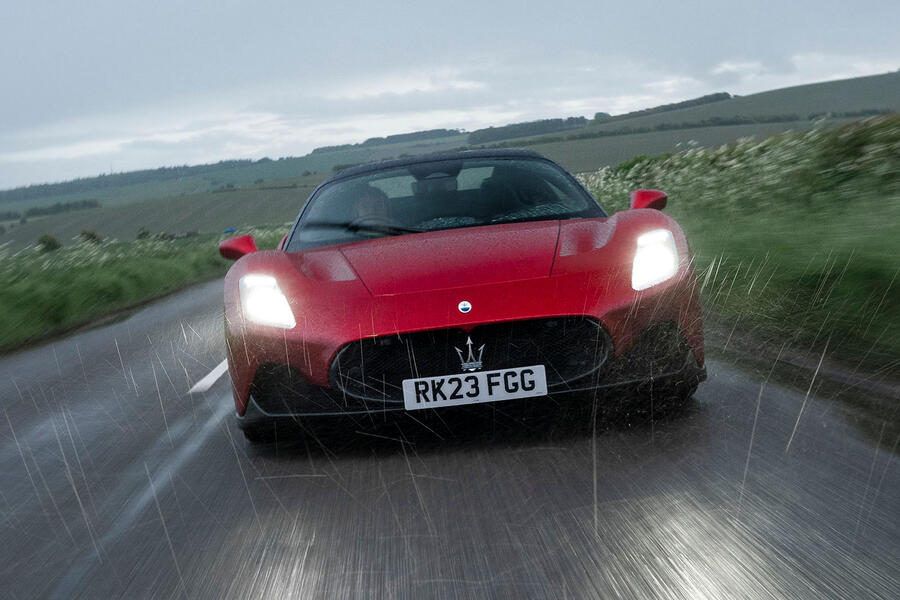 There's already a year-long order bank for the Cielo (pronounced like the string instrument, it's Italian for sky), which has a compact folding metal roof with an electrochromic glass panel within it, and is priced a little over 10% more than the equivalent Maserati MC20 coupé. It's only 65kg heavier than the coupé (in a Lamborghini Huracán, the convertible weight penalty is almost double that). And while it's a little less powerful than some of its competitors, it's got uncompromised performance stats on paper relative to the MC20 coupé and drives in similar fashion.
Dihedral 'butterfly' doors, cutaway sills, and that convertible roof when it's stowed all make your entry into the car's low-slung driver's seat that little bit easier than it might otherwise be. The secondary control layout is quite sparse – the particular material specification of our test car augmented by Maserati's extended carbonfibre and Alcantara trim options, which add nearly £10,000 to the price of the car between them. It's quite a sleek and appealing driving environment, although there are one or two areas where you can see some cheaper-looking Alfa Romeo parts bin switchgear cropping up - the steering wheel particularly.
The driving position is good, the seats supportive but far from aggressive on your internal organs, and there's plenty of room at the controls, even for taller occupants, with no shortage of head room with the roof in place. A smallish but useful boot behind the engine bay makes room for a smaller overnight case. An even smaller one in the front is only really useful for handbags and odds and ends.
With the roof down, the Cielo gives you a closer listen to Maserati's Nettuno V6 engine, of course - and, at times, a slightly greater appreciation of it than the coupé. The whoosh of the turbos, the tappetty thrash of the valve gear, and the slightly flat drone of the combustion itself remain a little underwhelming when you're only bumbling along. The gearbox's preference for lots of upshifts and low cruising revs when you leave it in automatic mode don't help build much drama, either. Frankly, a Maserati supercar really ought to sound sweeter. But let the engine rev a bit and that toneless hum becomes a more waspish buzz beyond 5000rpm, which is much more agreeable and exciting on the ear.
More widely, the Cielo's driving experience is characterised by fluency and lightness of touch. It's an unusual way of doing things for a 600-horsepower mid-engined supercar, but it makes the MC20 particularly compatible with craggy British B-roads, which it rides compliantly even in its sportier driving modes. It feels rigid over bumps too. Roof-down touring at everyday speeds is comfortable, enriched by the admission of more of the sights, sounds and smells of the outside world than the coupé would manage.
The car could do with sharper responses and a firmer feel in some respects. While it rides well, there's more than a hint of over-assistance and a lack of useful definition to the feel of both steering and brake pedal - while the shift speed of the eight-speed dual-clutch gearbox is only as quick as it ought to be if you drive the car in Corse (track) mode.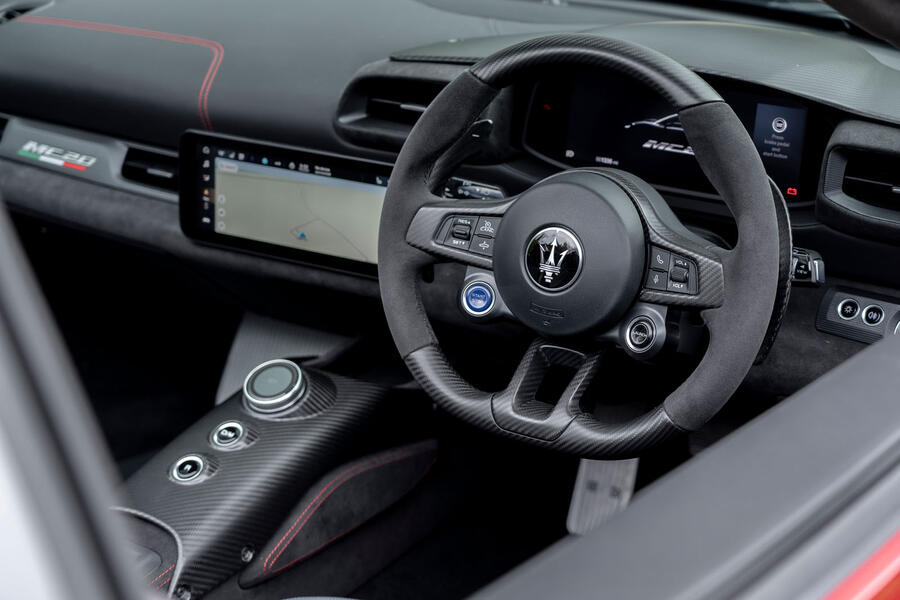 Good tactile feedback and linearity in the controls needn't make a sports car any more demanding to drive, after all. If anything, it generally makes them easier by virtue of becoming more intuitive. But there's just a little bit too much spongy compliance about the MC20's driving experience for it to really hardwire you into what you're doing like a Ferrari 296 GTB or McLaren Artura might.
The car's got all the performance it needs and then some - and it handles well. It just doesn't involve or communicate quite as vividly as it should. But if that sort of hardwiring doesn't sound like a necessary component of your supercar driving experience, the Maserati MC20 Cielo would certainly make quite a sophisticated, handsome, agreeable - and very usable - proposition.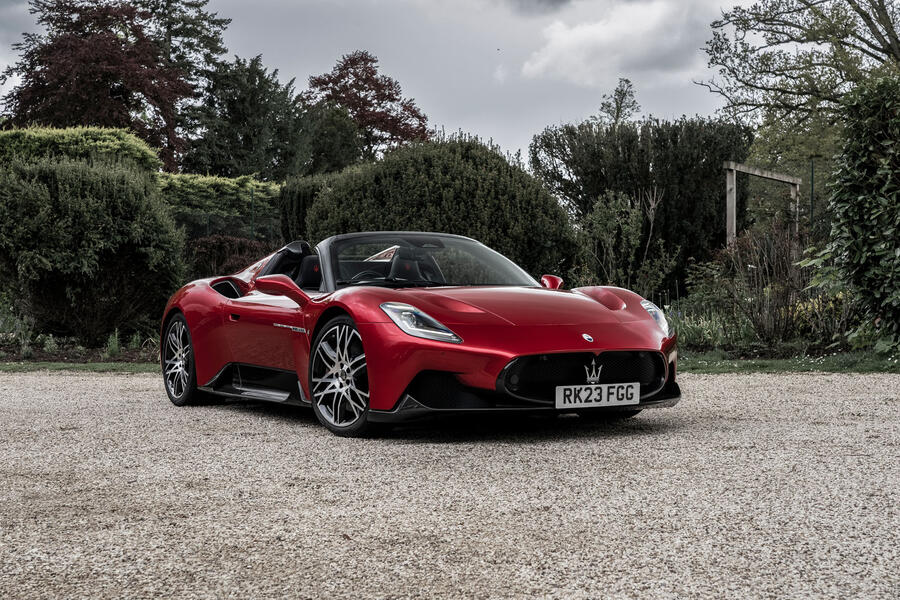 https://www.autocar.co.uk/car-review/mas...irst-drive