02-26-2023, 02:07 PM
Maserati hails comeback as profits rocket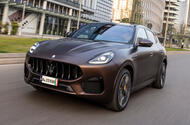 The new Maserati Grecale SUV was by far the brand's biggest seller in January
Italian marque doubles its full-year profits compared with the previous year, helped by MC20 supercar
Maserati has seemingly cracked its long-term profitability problem, even if its 2022 sales fell well short of previously posted targets.
The Stellantis-owned premium brand posted profit margins of 8.7% on revenues of €2.3 billion (£2.0bn) last year. Margins climbed into double digits in the second half, reaching 10.1%, as sales of the new Grecale SUV started coming through.
"Maserati is back, doing the right things in the right way," said Stellantis CEO Carlos Tavares in an earnings call on Wednesday.
Maserati's full-year profits of €201 million (£177m) were nearly double those posted in 2021, giving its owners hope that it could end its boom-and-bust cycle, where profits followed new model releases before reverting back into losses.
Exclusive: Maserati boss details plan for 'benchmark' margins
Profits were boosted in 2022 by higher average pricing, helped partly by the start of sales of the MC20 supercar, Stellantis said.
Profits increased even as annual global sales fell slightly to 23,400, well short of the the target of 100,000 set in 2018. The brand's sales peaked at 48,700 in 2017.
Signs are positive, however, that the new Grecale, a rival to the Porsche Macan, will drive sales up. The SUV was by far the brand's biggest seller in the UK in January 2023, accounting for 75% of all its sales.
Maserati sales were up 37% on the same month last year as a consequence to 92 units, SMMT figures show, putting it ahead of Alfa Romeo but behind Bentley.
Maserati will expand the Grecale range with an electric Folgore version, joining the Granturismo Folgore coupé launching in the second half of this year. Deliveries of the V6 Granturismo started this month.
In the pipeline is a new Levante SUV as well as a new Quattroporte saloon, both of which are likely to be either exclusively electric or offer electric versions.  
Stellantis has said its new software-defined SmartCockpit, offering new levels of connectivity and upgradeability, will be launched first in Maserati models, starting around 2025.
Stellantis has said it's open to market-listing Maserati as a standalone brand in the future, without giving a timeframe.
https://www.autocar.co.uk/car-news/busin...its-rocket