05-12-2022, 11:32 AM
Mate Rimac: from DIY BMW EV to 250mph hypercars
Autocar Awards 2022: Issigonis Trophy winner on his rise and new Bugatti venture
Mate Rimac, the distinguished winner of Autocar's Issigonis Trophy for 2022, has never worked in anyone else's car business and has been running his own automotive company for only about a dozen years.
Despite this, Zagreb-based Rimac Automobili is on a seemingly unstoppable trajectory to become Croatia's biggest company very soon – progress that will involve moving most of its 2500 staff to a brand-new headquarters, the country's biggest building. The driver of this extraordinary expansion is Rimac's illustrious status, acquired at seemingly impossible speed, as Europe's go-to provider of advanced electrification solutions for manufacturers of both small and large cars as they forge into the zero-emissions era.
Rimac already counts many of the world's most important volume car makers – plus premium marques like Aston Martin, Ferrari and Porsche – among his jostling band of blue-chip clients. Indeed, Porsche (2018) and Hyundai (2019) so greatly valued their early experience as customers of Rimac technology that they grabbed opportunities to become investors in the company.
As if that wasn't enough, Rimac has also just started production of its own-brand £1.8 million electric hypercar, the Nevera, whose performance and build efficiency have so impressed top management at the Volkswagen Group that six months ago they forged a proposal to merge their problematic Bugatti brand into a new company called Bugatti Rimac, putting Mate Rimac at the head of the team that will build the first new Bugattis of the EV era.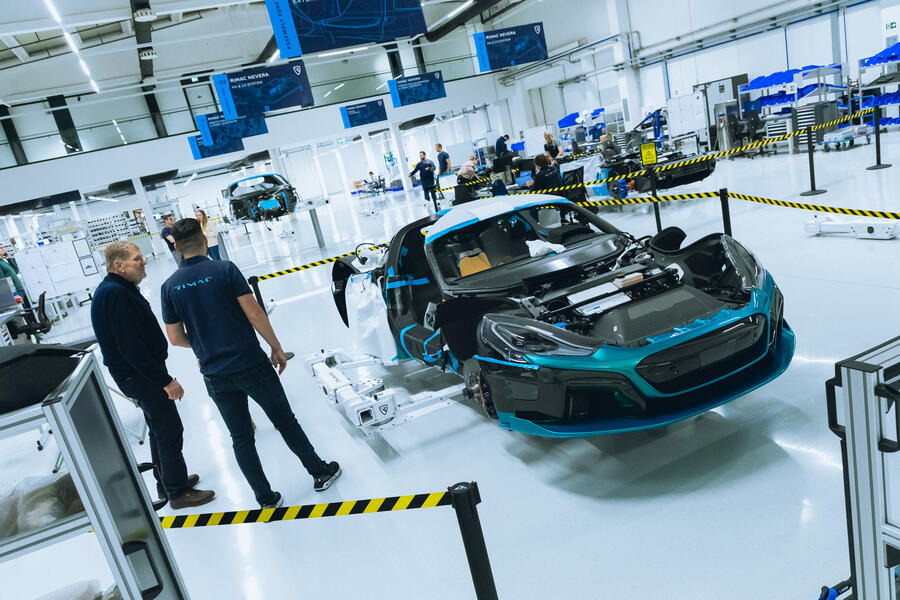 The first, headline-grabbing fact is that he's still only 34 years old. He's neither an industry-sponsored university man nor someone who inherited a family car business. He has never been nurtured by 'Big Automotive'and his country doesn't have a thriving car industry. Even his awesome car know-how is selfacquired: his University of Zagreb degree was in business management.
His key credential, he reckons, is "being crazy about cars from an early age", together with a parallel love of electronics, a hero-respect for the work of Nikola Tesla, the Croatia-born electrical pioneer, and a willingness to work as hard and long as it takes to build what he calls "a happy company".
Autocar recently travelled to Zagreb to spend a day with Rimac – not the easiest of gigs, because the calls on this man's time are constant and high-powered. But he meets us with an easy smile, comes across as relaxed and straightforward, chats in immaculate English, ignores his phone screen and can work the coffee machine as well as anyone.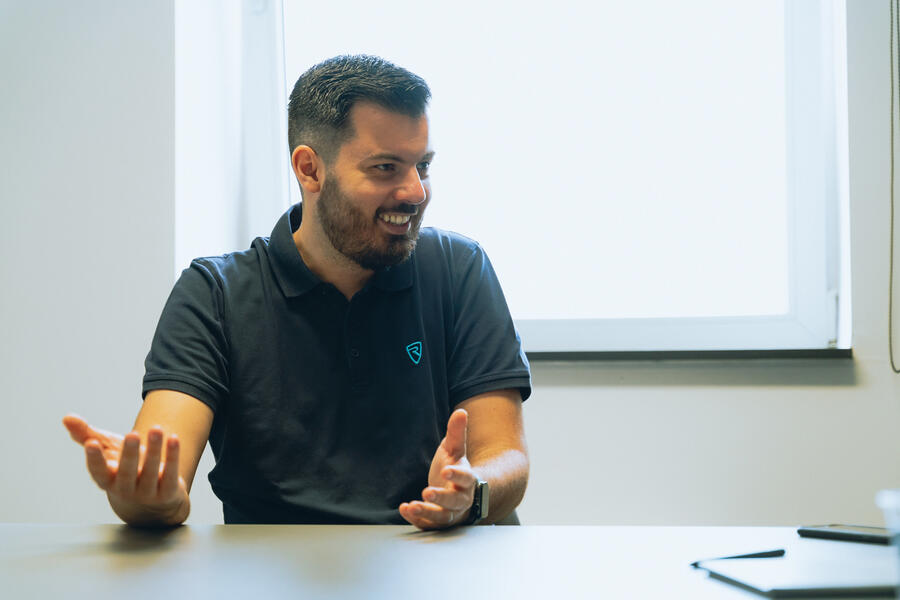 This is a company with an egalitarian heart: the boss sits in an open-plan office, wears chinos and a Rimac-branded polo shirt like his colleagues and doesn't even have his own parking space. For our scene-setting powwow, we settle into a meeting room named after one of Rimac's retinue of heroes, Ferdinand Piëch. Other names on nearby rooms include Nico Rosberg (who this month becomes the owner of the first Nevera), Gordon Murray, Louis Chiron, Christian von Koenigsegg and, interestingly, Richard Hammond, the Grand Tour presenter who brought near-ruin to Rimac in 2017 when he crashed a prototype of the Rimac Concept One, the company's first hypercar.
For now, we're not in the mighty new headquarters. This one seems big enough: a gigantic, B&Q-style former storage depot elaborately converted for EV development and component manufacturing. The new one, referred to as The Campus, will be four times bigger still and bring all major activities together. It will build electric hypercars. It will do carbonfibre tub and panel manufacturing (using nine new autoclaves). It will make and assemble motors, gearboxes, batteries and inverters for clients – as well as for the Nevera and its cousin, the Pininfarina Battista. And it will make key parts for Bugatti (although that company will keep its assembly plant in Molsheim, France).
At The Campus, the operation will be able to split logically into the three areas of activity that Rimac sees for it: making hypercars, helping clients embrace electrification and becoming a pioneer in autonomous transport. He refers obliquely to this third, still-secret business as "the robotaxi" he has been working on "for years". But for now, he's reluctant to talk specifics or show hardware.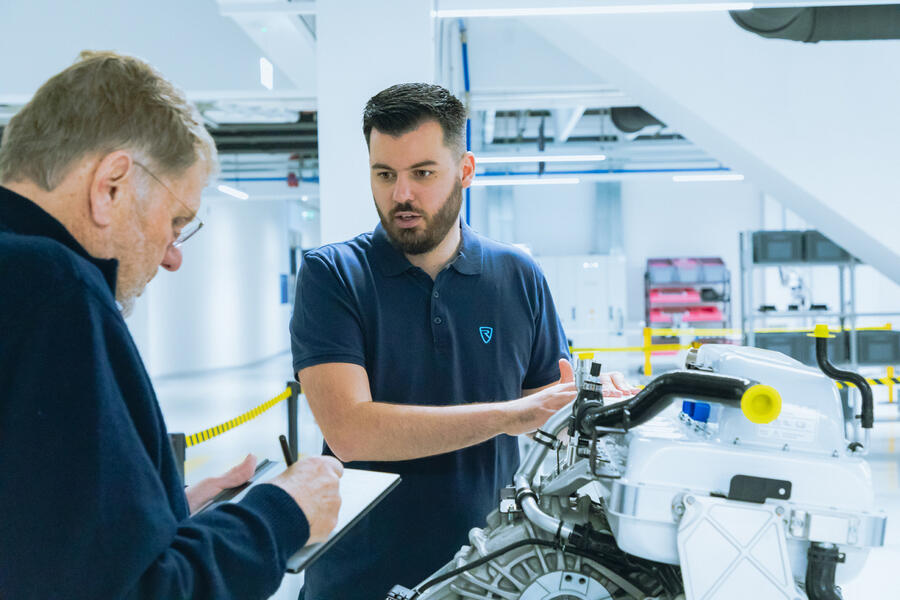 By his own admission, young Rimac wasn't a good school student, but he was clever. His big break came when he created a highly innovative electronics project in high school, a glove that could replace both a mouse and a keyboard. Encouraged by an enthusiastic professor, he entered local and national electronics competitions – and won them. The success took him to South Korea to represent Croatia in a global competition, and he won that too. "It was a big surprise," he recalls, "but it gave me the confidence to believe that I could build things." At just 18, car-mad Rimac's next important step was the purchase of a 20-year-old BMW 3 Series, because he wanted to race.
Against the odds, it would make him famous. When the Beemer's petrol engine blew, he fitted it with an electric motor from a forklift truck and entered drag and drift competitions ("the only forms of competition where engine size wasn't the issue"), at first doing the job haphazardly but improving the design seven times with the help of friends destined to become principals of his company. During this time, it occurred to Rimac that all this EV know-how might become the basis of a customer business…
The BMW drew much attention – derision at first, then protests when it started winning. In 2010, the success brought contact out of the blue from a Middle Eastern royal family, who wanted Rimac to build them a car. At first, he reckoned this might be his lucky day. He produced sketches and a business plan for a 1000bhp car capable of a 0-100kph time of 2.8sec, including details of the BMW (by now holder of five FIA acceleration records) as proof of his engineering capability.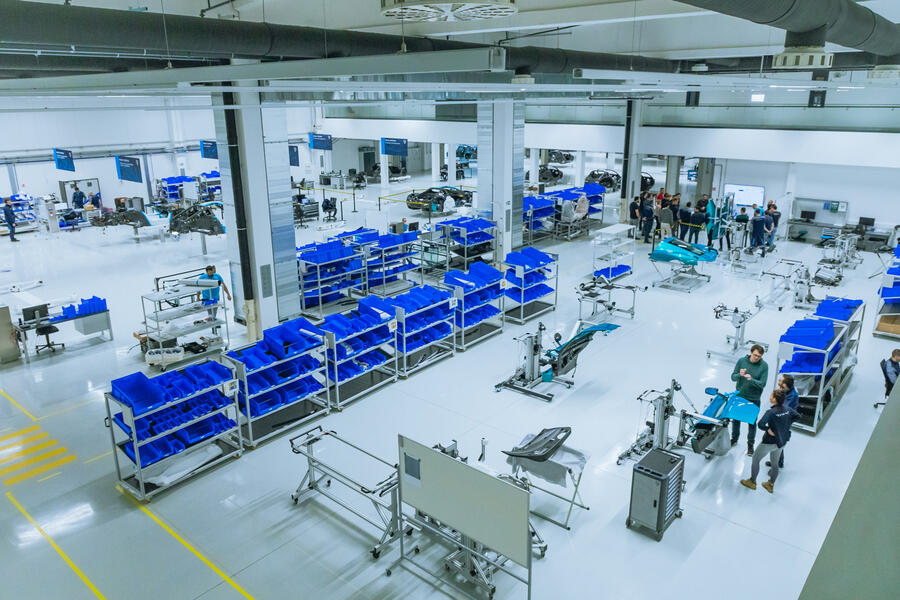 After negotiations, the clients agreed to finance a hypercar, the Concept One, for display at the 2011 Frankfurt motor show, and ordered a couple of cars for the following year. It was the tallest of tall orders. Rimac started acquiring components and arranging a stand at Frankfurt, but by the time contracts had been signed, the tiny team was left with just six months to build the car. When the money didn't actually arrive, Rimac was already committed "up to the neck".
Continuing with the car seemed the only way forward, so he borrowed money, worked day and night, slept on the garage floor and somehow pulled it off.
"When the truck came to take the car to Frankfurt, we had only finished the chassis," he recalls. "The truck driver was supposed to leave at 5pm, but he stayed through the night to help us, eventually leaving with the car at around 5am. He became an important colleague and still works for us today."
The Concept One was unveiled on 19 September 2011, and even though it wasn't a fully driving car, it received much critical acclaim – enough to encourage the team to keep going. But first they had to survive.
"Out of sheer necessity, we started doing projects for clients," recalls Rimac, "and our experience with the BMW meant we were better advanced with electrification than most OEMs.
"Early on, we agreed to build a car for the Spanish tech firm Idiada as a demonstrator for their engineering capabilities. It was a lifeline, but we continued to struggle. But we did everything we could to produce topclass work, to over-deliver, and this started to build our reputation."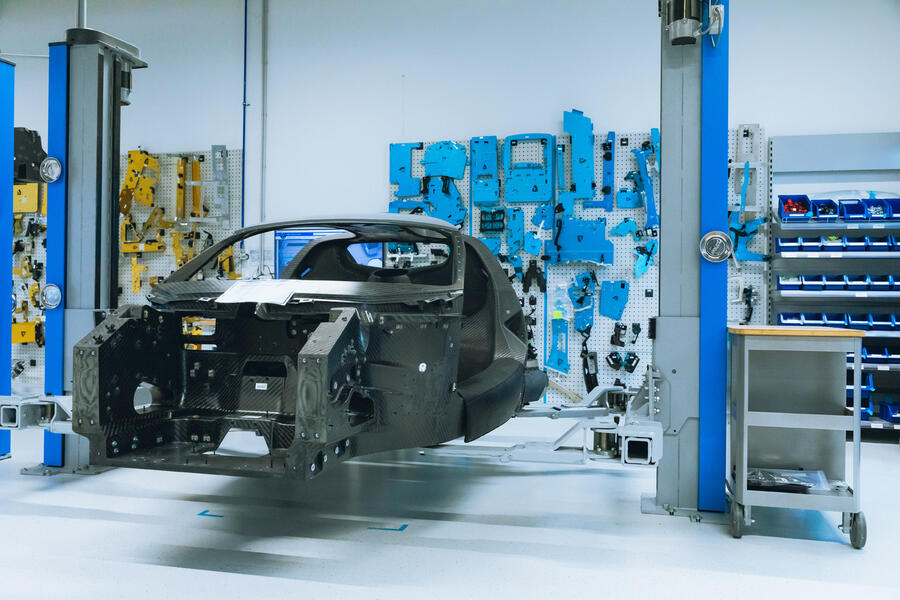 Rimac now sees the failure of the Middle Eastern deal as a blessing: "We would have spent the money building a show car, which would have taken us in the wrong direction. Not having the funds made us very resourceful and very frugal."
Rimac's business training showed him the wisdom of not using bluechip consultants and suppliers to progress the Concept One: "Other start-ups tended to collect money from investors and immediately give it to Bosch, Magna or Continental. That burns millions without creating value inside your company – a great way to fail. We did the exact opposite."
Looking back, Rimac is quite sceptical about the Concept One.
"It had to be the way it was," he says, "but in a way, I regret the whole thing. It was supposed to be quickly replaced by a newer car. I already had the Nevera concept in my head. But we didn't have any money, so we had to keep going.
"The truth is the Concept One was done on a shoestring by guys who had never done this before. It needed a full carbon monocoque, but it was just a steel frame with carbon panels. And it was way too small, which meant we couldn't homologate it, because the proportions didn't allow proper crash structures. We spent years making something that worked but which was very flawed."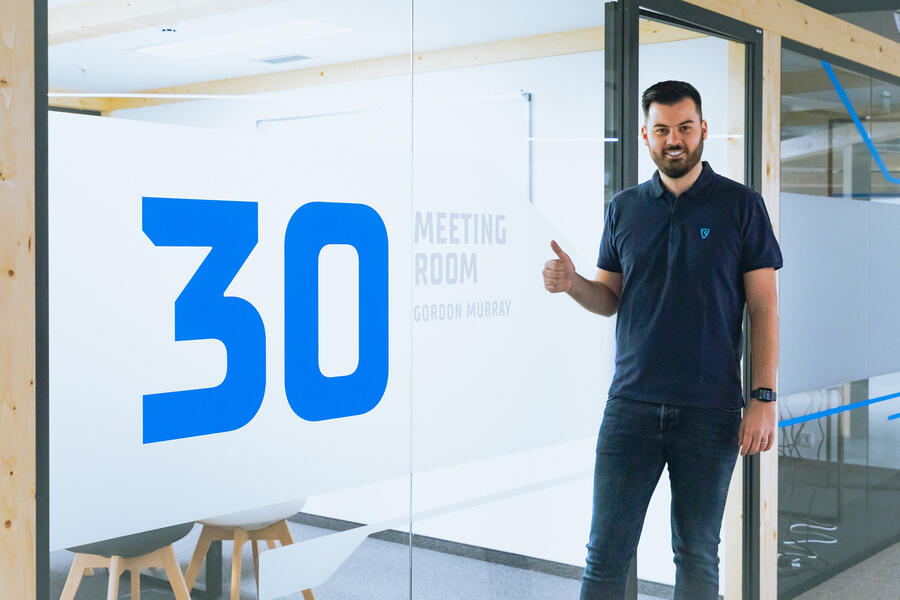 Even so, the Rimac team's fast-increasing expertise started attracting bigger and better clients.The first €1m investor arrived in 2014. Then a 2016 investment round raised another €10m.
Bigger jobs for the likes of Aston Martin, Ferrari, Jaguar and Renault started arriving.
"This taught us another big lesson: that the tech business is highly scalable and therefore attractive to investors in a way that building hypercars never can be," says Rimac. "In the beginning, we had imagined a business doing 70% hypercars and 30% client work. But it turned out to be the other way around."
Porsche arrived in 2018 with the first of three investment tranches and then Hyundai came aboard in 2019. More have followed.
Rimac's reputation soared and its business started to boom. Today, it remains on an extremely steep expansion curve, but its three-pronged mission is now much better defined.
After a fascinating hour, we stop talking and begin a fast-paced tour of Rimac's huge and thriving operation, barely believing that this place is only a staging post on its way to The Campus.
It soon becomes crystal clear that Rimac's preference is to do almost everything in-house: "If we control design, quality and delivery times, we control our own destiny."
First we come to a station where interior trim, both leather and nonleather, is being made for the Nevera.
Next we encounter a bank of CAD designers, including former inmates at Aston Martin, McLaren and various Formula 1 teams, creating intricate and bespoke Rimac parts. In the powertrain department, we see gearboxes and motors of sculptural beauty (and amazing compactness) made from scratch. There are sub-assembly stations everywhere, where touchscreens and exterior mirrors and beautiful fascia switches are created like jewellery.
Every complex piece is assembled on a jig, because Rimac loves quality.
"I hate seeing stuff being made on a tabletop," he says, not quite convincing us of his ability to work up a bad temper.
"Jigs keep standards high, and we're only interested in doing great work."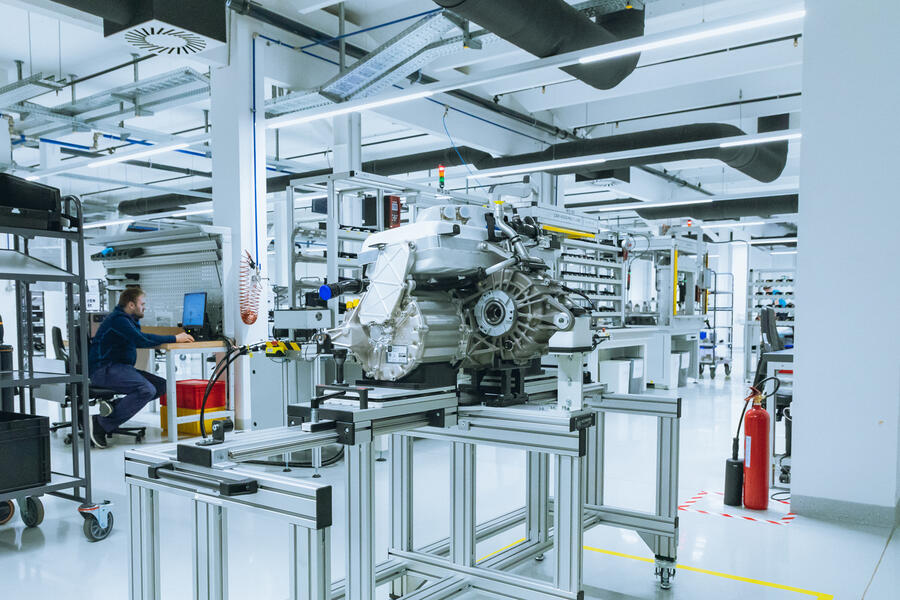 The quality point is emphasised as we pass lines of Aston Martin parts ready for dispatch: the packaging matches the standards that you would get from Apple or Bose. We walk into a giant assembly hall with two Neveras and two Rimac-powered Pininfarina Battistas in the throes of manufacturing. One of them will soon be Rosberg's car. Without their outer panels, the cars are dauntingly complex but exquisitely wrought, crafted from beautiful materials from stem to stern, with classy castings, cable runs and fastening systems.
Customers who see their cars in a bare form will be pleased and reassured. In the huge room next door, a components store seems half the size of Wembley Stadium. Rimac expects it soon to be so stuffed with essential components that his storage staff will "have to fight for every millimetre".
The star of our tour is Boris, a mildmannered bloke in charge of the 40 or so experts making wiring looms for the likes of the Nevera, Battista and Aston Valkyrie. He joined seven years ago, not because he was a fully fledged wiring expert (Croatia didn't have any of those) but because he had done some neat audio installations on his own Audi. Rimac liked his work and his attitude.
He's self-taught, but now his team builds hypercar looms containing 26km of wiring. This technique of finding willing and talented people and then honing their skills runs right through Rimac Automobili, although nowadays it attracts the best classically trained experts too. Rimac is proud of its growth.
"They say that when a company doubles in size, it becomes a different business," he says cheerfully. "That means I must have run 10 different companies in the past five years."
https://www.autocar.co.uk/car-news/autoc...-hypercars