07-21-2021, 04:30 AM
Matt Prior: At some point the law will catch up to e-scooters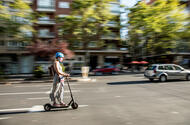 Technically, e-scooters are currently illegal on UK roads and pavements
It strikes me that the smaller a vehicle is, the more it suits being battery-electric-powered.
One of those wee scooters that currently can get you into trouble with the police makes perfect sense as a BEV. These are used for short trips, are lightweight and have a chassis perfect for batteries. Why would you want one any other way?
A container ship chugging from China to Europe, displacing more than a hundred thousand tonnes of water, though? Probably not.
The battle lines about the crossover point – and some people get very angry about this – seem to be somewhere in the middle.
There's an analogy about the crossover that works in adverts but isn't terribly helpful in reality. There are people in ads using hairdryers and telephones that all have little engines inside them, kicking out smoke. The advert tells you that this is stupid and so, given that you can clearly see that, why won't you accept that a car is the same, damn you?
You and I know the difference is that you can still use those devices while they're plugged in, which isn't so with transport. And it really does depend on your duty cycle as to how much that matters: scooter, fine; container ship or airliner, likely not. A car, van or lorry? Probably fine, but it depends – which is where somebody with something to sell steps crossly into the argument.
Alas, I fear this isn't the only area of conflict. Let's take those e-scooters, such as the one pictured below, for sale in Halfords at £429, next to a sign warning potential buyers that "it's currently illegal to use an electric scooter on a public road, pavement, cycle lane or bridleway" and that it "must be ridden only on private land with the landowner's permission".
Under trials, there are 30 places in the UK where you can hire one legally if you're over 18 and have at least a provisional driving licence. They're geofenced and limited to 12mph. It's illegal to use a privately owned one; if you do, it can be confiscated and land you six points on your licence.
Curiously, these restrictions don't exist for 15mph electrically assisted pedal bicycles, which can be ridden legally from the age of 14.
The only differences as I see them are that e-scooters don't ride bumps and drains as easily as bicycles, so will weave about on the road's edge more, and are likelier to be used on pavements. But generally they make sense. Living four miles from the nearest shop, I would quite like one.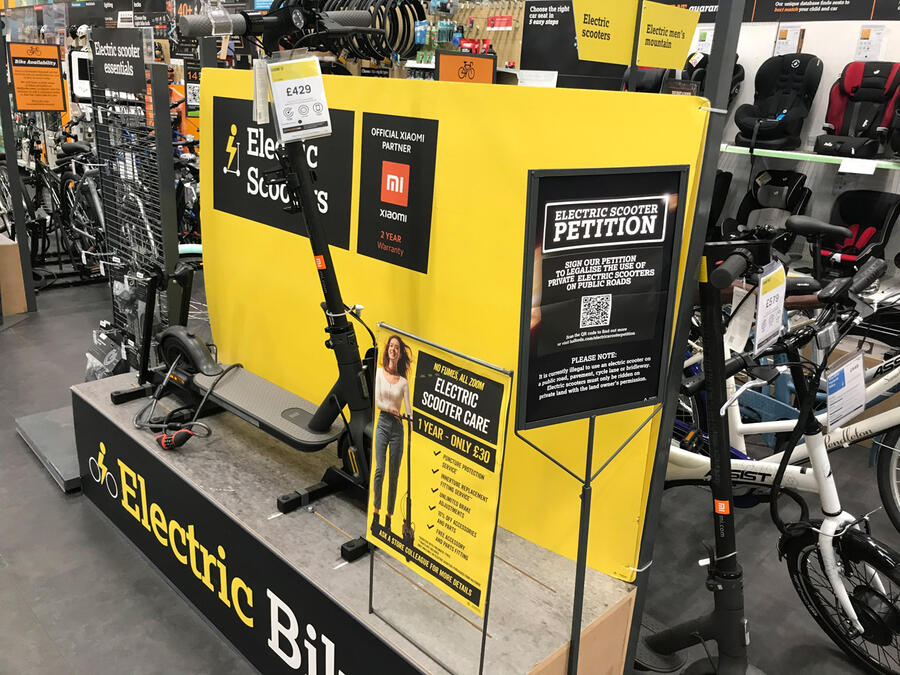 Do they reduce congestion? Only, presumably, if you're getting people out of cars and onto them. If their users would else be walking, cycling or on public transport, the scooterer is just an extra road user. Although, isn't that fine too? (Handily, we've just set up a website called Move Electric to talk about such things.)
If you were to beam in someone from the 1700s and tell them that a 600bhp, 155mph, two-metre-wide, 2.5-tonne 4x4 is permitted to use an ancient narrow thoroughfare but a 30cm-wide, jogging-pace e-scooter isn't, might they not think that a bit daft? But still, shops need deliveries and building sites need concrete just as much as I need a box of teabags.
At some point, presumably, the law will catch up. But whatever happens, with diversifying personal transport, we need to find ways for traffic of all sizes to get along.
READ MORE
E-scooters: the future of city transport, or an urban menace? 
Inside the Industry: How urban e-scooters are riding the zeitgeist 
Move Electric channel dedicated to e-mobility launches on Autocar
https://www.autocar.co.uk/opinion/tester...e-scooters