07-26-2022, 10:19 PM
Matt Prior: Audi A5 shows how well brand's design has aged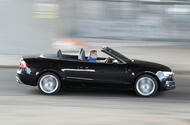 Even decade-old cars look as good as new - are cars from other brands so consistently handsome?
Travelling along the M40 this morning I moved right for an Audi A5 Cabriolet to join the carriageway. Silver with a black hood. Still a handsome car.
Only as it passed me did I notice its '58 number plate, making it an early version given deliveries only began early in 2009. But even at 13 years old given a polish and a brush-up, from the outside at least it looked to me like it could be on sale today.
Does Audi, more than any manufacturer, have a design language so consistent that this is possible? Mis-hits like the angular Audi Q2 aside, its models are so subtly detailed but recognisable that, while they might look ostensibly similar – not much separates an Audi Q3 from an Audi Q5, say – they've also built an exceptionally strong brand image.
At launch, A5 cabriolets cost from under £30,000 but a very tidy early one still fetches the best part of £10,000 today. And I'm sure its design is a huge part of that.
I don't imagine that residual values of cars near the end of their design life is particularly front of a designer's mind when plotting a new car – there's no money in it for Audi at that point, after all. But if a company is trying to build or retain a solid brand prestige, it's definitely worth considering how gracefully a design will age.
Electrifying new bike
Maeving, a new British electric motorbike manufacturer, thinks it has hit a sweet spot for e-bikes with its RM1.
For one, the RM1 bike doesn't look like a scooter, it looks like a classic motorbike. And yet unlike proper 'big' electric bikes it's still only a 125cc-ish equivalent two-wheeler with a 45mph top speed, an 80 mile range, and which can be ridden on a CBT licence (so after a day's Compulsory Basic Training).
Large electric bikes, Maeving thinks, don't have the range to challenge the versatility of petrol motorcycles – typically they'll do up to 100 miles, but no more – and are more expensive than an internally combusted equivalent. And batteries are still so expensive that it's harder to get real value into smaller electric scooters – though given how much fuel costs, they can be competitive.
Anyway the RM1, Maeving thinks, sits in a rare position where it has an acceptable turn of speed and range and looks like a premium product. It's certainly nicely finished enough. I had an extended go on one in town the other day (a full review is coming soon on our sister publication moveelectric.com) and I think I agree.
Off the beaten track
After a meeting in Norfolk yesterday, then, I checked my Ordnance Survey phone app and bywaymap.com and took in a few pretty, sandy byways as part of my commute home. Dead quiet, scenic, and a little sandy under-tyre. The perfect low-speed diversion.
These historic rights of way are ours to use. There are only 6000 miles of them in the UK and many are easily passable even by modestly capable SUVs. Glass, the Green Lane Association (primarily for cars) and the Trail Riders Fellowship (for bikes) aims to look after them. I should do my bit, so have just joined the latter.
https://www.autocar.co.uk/opinion/tester...n-has-aged