03-29-2022, 02:11 PM
Matt Prior: Eco activists are leaving urban SUV drivers deflated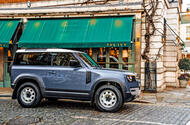 Our man also considers a more technology-led alternative to road pricing
As I write, some people are very proud of themselves for letting down the tyres of SUVs parked in urban areas.
I'm no great fan of 4x4s bought for no good reason, but my own Land Rover Defender sometimes ends up in town after a day hauling animal feed in the sticks, because there are no trains to get home after work.
Letting down tyres of random SUVs is stupid for this and a number of other reasons, including the inevitability that, at some point, someone kneeling next to a Range Rover Sport with a 'BO55' or 'B16' numberplate will be discovered by a particularly unsympathetic owner.
But I'm more intrigued as to what defines an SUV. Where does estate become crossover; does crossover become XC; does XC become SUV; does SUV become 4x4? And if these guys know, would they like a job in editing our data section?
THEY KNOW, YOU KNOW. The data. It's all there. If you buy a new plug-in hybrid Citroën C5 X, it will ping head office every now and again to grass you up about how often you've plugged in the car – or haven't.
It's all anonymised, they say, and GDPR-compliant. But Citroën CEO Vincent Cobée explains: "We know, based on 200 million kilometres of results, the fuel economy and what we need to influence the number of people charging."
Your Citroën PHEV will send you reminders if don't plug it in regularly. "The less often you charge it, the more often you get a reminder," says Cobée.
Now, the car knows to do this even without sending data to head office. But data referencing the car's VIN can, say, be sent to a fleet manager, who can deanonymise it and remind its driver in person to plug it in when they get home.
It's my understanding that basically all new electrified vehicles are hooked up to the internet in this manner, and they all know precisely how much electricity has been put into them.
Which makes me wonder. As internal combustion dies out, something has to replace the billions in annual revenue that fuel duty on petrol and diesel gives the Treasury. One option is to tax people on where and when you drive – road pricing, as our MPs seem persuaded to be considering.
But why do that when modern cars' connectivity means the government can directly tax automotive electricity and therefore reward efficient driving? Road pricing gives people privacy worries and it opens the door for legislators to decide where and when you should be driving by making some roads and periods more expensive.
Worse than that, road pricing doesn't reward efficiency, merely the number of miles you drive and potentially where and when. So if you drive 10,000 miles very efficiently and I drive 7000 flat out, you will still pay more, which isn't fair. 
With fuel duty on electricity, there's an element of administration (notably on hire cars, fleet cars etc) about who pays the final bill. And Cobée says that there would have to be "transparency" so that we know cars aren't fibbing (Dieselgate has caused a great many to look on the car industry untrustingly).
But with all cars connected and registered and public chargers and most private chargers connected too, this can be done.
The idea strikes me as fairer and simpler than taxing roads. It's a tax on the energy you use to drive, not where and when you might have to do it.
https://www.autocar.co.uk/opinion/tester...s-deflated