07-26-2023, 09:38 PM
Matt Prior: Morgan back in the states, and protecting working SUVs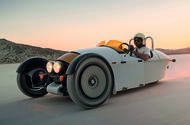 Morgan announced that its three-wheeled vehicle is to make a return to sale in the US
In this week's column, Prior admires volume manufacturers that stick to their roots, and sticks up for big cars
It's no surprise to me to see how good the Morgan Super 3 looks on the dreamy, sun-dappled roads of California.
What car wouldn't look good there? But there's something about the 3's retro-futuristic appearance that particularly suits the place. It looks more at home there, I think, than in a Cotswold village.
And last week Morgan announced that its three-wheeled vehicle is to make a return to sale in the US, with the latest model federalised there, like its predecessor, by the application of a few discreet reflectors and by moving the headlights inboard – thus making it look even more spidery.
Morgan has certainly taken deft advantage of the fact that trikes are subject to different regulations than four-wheelers, but still, for a small car maker to send a modern car into the wild, legislated for so many markets and yet staying entirely true to the company's long-standing ethos and values is a credit to it.
That's no easy task these days for a small-volume manufacturer. Lotus, if you believe some of the below-the-line comments on reviews of the new Lotus Eletre SUV, hasn't managed to do the same. There's little of Lotus's values of simplification and lightness about the 2500kg 4x4, and it doesn't drive so much like a traditional Lotus, either.
This is a modern problem that will particularly afflict makers of lightweight cars. A Rolls-Royce can weigh 2.9 tonnes, as the Spectre does, but still feel like a Rolls; Caterham will have to work a lot harder for Project V to feel like a Caterham.
Does the Eletre's weight matter? I suspect not if it helps the company sell the 150,000 cars a year it would like to by the latter half of the decade, and if that in turn helps to pay for the development of some competitive Norfolk-built sports cars.
But still, I have a bit of additional respect for a manufacturer that manages to face the future while still maintaining the qualities that gave its cars such character in the first instance.
Protecting the working man's SUV
I spotted a hand-scrawled note taped inside the rear window of an early 2010s Land Rover Defender 110 while driving along the M25 this morning: 'Essential Working Vehicle', it read.
There was no livery and the car was clean, but it was an old Defender 110, and we know what that means: noisy, cramped shoulder room, a heavy-pedalled driving experience and waiting an age for it to cool down or warm up.
Unless it was one of those Defenders that has been tweaked with accessories – and this wasn't one of those – I'd have made no assumption other than it was a working vehicle.
Besides, what business is it of mine if it wasn't?
So why the note? Unless, perhaps, it was a plea for somebody to not steal it, I can't see a purpose other than to say: 'Don't judge me. I need a big car.' I felt it was a sign born out of feeling conspicuous about being perceived as driving an 'urban 4x4'.
I think that's a shame, and even more so if the note was in response to unpleasant interactions with self-important activist types who have time to waste on a blinkered agenda.
It's a pity that anyone should feel like they have to justify their transport to strangers. I know that a Defender can last forever and should return the good side of 30mpg: there are plenty of alternative cars that wouldn't do either, yet which wouldn't attract the ire of a 4x4.
I've always felt happy driving an old Defender without fear of judgement. Although I'm now questioning why I've left the 'Pony Club 90th anniversary' sticker on the back window of mine for longer than is strictly necessary.
https://www.autocar.co.uk/opinion/tester...rking-suvs