07-20-2022, 06:12 PM
Matt Prior: Ram ride reveals Range Rover's resistance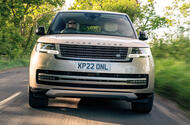 Range Rover is more than big enough for UK roads...
A drive in a pick-up puts the struggles of other brands into perspective
After three days, perhaps it doesn't look as big as it did on day one.
But the sheer size of the Ram pick-up truck outside my house (full feature soon) is really something to behold.
I know American pick-ups like this aren't meant for us – although, to my mild surprise, I find there is an officially appointed dealer here. They're meant for a country 40 times the size of the UK. But still.
Its body width (2.2m, 88in) is as large as the wheelbase of an early Land Rover. Its door mirrors are at head height. And while it is all but six metres long, the vehicle I'm testing, based on the Ram 1500, is merely the entry-sized pick-up in Ram's range. Further up the line-up, the Ram 3500 is some 6.6m long.
I realise this is ostensibly a commercial vehicle but Americans, like us, frequently buy pick-ups as personal cars. And into a market like that, then, rolls the new Range Rover, which is where Land Rover, one suspects, faces a constant dilemma.
Americans like big luxurious SUVs. The Jeep Grand Wagoneer is 5.75m long and 2.12m wide across the body. The Lincoln Navigator is 5.3m long (in its shortest form) and 2.02m wide. Plus mirrors.
Range Rover sells a lot of cars there, but unlike American manufacturers, it needs to sell a lot of cars here and throughout the rest of Europe, too. Yesterday, I was surprised by how many people loved a Ram as I drove it around – a stark reminder that in the real world, away from social media where somebody will tell you off for lighting a log fire in winter, big loud cars still excite quite a lot of people. Still, I suspect you could count the number of Rams that arrive in the UK each year on your fingers.
Range Rovers, though, sell in big numbers in places like Cotswold villages, whose streets are, I can officially testify, not particularly easily navigable by 2.2m-wide, 6m-long pickups with diabolical visibility.
The latest Range Rover is over 5m long at least (5.3m in long-wheelbase form) and both it and the new Land Rover Defender just tip past 2m wide with their mirrors folded. This is not insignificant, especially given doors are long and thick, as you'll know if you've tried getting out of one in most conventional car parks.
Without spoiling the road test, it's worth remembering Land Rover does mirrors and visible body sides (and precise steering) better than most manufacturers do. But when selling cars that are this big for the UK and other European markets, that's really a necessity rather than a feature. Without those, a Range Rover or Defender would just feel too big for here. And my feeling is that, for me, they're on the cusp: much bigger and they would be.
North America's cars, like ours, have continually grown and grown with no apparent let-up. But they have the space, and we do not. I'd hope, then, that the current size of the largest European cars is big enough to satisfy markets like the US. But as I parked the Ram in a quiet spot of a motorway services and noticed it occupied not just the space I'd put it in but a reasonable proportion of three adjacent spaces, too, I wondered if it might not be.
https://www.autocar.co.uk/opinion/tester...resistance