05-02-2022, 05:05 PM
Max and Charles have made F1 season a duopoly
Red Bull's Max Verstappen and Ferrari's Charles Leclerc battle it out in Bahrain
Red Bull and Ferrari drivers have matched each other blow for blow with two wins apiece
Max Verstappen and Charles Leclerc have made the 2022 Formula 1 season a duopoly.
So far, they've matched each other blow for bow with two wins apiece, although fuel-system related retirements in Bahrain and Australia means Red Bull driver Verstappen's triumph at Imola last weekend still leaves him 27 points behind in the standings. 
An intense championship fight is nothing new for Verstappen, as he spent last year striving – successfully – to usurp Mercedes-AMG's Sir Lewis Hamilton as world champion. But the dynamic of his battle with Ferrari driver Leclerc is completely different. Whereas Hamilton was the established superstar who Verstappen, 12 years his junior, deposed, Leclerc is a true contemporary and Verstappen is the hunted, rather than the hunter.
Born less than a month apart in 1997, Verstappen is marginally the elder. Although both moved from karts to cars in 2014, Verstappen was in F1 with Toro Rosso, Red Bull's junior team, by 2015, while Leclerc didn't get there until 2018, having spent more time tearing up the junior categories. Their nascent F1 title fight is just the latest chapter in a story stretching back a decade to an intense karting rivalry. 
"It's going to be very close," says Leclerc when asked by Autocar the advantages that he feels he has as a driver over Verstappen. "It has always been very close, especially in the junior categories.
"In karting, it was either me or him, and that's why we hated each other at one point, because very often it didn't end in the best way possible. 
"In which parts I'm stronger or not, I don't know. We just have two different styles of driving. Sometimes one will win, sometimes the other might. But it's fun."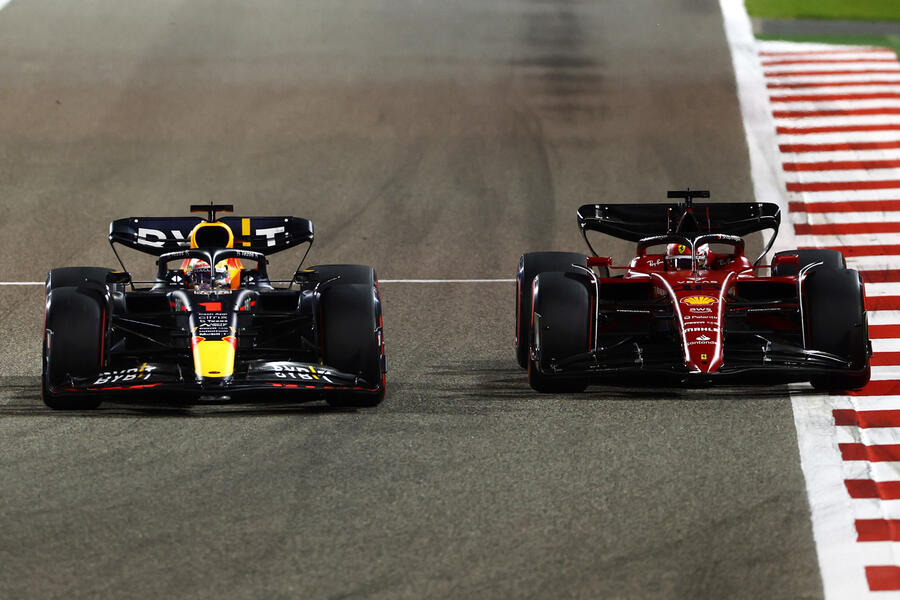 Verstappen also regards the time when he and Leclerc "basically grew up through go-karting" fondly. This means it's already a deeply storied rivalry.
To answer the question Leclerc sidestepped about his advantages over Verstappen, what has always been abundantly clear is that he's fast – stunningly so. You can make a strong case for Leclerc being the fastest in F1 over a single lap, thanks to his astonishing feel and traction-sensing abilities. Verstappen teases the limit on a typical qualifying lap, but Leclerc openly defies it. 
Some of the most spectacular qualifying laps in recent F1 history have been produced by Leclerc, most famously his astonishing pole position lap on the tight and bumpy streets of Singapore in 2019. 
Leclerc's Ferrari team-mate, Carlos Sainz, no slouch himself, admitted last year that Leclerc was "so crazy quick that it was actually a bit shocking". Given how rare it is for F1 drivers to admit that someone else's speed might be difficult to live with, that was high praise. 
But that speed comes at a cost – one that Leclerc paid at Imola when he spun into the wall while chasing Sergio Pérez for second place, turning third into sixth and costing him seven points. Leclerc can live on the edge longer than most, but every now and again he falls off it.
Verstappen has largely cut the errors out. Back in 2018, he made a series of careless mistakes and emerged from them a more calculating driver to the point where consistency was a key weapon in his 2021 title success. When he finished, he was always first or second – save for in Hungary, when his car sustained significant damage at the start (through no fault of his own) and he still finished a remarkable ninth.  
Verstappen is now the experienced, battle-hardened hand who realises that you don't need to be driving at 100% all the time. He's well established as Red Bull's focal point and has developed an intelligent, methodical and calm approach that has served him well.
Leclerc is still a work in progress, a driver who is sometimes prone to driving round a problem rather than solving it simply because he's so good at it. However, he has learned a lot from Sainz over the past 18 months and upped his game both technically and in terms of the arts of tyre and race management. 
But Verstappen remains aggressive on track. Much as he dislikes that word being used to describe him, it's something that has generally worked for him. But in Leclerc, he faces a different kind of adversary, one who knows him so well. So far, their title fight has been amicable, but history tells us that if two drivers butt heads repeatedly through the season in the intense pressure of a title fight, things will get fractious.
They've had their flashpoints in F1 already. In Austria in 2019, Leclerc was just three-and-a-half laps away from his first grand prix victory when Verstappen dived past him at the hairpin, forcing the Ferrari driver off track at the exit. The stewards investigated but took no action. Leclerc learned and gave Verstappen the same treatment next time out at Silverstone, albeit not in a victory fight. 
So Leclerc can be every bit as hard and uncompromising as Verstappen. The key question is whether or not he's that little bit behind on the learning curve, given that he hasn't spent as long as Verstappen has at the front in F1. How quickly he advances this year will decide whether or not he can beat Verstappen. But make no mistake: if Verstappen is more the finished article, Leclerc is only very slightly rough around the edges.
If – and it's a big if, given the current rate of car improvements – Red Bull and Ferrari keep trading blows over the season, the championship battle could be an all-time classic between two great drivers with contrasting styles.
Edd Straw
https://www.autocar.co.uk/car-news/motor...on-duopoly