05-30-2022, 02:30 PM
Mazda CX-5 2022 long-term review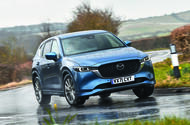 Is this an SUV to woo the enthusiast – or will it irk by trying too hard? Let's find out
Why we're running it: To see if the Japanese firm has managed to inject any of its flair into the family-friendly Mazda CX-5 SUV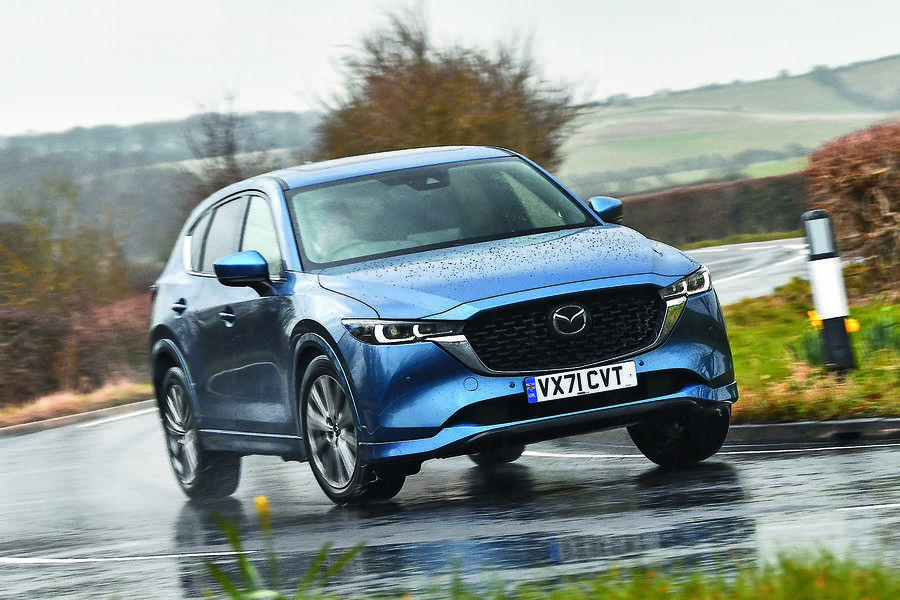 Life with a Mazda CX-5: Month 1
Welcoming the C-X5 to the fleet - 11 May 2022
It can't be easy being Mazda. The Japanese company tries like mad to forge its own path – building the MX-5 when no one else is producing cheap sports cars, or whacking a rotary engine into a 'suicide-doored' coupé, or even plugging away with naturally aspirated units when everyone else is downsizing and turbocharging.
We all admire the brand and its tenacity. And then we all toddle off and buy the latest German SUV. Same old, same old.
But even Mazda can't buck the inevitable forever and is now making headway along a similar path:last year in the UK, 60% of its cars were of the SUV variety.
So here we are, staring at our fleet's new and facelifted Mazda CX-5 and wondering whether it's going to be bonkers or boring. To be fair, it's a family SUV, so it's a more nuanced question than my slightly glib phrasing, but the point remains: has Mazda managed to inject enough of its cool gene to make this car stand out in what is an increasingly crowded market?
The looks are certainly a good start. Where some are shouty and a bit too try-hard – Kia Sportage, anyone? – the Mazda is more understated and a good example of the Kodo design language. Maybe not as sharp and distinct as the 3 hatch, but it's handsome nonetheless. In our optional Eternal Blue Mica paint (at £580, the only option on the car), it's a classy thing in the school drop-off zone.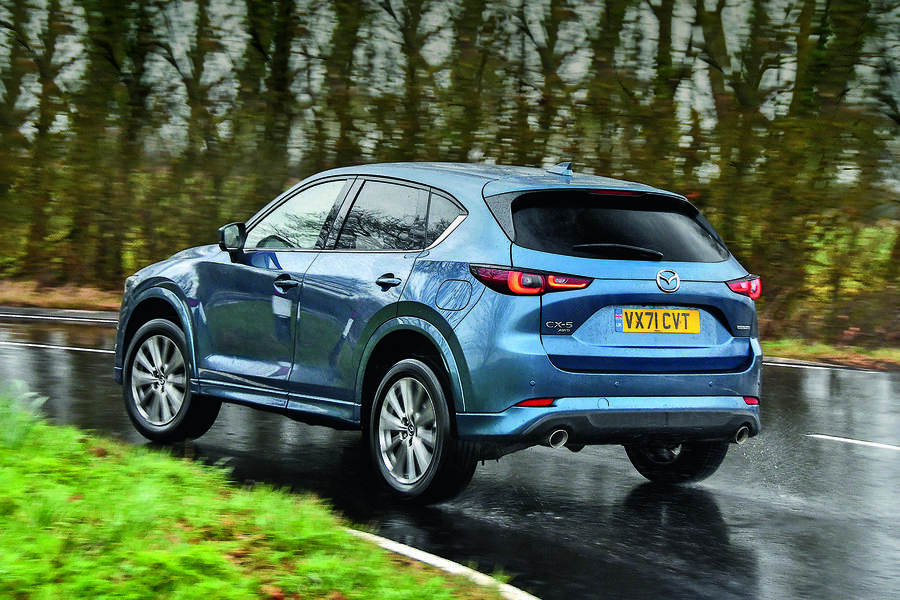 We've gone for the 2.5-litre Skyactiv-G petrol engine, producing 191bhp and 190lb ft, the latter from 4000rpm. That final figure is the telltale here: this is a naturally aspirated engine. Mazda is a firm believer in 'right-sizing', meaning the engine should be the correct displacement for the size of the car.
How we get on with it at the petrol pumps is going to be a test, because the claimed fuel economy is 35.3mpg, despite the company's recently adopted cylinder deactivation tech. With recent fuel price spikes, the CX-5 might not be much cheaper to
run than my last long-term test car – a McLaren GT...
Other omens for the engine are equally as foreboding. I wasn't too enamoured with the four-cylinder petrol in the Kia Sorento I ran last year, but this Mazda's lump really is the Nigel Farage of engines, making an awful lot of noise with no discernible results. It's not the most auspicious of starts. Still, let's give it time because the car is otherwise fitting into life effortlessly.
The interior is swathed in leather (high-class nappa, no less), a rich dark brown colour that looks smart and is standard on this trim. Or, according to my children, it is either chocolate brown or poo brown, depending on the mood they're in.
Ours is the top-level GT Sport trim, with four others also available: SE-L, Newground (no, me neither), Sport Edition and Sport Black Edition.
The GT certainly isn't lacking for kit: 19in wheels, heated and ventilated seats, heated steering wheel, adaptive LED headlights (very effective at night), 360deg parking cameras and head-up display. No wonder it hasn't got any options: I'm struggling to think of what extra I could need.
Mazda obviously feels the same. A quick trip into the configurator reveals nothing more extravagant than a set of branded dust caps or colour-coordinated key fob.
The GT Sport is available from £33,675 (the cheapest CX-5 starts at £28,175), but with our top-line engine, we're up to £37,785. Punchy, but no more so than rivals.
So far, we're about 1000 miles into ownership and there are some neat touches that have already stood out. Such as the powerful bulb in the bootlid, which casts a decent wash of light into both the boot and the floor around it. Or the three-way handle for folding the rear seats, so you can lower them from the boot in their 40/20/40 split – a handy feature for posting skis through where the middle seat would be.
I know, hardly hold the front page headlines, but it's the sort of stuff that makes the car easier to live with.
That will be the real kicker with the CX-5. Can it keep that easy-going manner over the few months of our ownership but still maintain the quirks that make Mazda such a great brand for car enthusiasts like us?
The Sorento I ran was a good family hack, but it wasn't a memorable car. Let's hope the Mazda is.
Second Opinion
I found the CX-5's dynamic limit quite quickly on a wet Trossachs pass, but it held the road much more confidently than other SUVs of this size and stature. There's no doubting its athleticism, but efficiency matters more in this segment and I fear Piers might soon tire of that atmo engine's thirst.
Felix Page
#Back">Back to the top
Mazda CX-5 specification
Specs: Price New £37,785 Price as tested £38,265 Options Metallic paint £580
Test Data: Engine 2.5-litre SkyActive petrol Power 191bhp at 4000rpm Torque 190lb ft at 4000rpm Kerb weight 1560kg Top speed 121mph 0-62mph 9.3sec Fuel economy 35.3mpg CO2 182g/km Faults None Expenses None
#Back">Back to the top
https://www.autocar.co.uk/car-review/lon...erm-review