06-04-2021, 07:08 AM
Mazda MX-30 2021 long-term review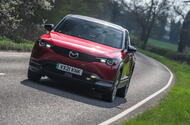 Mazda doesn't do things by halves – except EV range. Let's put its first one to the test
Why we're running it: Does Mazda's unusual debut EV make daily driving a joy, or will its limitations frustrate over time?
Life with an MX-30: Month 1
Welcoming the MX-30 to the fleet - 5 May 2021
Whatever your opinion on the unstoppable rise of the SUV, there's no disputing that such cars facilitate the acceleration of electrification.
First, they're generally raised off the ground, which allows for a whopping great block of lithium ion to be strapped to their undersides. Second, SUVs generally prioritise practicality over driving thrills, so any adverse dynamic impact stemming from the heft of electric innards isn't of huge concern to the majority of buyers. And third, with the engine, gearbox and propshafts out of the way, there's room for a much more capacious cabin than perhaps we've become used to.
All of which serves to explain why most mainstream manufacturers have chosen SUVs to be their first electric cars (not forgetting, of course, their overwhelming popularity with the modern consumer). But then there's Mazda, that automotive salmon usually found swimming against the current of convention.
Rotary engines, compression- ignition petrol motors, slick Kodo design language that helps even its most mainstream models stand out: there are many reasons it's among the most petrolhead-friendly brands in the mainstream sphere.
So what of its first fully electric car, the MX-30? Well, it's certainly a Mazda: the rear doors open backwards, the centre console is clad in cork and the engineers have made a concerted effort to preserve some of the brand's trademark dynamic balance. But with nearly everyone doing the whole electric SUV thing nowadays, can those quirks really be enough to make it the pick of the crop, or could this be a rare example of Mazda choosing panache over practicality?
What you will really want to know, and what we're quickly finding out, is whether its 35.5kWh battery pack – a common talking point – can provide enough range for daily use. It's the same size as that used in the notoriously short-legged Honda E and only 40% larger than the battery used for the plug-in hybrid version of the new Mercedes-Benz C-Class.
This made me nervous; the official range is put at 130 miles (I'm seeing around 117 displayed after a full charge), but I live in a flat and do more miles than the average London dweller. Surely this can't be a match made in heaven?
So far, I've made it work. Free overnight parking on my local streets means I can take the Mazda round the corner after dinner, plug it into a Ubitricity lamp-post and pick it up after my morning coffee (before the parking wardens come prowling). It's not ideal – these streetside chargers operate at less than 5kW, so even a 25% to 50% top-up takes a good few hours – but remember, it's not a big battery, so it's usually full when I come back to it, and I won't have paid much for the privilege (24p per kWh).
Admittedly, I have been doing a lot of tootling about in congested West London, which is the sort of environment in which the short- range MX-30 is destined to be most popular. But when subjected to my patented half-lap-of-the-M25 endurance test, the MX-30's displayed miles consistently match actual distance travelled, and the range doesn't plummet as fast as I thought it might at a 65mph cruise.
In blunt numerical terms, on my longest non-stop trip so far, I covered 62 miles – mostly motorway but with some country lanes and gridlocked London arteries thrown in – and got home with 37% battery remaining.
If the battery were any bigger (and thus heavier), I think the MX-30 would lose the dynamic edge it enjoys over its contemporaries. Compared with the numb and disengaged helm of many rivals, it feels more than keen and agile enough to enliven the errand run. In corners, it turns in crisply, holds itself pleasingly upright and lets you get back on the power quickly without the scrabbling and skipping that can blight the experience in similarly positioned cars.
So what else has become clear in the first 500 miles? Well, Mazda's refreshingly logical approach to infotainment ergonomics continues to stand out among large-screened and touch-control-heavy contemporaries, and I'm particularly pleased that neither the central display nor the gauge cluster shows any more information than is necessary: range, radio station and speed. Why try harder?
The back seats are a slightly more contentious issue. The 'suicide' doors are a neat touch, but they're so small as to prevent entry to all but the most compact of passengers. Not that anyone bigger would want to try; one of my neighbours jokingly called the MX-30 "the world's first two-seat electric SUV" in reference to its tiny rear bench.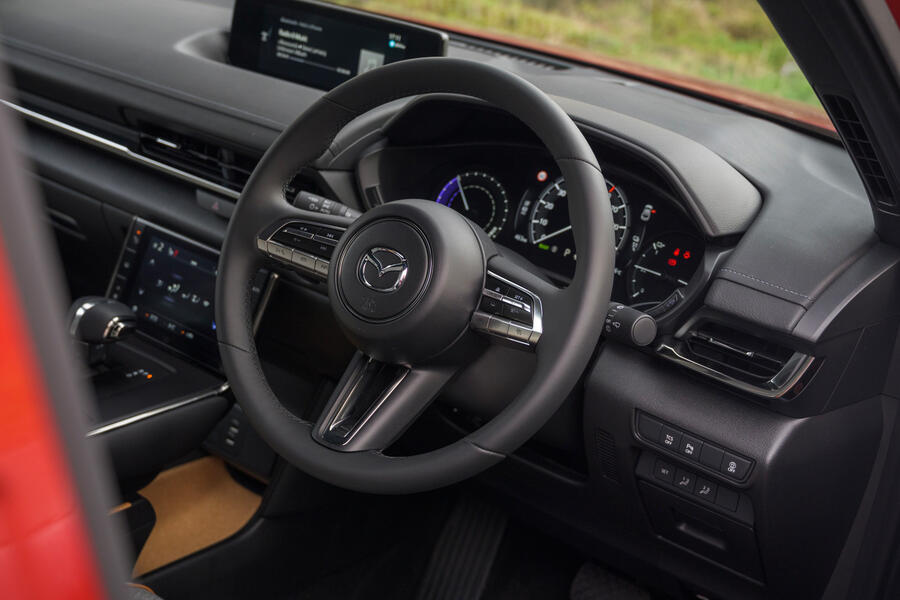 Our test car is finished in mid-rung Sport Lux trim, priced at £28,045 (after the government's £2500 EV grant) and expected to be the top- seller in the range. It builds on the already-agreeable specification of the entry-level SE-L Lux car, gaining such niceties as electrically adjustable, heated seats, tinted rear windows and keyless entry.
I've certainly not wanted for any extras thus far; with the weather warming up, I'm happy to forego the heated steering wheel and wiper de-icer that comes with range-topping GT Sport Tech trim, which carries a £2000 premium.
Over the next few months, I'll be evaluating whether the Mazda's quirks can overcome our qualms, and seeing if it deserves to be considered as a feasible daily driver. First impressions suggest it's surprisingly luxurious and pleasingly distinctive, but that range has the potential to be a real bugbear, and I'll no doubt want to carry rear passengers at some point.
Those factors in themselves are a major point of difference from most electric commuter cars and SUVs: it will certainly be an interesting experience with lots of talking points.
Second Opinion
Mazda believes the MX-30 offers plentiful range for the needs of most city-based EV drivers – if not what they think they need. I'm looking forward to finding out if Mazda is proven right and if the firm really can prove to buyers that less is more.
James Attwood
#Back">Back to the top
Mazda MX-30 Sport lux specification
Specs: Price New £28,045 (after government grant) Price as tested £29,845 (after government grant) Options Soul Red crystal metallic paint £1800
Test Data: Engine Synchronous electric motor Power 143bhp Torque 199lb ft Kerb weight 1645kg Top speed 87mph 0-62mph 9.7sec Range 124 miles CO2 0g/km Faults None Expenses None
#Back">Back to the top
https://www.autocar.co.uk/car-review/maz...erm-review