04-11-2022, 07:36 PM
McLaren GT 2022 long-term review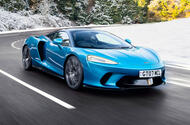 What better for Autocar's longest commute than an extravagant grand tourer?
Why we're running it: To see if a mid-engined supercar really can work as a commuting grand tourer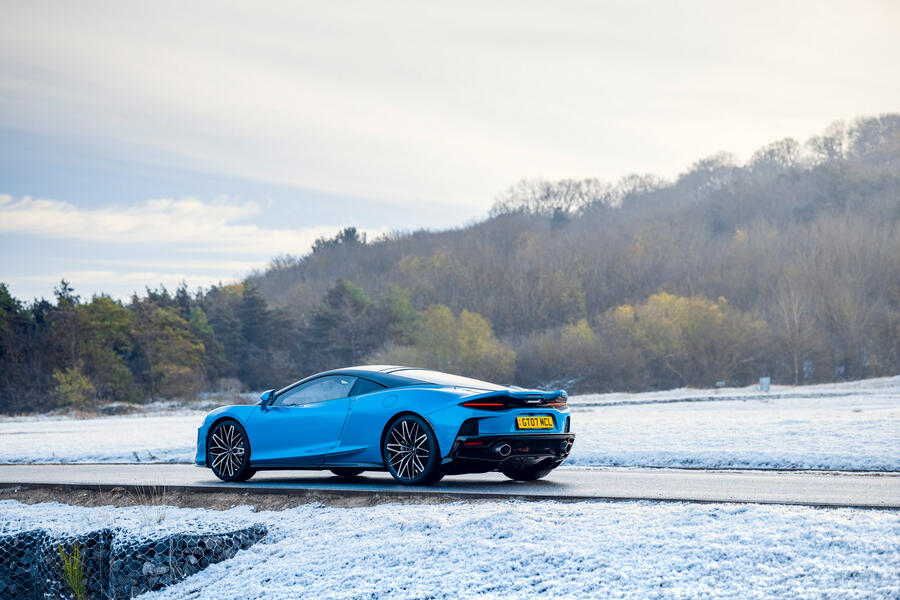 Life with a McLaren GT: Month 2
We've caught the F1 bug and pitted our McLaren for fresh tyres - 23 March 2022
If this truly is McLaren's everyday supercar, it needs to work in all weathers. And while the standard Pirelli P Zero tyres are perfectly acceptable circles of rubber, in cold weather they can come unstuck. (Not quite literally: we're not that brutal on the throttle.)
It's the cold morning start when this was most noticeable. Pulling out of my house is a bit of an exercise in blind faith, as we're on a corner, so sometimes I'll edge into the road only to be greeted by a set of headlights bearing down on me.
At that point, a touch of panic sets in, I tend to jump on the throttle slightly more aggressively than is strictly necessary and things get a little squirmy. It's an obvious and understandable consequence if the temperature is below 5deg C and there's 612bhp sat under your right foot.
So we decided to try some winter rubber. Although we went to McLaren to get these fitted, we didn't get any special treatment: the process is available to every McLaren owner at their local retailer. For £2556 (oof!), you can fit a set of Pirelli Sottozero tyres, which, like their summer brethren, are designed for the McLaren GT. They're the same 225/35 R20 (front) and 295/30 R21 (rear) size, so it's simply a question of wheels off, rubber switched, wheels back on.
What to do with the spares? Most McLaren owners will have a garage in which to store their pride and joy, so it's not really an issue. In theory, and at a push, you could ask your retailer to store them for you, but it's not something that's generally offered.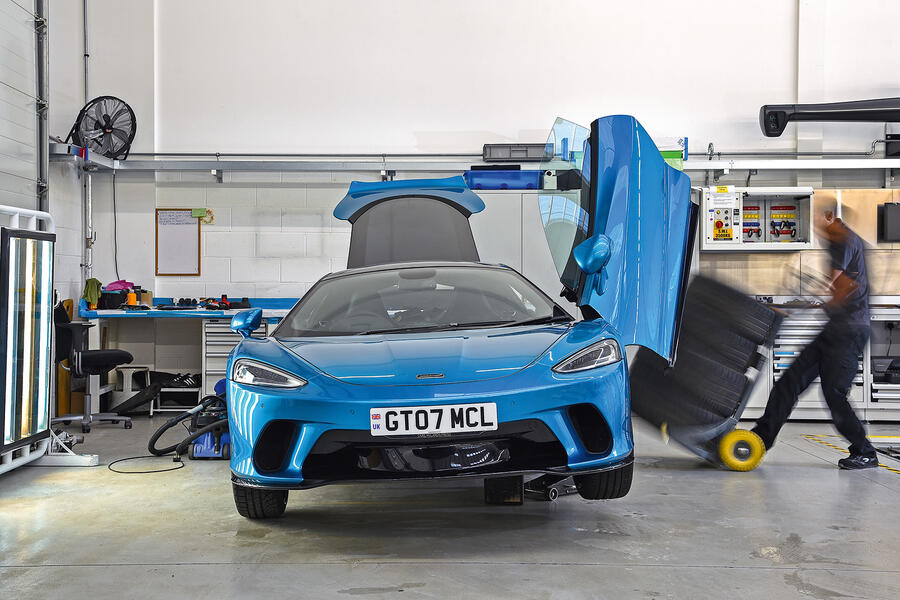 So what effect has this had on the road? Simply, it's much more secure to drive. There are no longer any fleeting moments of a loss of traction, as the grip is consistent across all speeds. I've tried to unstick them (safely, I should add) when the temperature has dipped below 5dec C, by being more aggressive with the steering and throttle than would ever be needed, but the tyres have remained true and planted. So you would have to be some shade of lunatic to get them to break away from you. And who wants to be doing that on a public road?
They've also been extremely impressive in standing water, sadly something we saw a lot of this winter. The GT wears a wide set of rubber, but it still cuts through water easily, with a hint less tug on the steering wheel as you dip into the puddle than you get on the summer tyres.
Is there any aspect where the winters are worse than the summers? There's perhaps a smidge more road noise, but not enough to make any discernible difference (the winters lack the summers' Pirelli Noise Cancelling System that is meant to reduce road noise). And you should also limit the top speed to 150mph – an enormous hardship, as I'm sure you can imagine.
It would be interesting to see how the winters perform in warmer conditions and whether the grip drops off as the temperatures rise – something that I've experienced before in high-powered cars. But sadly the GT will be heading back to McLaren before that happens.
What I can definitively say is that at 12deg C, and at normal road speeds, you can't tell any difference in how they handle. That counts as a win in my book.
Love it:
Boot space The boot is long and thin, but I've yet to fill it.
Loathe it:
Restricted viewing My view of the reversing camera is obstructed by the steering wheel.

Mileage: 2499
#Back">Back to the top
Screenwash is in short supply in the GT - 9 March
The McLaren is proving itself a useful commuter, but it falls short in screenwash. Not only is the reservoir way too small for British roads in winter (it runs out after a week), but the access to it is tricky as well. I've taken to using my wife's long-necked watering can so that it doesn't chuck fluid all over the lining of the 'froot.'
Mileage: 2675
Ward's Lincolnshire to Middlesex commute is a true test of touring talent - 23 February
Most commutes start early – and that's where the McLaren GT initially comes unstuck. This isn't a car to make you popular with the neighbours. The cold-start procedure drops a V8 whap into the quiet of 5am, waking the local feral cats and most of the houses on our street. There are worse cars out there (the Jaguar F-Type springs to mind), but it's not the most social way to set off.
Still, it's only a brief musical interlude for the village before the commute proper starts. In these cold times, it takes a while for the GT to warm through properly, so a gentle throttle is required for the first bit of the journey before the oil and water temperature indicators change from blue to white to signal that everything is tickety-boo.
The consequence of this delay is that the cabin stays cold for a surprising amount of time. My commute involves a quick bit of village limits before I'm straight onto dual carriageway. In other words, prime warm-up-quickly territory. But even with this, the GT's cold interior meant that at one point I was wearing gloves (not string-backed, before you laugh) in the really early starts, just to keep the frostbite at bay.
I've since discovered a 'quick heat' button within the air-conditioning controls, and this definitely helps to get things going faster. However, there's no way of easily getting heat into the other weak spot: the tyres. Their pressure sensors are really sensitive to temperatures below about 5deg C, to the point that it always pings a flat-tyre warning. You learn to ignore it (the clue is if it warns you about all four tyres), but it's an irritation at dawn.
Overall, then, the McLaren isn't the most suitable cold-start companion. However, for the wider, mundane run down to London, it's thoroughly enjoyable. I felt a bit self-conscious at first, with the colour certainly not helping the car to blend in, and the driving position is very low, so eyeballing the underside of lorries is common, but it's a remarkably comfortable place to be.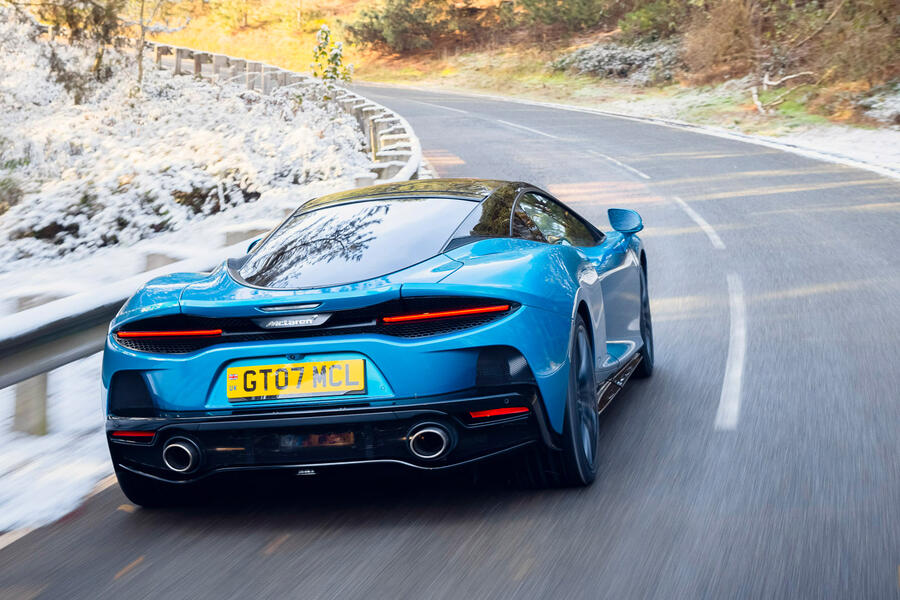 I had thought that I would find it annoying to not have any controls on the steering wheel, but I admire McLaren for sticking rigidly to the mantra that a steering wheel is for that purpose alone. The contrast to a modern Ferrari is certainly marked. And besides, in such a compact cabin, all of the controls are within easy reach, even for Tyrannosaurus rex arms like mine.
The standard Bowers & Wilkins 12-speaker sound system is good, providing enough clarity for me to listen to a variety of different radio  stations without feeling like it needs turning up too much. The McLaren GT is no Bentley Continental GT in terms of isolation, as the lack of a bulkhead filters more noise into the cabin, but I don't find it wearing over athree-hour commute. 
It's annoying that there's no Apple CarPlay, though. The Bluetooth link to my iPhone is fast, but missing out on the extra functionality of CarPlay definitely feels like a miss. It is coming (at least it is for the all- new Artura; no word yet on whether the GT will get it),but for the time being owners have to make do with McLaren's slightly fiddly home- grown infotainment system. Still, sit back and enjoy the drive.
Even over three hours of motorway, including the really impressively clogged sections of the M1 and the M25, it rarely gets tiring. I enjoy the easy throttle control and the fact that I'm not skittering on hot coals; the car can be sharp and reactive, but with the settings in normal, it's placid. The key is that the experience feels special. If a car can make my commute feel like that, I would count that as a win.
Mileage: 2499
Did our man's maiden McLaren voyage live up to expectations? - 9 February
You might or might not be surprised to hear that not everyone at Autocar gets to sample every new car we test. No, the priciest and most powerful are usually exclusively for the road test team. So until recently, my sole experience of a McLaren was five minutes I spent trapped inside a stationary Senna, as no one thought to tell me the door release was in the ceiling. A week with our long-term GT would surely make amends.
Once you're past the sheer presence of a mid-engined supercar whose dihedral doors open upwards, the most striking thing about the GT is how bespoke it all feels. The Audi R8 greets you with an interior that isn't massively different from that of the TT, or really any other Audi.
Gone are the days of McLarens sharing wing mirrors with Volkswagens and brake lights with buses – although saying that, the ultra-thick windscreen wiper could easily have come from one. Must it be built like scaffolding to cope with the car's top speed?
I can't remember the last time I drove a car whose steering wheel was just for steering. The GT's is entirely absent of all buttons, switches and (God forbid) touch-sensitive surfaces, relegating the cruise control and dial-cluster controls to stalks below the indicator and wiper ones. It looks slick, but it does mean having to hunt for some features we now take for granted as having at our fingertips.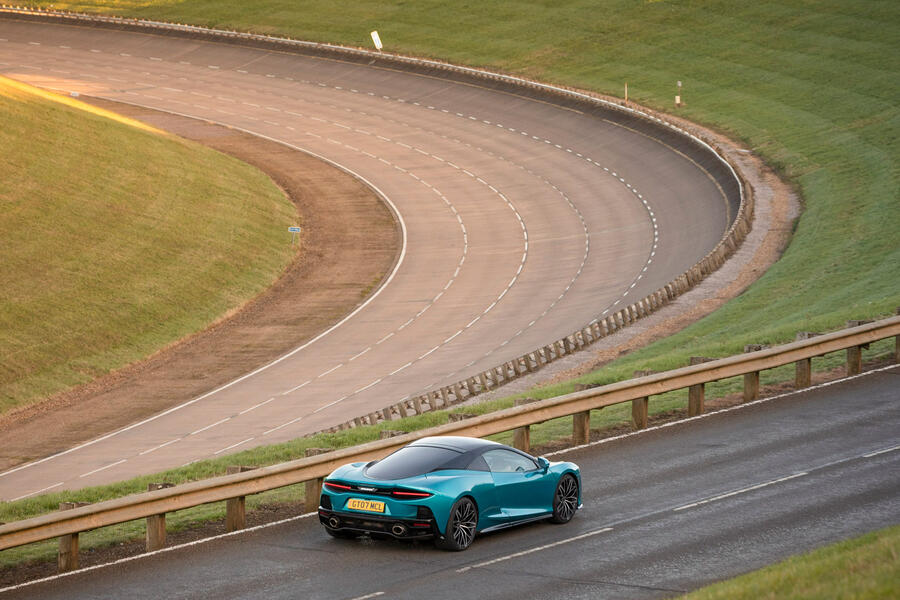 McLaren's bespoke infotainment system is at least straightforward to find your way around, with buttons to jump between the sat-nav, climate and media. I'm not sure why a British car's sat-nav insists on speaking in an American accent and measuring things in eighths of a mile, though.
My biggest bugbear is that the reversing camera appears in the dial cluster: sure, it would have to shrink to fit within the touchscreen, but it wouldn't get blocked from view as soon as you turn the steering wheel.
Those quibbles aren't enough to detract from the driving experience, which is sublime. The GT launches explosively under a heavy foot and gives incredibly responsive steering feel. It's certainly more supercar than grand tourer, but it's still impressively relaxed on a motorway and easy to slot into traffic in town.
In my week with the GT, I passed lots of Porsches, a few Aston Martins and Ferraris but no other McLaren.
I won't miss the fuel consumption, which dipped into single digits at one point, but the feeling of exclusivity it exudes will be hard to beat.
Tom Morgan-Freelander
Mileage: 1818
Economy figures as good as a diesel SUV - 2 February
We're just over a 1000 miles into our ownership of the McLaren GT and we're already getting pretty impressive fuel economy figures. Admittedly, this was a two-hour motorway journey, so there was plenty of consistent throttle. But still, 31.1mpg over a two-hour drive would count as a win in a large diesel SUV, let alone a 4.0-litre V8 petrol sports car. Sorry, GT car... 
Mileage: 1145
Life with a McLaren GT: Month 1
Welcoming the GT to the fleet - 26 January 2022
Here's what we said about a McLaren when we road tested it back in 2017: "The car's class-transcending performance comes combined with remarkable breadth of ability on the road (ride and handling that can be more supple, progressive, tactile and mild than any true rival), with excellent usability, too, and with more indulgent on-the-limit track handling than any McLaren we've known before."
To my mind, that's all that would indicate the car could make a good stab at being a GT. But we didn't write those words about a GT. That road test verdict – and a five-star rating, incidentally – was reserved for the 720S. Which is part of the reason why McLaren finds itself in a quandary with the car we're lucky enough to be running for the next three months: the actual McLaren GT.
Spun on further, the debate continues: can a mid-engined, supercar-based GT be the ultimate car to live with, or are the compromises too much, especially when the actual supercar from the same brand already does such a good job at the daily stuff? In the rarefied world of these things, it's going to be a heck of a few months finding out.
And to kick things off in suitably superlative style, we managed to line up our GT with a 720S to do a bit of back-to-back comparison, meeting at Millbrook Proving Ground. But more on that in a second. First, some details on the GT we will be running.
The GT is built around McLaren's Monocell carbonfibre tub (essentially an evolution of the 570S's without a roof section), as opposed to the Monocage II of the 720S, but it does share the supercar's 4.0-litre V8 and electro-hydraulic power steering. Peak outputs are 612bhp and 465lb ft, with 95% of the latter arriving at an un-supercar-like 3000rpm.
Our GT is in Luxe trim. It's nigh-on identical to Pioneer trim, except it gets full leather instead of a leather and Alcantara mix – as befits the names, really. There's also the 'base' Standard trim, but that has you make do with manual reach and rake adjustment. Think of the effort...
As you will have already noticed, our car isn't in the most subtle of hues. This particular paint is called Belize Blue, and it's certainly doing its bit to attract all sorts of phone-camera attention on the UK's motorways. With a £4000 price, it's the most expensive option on the car.
The Panoramic Privacy Tinted Glass Roof (£1750) is one that I would opt for, if my early judgement counts for anything; you can't get the GT in Spider form, but this large expanse of glass certainly opens things up a bit.
The Glass Black diamond-cut wheels (£1650) also look a bit of all right. Wrapped in Pirelli P Zero tyres, they really do help give the car a convincing stance. I've seen other GTs on more normal alloys, and they don't have anywhere near the kerb presence. Speaking of which, these look like they could easily be damaged, so there will be a metre-from-the-kerb rule put in place. Width restrictors are banned.
Privacy glass (£500) and Polished Special Colour brake calipers with a silver logo (£1270) round out the cost options.
The GT is the entry point to McLaren ownership, with a starting price of £163,000. The firm divides its cars into three categories: GTs (containing just the GT seen here); supercars (the 720S and Longtail variants, each soon to be joined by the all-new V6 plug-in hybrid Artura) and the Ultimate Series (expensive specials like the Elva and Speedtail).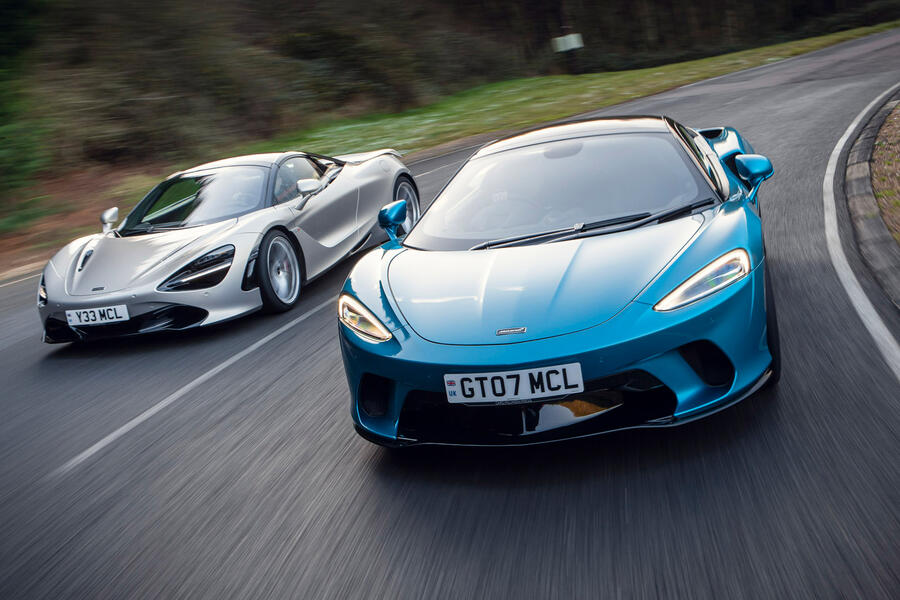 As you would expect of two different cars targeting two different types of buyer, the GT is softer than the 720S, both in theory and in practice. Its V8 produces 98bhp less than that of its sibling, while it also gets an increased ride height (by just 3mm, although with up to 130mm with the nose lift engaged) and more sound-deadening. Mind you, it still weighs only 1530kg, so it's hardly a lardy thing even with the extra leather and noise insulation.
Do they feel that different on the road? Even driving them back to back, it's pretty marginal stuff. In the GT, everything feels wound off by about 2%. The car still rotates around you and is incredibly precise in its major controls (all hail electrohydraulic power steering), but it's lacking that last element of enveloping sportiness. The steering doesn't tuck the front tyres into a corner with quite as much bite.
At the moment, with slippery roads around, I'm grateful for that. The steering is plenty sharp enough as it is for road use, with the nose hunting out apexes just on the acceptable side of aggressive.
So far, then, it's doing the cross-country thing very well. As a GT and for my mammoth commute from the Midlands to Middlesex? Well, finding that out will come soon enough. What a chore it's going to be...
Second Opinion
My issue with the GT has never been its handling balance or the character of its steering, nor anything else that matters when you're simply in the moment, enjoying the drive. It does those things well. It's the GT brief that undoes it, because despite the name and brochure bumf, this is still a mid-engined supercar, with all the associated joys and frustrations. How long before Piers tires of the dihedral doors or the iffy over-the-shoulder visibility and wonders why you wouldn't just buy an Artura or, more temptingly, a used 720S?
Richard Lane
#Back">Back to the top
McLaren GT Luxe specification
Specs: Price New £163,000 Price as tested £172,170 Options Belize Blue Elite paint £4000, Panoramic Privacy Tinted Glass Roof £1750, privacy glass £500, Glass Black diamond-cut wheels £1650, Polished Special Colour brake calipers with silver logo £1270
Test Data: Engine V8, 3994cc, twin-turbocharged, petrol Power 612bhp at 7500rpm Torque 465lb ft at 5500-6500rpm Kerb weight 1530kg Top speed 203mph 0-62mph 3.3sec Fuel economy 23.7mpg CO2 270g/km Faults None Expenses None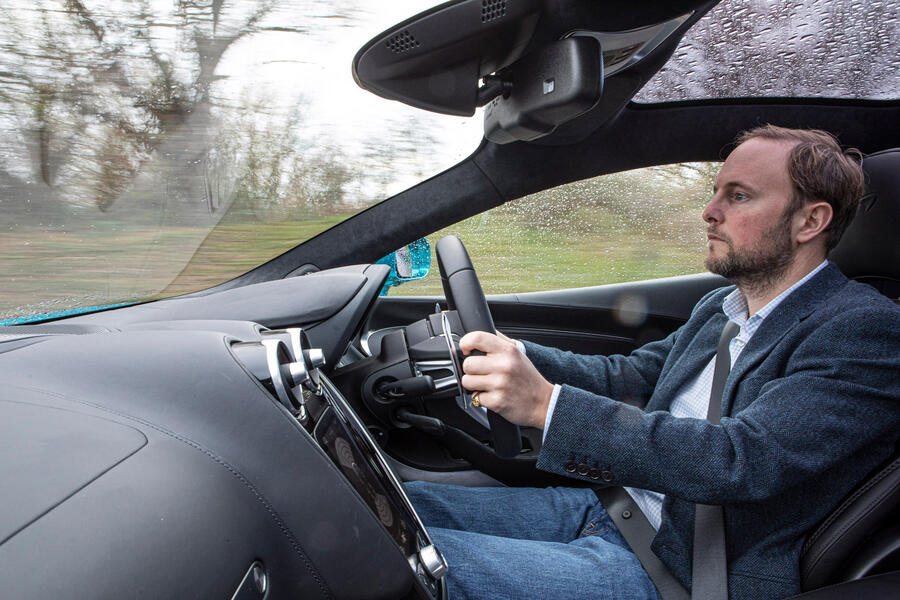 #Back">Back to the top
https://www.autocar.co.uk/car-review/mcl...erm-review