07-21-2023, 11:15 PM
McLaren Solus GT: 830bhp V10-powered monster tops Shootout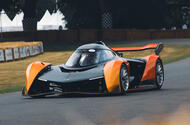 Solus GT originally appeared in the Gran Turismo video game as a 'Vision Gran Turismo' concept
McLaren Vision Gran Turismo concept turned into £3m, 25-run, sub-1000kg special with 830bhp
The McLaren Solus GT is a limited-run, single-seat track car derived from a virtual video game concept and powered by a naturally aspirated V10 with more than 830bhp.
Handed a public debut at the Goodwood Festival of Speed, the Solus GT has been created with speed, downforce and lap records in mind - and it proved that by setting the pace in Goodwood's timed Sunday Shootout. With Marvin Kirchöfer at the wheel, the McLaren completed the hillclimb course in 45.345secs, an average of 149.1mph.
That was enough to comfortably beat extreme sports star Travis Pastrana, driving a heavily modified Subaru GL Family Huckster. The American completed his timed run in 46.37secs (130.0mph). Michael Lyons was third in a McLaren-Cosworth M26 F1 car.
2023 Goodwood Festival of Speed - highlights, report and gallery
The McLaren Solus features a striking carbonfibre cockpit-style design alongside wide-set, enclosed wheels and a huge rear wing. Built around a unique monocoque chassis, the car itself weighs less than 1000kg yet it produces 1200kg of downforce at full tilt.
The track machine was originally created in concept guise for the Gran Turismo Sport video game in 2017 and it has now been revealed in production form at Monterey Car Week in California.
The Solus GT is powered by a 5.2-litre V10 engine – a first for a McLaren customer car – which revs all the way to 10,000rpm and pushes out more than 830bhp and 479lb ft of torque.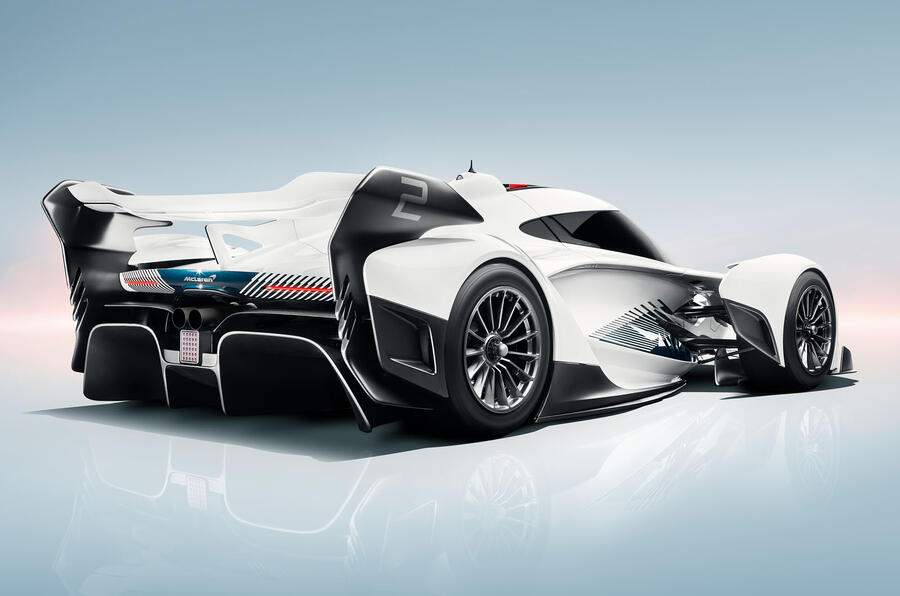 The reserves of the motorsport-derived powerplant, created by an unnamed third party, are channelled through a bespoke seven-speed sequential gearbox and propel the car to 62mph from standing in 2.5sec. The top speed exceeds 200mph, according to McLaren.
The driver sits in a centrally mounted, enclosed cabin, which is accessed by a jet plane-type sliding canopy. Inside, a motorsport-style fixed seat awaits, created and moulded to suit the individual owner. A Formula 1-inspired carbonfibre steering wheel is also present, as is a digital rear-view display.
Owners of the extreme track machine, of which all 25 units have already sold for more than £3 million each, will also get a travel case for the car, intended for when owners are transporting it to events around the globe – many put on by McLaren itself for Solus owners.
"The McLaren Solus GT is the realisation of a radical McLaren concept vehicle originally created for the world of virtual racing," said Michael Leiters, new CEO of McLaren Automotive.
"Engineered free of any restrictions from road or race regulations, but with the full spectrum of McLaren's expertise to bring it to reality, it epitomises our pioneering spirit."
These engineering freedoms heavily influenced the design, which incorporates an array of aerodynamic features, including a wide front splitter, a structural floor with ground-effect venturi tunnels, a fixed, twin-element, high-downforce rear wing, and individual wheel pods.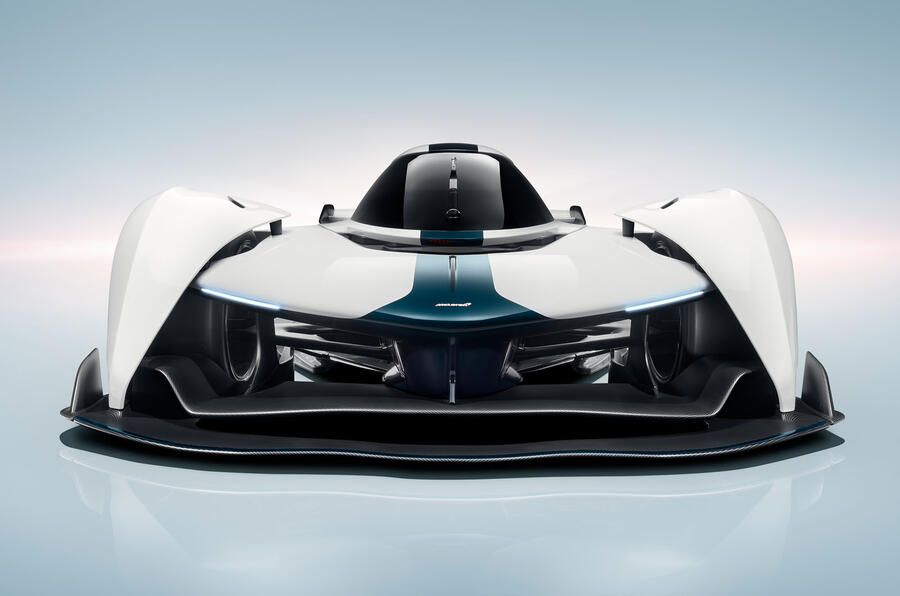 The pods help to reduce weight and "individually work the airflow" to reduce turbulence and mitigate the build-up of pressure within the wheel well, says McLaren. They also give the driver reference points to position the car more easily on track. 
The wheels are connected via double-wishbone suspension arms front and back, which are encased in aerodynamic carbonfibre shrouds, similar to the approach used in F1.
The team has also added a motorsport-inspired air intake above the cockpit, which, while serving primarily to feed air to the engine, also creates an "engaging engine induction sound". Race car design also inspired the sidepods, which house the radiators.
New techniques were used during the creation of the Solus GT, such as 3D-printed titanium components made for the cockpit – a first for a McLaren production car.
However, the firm says that despite this engineering freedom, the design of the virtual reality concept imposed restrictions on what could be done while ensuring a real-life version retained its wow factor.
The first deliveries of the car are set to begin next year.
https://www.autocar.co.uk/car-news/new-c...s-shootout