07-27-2023, 09:00 AM
Mercedes-Benz B200d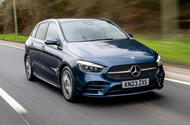 A diesel-powered compact MPV might not be the height of fashion, but the B200d holds plenty of appeal
The Mercedes-Benz B200d is the sort of car you might be surprised still exists in 2023: it's a compact MPV powered by a diesel engine without even a whiff of electrification. A diesel MPV? Is that still legal? Apparently so, and for those prepared to stand against the turning tide, the B200d has plenty to recommend it.
The Mercedes-Benz B-Class range has recently been given a facelift that includes refreshed styling, new kit and a rationalisation of the powertrain line-up. But the concept remains the same: the machine sits on the same platform as the A-Class hatchback, and you can definitely see the family resemblance.
Instead of turning that hatch into a marginally jacked-up compact crossover with rugged cladding, the changes for the B-Class focus on practicality. There's more head room and extra boot space; proper MPV stuff, basically, even if on its website Mercedes-Benz prefers to use the term 'Sport Tourer'.
That said, this remains a compact machine and, unlike larger MPVs, it only has five seats and not seven. The rear seats fold in a way that offers reasonable flexibility, but the B200d won't offer you the true versatility that comes with some van-based models.
The exterior styling changes to the B-Class for this mid-life facelift are minimal. Not that we mind: there wasn't that much wrong with the previous car, and we'd suspect that compact MPV buyers probably aren't likely to be making their choices purely on style anyway.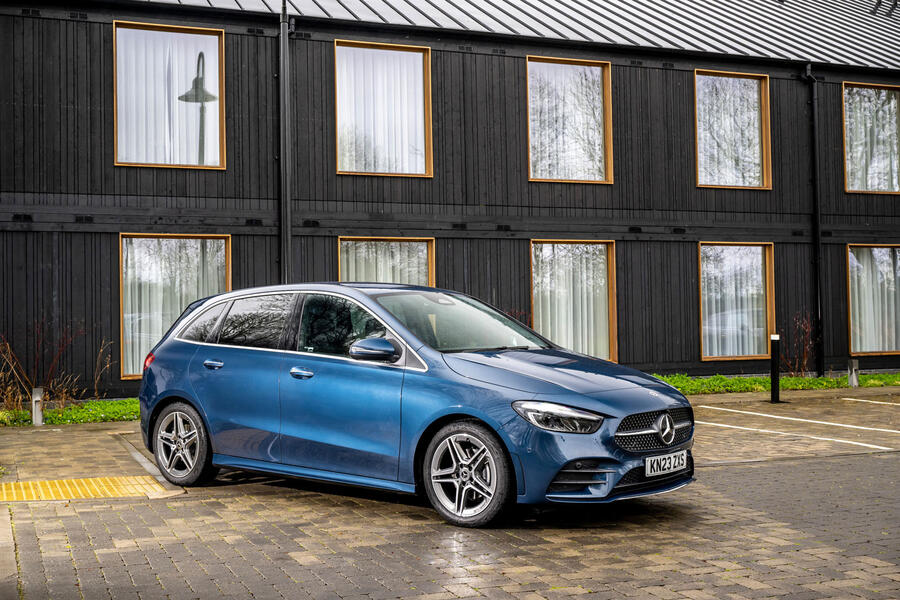 The interior also features a relatively minor makeover, with the biggest focused on the addition of Mercedes-Benz's latest MBUX infotainment system. On our AMG Line Premium Plus test model, that means a pair of 10.25in screens and a multifunction steering wheel bursting with buttons and (occasionally fiddly) touch controls.
The infotainment has lost the traditional controller in the centre console, but touchscreen is at least responsive, and the myriad of steering wheel controllers enable you to carry out just about any task without taking your hands on the wheel. There's also a decent voice control function, should you like talking to your car. Regardless of how you interact with it, it's added extra sheen to a cabin that was already among the best in class.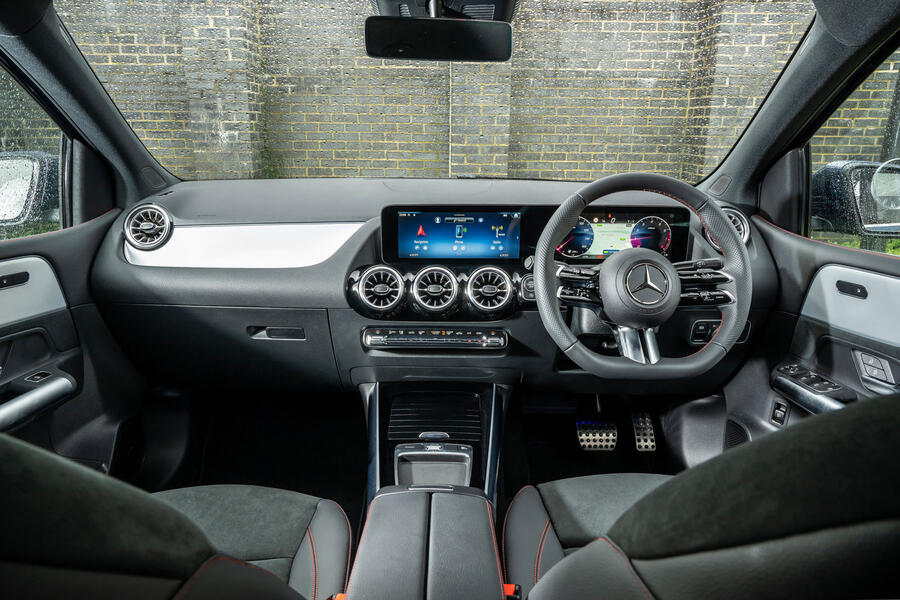 For this facelift the B-Class powertrain line-up has been rationalised and there are now just two options: the B200, a 161bhp 1.3-litre mild-hybrid petrol, and this 147bhp 2.0 diesel B200d. We've tested the former in pre-facelift guise and it holds plenty of appeal.
As you'd expect from a diesel, the B200d has plenty of punchy torque low down, but it offers a smooth power progression to higher speeds and it really is a calm cruiser on motorways and other fast roads. It's comparatively quiet and refined, although the automatic eight-speed 'box can be a little jerky at lower speeds. You will get that occasional diesel judder.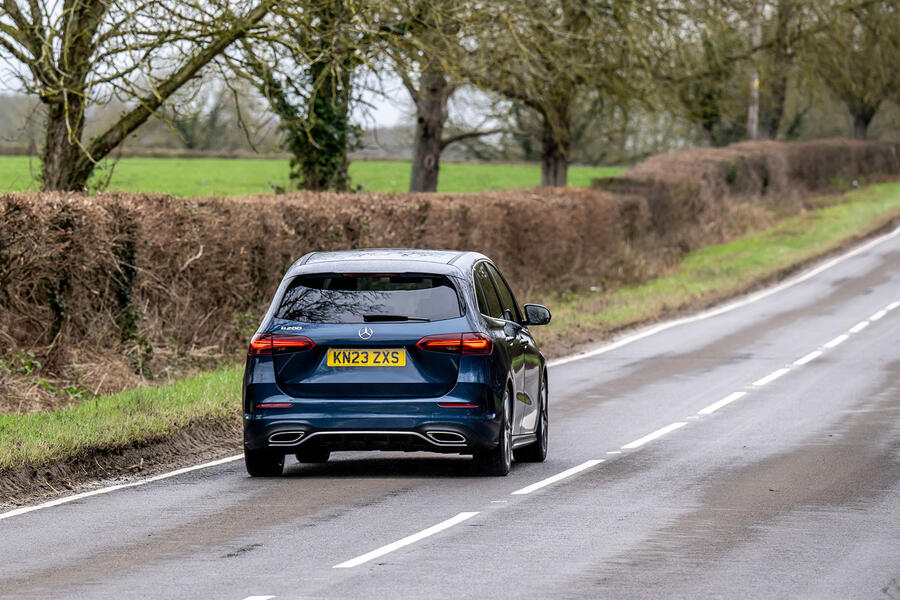 With this facelift Mercedes hasn't fiddled much with the B-Class's dynamics, which retain a sharpness lacking from higher-riding crossovers of a similar size. It's not as agile as the A-Class hatch, but it rides and steers well. It has a dynamic that's rare among small MPVs, although it's pleasing rather than thrilling. Still, If you're looking for practicality – which is the key appeal of this sort of car – that's a fair trade-off.
There aren't a huge amount of rivals in the compact MPV class, but the B200d can holds its own against the likes of the BMW 2 Series Active Tourer. Of the two powertrains that remain, tjhe petrol B200 is likely to be the better option for most buyers – and the more palatable, for some – but for those who regularly do long journeys on faster roads and prioritise efficiency and economy, the diesel will certainly hold appeal.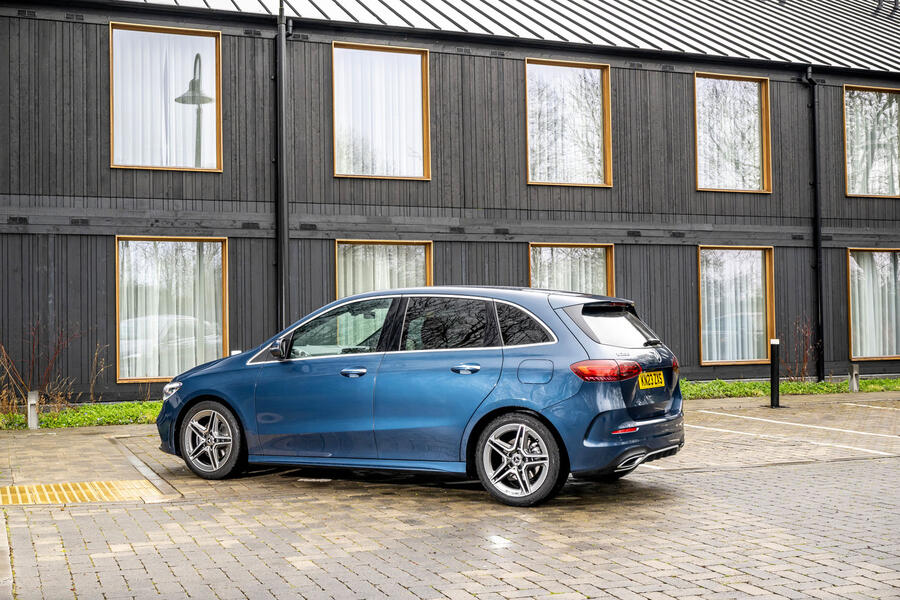 https://www.autocar.co.uk/car-review/mer...benz-b200d