05-12-2023, 06:09 AM
Mercedes-Benz CLS production to end in August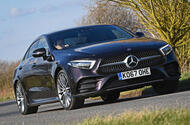 The current third-generation CLS has been in production since 2018
Upmarket four-door coupé to be retired after three generations to free up assembly capacity for new E-Class
Production of the Mercedes-Benz CLS is set to cease after 19 years and three model generations.
In a recent advisory to its international operations, Mercedes-Benz said the four-door coupé will be retired in August to free up assembly capacity for the new sixth-generation E-Class at its plant in Sindelfingen, Germany.
 The current third-generation CLS, codenamed C257, has been in production since 2018, meaning it will have been in production for five years – shorter than originally planned.
Without a successor model in the development pipeline, the CLS name will be retired from the line-up, a Mercedes-Benz official revealed to Autocar.
Production of the original CLS (C219) ran from 2004 to 2010 and the second-generation CLS (C218) was produced between 2010 and 2018.
The original CLS pioneered the coupé-like saloon genre in the premium segment upon its launch, giving rise to a series of competitors from rival car makers, including the Audi A7 Sportback and BMW 6 Series Gran Coupé.
All three generations of the CLS have been heavily based on the Mercedes-Benz E-Class, the two having shared platforms, drivetrains and key components such as suspension and electrical architectures down through the years.
Among the key design elements distinguishing the CLS are its bold front end, high-set waistline, curved roof and sloping boot line.
A Shooting Brake variant of the second-generation CLS was introduced in 2012 as a more practical alternative to the saloon. However, it wasn't replaced when the third-generation model was launched in 2018.
As part of a consolidation of its line-up, Mercedes is positioning the EQE electric saloon as an indirect replacement for the CLS.
https://www.autocar.co.uk/car-news/new-c...end-august