07-13-2022, 07:06 PM
Mercedes-Benz S-Class PHEV 2022 long term review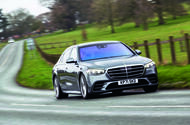 Can Merc's limo retain benchmark status as a hybrid? It's time to find out
Why we're running it: To see if a plug-in hybrid S-Class can be as convincing an ultimate long-distance luxury saloon as its diesel ancestors

Life with a Mercedes S-Class PHEV: Month 1
Welcoming the S-Class to the fleet - 25 May 2022
Thirty years ago, there was another S-Class Benz on this very fleet. It was an S500 of the W140 generation: silver paint, V8 motor, keys guarded very closely by one S. Cropley Esq, who remains of this parish to this day. But I was able to wrench them from his grip once, because Jaguar was launching the new Daimler Double Six and we had to do a twin test with the world's best luxury car. Which the S-Class was.
The good news for me was the launch was in Biarritz. But it was also on Valentine's Day, so I drove down overnight with my then girlfriend (now wife) in the passenger seat and promptly fell in love – with the car, you understand. I still regard successfully smuggling my other half onto a two-day car launch one of the greater achievements of my career.
Ever since, that car has set the standard against which all mainstream luxury cars, and S-Classes in particular, have been measured in general, at least in my mind. And while some have been quicker, quieter and doubtless even more sybaritically comfortable, none has yet managed to suffuse me with quite the same sense of supreme well-being achieved by that old W140. Cropley still gets misty eyed about it to this day, and rightly so.
So that's the job here, of this top-of- the-range, flag-waving, all-singing, all-dancing new S-Class, which is mine for the next few months. It comes with a wheelbase almost as long as its name, denoting it to be the one that sits at the top of the pile, the numero uno, the majordomo of the S-Class household. It also has, and this is the crucial bit, a plug-in hybrid drive.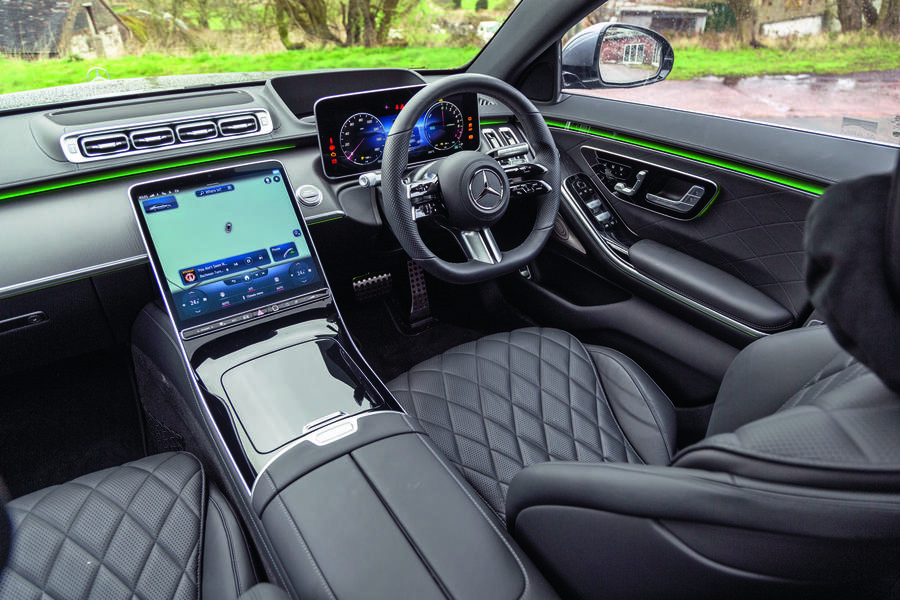 Why crucial? Because it is allegedly capable of travelling 63 miles on electrons alone. If this is true, and thanks to my trusty Pod Point home charger, this will take the financial sting out of even quite long journeys while also allowing me to waft around on a cushion of electrons, to which, I must say,
I am quite looking forward. Mercedes-Benz ordered the car and wanted it to be the range-topping model but invited me to choose its colour inside and out, plus optional extras. So wishing to make as small an additional statement compared with that already inherent in driving an S-Class, I chose standard Selenite Grey metallic paintwork with a black leather interior. To be honest, those were easy choices, but not as easy as the options. Staggeringly well equipped as it already is, I asked for and received precisely none.
What it lacks, which even Cropley's old S500 had, is a V8. That'll come when the AMG variant arrives on stream later this year, but the S580 packs a 3.0-litre straight six with 362bhp in conjunction with a 148bhp electric motor fed by a 28.6kWh battery, which is more than twice the capacity of that fitted to, say, a Bentley Flying Spur hybrid. Hence the enormous all-electric range.
There's a price to be paid, of course: it weighs 2385kg, but I guess if there was a class of car where some excess avoirdupois was going to cause less trouble than others, this is probably it. More irksome is the resulting reduction in boot capacity of around 10%, or more if you want to take the charging cables in their bags along for the ride with you.
Talking of charging, the S580e also comes with another USP, at least among plug-in hybrid saloons: it will take a fast charge on the motorway at up to 60kW, which will replenish the battery from 10-80% full in just 20 minutes. I'd probably just continue using the ICE, not least as motorway electricity seems to be no cheaper than motorway petrol these days, but the facility is there if you want it.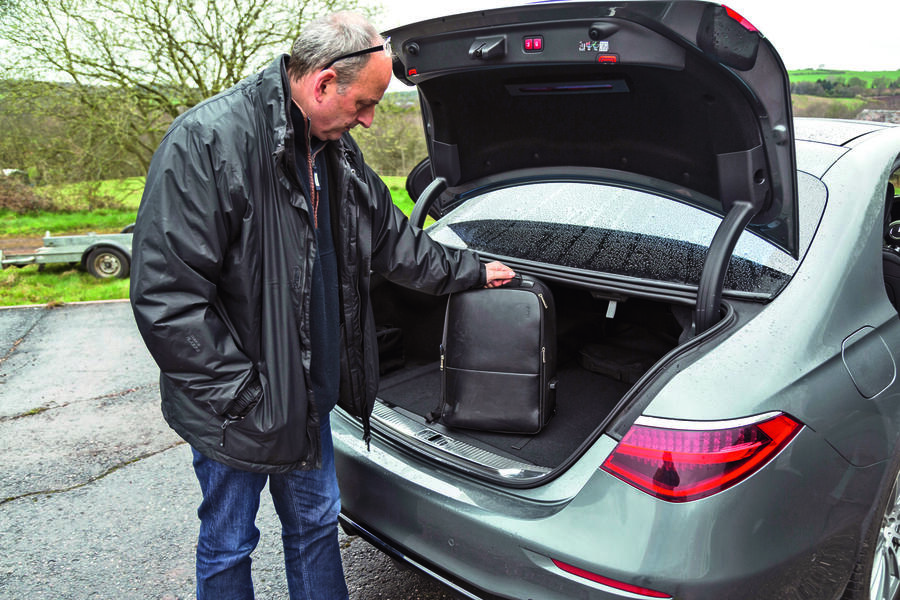 The other really smart thing it has are dual-purpose steering-wheel paddles. You can choose to use them to change gear as usual, or you can use them to set the amount of regenerative braking you want. There are three settings: the default mode offers a small, fairly unobtrusive amount of regen, but pull the right- hand paddle and it disappears almost entirely.
Pull the left-hand one, however, and there's so much regen you barely ever need to use the brake pedal. I quite like that, along with watching the electric range meter tick up during long downhill sections, but others will not. There's also a whole new world waiting for me to investigate via the Mercedes Me app. When I've registered, I'll be able to find the car, lock the car, start the car, pre- condition the cabin of the car and upload destinations to the car all from the comfort of my own sofa, or perhaps someone else's.
Apparently, I'll also be able to park it remotely. I do wonder whether this will prove a genuinely useful and valued benefit to the ownership experience, or whether I'll discover it's just another one of those gimmicks that seems curiously beguiling when you read about it and is used once for fun, then forgotten about forever after. But I look forward to finding out.
Second Opinion
There's a great deal to like in the new S-Classes I've driven (this particular grey example I haven't yet managed), but I'm particularly taken with the way they drive. For a big car packed with tech, adding weight and complexity, the S is, for me, still the standout car in this class to drive.
Matt Prior
#Back">Back to the top
Mercedes S-Class S580e specification
Specs: Price New £113,880 Price as tested £113,880 Options
Test Data: Engine 2999cc straight-six petrol, 28.6kWh battery, single e-motor Power 510bhp at 5000rpm Torque 723lb ft at 2400rpm Kerb weight 2385kg Top speed 155mph 0-62mph 5.2sec Fuel economy 54.3mpg, 62-mile electric range CO2 18g/km Faults None Expenses None
#Back">Back to the top
https://www.autocar.co.uk/car-review/mer...erm-review