04-18-2022, 12:51 AM
Mercedes-Benz Vision EQXX: first ride in radical 626-mile EV
We ride in Stuttgart's radical new electric saloon concept, which just covered 1000km on a single charge
The Mercedes-Benz Vision EQXX is a road car of the future that exists today. 
With a super-slippery shape, extreme low-rolling-resistance tyres on narrow wheels, lightweight construction that draws on a new bionic casting process and an advanced electric drivetrain featuring a rear-mounted motor as well as a state-of-the-car CTP (cell-to-pack) battery, its mission is simple: deliver the longest possible range using the least possible electricity.
This mission, laid down by the Mercedes-Benz board as part of efforts to ensure the world's oldest car maker remains at the forefront of EV development at a time of profound change across the automotive industry, was intended to challenge engineers into developing solutions that could be adopted on upcoming production cars. 
After two years of conception, development and testing, the result is the Vision EQXX - a fully operational saloon that raised eyebrows last week when it was driven from Mercedes' development centre in Stuttgart, Germany, to the company's design studio in Nice, France, a distance of 626 miles, on a single battery charge at an average speed of 54.3mph.
In the process, the one-off concept, whose charging port was sealed, achieved average consumption of 8.7kWh per 100km. What's more, it's claimed to have arrived in Nice with more than 87 miles of range remaining.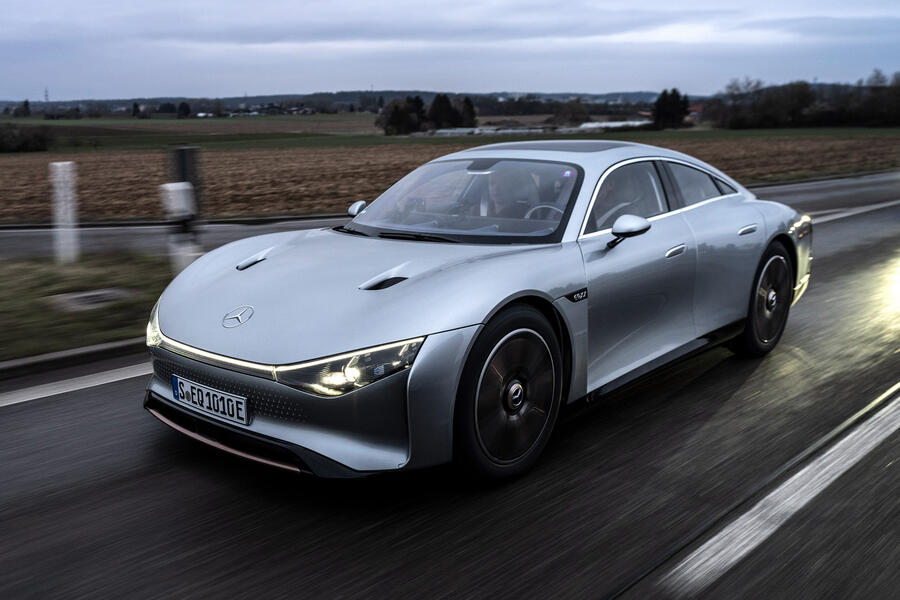 To put this into perspective, the recently introduced Mercedes-Benz EQE saloon, which uses a 90.6kWh battery, boasts an official WLTP consumption figure of between 15.9 and 18.7kWh per 100km, giving it a range of 410 miles.
They're impressive figures – even more so when you consider they were logged in wintery conditions with temperatures as low as 3deg C, high winds and snow flurries along sections of the route, which took in four countries and two 15-minute rest stops (without charging). But they're not half as interesting as seeing the Vision EQXX up close under blue sky for the first time.
Styled in close collaboration between Mercedes-Benz's design and aerodynamic teams, it looks very futuristic with smooth surfaces and stretched proportions, including a rear section that draws on developments first aired on the Concept IAA revealed in 2015 with active elements to alter the aerodynamics.
Rather than simply adopting a teardrop shape with fared in wheels for maximum aerodynamic potential with compromises in packaging - a route taken by cars like the GM EV1 and Volkswagen XL1, Mercedes has delivered a car that is conceived to offer similar levels of accommodation and everyday practicality as a regular production car, complete with four conventional front-hinged doors.
The front takes on a sports car like appearance, with a low leading edge, a short bonnet, shapely fenders and large wheelhouses.
The signature Mercedes grille is replaced by a star graphic incorporated into the front bumper, while the digital LED headlamps are conjoined by a full-width LED light bar.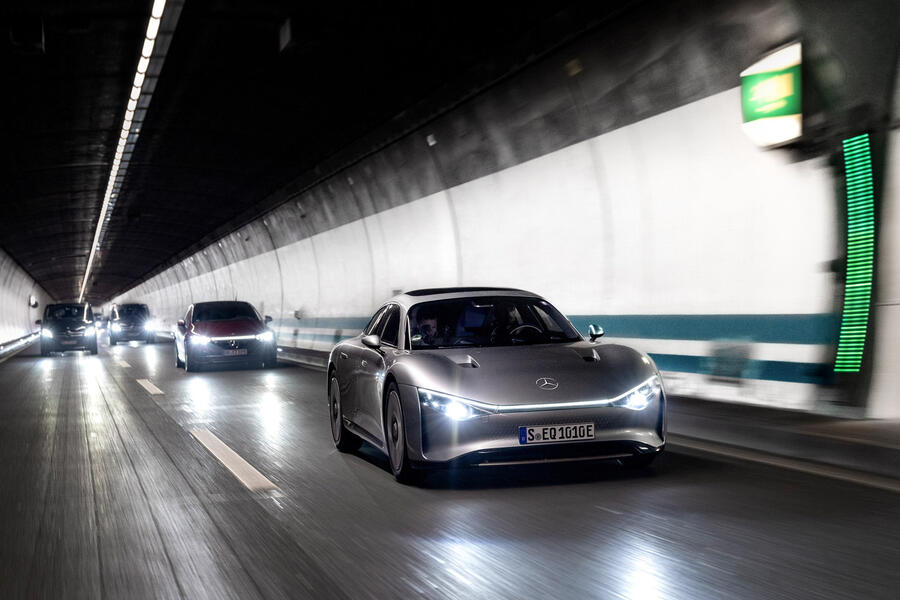 A so-called Air Control System channels air through the front section using a series of air curtains and air breathers.
Mercedes has also forgone wind-cheating cameras for traditional rear-view mirrors. They're much smaller than those found on existing production models, but they do the job without a big loss in aerodynamic efficiency.
Further back, the A-pillars are set well forward. The cabin tapers towards the rear, giving the Vision EQXX a heavily shouldered appearance over the rear wheels. Unusually, the rear track is 50mm narrower than that up front.
Speaking of wheels, the uniquely design 20in rims are completely blanked off to minimise wind buffeting within the wheelhouses. They're shod with 185/65-profile Bridgestone Turanza Eco tyres whose compound and profile have been developed specifically for the car.
It's the rear that really stands out, though. A full-width light graphic runs across the trailing edge of the boot lid and down along the sides. But the rear attraction is the diffuser, which automatically extends outwards.
The upshot of all this is a drag coefficient of 0.17Cd – the lowest ever achieved by Mercedes on a road-legal car.
Even more important, says its director of aerodynamics, Teddy Woll, is the EQXX's relatively small frontal area, which is put at just 2.12m2.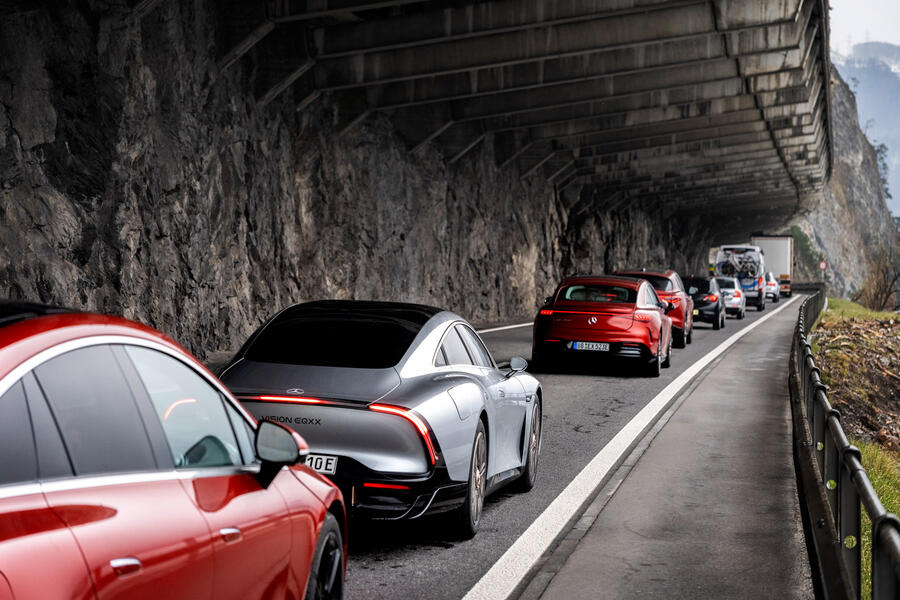 "In typical motorway running up to two-thirds of the energy provided by the battery is used to overcome aerodynamic drag," he says.
As a point of reference, Mercedes' most aerodynamic production road car, the rear-wheel drive EQS 450+, boasts a drag coefficient of 0.20Cd and a frontal area of 2.51m2.
At 4977mm in length, 1870mm in width and just 1350mm in height, the Vision EQXX is 31mm longer, 91mm narrower and 162mm lower than the EQE. It also rides on a wheelbase that is 310mm shorter than Mercedes' new electric-powered saloon, at 2800mm.
With carbonfibre and other lightweight metals used in its construction as well as aluminium brake discs among other measures, the new Mercedes concept hits the scales at a claimed 1755kg – a significant 285kg less than the Mercedes-Benz EQA 250.
When it gets underway in the car park of Mercedes' design centre, the futuristically styled four-door saloon, whose leather-lined cabin features four individual seats, is near to silent. There is a faint but distant whine from the electric motor and some accompanying whirring as the power electronics spring to life, but it is nothing that you don't already get in production-based electric cars these days. In fact, the whole car both appears and feels production like in many ways.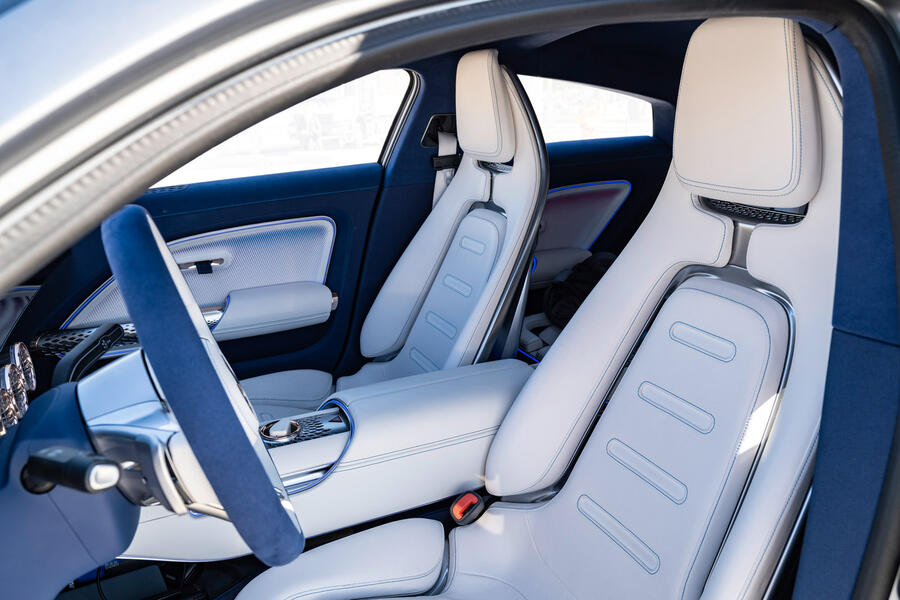 The basis for the EQXX is a unique rear-wheel drive platform. It is claimed to incorporate elements of the MMA structure set to be used by production models starting 2024. A lithium ion battery, weighing 495kg, is mounted within the floorpan. Described as being "around 100kWh" in energy content, it uses the latest CTP (cell-to-pack) silicon anode technology from Chinese company CATL and operates at 900V. 
Power comes by way of a new electric motor developed between Mercedes' German-based engineering team and its HPP (High Performance Powertrain) division located in Brixworth, England. Nestled within the rear axle, it is rated at 188bhp. 
Entering the concept is a straightforward affair despite its low height. All four doors open wide to provide a sizeable aperture and welcome ease of entry. The hard shell backed front seats, with firm cushioning but minimum support, are mounted very low by Mercedes standards, and the floor is completely flat. Once you're inside, it proves quite sporting in character.
The view ahead through the heavy angled windscreen is excellent, while the view directly behind is non-existent because an array of 117 solar cells that are used to charge a 12V battery mounted up front underneath the bonent covers the area that would otherwise be taken by a rear window.  
The dashboard is set low, contributing to a snug feel further perpetuated by the narrow dimensions. It supports both a multi-function steering wheel and 1100mm-wide 8K curved digital display. Alongside a digital instrument panel, this houses a realm of real-time data, including the all-important power consumption read-out.
The heavy rake of the windscreens places the header uncomfortably close to your head, but otherwise there's a lot to like about the highly stylised, leather-lined interior.
The man behind the wheel, Friedemann Flache, is no stranger to the Vision EQXX. One of four engineers nominated to drive the concept, he undertook the first stint of last week's test drive.
"It's very straightforward," he says. "It doesn't demand a particularly special driving style or anything like that, although to get the best out of it, to really strive for maximum efficiency and range, you have to anticipate situations well ahead."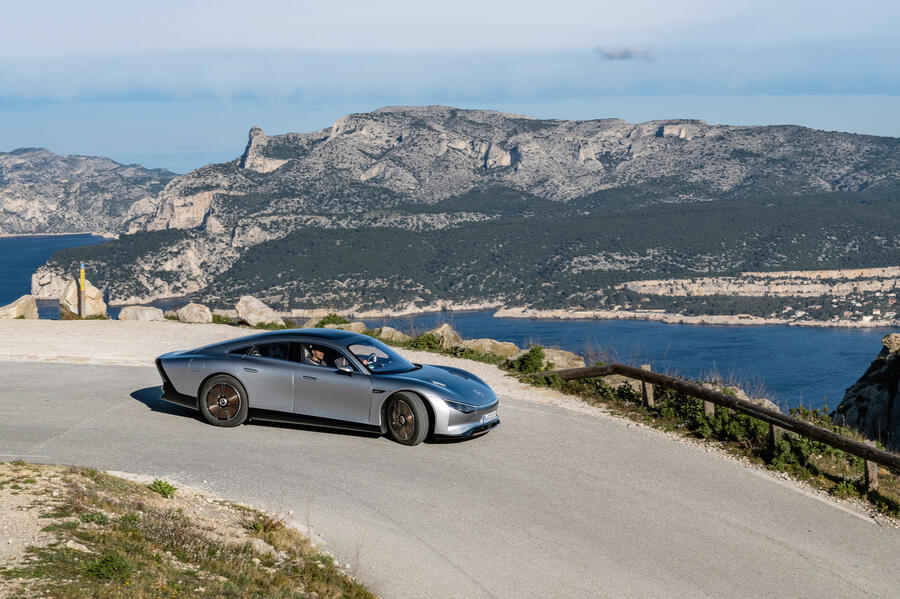 Heading off onto public roads around Nice and beyond, it's the imbibing smoothness and overall refinement of the Vision EQXX's high-tech drivetrain that leaves the biggest initial impression. One-off engineering concepts rarely project such deep-seated engineering integrity, but this one feels entirely happy in stop-start traffic and making progress along arterial roads.
When we clear the suburbs and get a clear run at higher speeds on the motorway, Flache calls up a menu to deploy the rear diffuser. Its operation is shown on the dashboard display, so you can see it extending out to optimise the aerodynamics.
All the while, the youthful engineer keeps a keen eye on the electric energy being used. "We try to keep it in a sweet spot of around 10-15kWh per 100km," he tells me.
There are four levels of regenerative braking, activated via steering wheel-mounted paddles. Most of the time, the EQXX is engaged in D--, providing strong deceleration when the throttle is lifted.
"Once you've become accustomed to the various regeneration modes, you discover that you don't need to physically operate the brakes much at all," says Flache. "There were a few occasions during the Stuttgart-to-Nice test drive where I consciously had to use them. For the most part, though, I relied on the paddles." 
Despite the clear focus on efficiency, the rear-wheel drive EQXX has a subtly sporting flavour to its on-road character. It proves quite brisk when the traffic opens up and Flache is able to fully deploy the full force of the motor. 
As with all of Mercedes' existing EVs, drive is channelled through a single-speed gearbox. A short stab of the throttle has the low-slung saloon shoot forward with proper intent before the traffic closes in and we settle into a loping cruise. While it clearly has the potential to extend well beyond it, the top speed is limited to 87mph.
"It's more as a precautionary measure than anything else," says Flache, who reveals that the motor and its ancillaries were comprehensively tested in a Mercedes-Benz EQB prototype before being granted approval for use in the concept.
You don't hear much wind noise at all. Being the most aerodynamic road-legal car that Mercedes has ever produced, the EQXX cleaves the air with razor-sharp efficiency. At typical motorway speeds, it's the dull roar of the narrow tyres more than anything else that grabs your attention.
With a low overall height and a battery mounted completely with the flat floor structure, the centre of gravity is lower than any existing Mercedes production model, so the EQXX's cornering ability is more than respectable.
We're in the passenger seat, but it changes direction smartly and gives the impression of being very fluid when it's pointed down a winding back road at a reasonable speed. Such is the integrity of the handling, it's easy to forget that it's a technological testbed for future technologies, rather than a prototype of an upcoming production model.
Minimum suspension travel ensures there's very little body roll. But in combination with firm springs and dampers and tyres running high pressures to minimise rolling resistance, it also contributes to a rather fidgety ride. It's not harsh, as you might expect on a one-off concept. However, it could do with some added absorption of road shock. 
Ingenious, compelling and entertaining, the EQXX shows how EVs are set to progress in coming years. It will never go into production, not as it is right now. However, many of its key developments are already being refined with a view to incorporating them into upcoming Mercedes production models. 
The good news is that with the sort of advances in aerodynamics, tyre technology, construction techniques, electric motors and batteries it showcases, a realistic range of 600 miles and more under real-world driving conditions on a single charge isn't just achievable but likely to be taken for granted in the not-too-distant future.
Let's just hope they filter down to models that we can all afford.
https://www.autocar.co.uk/car-news/new-c...26-mile-ev